The Center's chief communications officer, Megan Wendell, offers a look into the digital communications strategies that informed our new website.
The Pew Center for Arts & Heritage is dedicated to fostering a diverse cultural ecology and a robust exchange of ideas on creative practices today. As we approached a redesign of our website, we wanted to create a destination that both showcases the work of the artists and organizations we fund and provides accessible resources to the broader fields of contemporary cultural practice and grantmaking. We took a holistic, user-centric approach to give visitors tools to quickly find what they need as well as opportunities to spend more time delving into thought-provoking ideas.
A User-Centered Design
As with any communications project, we started with a focus on our audiences and their needs. Our main goal was to make the Center's website more user-friendly, with clear pathways to the information different visitors need: updates on our grantees and their work, our grantmaking calendar and application process, and forward-thinking practices from a global network of cultural practitioners. To that end, we streamlined the site's main menu navigation and home page and made our "How to Apply" page easier to read and navigate.
We know that many of our visitors come to the Center's site to stay up to date on Philadelphia's cultural scene and the programs and events of our grantees. Our new Project grant pages provide all the essential details in one place, from a description of the project, grant details, and an organization's grants history to scheduled events and related interviews or essays. Our Pew Fellow pages spotlight each artist's work with images, artistic inspirations, and interviews.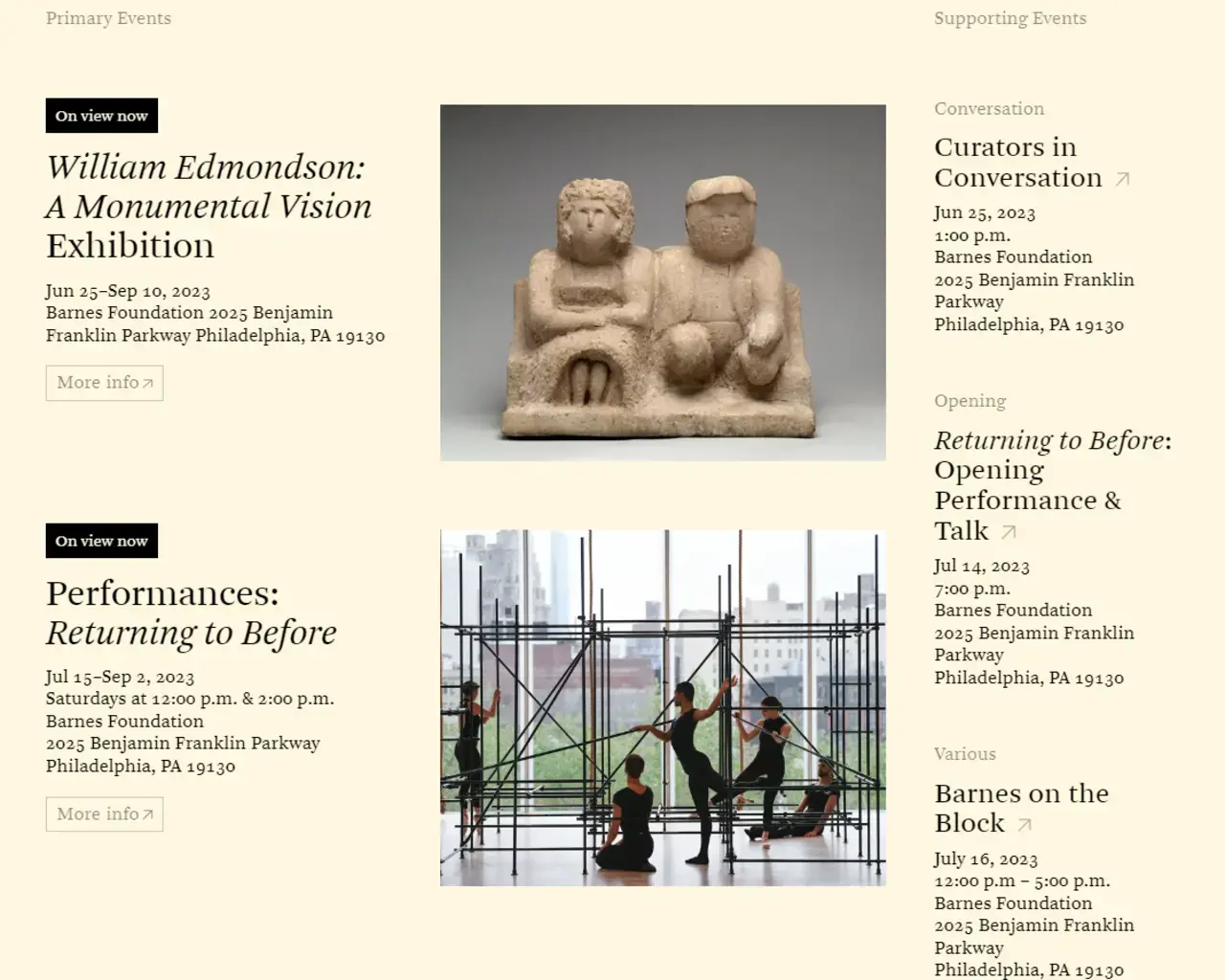 Making Connections
Across the site, we bring to the forefront the connections among the work and ideas of our region's cultural community and our extensive collection of conversations with noted field leaders—learning that grows out of our experience as grantmakers. Working in collaboration with CHIPS and Alphex Information Solutions, we developed ways to make these connections—and the multiplicity of perspectives represented—more visible to our website users.
At the bottom of many pages on the site, you'll find a "Connections" section that suggests some of the most relevant related content from our grantees and an international community of practitioners. On a page for a recently published interview with filmmaker Terence Nance, for example, you'll find links to related articles and interviews, Nance's BlackStar Projects exhibition, and Pew Fellows who work in similar disciplines.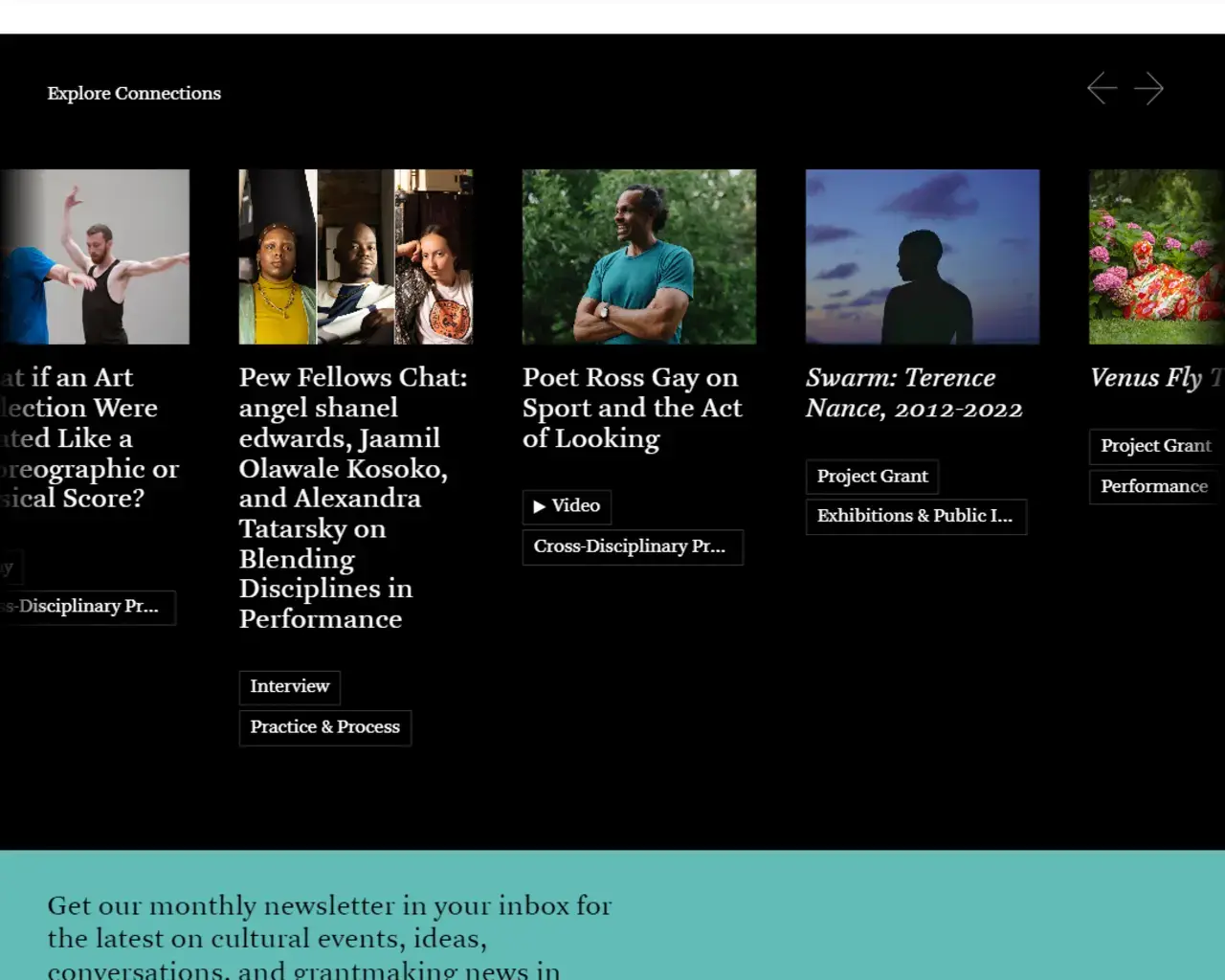 A New Editorial Hub
Our new online home for our Questions of Practice library invites you to follow your curiosity and explore both the latest conversations with artistic innovators and our extensive archive of videos, essays, interviews, and in-depth publications.
This editorial library is organized through five primary areas of inquiry:
What drives cultural practitioners to experiment, discover, and create? 
How can art effect social change? 
How are audience expectations and public participation changing? 
How can history and traditions be reimagined for today's audiences? 
What issues are driving arts leaders today? 
Within each of these topics, you can now dive into more specific subjects—such as curating now, technology in art, social & community-based practices, legacy & archives, and more—for a multifaceted discourse on issues critical to creative practice. 
Visual Philosophy 
The site's elegant, clean, and photo-driven aesthetic lets the work of our grantees take center stage, while video content is displayed more prominently with expandable transcripts offered just below each video. Font variations are minimal, to support but not distract from bold photos of artistic works and the words of creative makers.
You'll also see color used throughout the site as a visual navigation guide, with specific colors assigned to each of our grant programs, editorial content, and other areas of our work. For example, information and announcements from the Center, like the post you're reading now, all share a purple header, and our Pew Fellows are represented with pink.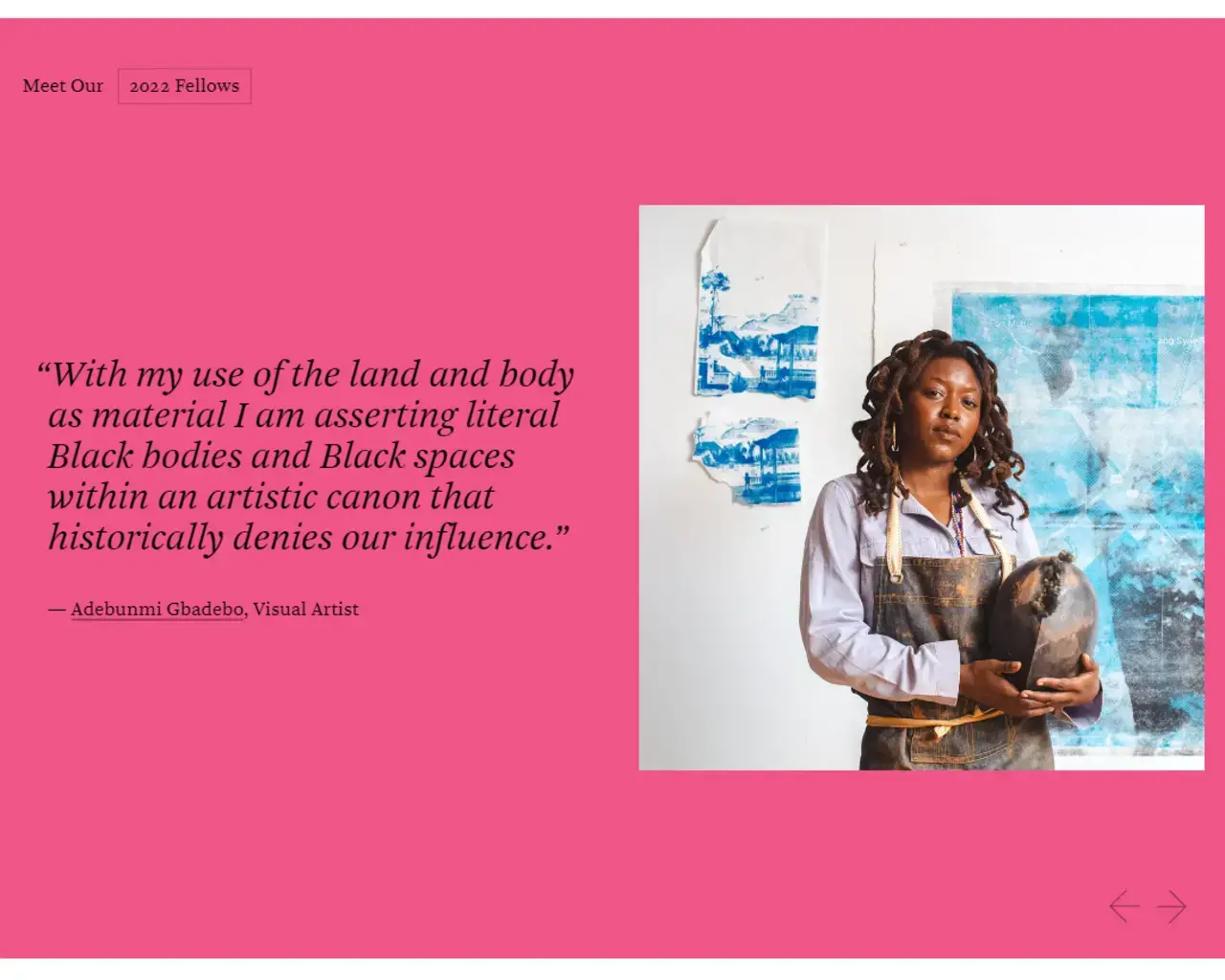 Built to Grow
As website best practices and content evolve over time, it's important for us to be able to support a broad range of future needs, some of which may be completely unknown at launch time. The design and content management systems developed with CHIPS and Alphex offer us flexibility to build on existing functionality as the Center's online offerings evolve.
I hope you enjoy exploring the new pewcenterarts.org. Do you have questions or feedback for our team? I welcome you to email us at communications@pewcenterarts.org. 
 
Megan Wendell leads the Center's communications team, overseeing strategy, marketing, editorial platforms, and grantee consultations on communications and audience engagement topics. Previously, she was founder and president of an award-winning communications firm that specialized in telling the stories of art, culture, philanthropy, and causes.