White Box Residencies: Tania Isaac
The Pew Center for Arts & Heritage
White Box Residencies: Tania Isaac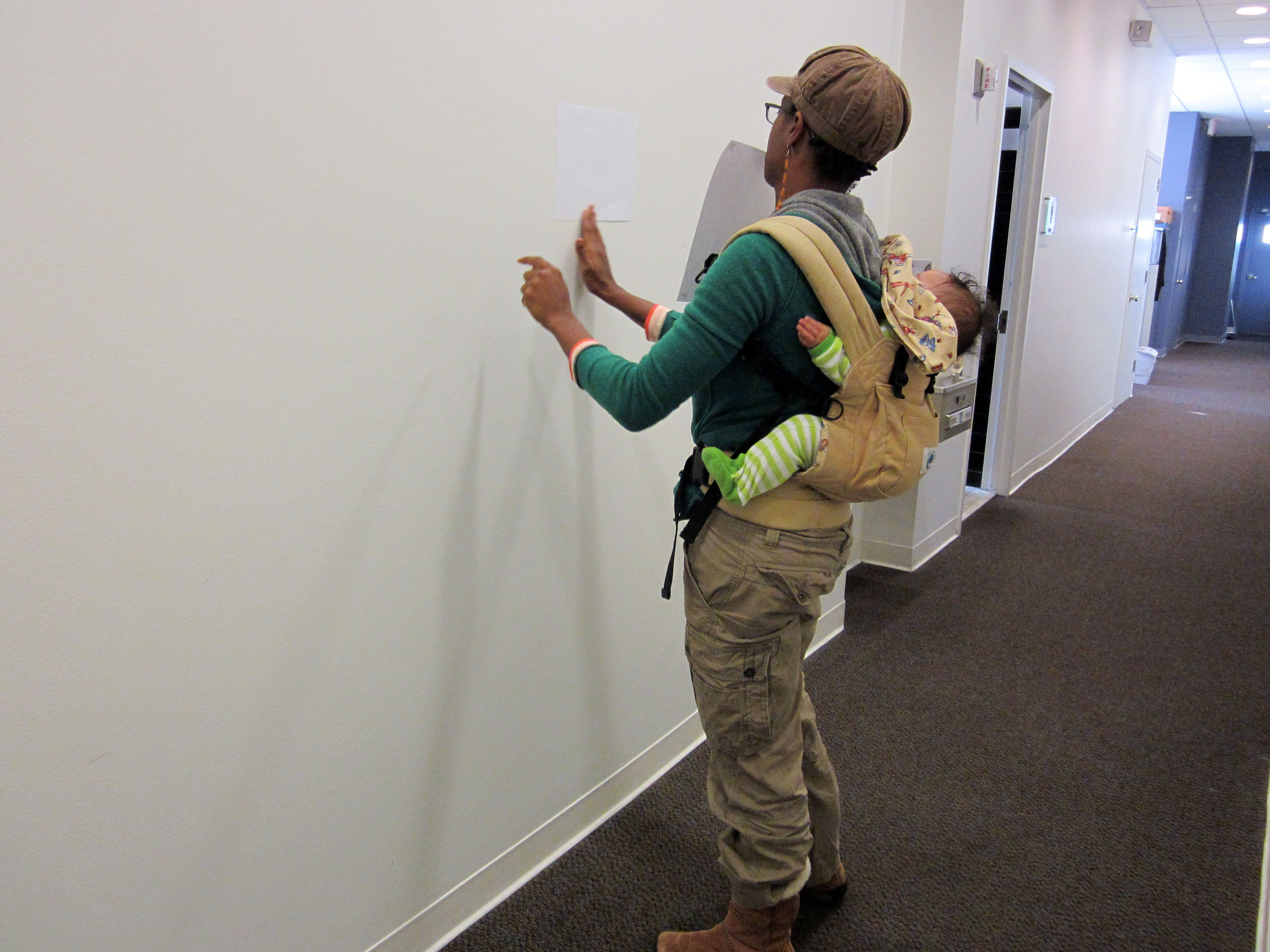 The first White Box artist was Tania Isaac, a 2011 Pew Fellow in dance and choreography. For a number of weeks, Isaac peppered the walls of the Center with blank pages for writing and sharing ideas, in an evolving project called "The Notebook." Center staff took her cues to jot down thoughts in response to questions about artistic practice and Center life, and also recorded their daily travels around the Center with color-coded, initialed dots on strategically placed papers around the office. When Gordon came up with the idea for the White Box Residencies, Isaac was immediately drawn to the premise: "More than almost anything else I am curious and I love questions. I would broadly define the work I do as a choreographer, writer, and insatiably curious human, as investigation or observation or perhaps even morbid fascination with culture in its broadest and most intimate terms; from extended historical intersections between countries to the nuances of brief encounters between individuals."
Scroll down for images, video, and excerpts from Isaac's original White Box piece, "The Notebook."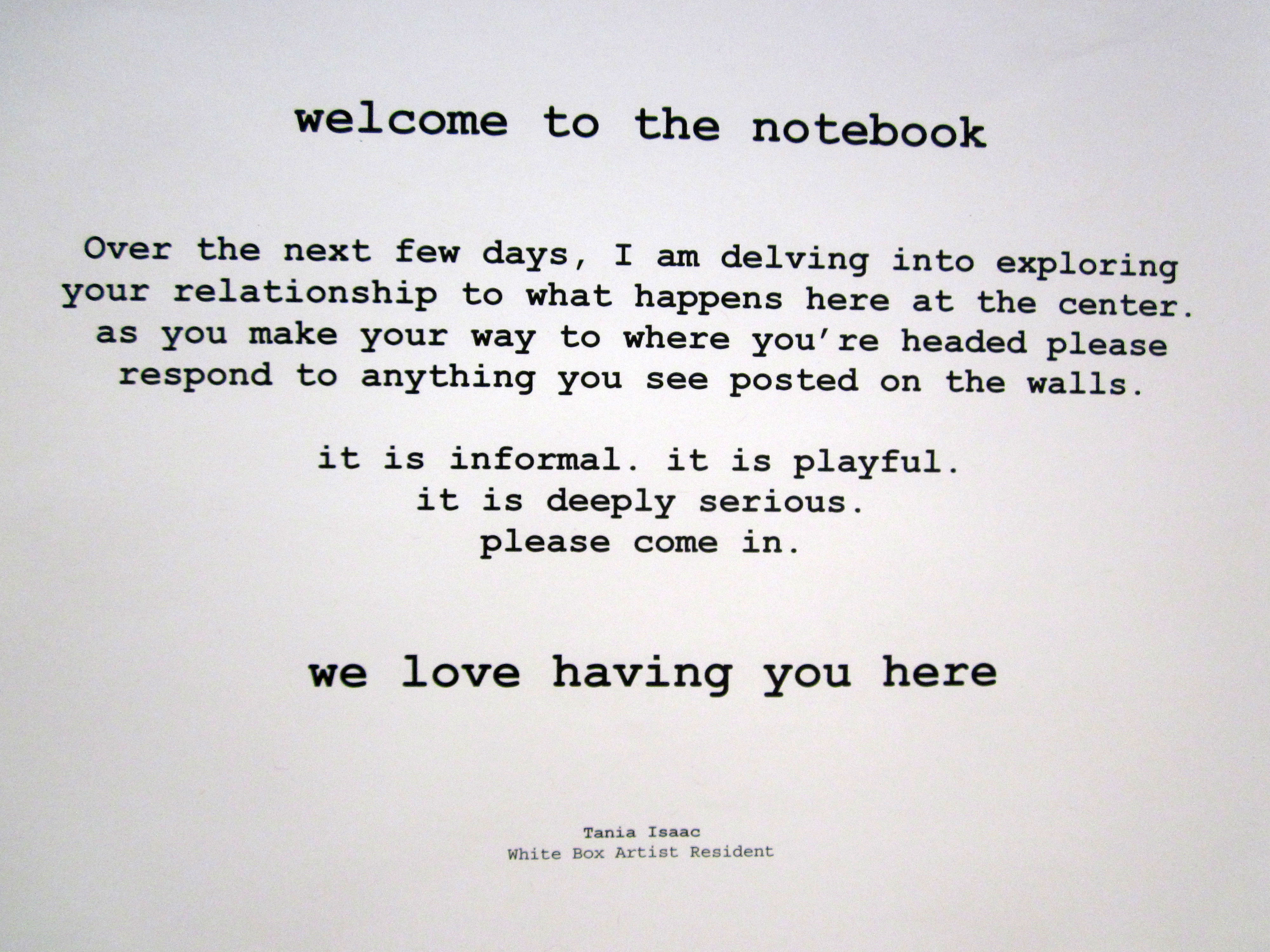 Culture can be an awkward word in art. It is still odd how a word that technically encompasses everyone serves to identify everyone ELSE. I like the awkwardness of the conversation around what it means and how it identifies, values, and stratifies. So I use it often.
"I would broadly define the work I do as a choreographer, writer, and insatiably curious human, as investigation or observation or perhaps even morbid fascination with culture in its broadest and most intimate terms; from extended historical intersections between countries to the nuances of brief encounters between individuals."
I quote myself because every now and then
my intent and my language conspire
to communicate exactly what I mean.
This is a synopsis of my experience and of the potential directions that it could take creatively, as thought, as writing, as performance. We live in a dynamic equilibrium and everything has to keep shifting to maintain balance. My curiosity is how we can change the language we use to describe ourselves and our work, using those definitions to shift the mutual relationship between artists and funders/funding.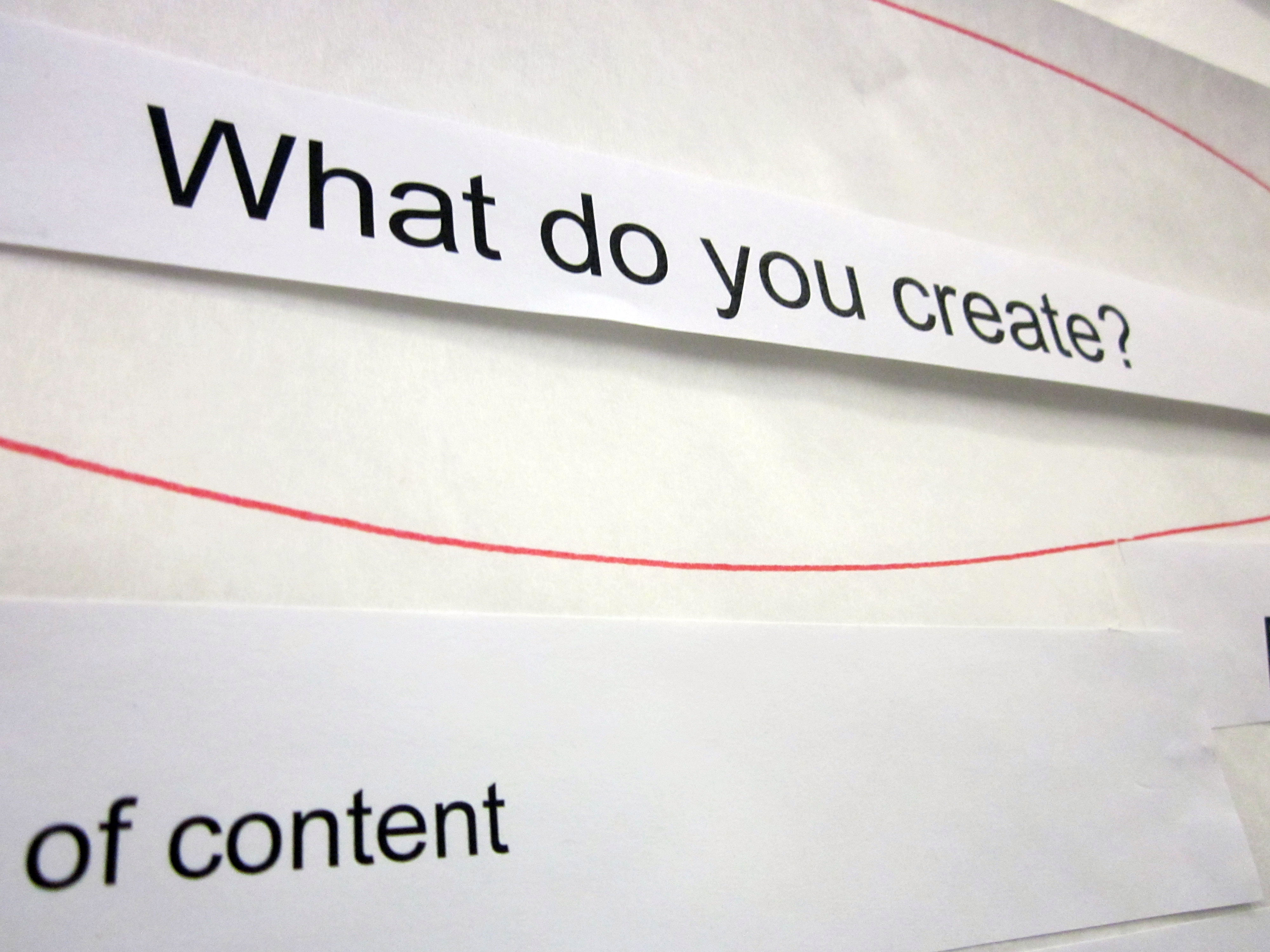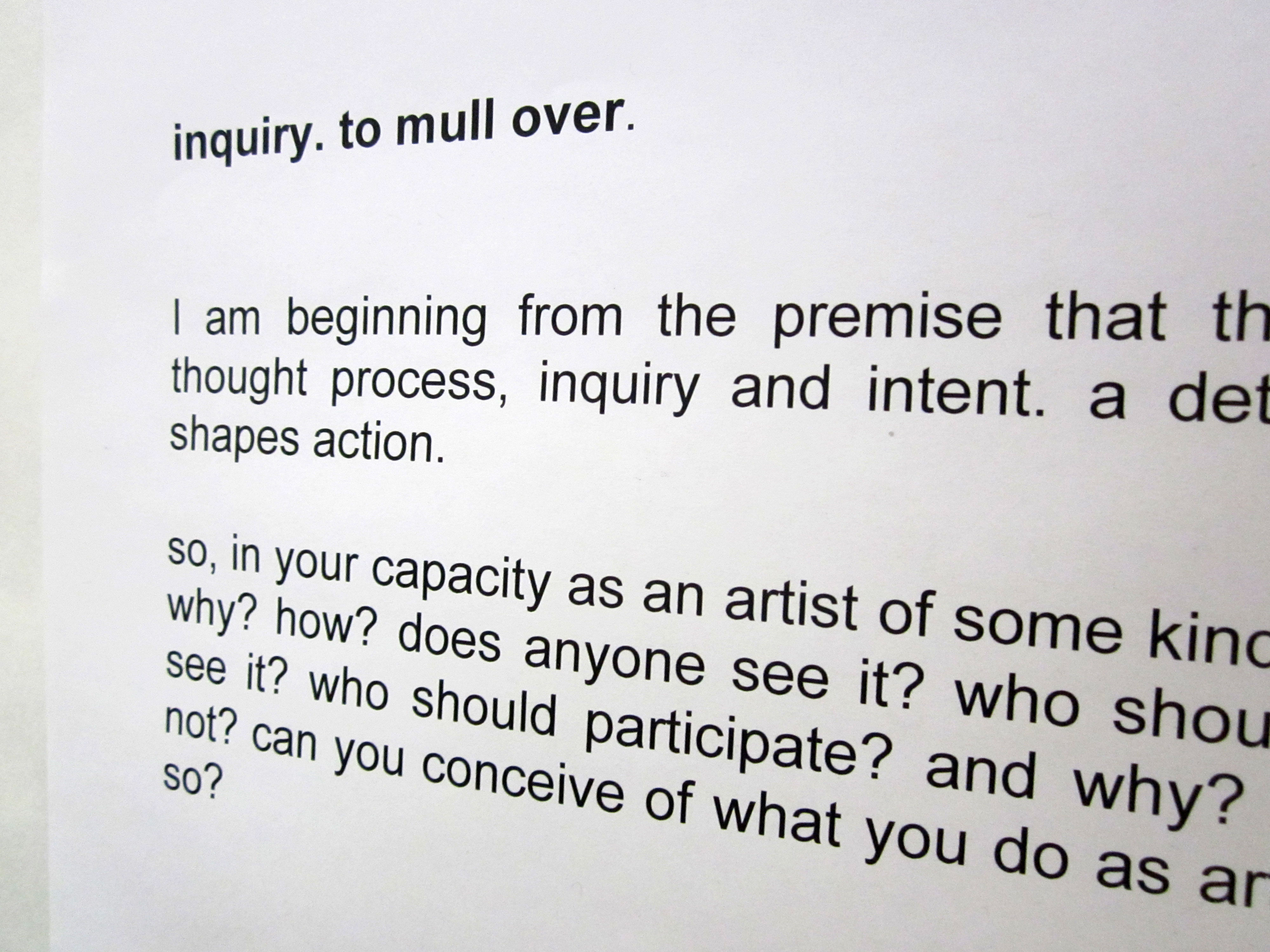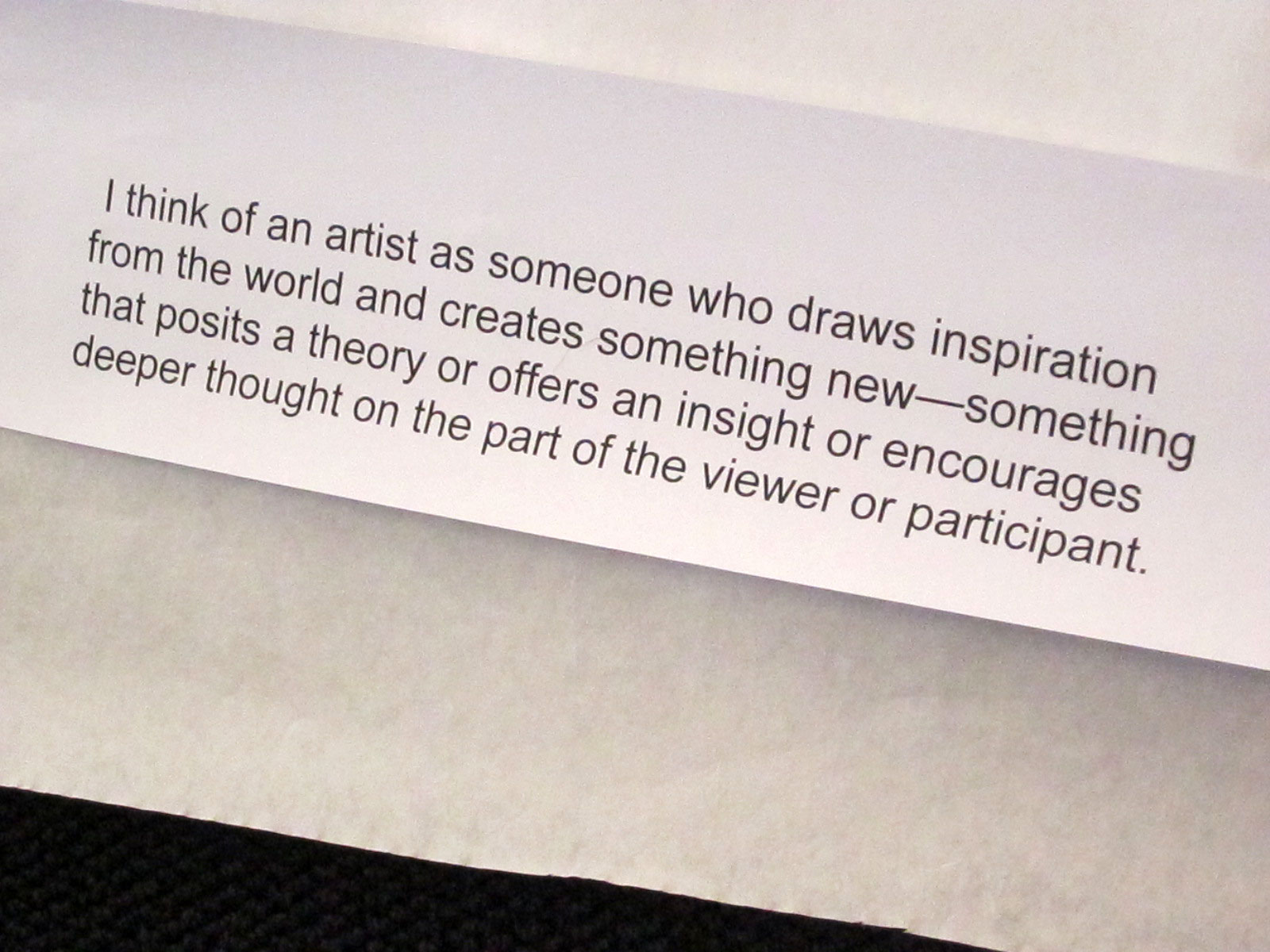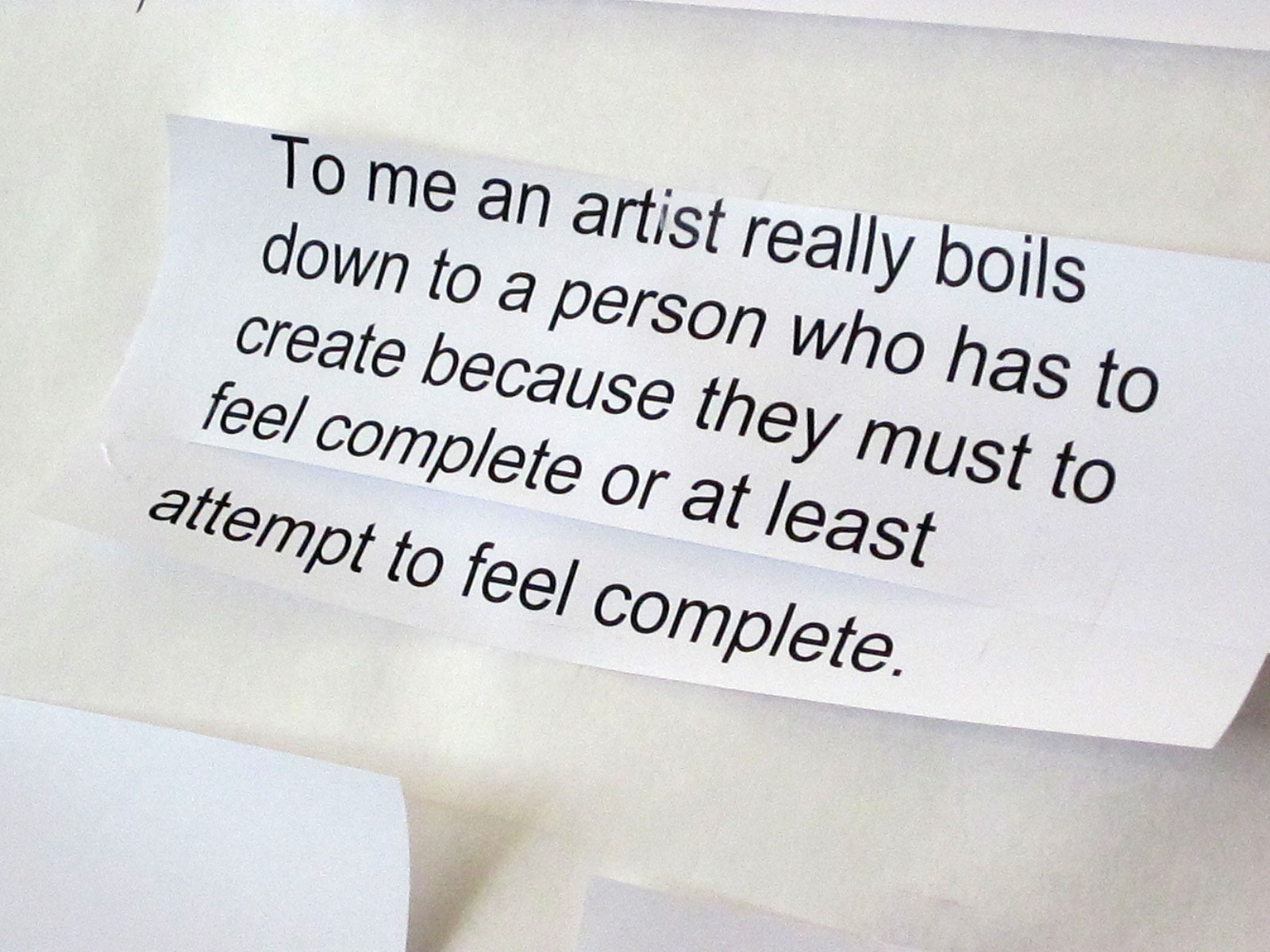 This is a relationship steeped in hope, anxiety, productivity, and directives, and in both directions. It is imperfect. Much like everything else, once you begin to think that you know or understand, from either side, you begin to lose the opportunity to experience what it is. Because it is often shifting. Humans find ways of categorizing; we are brilliant at carving the world into manageable pieces, forgetting to apply the individuality that we understand of ourselves to those we view outside of ourselves.
Our measure of excellence is often the degree to which a thing or an act satisfies what we crave. So what do we crave? How can we articulate it?
How can we establish a dynamic, osmotic flow between the ideal support process and the ideal creative process? At the center of creative investigation is the ALMIGHTY QUESTION. The curiosity, wanting to know, the determined focus to make the best attempt to manifest what you imagine to be possible.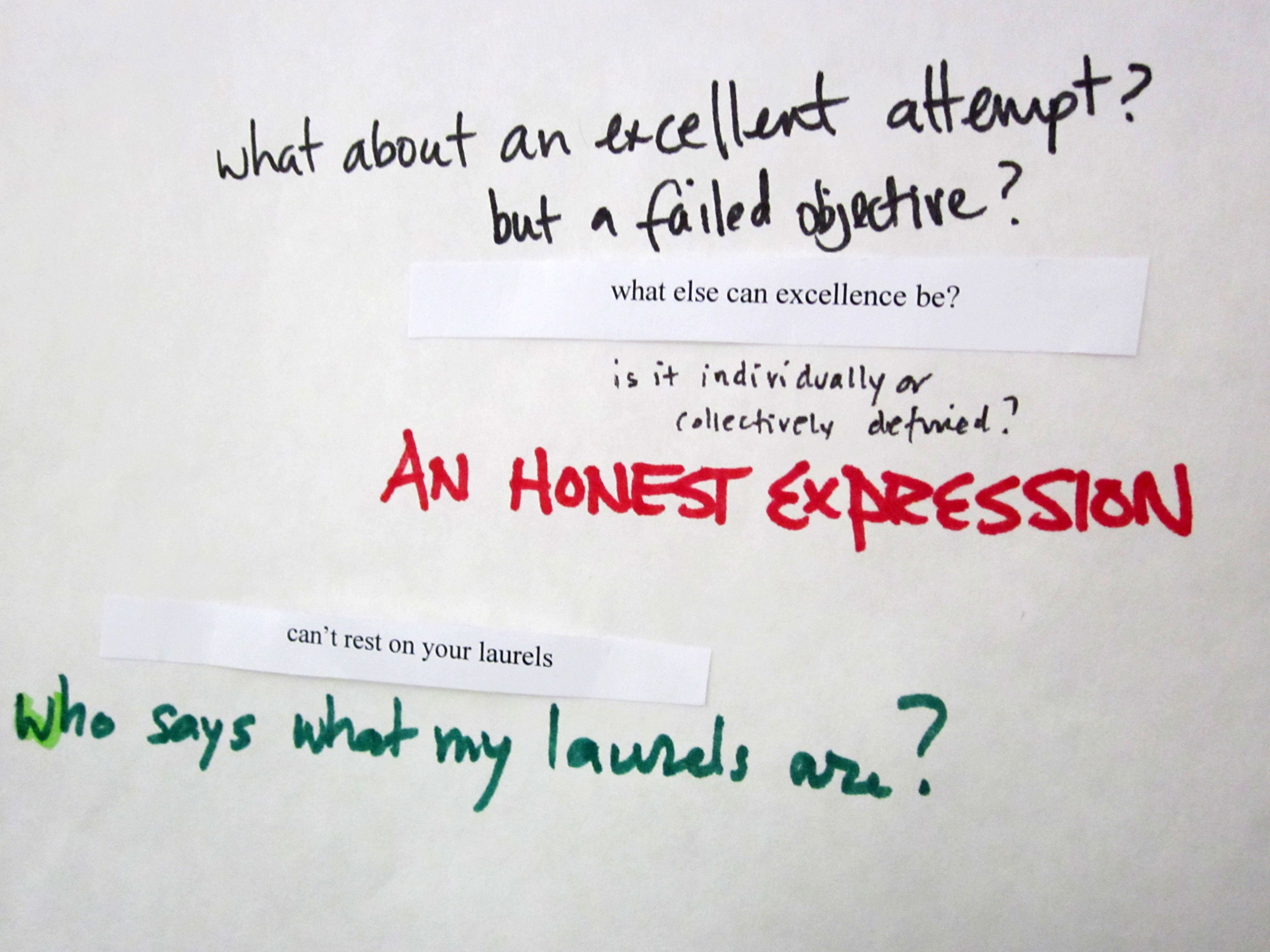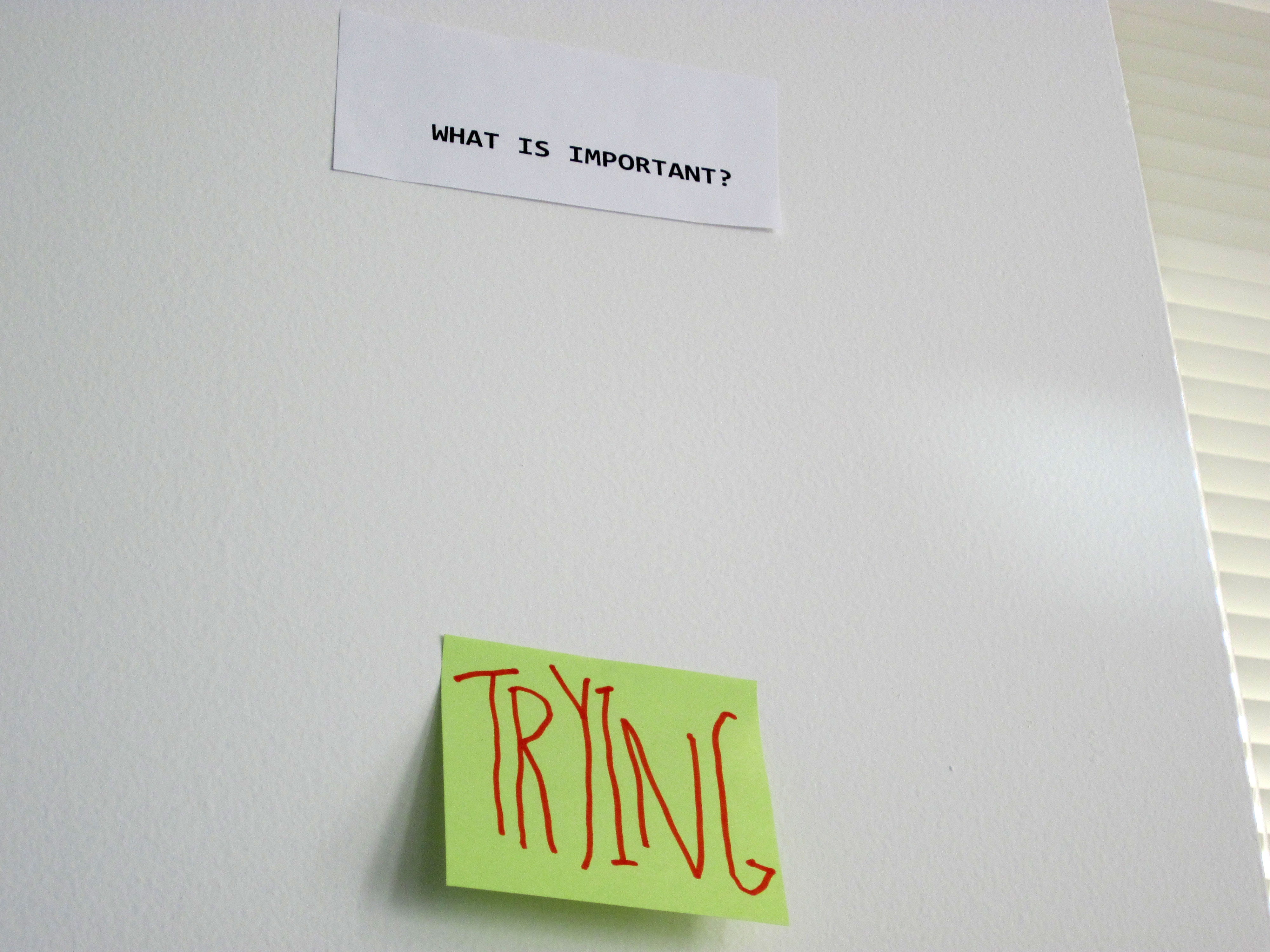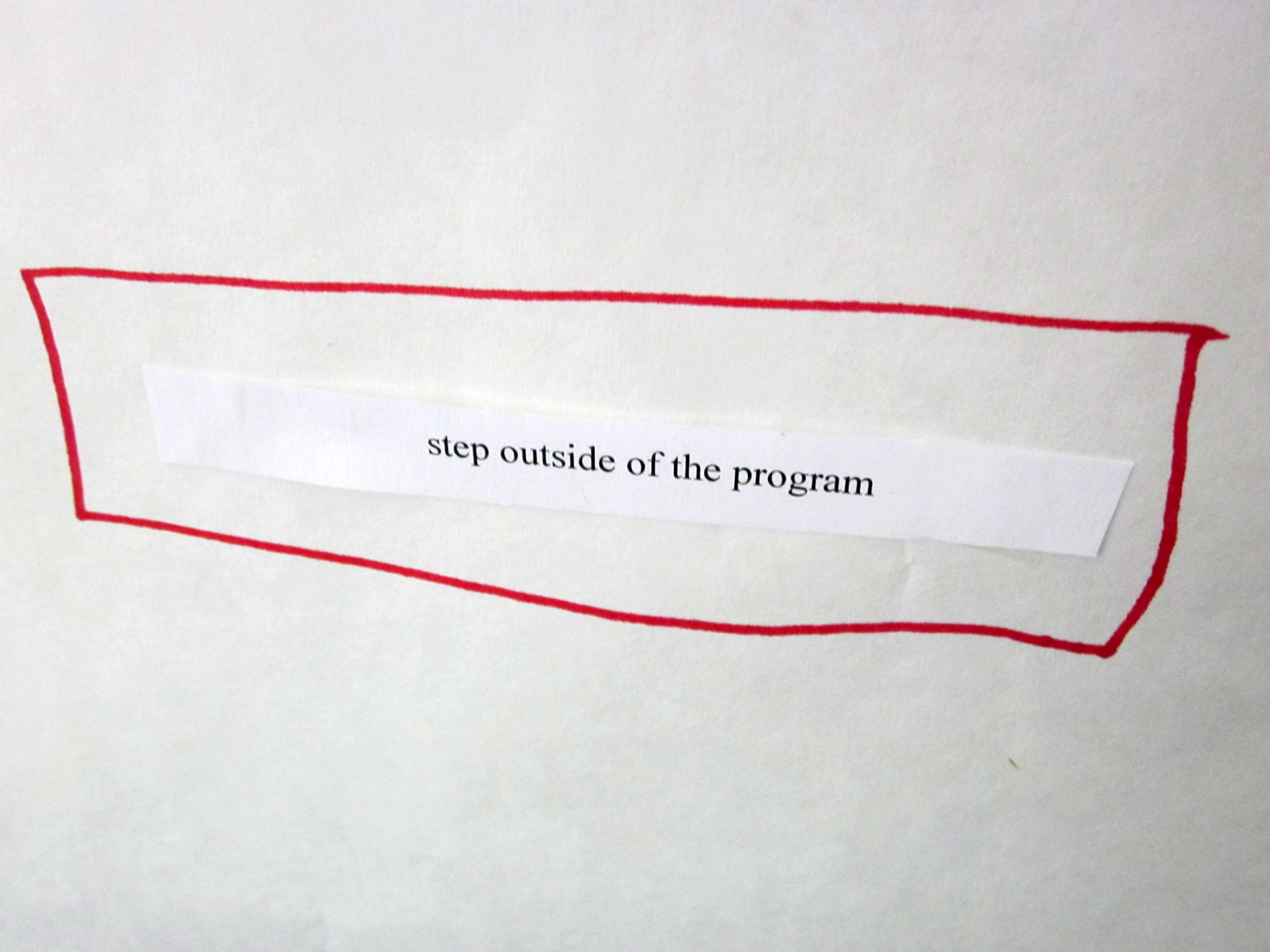 Perhaps at the CENTER of the Center, the commitment to the question is the beginning of its parallel trajectory to the art that it supports. And perhaps, though our products are so very, very different, we intersect in ways that make better conversations possible.
What is familiar to me on varying scales:
People who are managing tasks, layers of administration, groups of people, actual humans, who care very deeply about work, life, art, process. Who disagree about how it might need to be done. Who engage unceasingly about the best ways to go about it, who struggle with how to democratize unwieldy processes. Who try to sidestep messy egos, including their own.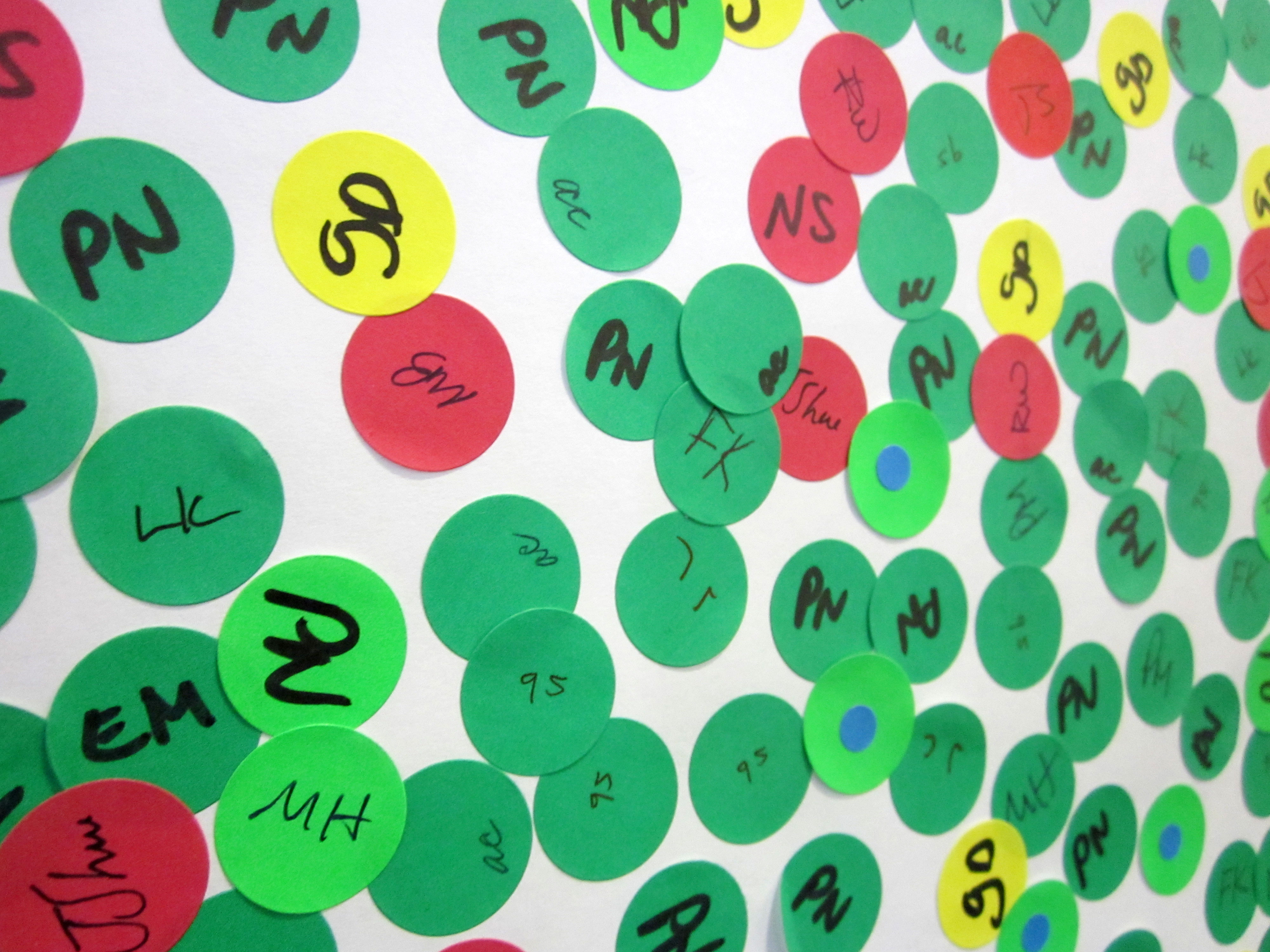 The dots mark traffic patterns through the halls.
Density. Communication. Transparency. Visibility. Clarity. Isolation. Flow. Flawed. Intent. Direction. Director. Confined. Body. Frustrated. Open. Frank. Excellence. Process. Oversight. Listen. Speak. Evaluate.
The dance that would have been is complicated.
It is layered with tightly choreographed areas, relieved by improvisational moments that cause shifts in overall tone, contrast to existing material or introducing new movement/stage idea. There are set phrases. It is a tightly choreographed improvisational structure. There are hubs at dense areas, where either larger groupings perform or there is continuous flow along that pathway. Others are solos or quiet spots away from group phrasing.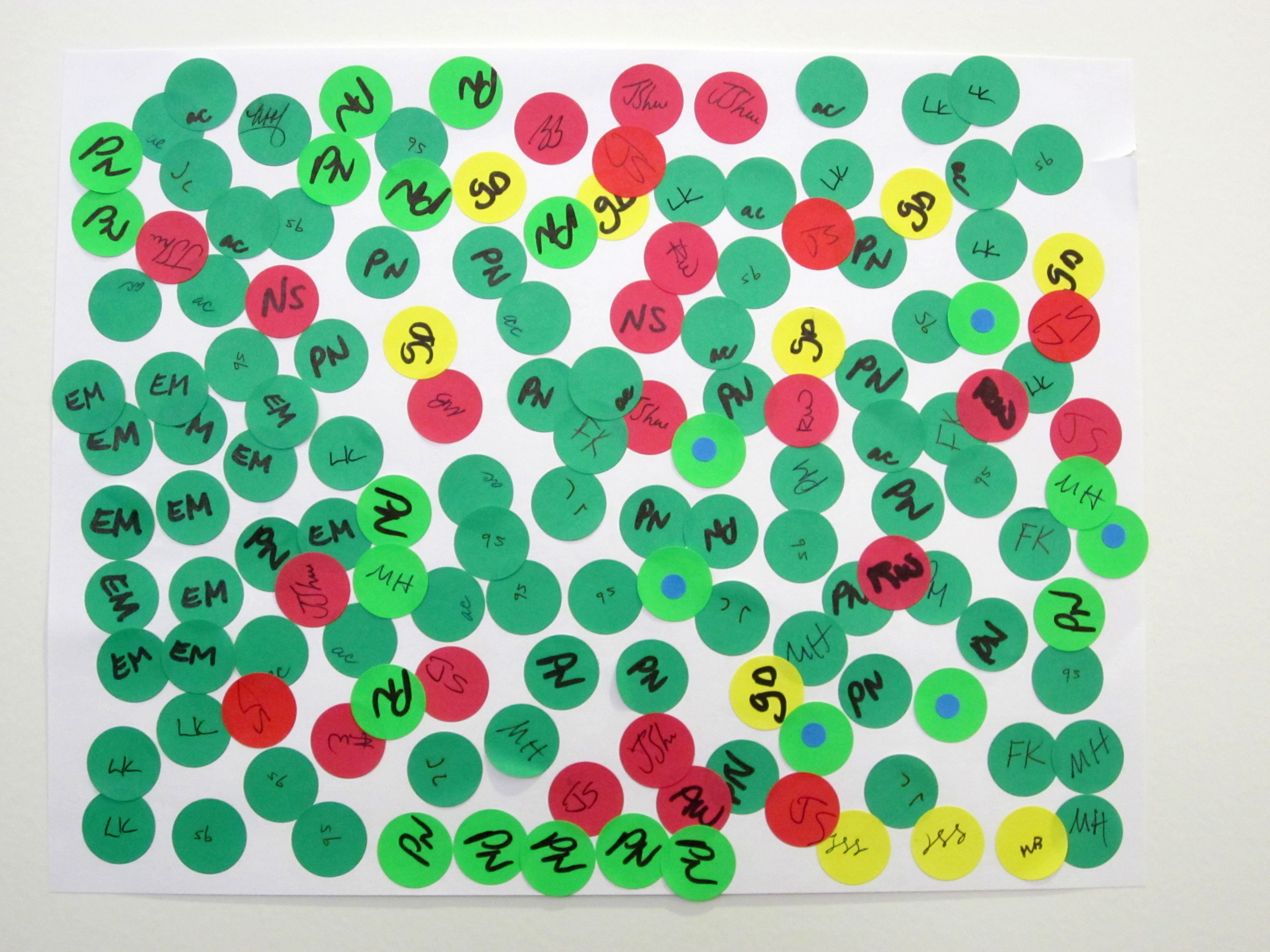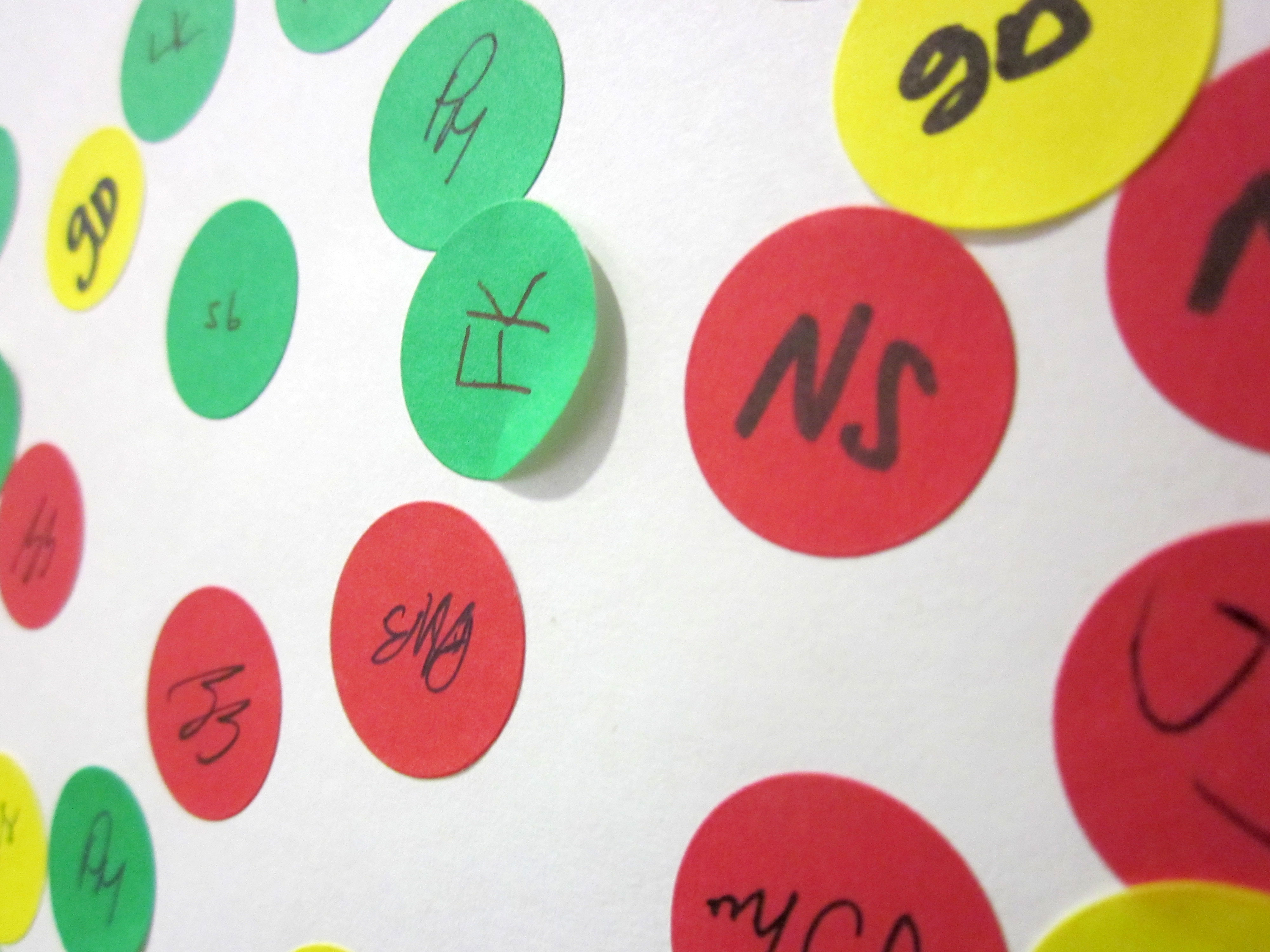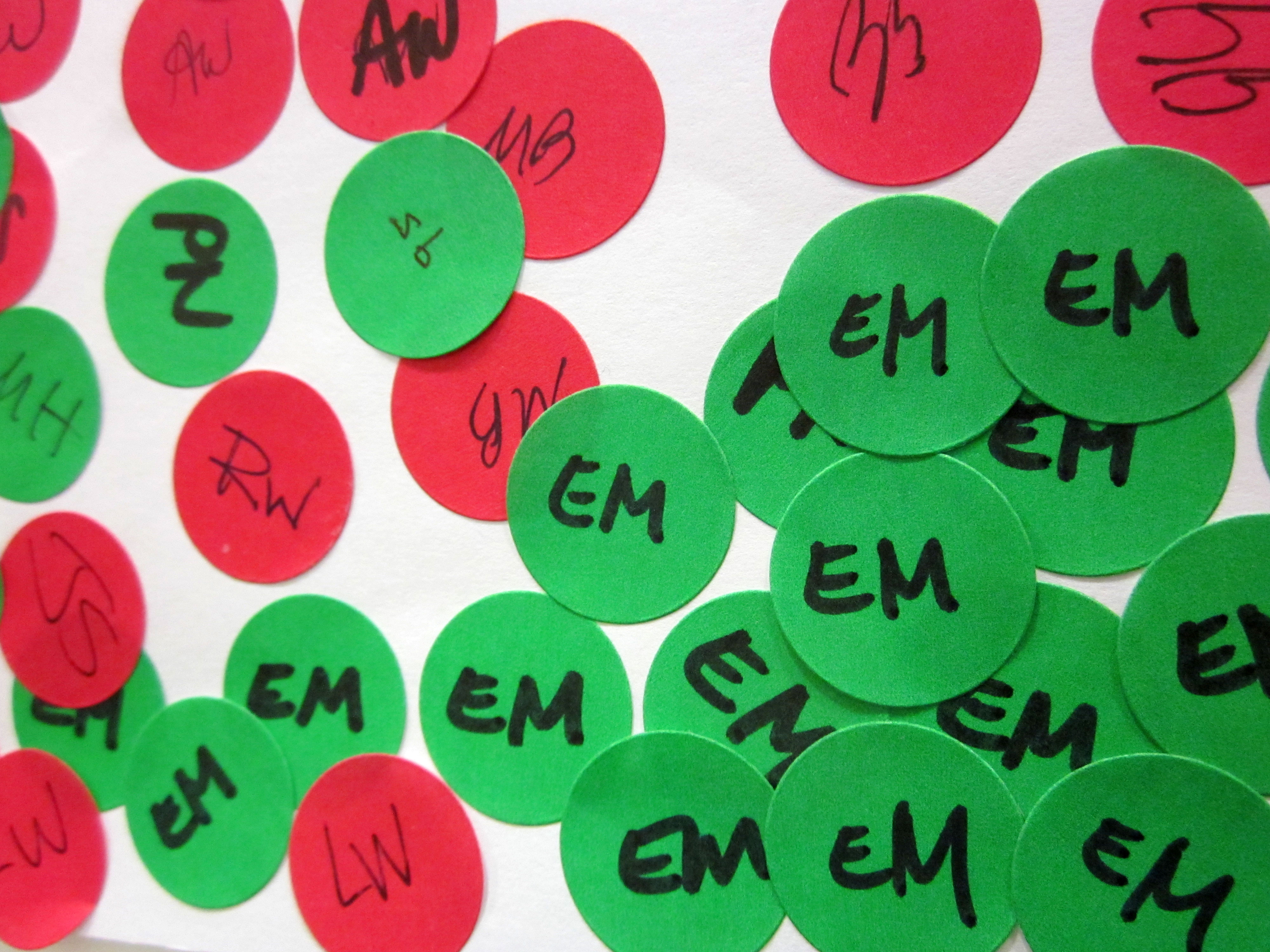 OVERALL IMPULSES
flocking
one organism from many individual parts
one organism continues to breathe—performers come in and out of it and affect it in different ways
what does it take to shift. how do you shift and why.
what is the point at which one idea merges
or blends or passes out of existence?
=
what is the point at which what you used to do
is no longer applicable?