White Box Residencies: Dan Blacksberg & David Gutkin
The Pew Center for Arts & Heritage
White Box Residencies: Dan Blacksberg & David Gutkin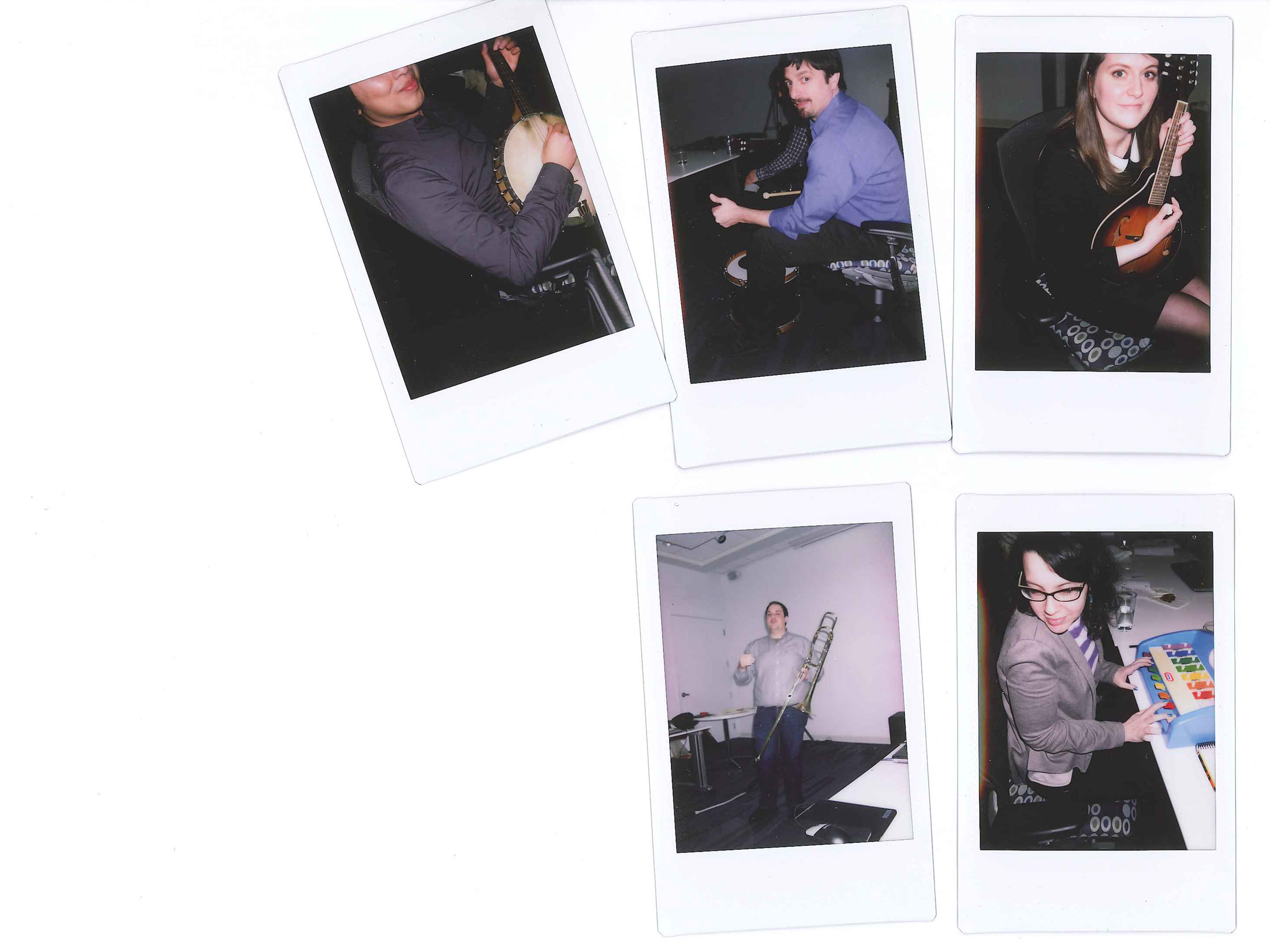 For the third round of the White Box Residencies, the Center hosted two guest artists: trombonist, composer, and 2012 Pew Fellow Dan Blacksberg and historical musicologist David Gutkin. The two sought to "sonify" the everyday environment of an office space and conducted various musical experiments: a room packed with instruments for people to play at any time, a group attempt at performing Steve Reich's minimalist piece "Clapping Music," and music "stations" around the office, such as a gong at the front desk. (As Gutkin notes below, the gong remained for several weeks after the project ended, much to the enjoyment of staff members and visitors alike.) A six-week residency culminated in an office-wide performance, during which Center employees rang bells or shook maracas according to specifically timed instructions delivered via email. "My biggest takeaway is that the act of play doesn't have to be separate from the act of work," Blacksberg says, recalling the staff's willingness to try these experiments. "Even in the structured environment of an office, play and open-ended creativity isn't just an outlet for stress, but an important aspect of getting things done."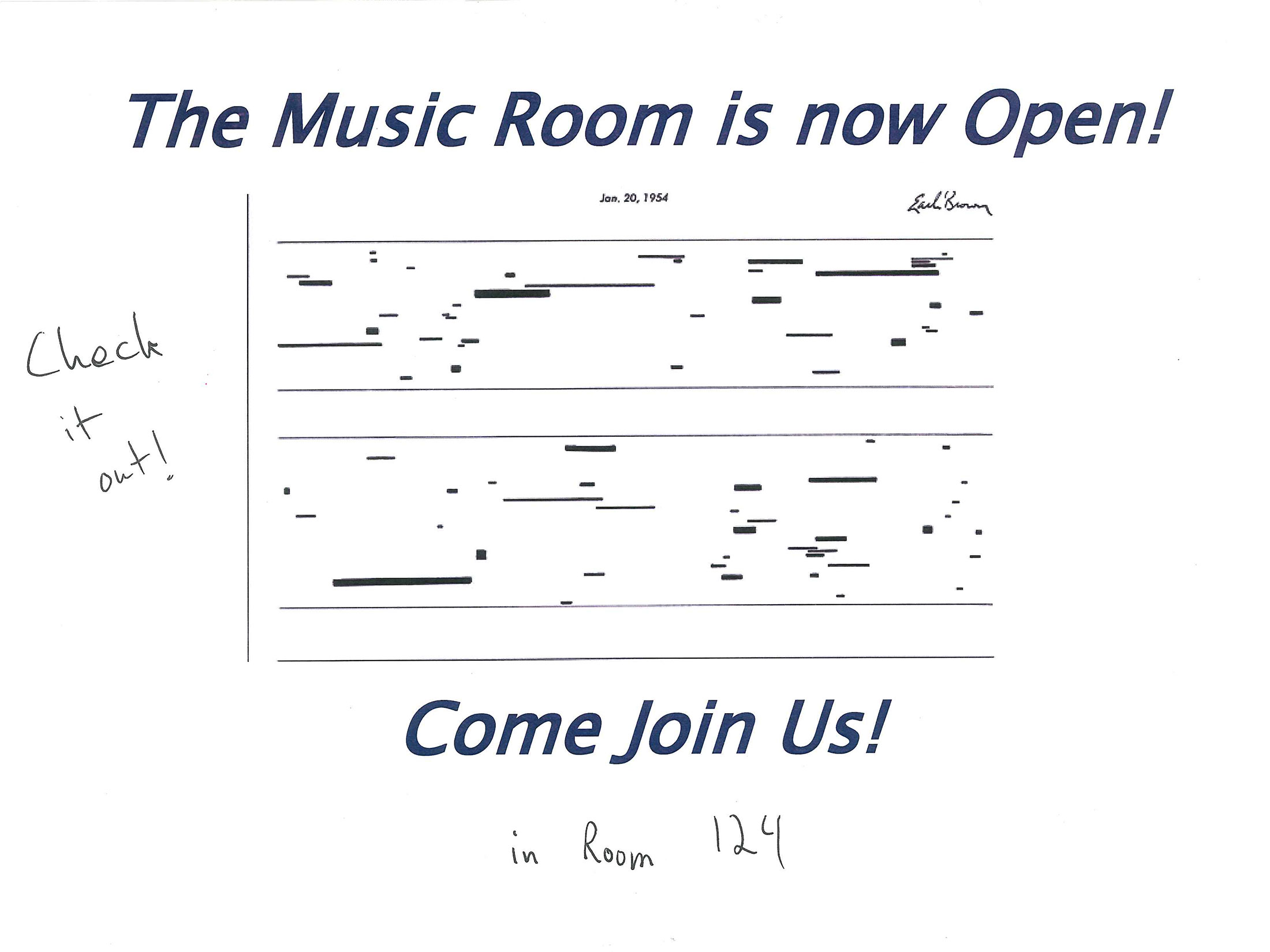 David Gutkin:
In our first conversation about the White Box Residency, Dan said something about creating a "sound village" in the offices of The Pew Center for Arts & Heritage. New Age connotations aside, I liked that phrase—but what would it actually mean in this context? For that matter, what did Dan or I know about the "context" of an office environment? Through a series of conversations, sound stations, lecture-workshops, "field recordings," and performances we attempted to use sound to inquire into the nature of this office space as much as to temporarily alter it.
Experiments and Imperatives
Our first idea was to use the collection of percussion instruments, whistles, and bells kindly provided by Senior Performance Specialist Jeff Arnal to set up sound stations for two distinct activities within the office. One station lent itself to "sound experiments": These were invitations to the staff to break from their ordinary work routine and to make time to produce, listen, or otherwise think about sound. The other activity we called "sound imperatives." These were meant to "sonify" otherwise regular activities of the office. For example, in the kitchen area we set up one percussion instrument to hit when pouring coffee, another for tea. Some of these "imperatives" were clearly failures; the difference in pitch between coffee and tea couldn't even be detected. At least one was popular: a gong at the front reception desk accompanied by the direction "Please sign in." (Last I checked it was still there.) The areas where we placed these "experiments" and "imperatives" were marked by tape on the floor. This was partially pragmatic—we wanted people to notice our work—but it was also a kind of joke. Although the tape suggested that these sound stations were separate spaces, the sounds themselves could be heard all over the offices. In one instance, we had a request to change the color of tape to match the interior design.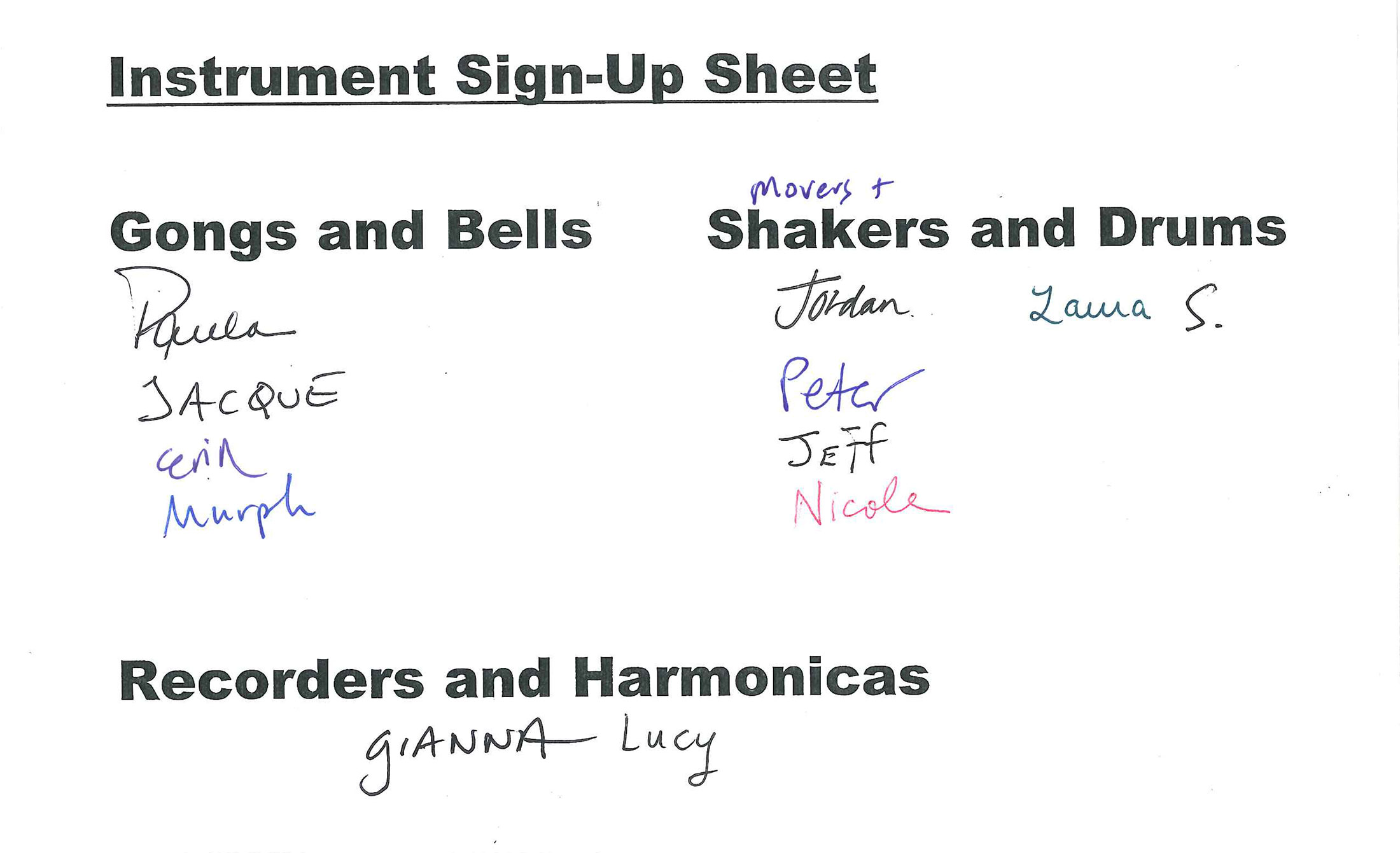 Sound Collage
The next component of our project was a reaction to what had not quite worked with the first phase of installations. We learned, for example, that no one much wanted to stand in the hallway, play with a small hand-gong (directions: "hit it soft, loud, move it around your head") and to describe or draw these sounds on a chalkboard. No doubt it had been somewhat condescending on our part to think that such activities would make the staff feel momentarily liberated from their normal work. So, rather than use sounds to transfigure the environment, we decided to explore the sounds that already circulate through the Center offices. What sounds do people pay attention to? How do sounds affect the temporal experience of the workday? We asked the staff to jot down the sounds they notice during the day. Some responses we received: the beeping of the printers, the hum of the air conditioners, and directors calling from their offices for assistance ("Jooooo-sie"). We also asked the staff to record sounds in the office using cellphones or handheld audio recorders that we made available. From this we constructed a sound collage.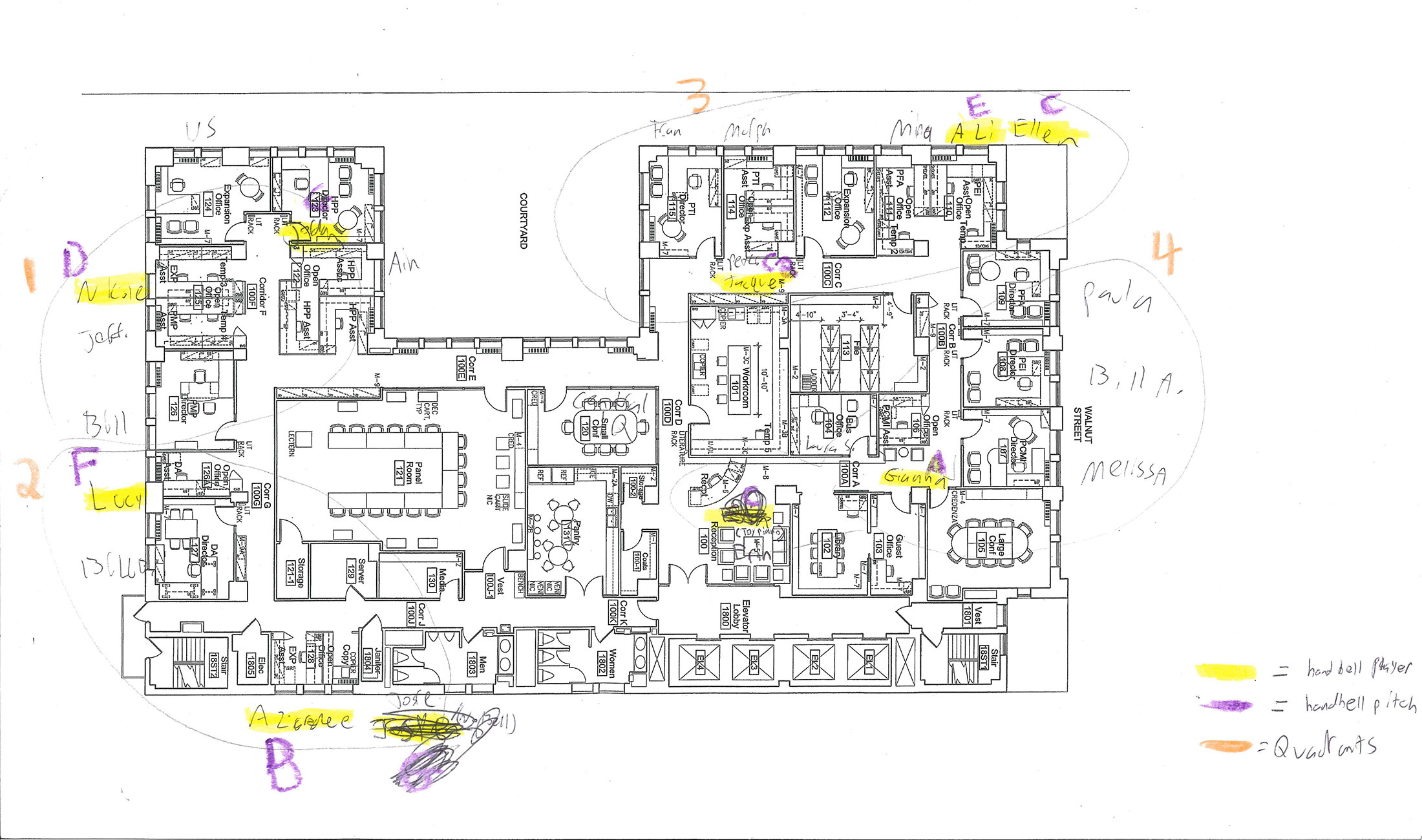 Composition #1 for the Pew Orchestra
Our earlier activities were attempts to either sonically interrupt a routine, make the routine itself audible, or draw attention to the already audible aspects of life in the office. For the final part of our project we sought to combine all of these approaches by facilitating a musical performance, on the last day of the residency, embedded within the flow of the workday—a performance in which Center staff would become the "Pew Center Orchestra."
In one of our first talks Dan had suggested that we do something with the office computers that staff members spend much of their day using. A couple of weeks prior, I had given a short talk at the Center on the history of musical notation, after which Dan had rehearsed everyone in performing notational systems devised by Anthony Braxton and John Zorn. Computers and notation were on our minds, which led to the idea of an email-based score. (In fact, it was the suggestion of composer David Adamcyk, who I had asked for advice.) Since the staff would be seated at their regular computers, we could work with the spatial layout of the Center offices. After getting an architectural blueprint of the office spaces we assigned instruments (scribbled into our map) based on a number of factors including location, job title, and personality. We then wrote a rough score on graph paper with events and timings. The night before the performance we composed dozens of emails more or less corresponding to our score and saved them as drafts, ready to go out at the right time. The next day the entire staff of some 20 people was asked to keep an eye out from 11 a.m. to noon for periodic emails with instructions to make sound.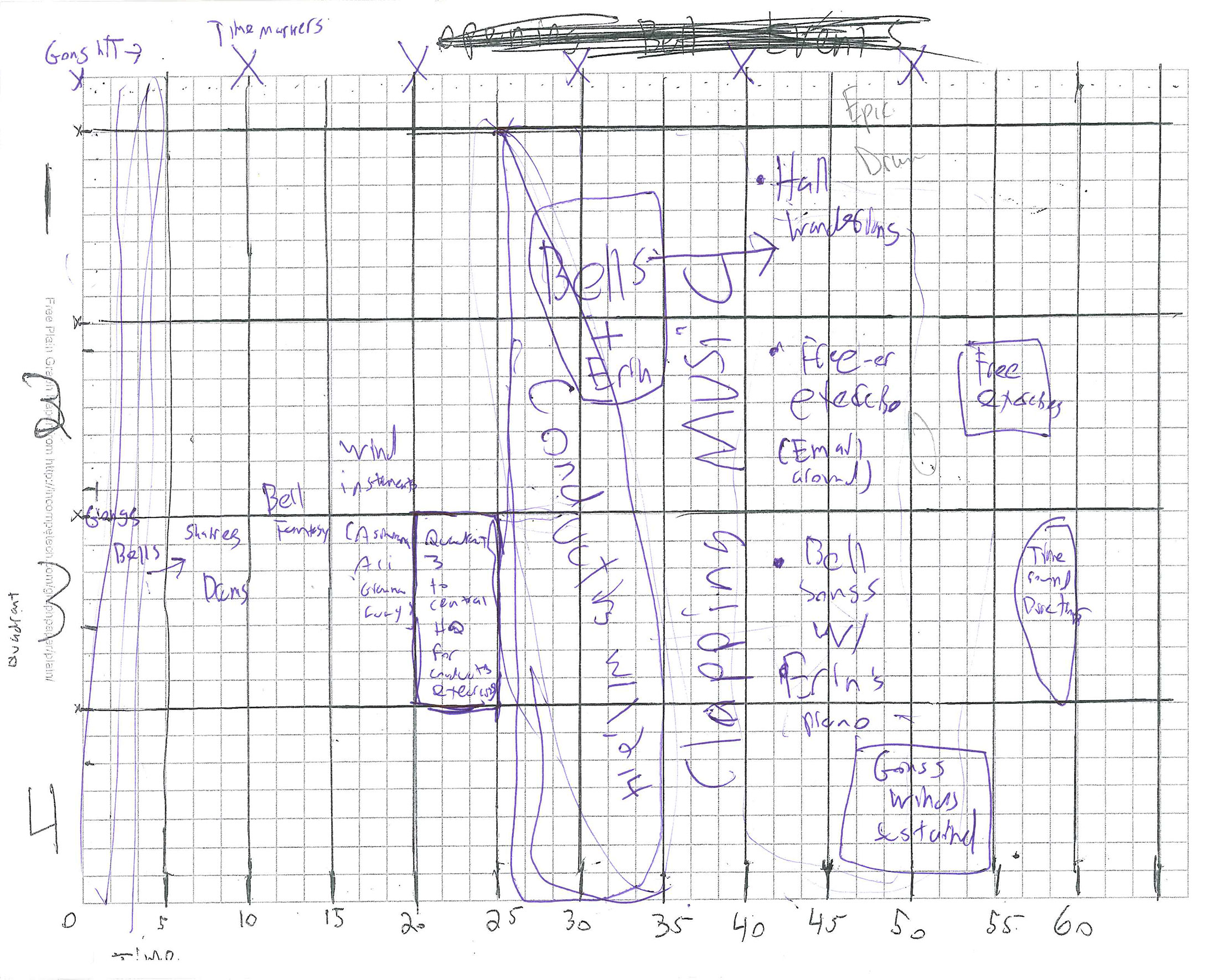 The performance came off beautifully: slow and "ritualistic" introductions of each group of instruments; delicate bells chiming across the office answered by toy piano; Dan's trombone marking the passage of time, once every 10 minutes; increasing complexity as the emails instructed individuals to wander around and form small ensembles. Finally, most members of the orchestra gathered, either by instruction or rumor, to perform Steve Reich's clapping music (not bad!) with Dan leading, followed by an almost dirge-like instrumental finale in the lobby.
Listen to an mp3 of the "Pew Center Orchestra." For more audio, visit the Center's SoundCloud page.
Dan Blacksberg:
As far as I know, there are almost as many ways to go about composing a piece of music as there are pieces of music. For me, two approaches immediately come to mind. One is the top-down approach, i.e. starting with a goal such as "I want to compose a string quartet," or "Let's make everyone in the office perform some music," and then figuring out how to make it work. The other is a more bottom-up approach, as in, "We've got a table covered in random percussion instruments. What can we possibly make out of this?"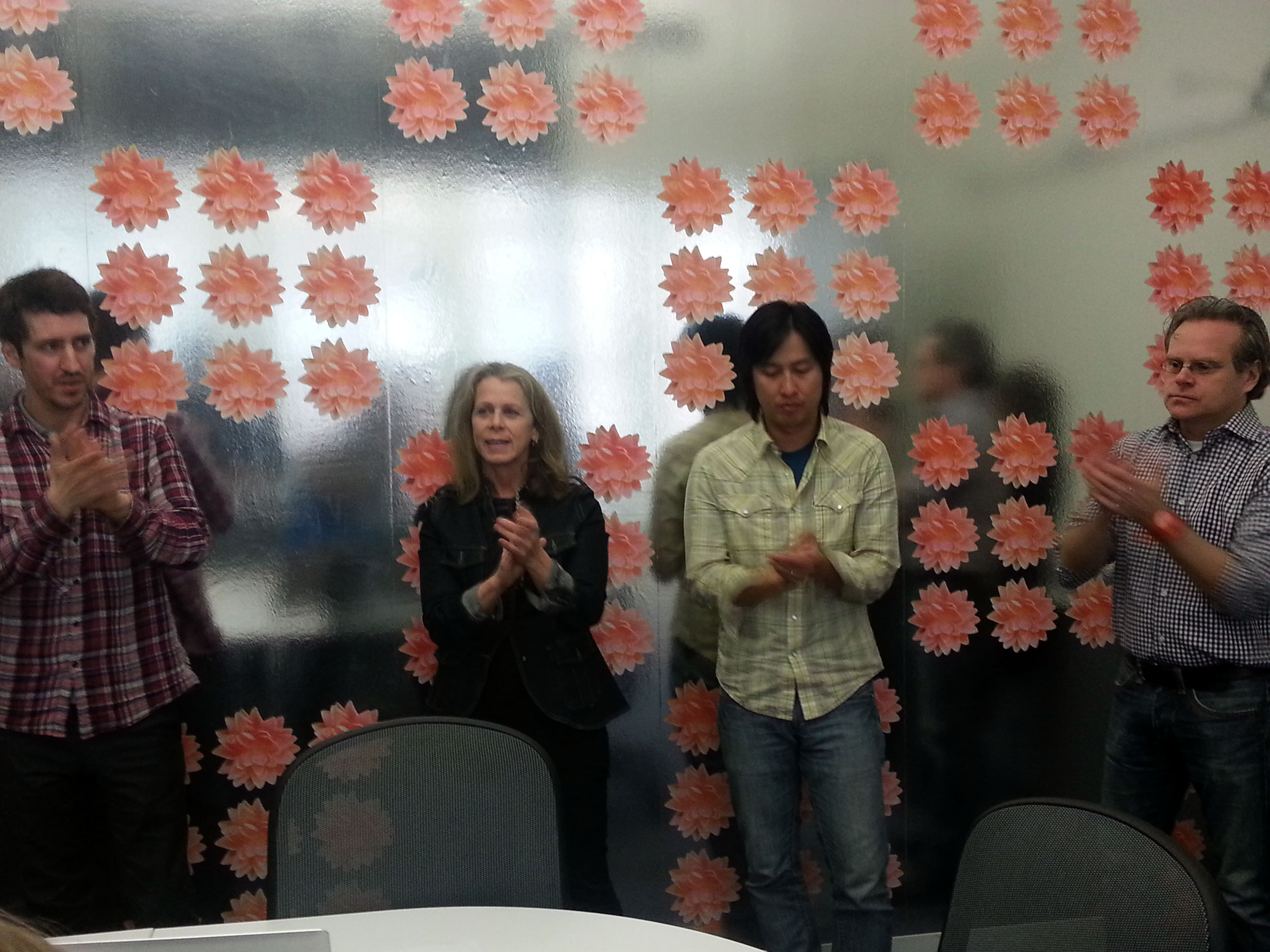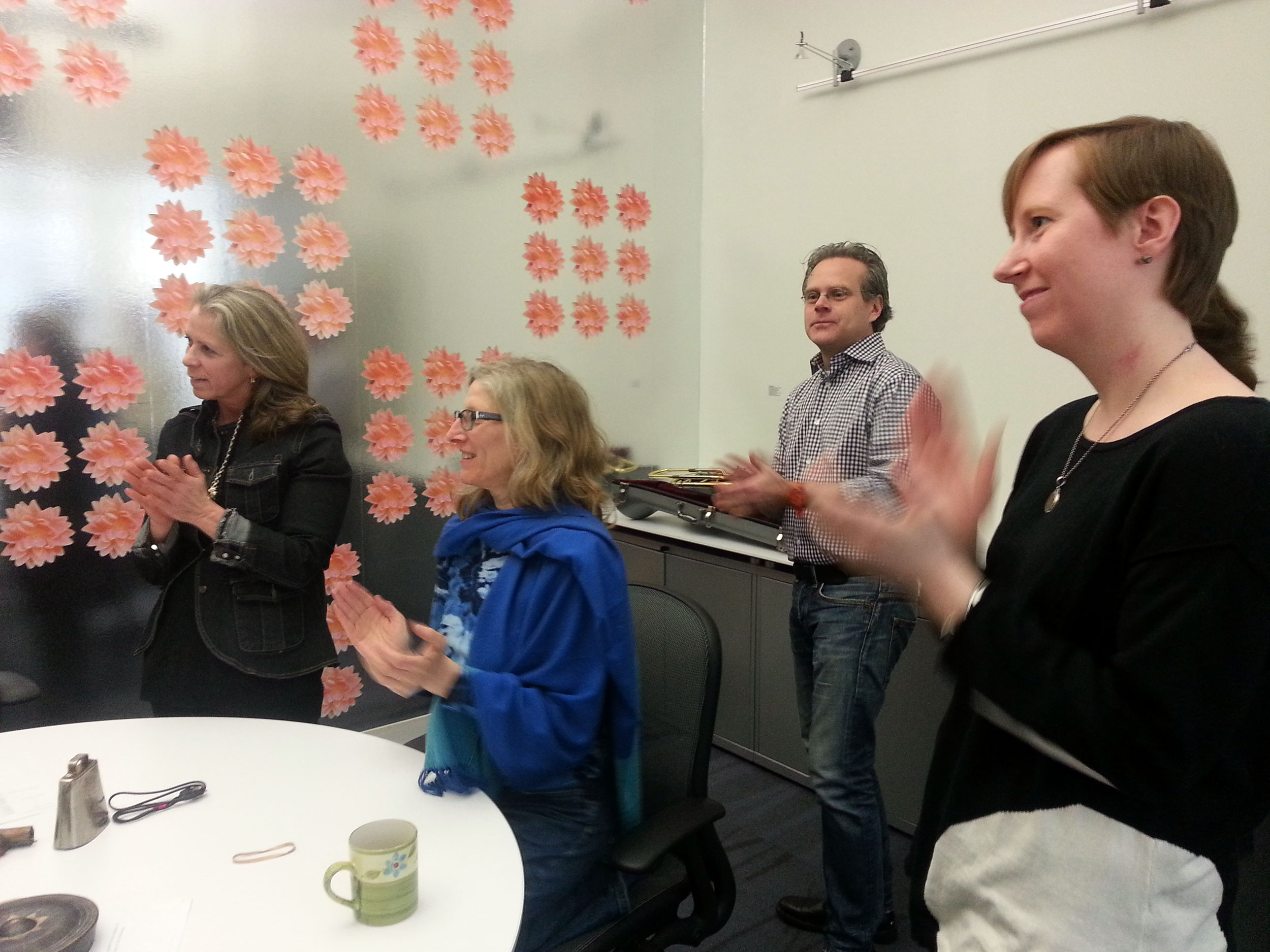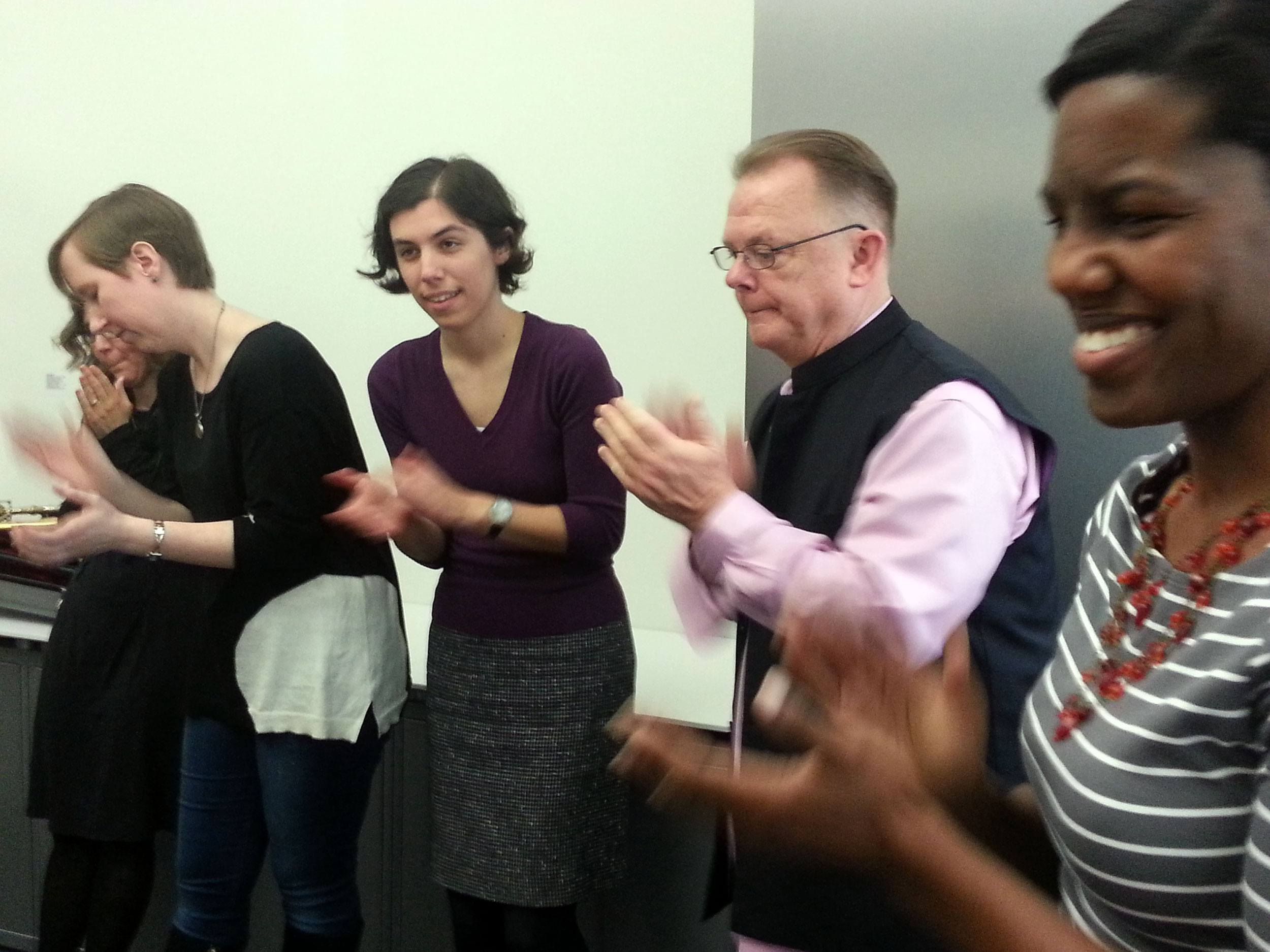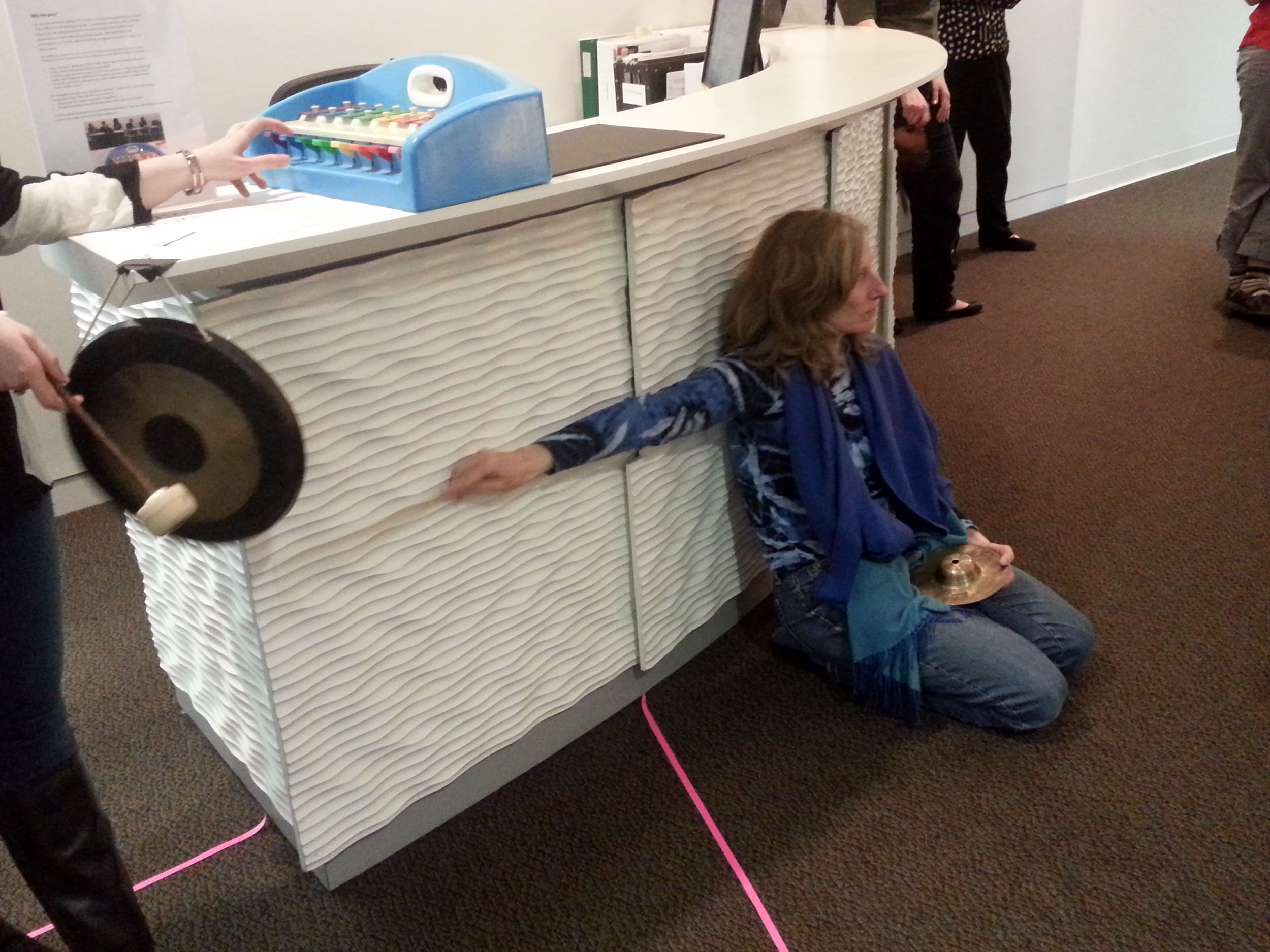 Composing for an Office
Throughout our White Box Residency at The Pew Center for Arts & Heritage, David and I found ourselves liberally mixing these two approaches as we experimented with sound and, ultimately, created a performance for the staff of the Center. Because of the open-ended nature of the residency, and probably somewhat in reaction to the natural top-down orientation of any office, David and I tended towards the free play. I was thrilled by the way we achieved our goals, by letting our imaginations run wild within a very loosely defined framework, creating what was, in my opinion, a very successful performance and experience for everyone involved. We realized that these two approaches are not remotely exclusive, but rather deeply intertwined and interdependent.
Exploring the sounds of the workplace and disrupting the usual office flow of by amplifying certain actions, such as signing in at the front desk—our biggest hit—brought up issues of workplace productivity and creativity, the hierarchy of an office, and most of all, the importance of people's willingness to try new things and to have fun. My biggest takeaway is that the act of play doesn't have to be separate from the act of work. Even in the structured environment of an office, play and open-ended creativity isn't just an outlet for stress, but an important aspect of getting things done. So thank you, everyone, for being so game to play with us, and for being so wonderful and creative. We had a lot of fun.