The Pew Center for Arts & Heritage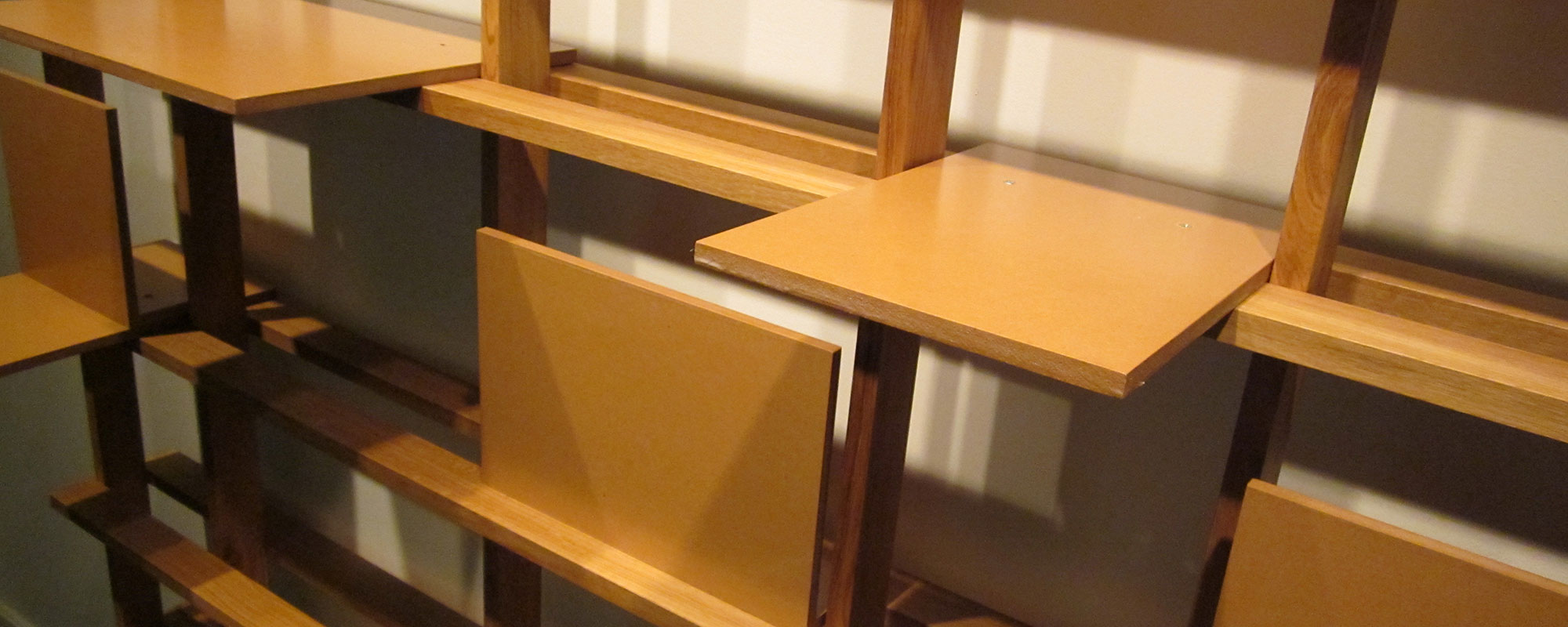 Shelf Life was a multi-author project that took place on a large bookshelf in The Pew Center for Arts & Heritage lobby from October 2011 to August 2012. The Center invited artists, curators, and designers—most of them Center grantees—to use the books in our library for curated displays on subjects of their choosing. In an age of digital books, the projects were meant to put a fresh spin on how the contents of the library might be used for more than just reading and to remind us that art books are not simply repositories of information, but also springboards of the imagination.
Each Shelf Life display remained in the Center lobby for six weeks. Participants included Alex Klein and Mark Owens of Oslo Editions, Laura Keim, Anthony Campuzano, Germaine Ingram, Helen Haynes, and Donald Nally. A culminating publication is currently available from the Center, containing photographic documentation of all six displays and an original essay by Thomas Devaney.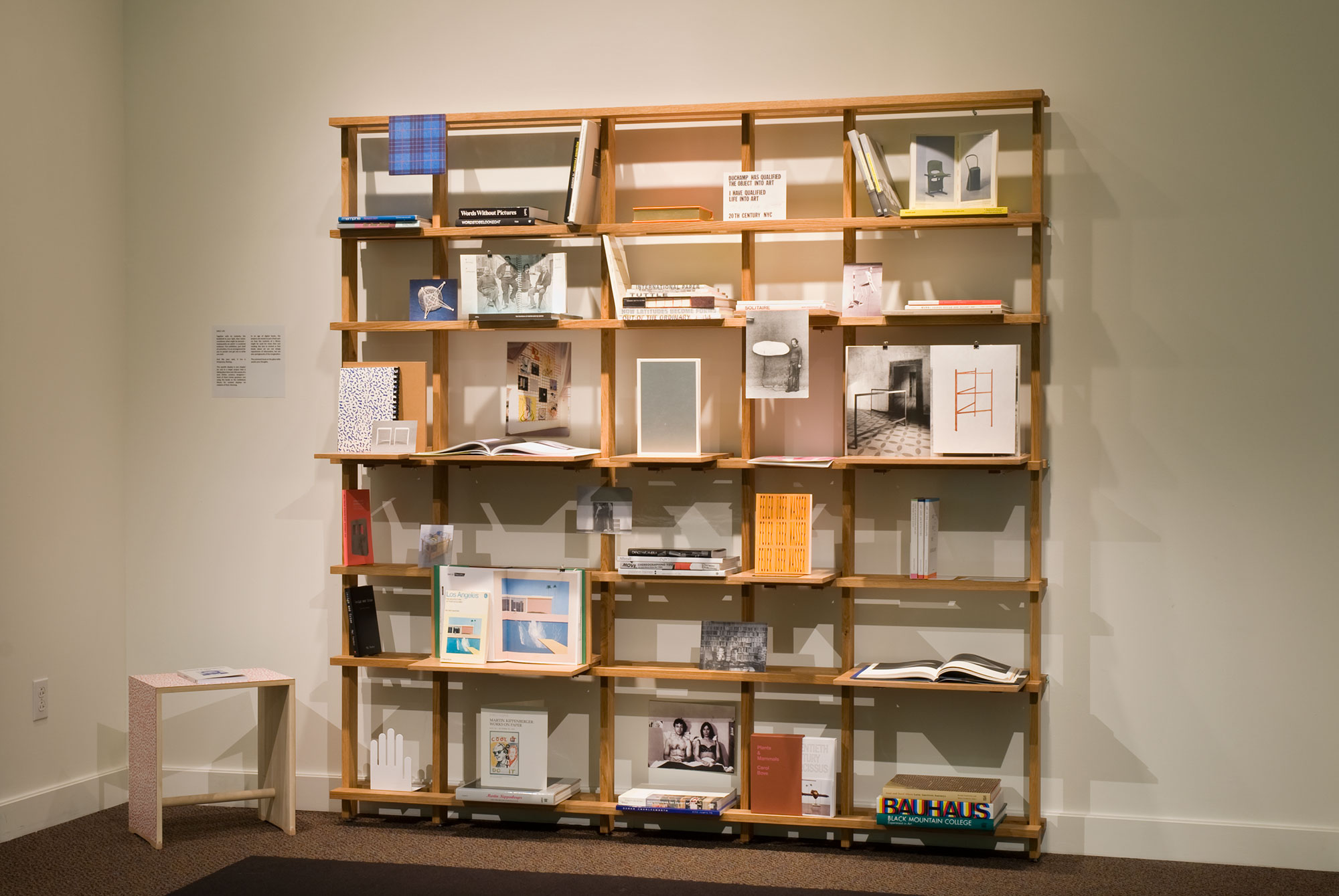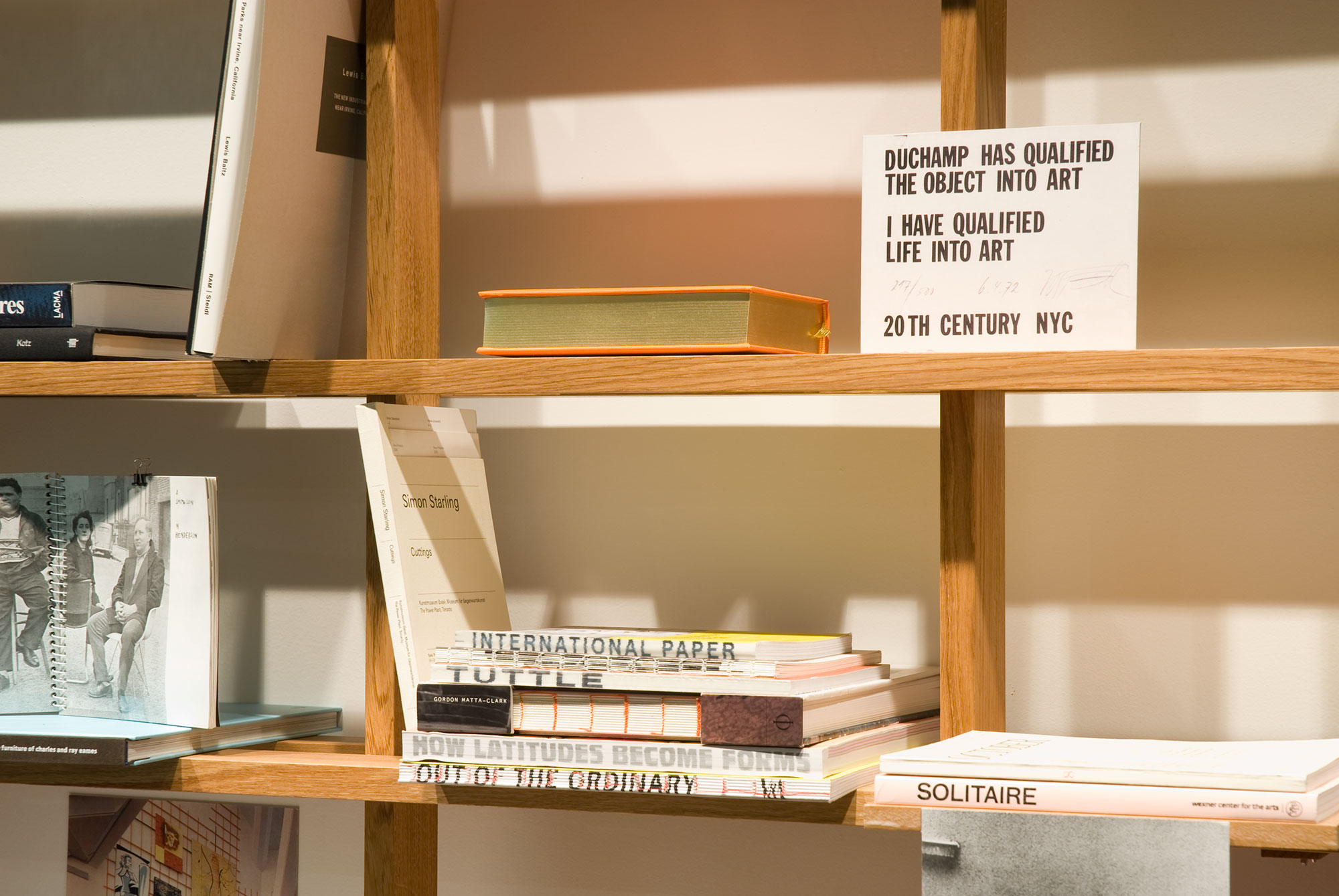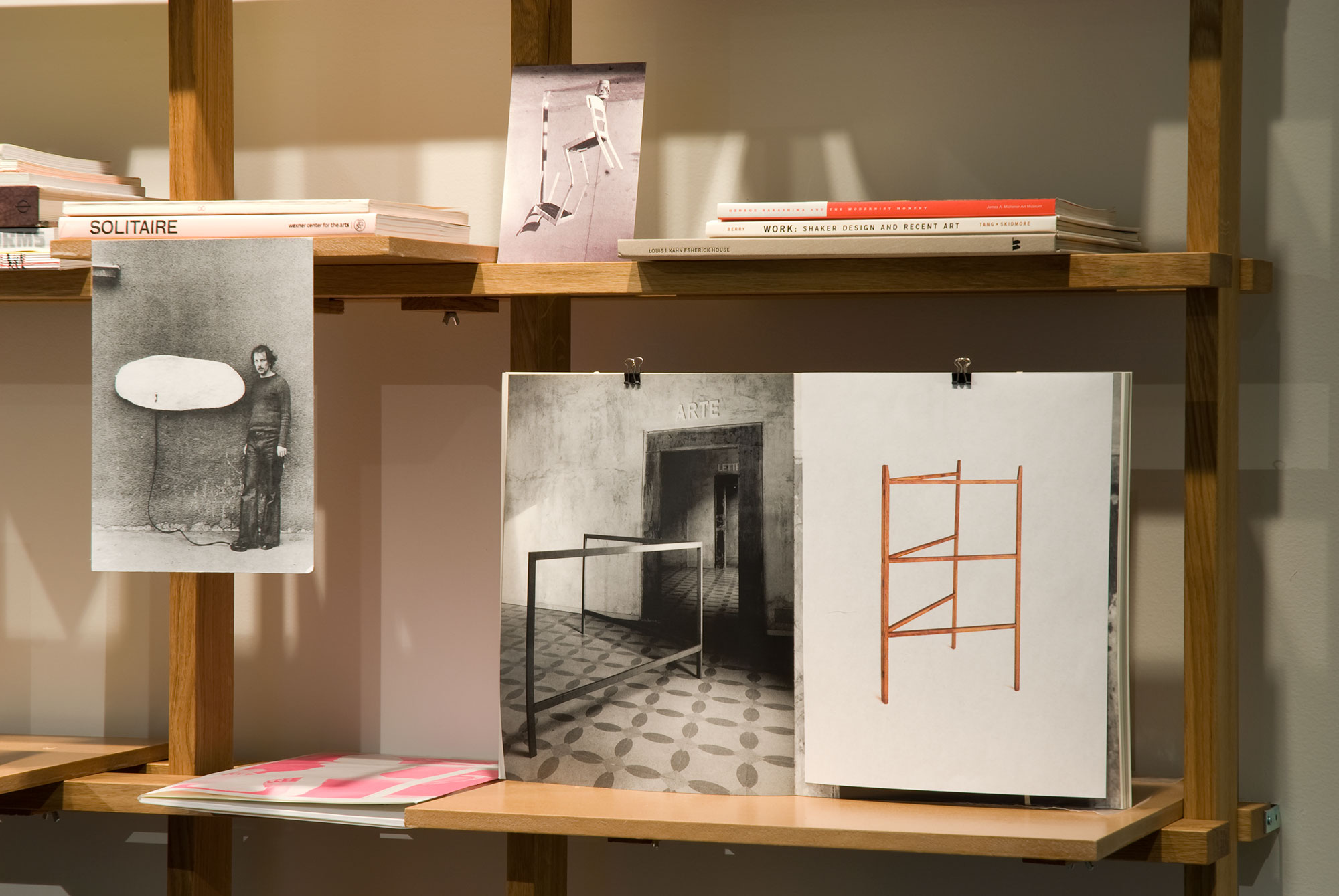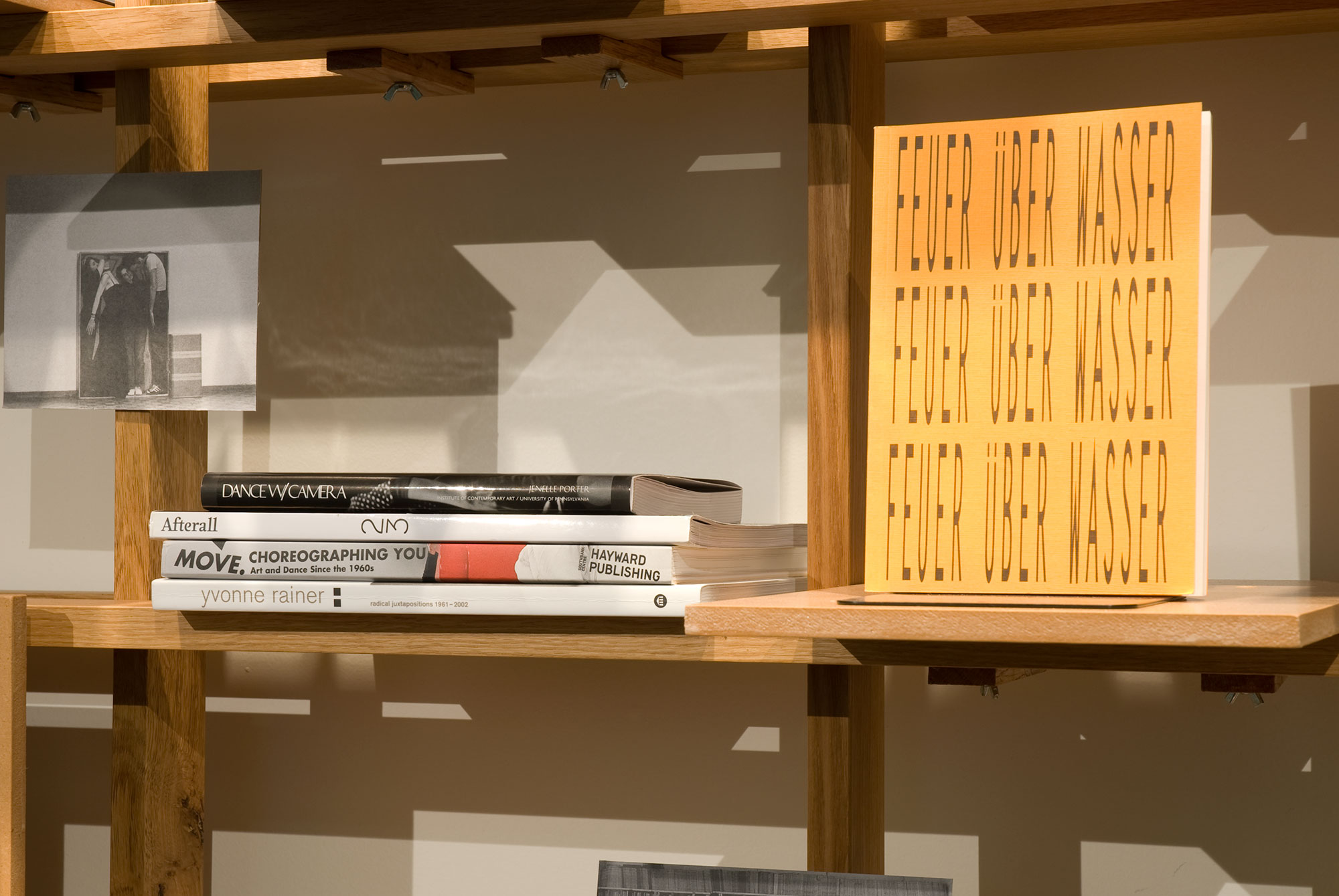 #1: Oslo Editions (Alex Klein & Mark Owens)
Objects, Furniture, and Patterns
October 7 – November 27, 2011
Of their display, Klein and Owens wrote, "Objects, Furniture, and Patterns aims to use selections from the Center's library to consider both the book as an object and its function as a surface and a vehicle for images and information. Taking a cue from a piece of furniture we produced for an exhibition in Los Angeles, our installation operates as a diagram of both a set of critical and conceptual preoccupations and a constellation of formal associations. At its center the installation presents a range of books—typeset, folded, cut, gilded, stitched, and bound together—that lay bare their status as material objects."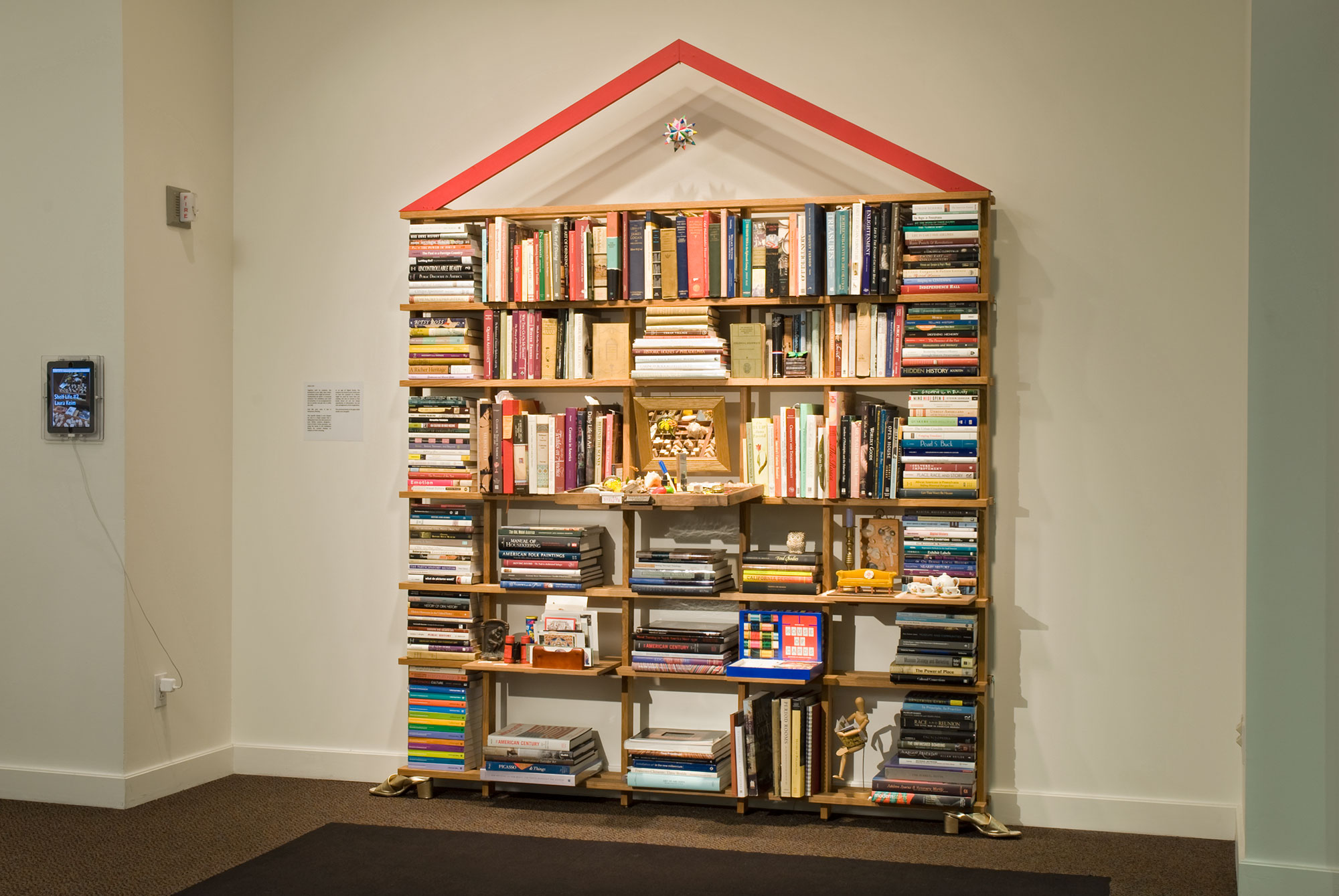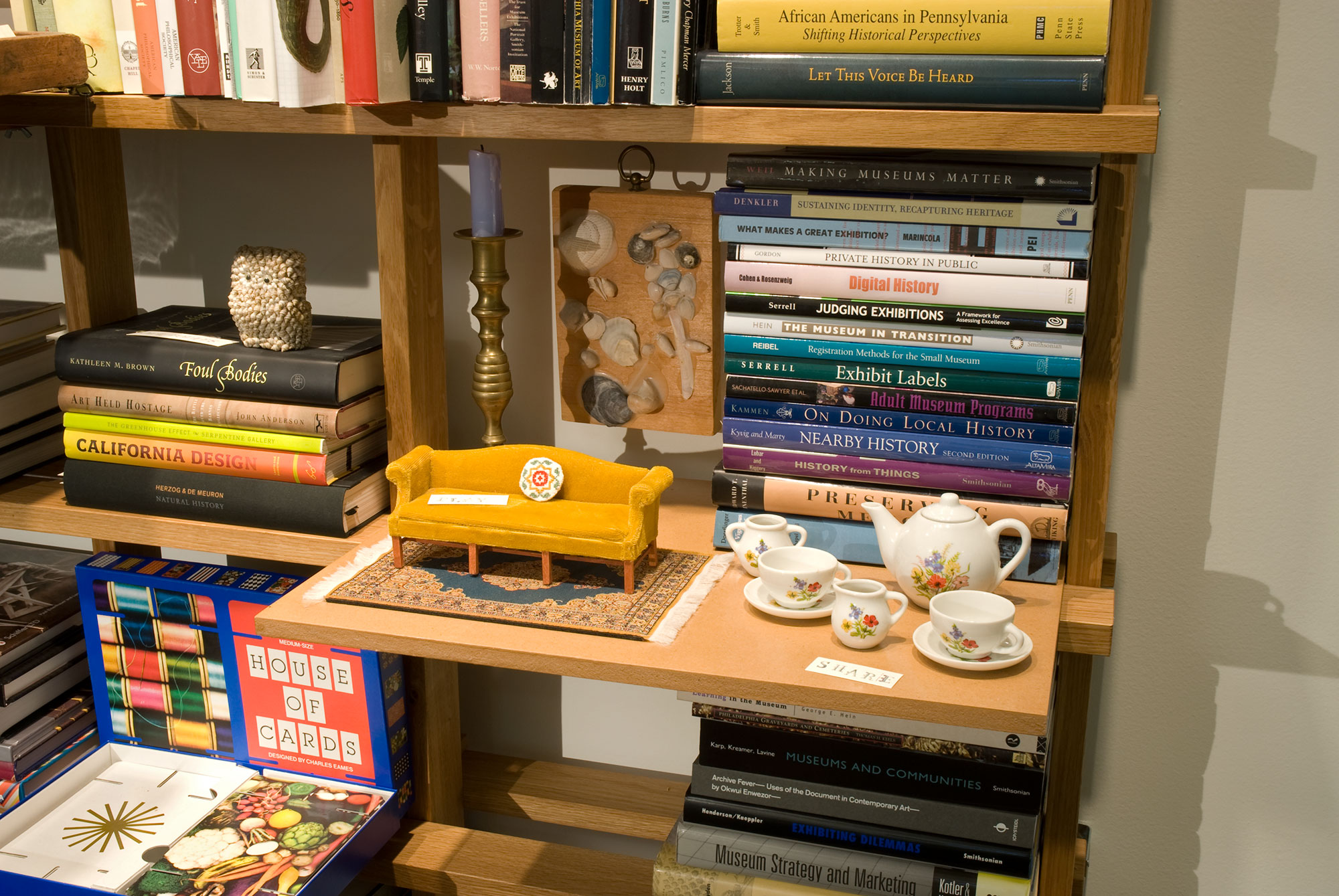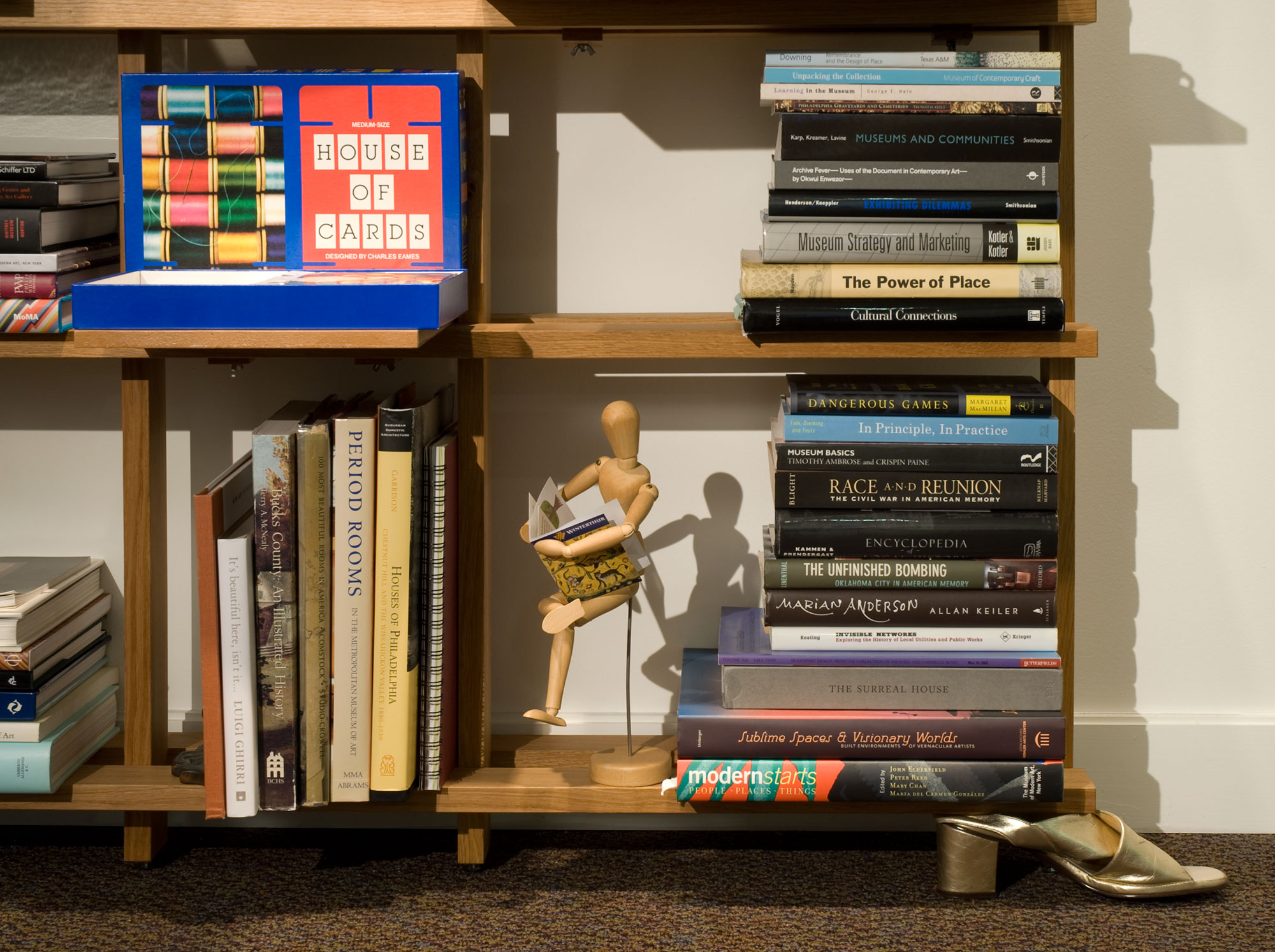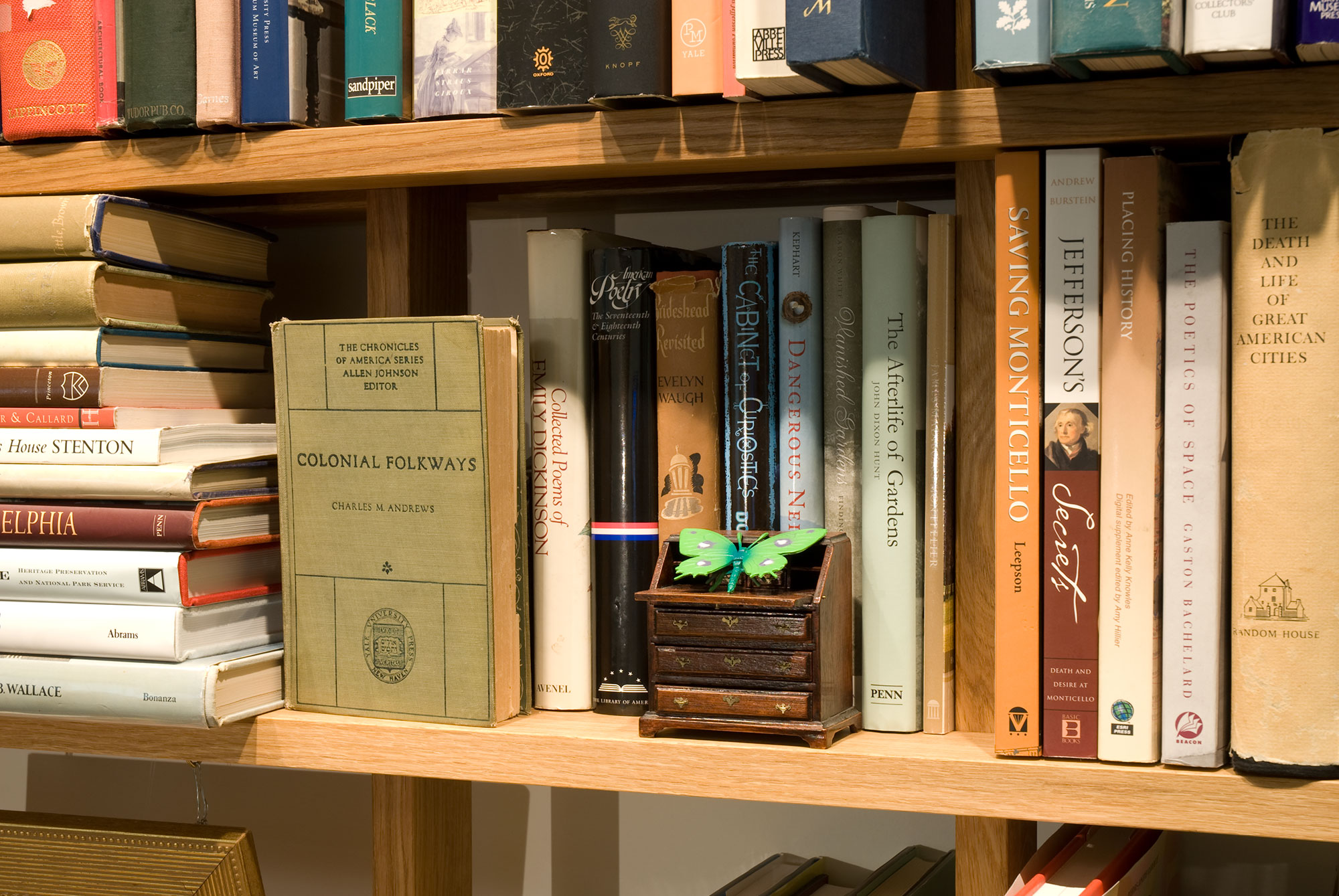 #2: Laura C. Keim
The Temple of Knowledge and Beauty
December 2, 2011 – January 20, 2012
Keim created a temple to the book and its dual role as a promulgator of knowledge and beauty in literate societies. She transformed the lobby bookcase into a modern specter of a pedimented 18th-century desk-and-bookcase. A bright pink pediment served as its crown. Where a writing surface might have folded out, Keim inserted a vintage printer's tray, which held a mirror and a "cabinet of curiosities." Books from the Center's library formed both the structure and the contents of this quixotic piece of furniture.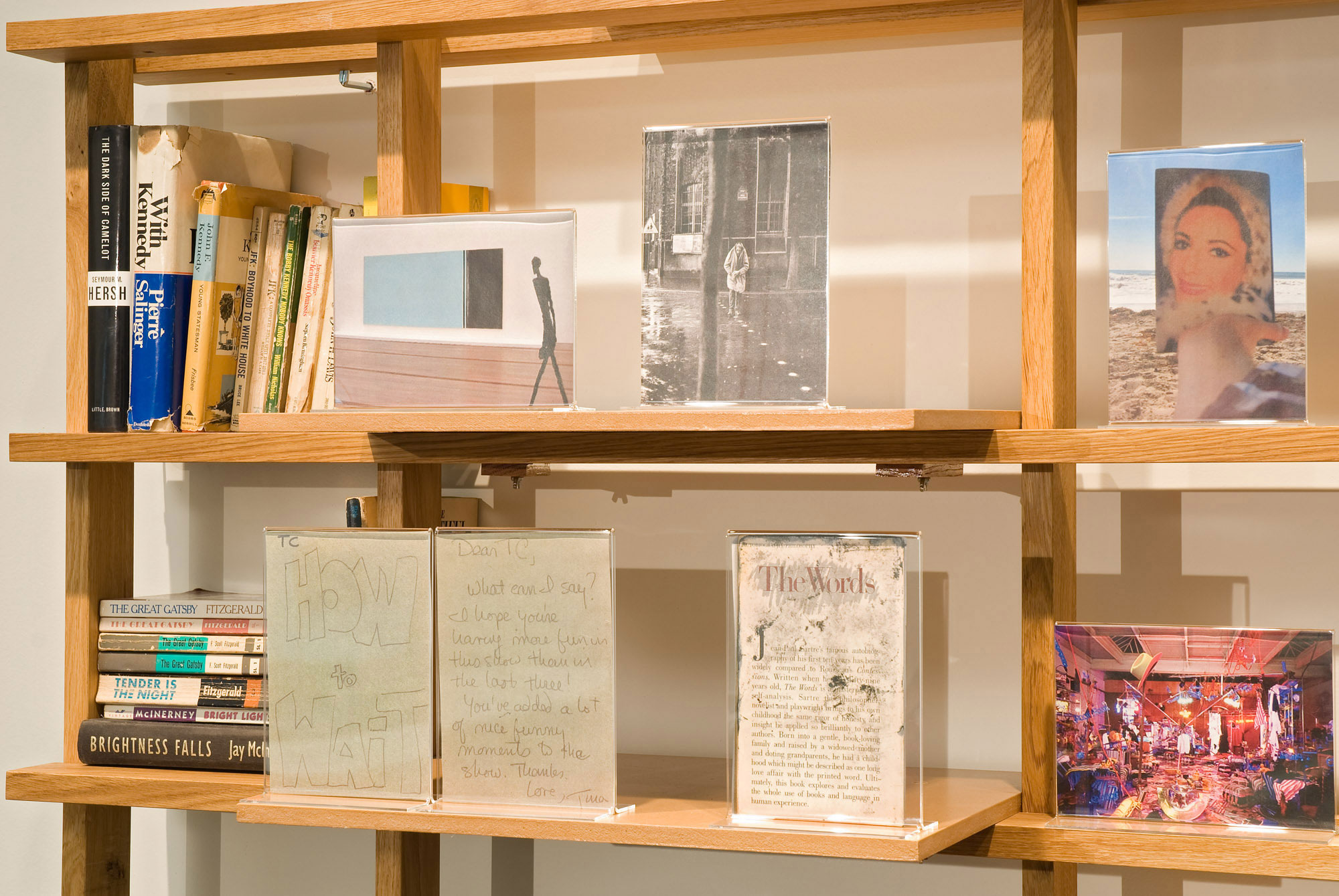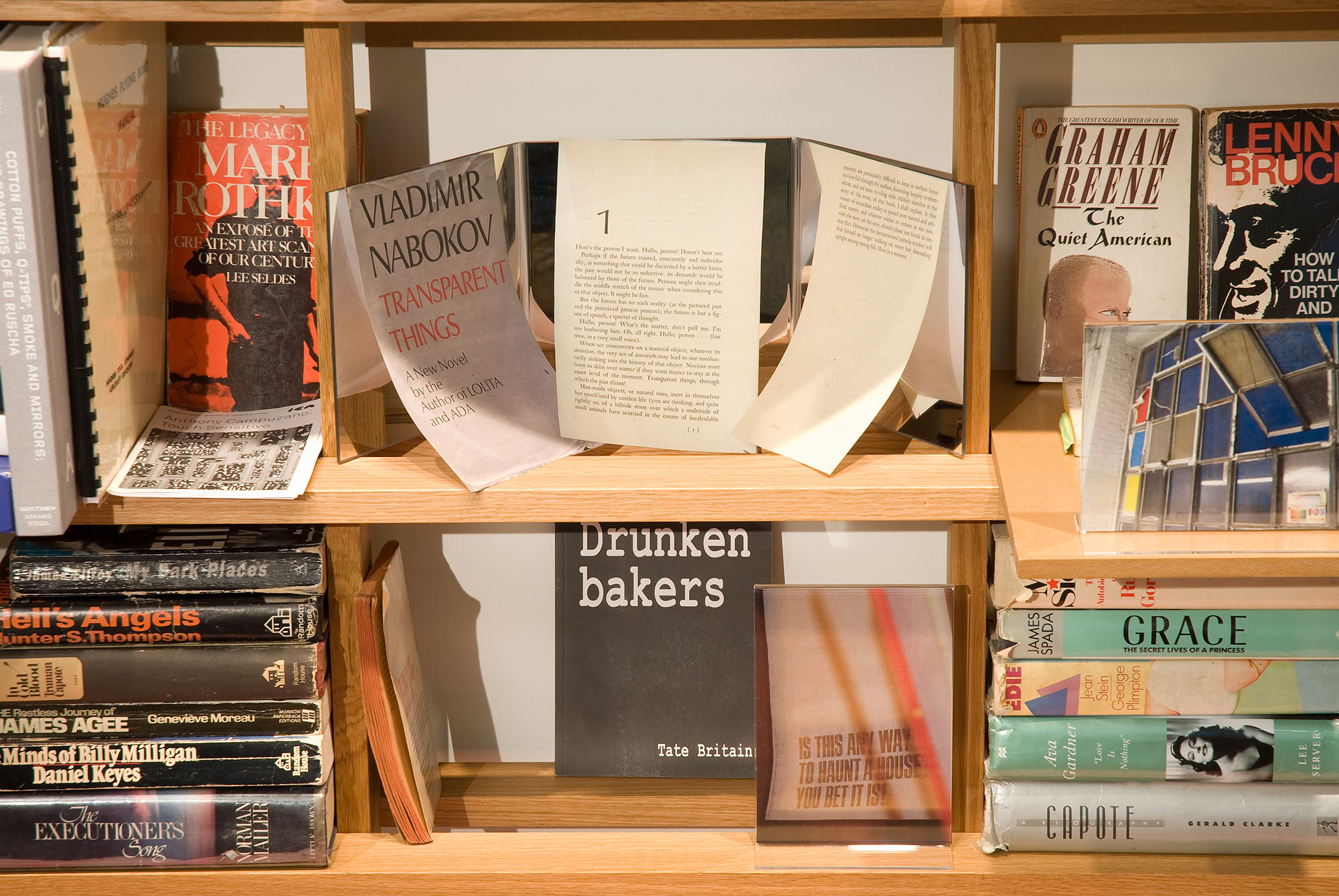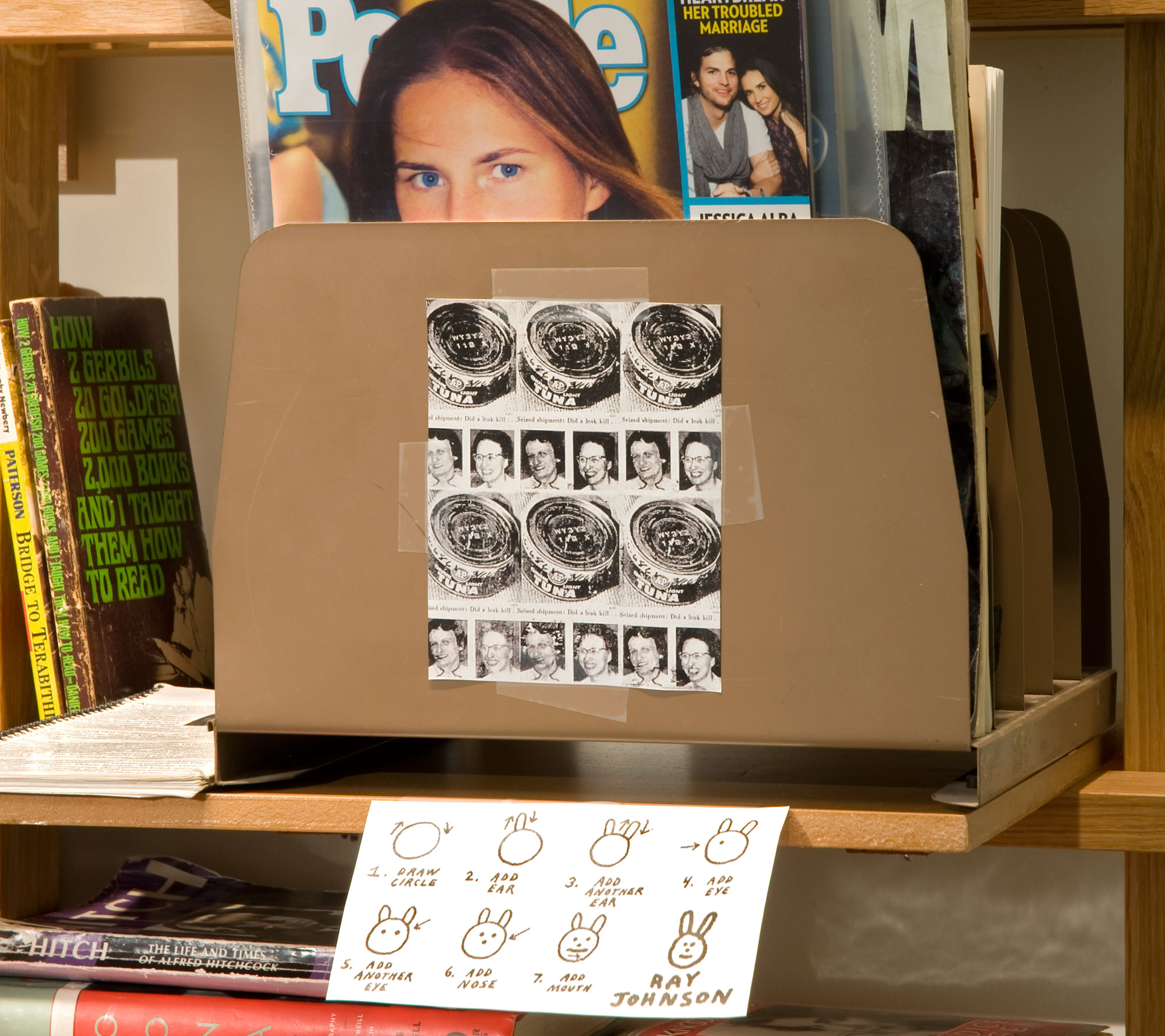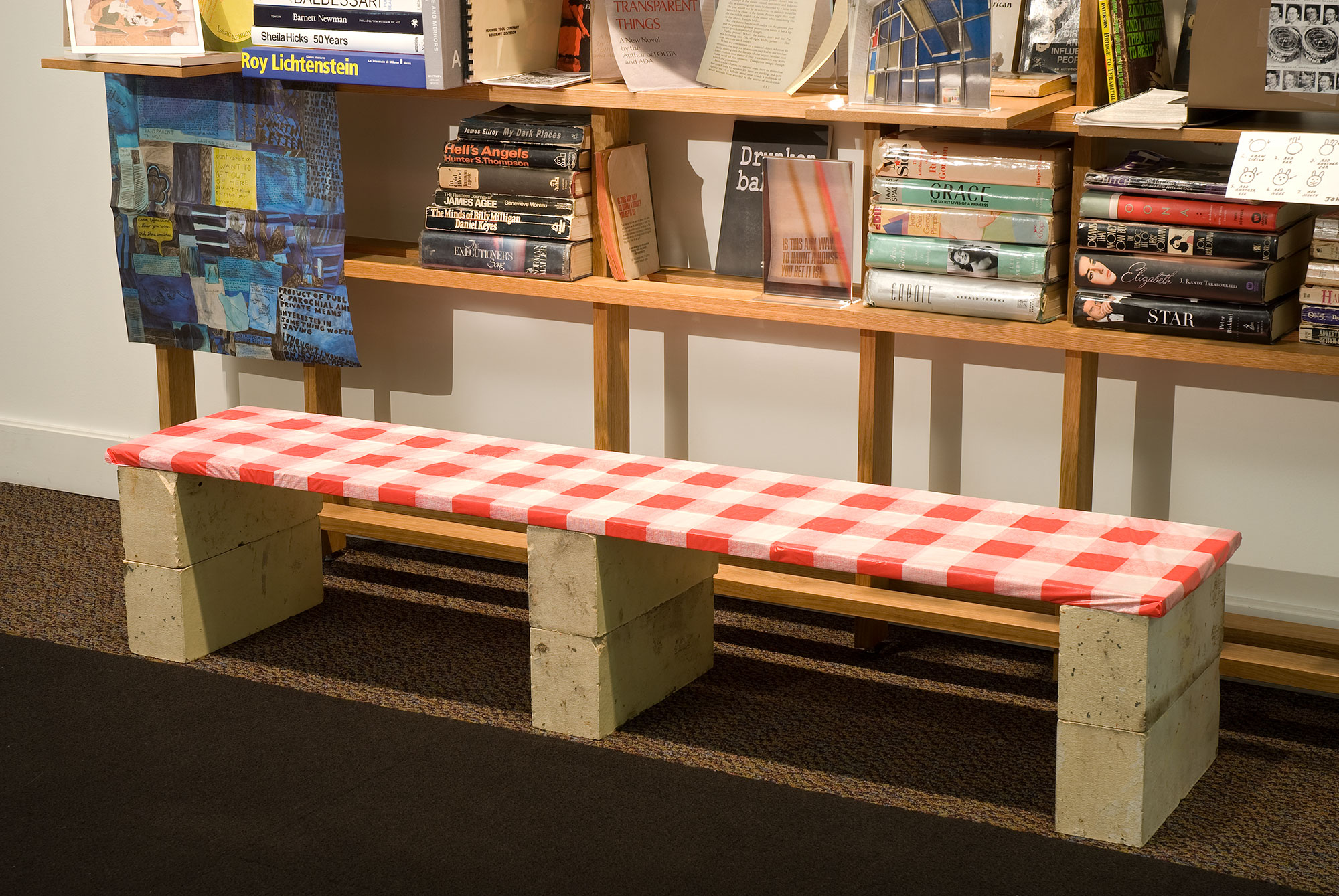 #3: Anthony Campuzano
Put These Away or: The Storm, Transparent Things, and In Praise of Al's Grand Hotel
February 3 – March 9, 2012
Campuzano is known for his use of found language in his drawings, using text from such sources as newspaper headlines, Wikipedia entries, the covers of paperback novels, and song lyrics. In a conversation with then Center Visiting Artist Ain Gordon, Campuzano said, "I often look back at a book in order to cite something in relation to a work or a conversation. Often, however, it is just a way to touch the past, to pass the time again; a book as an embrace."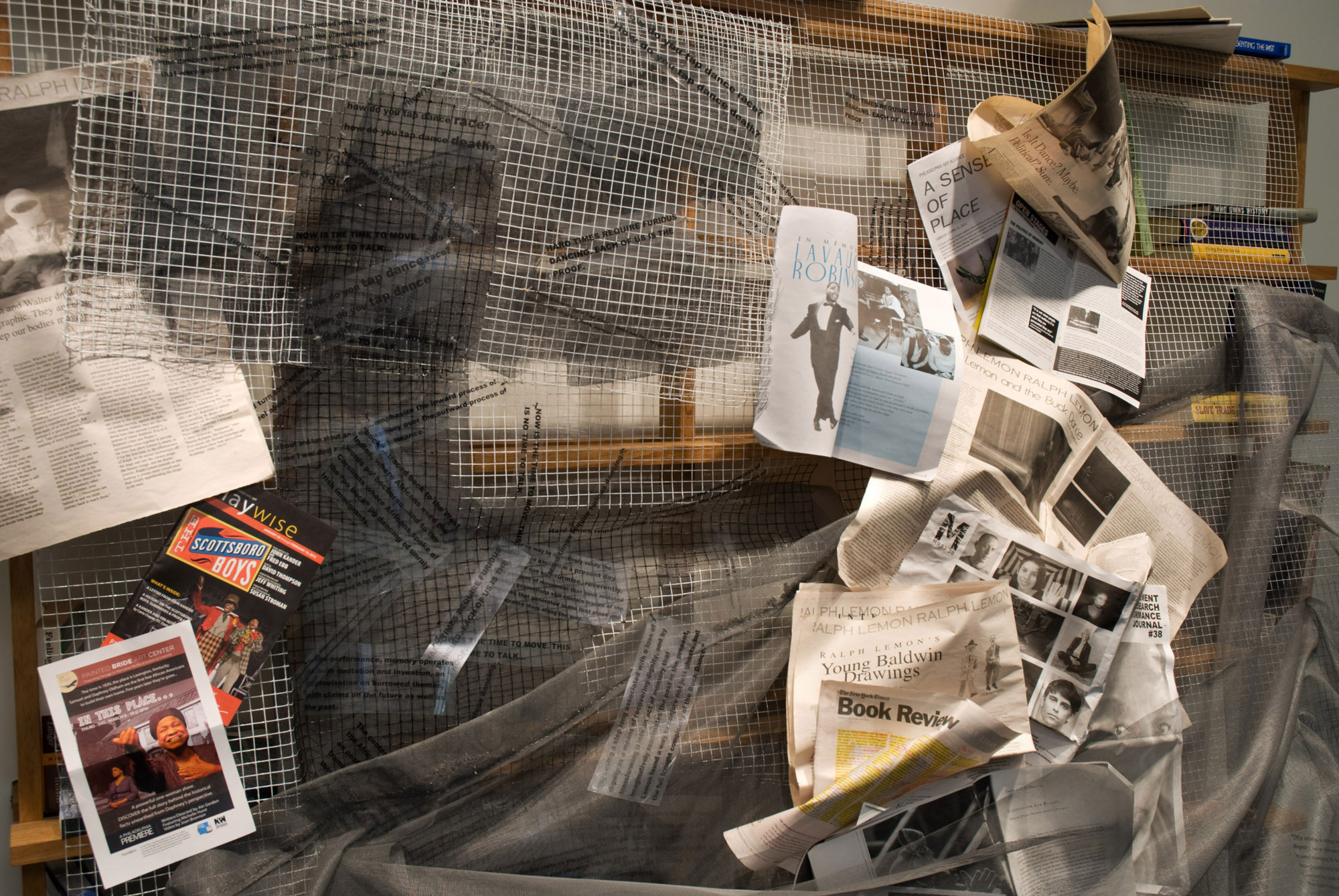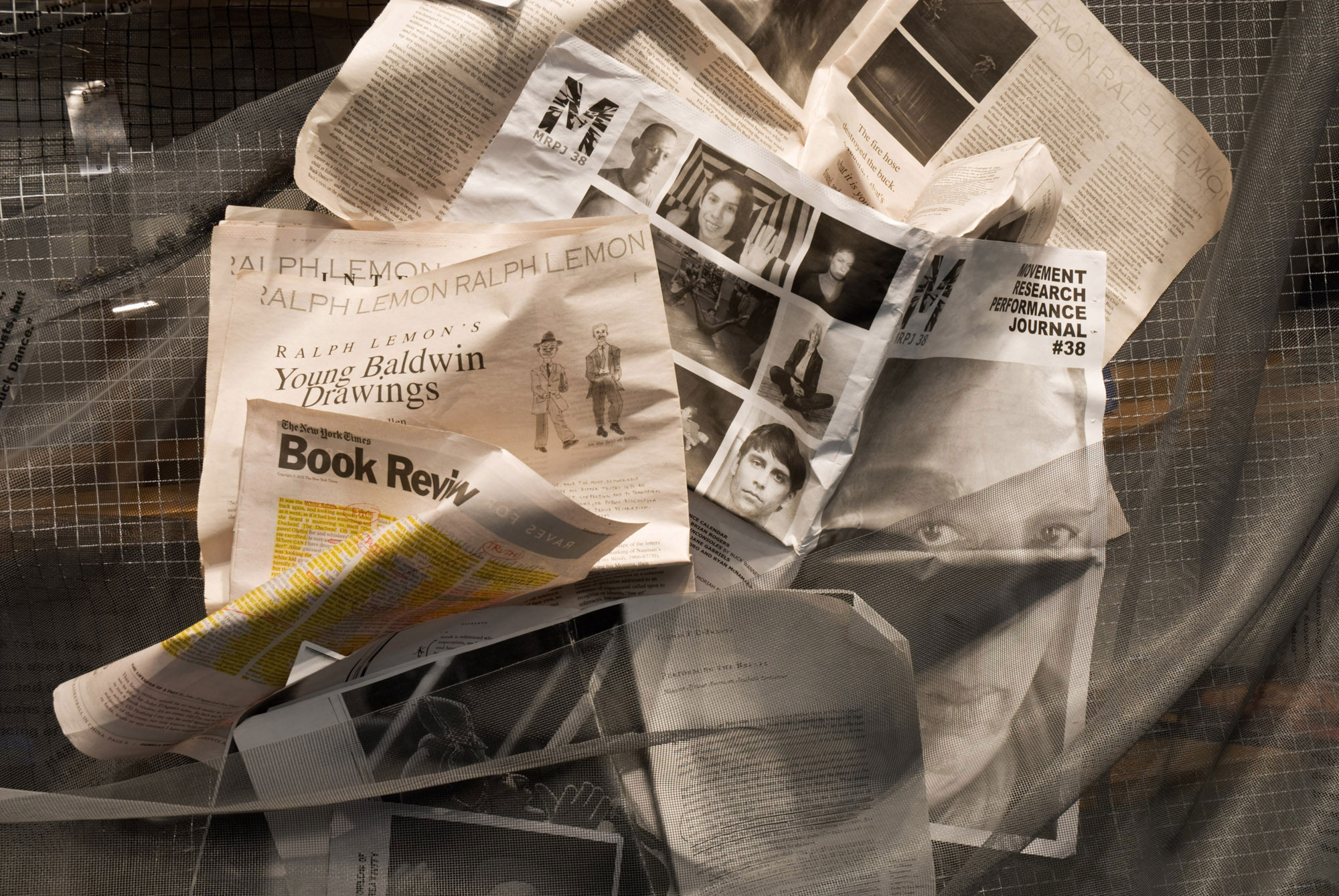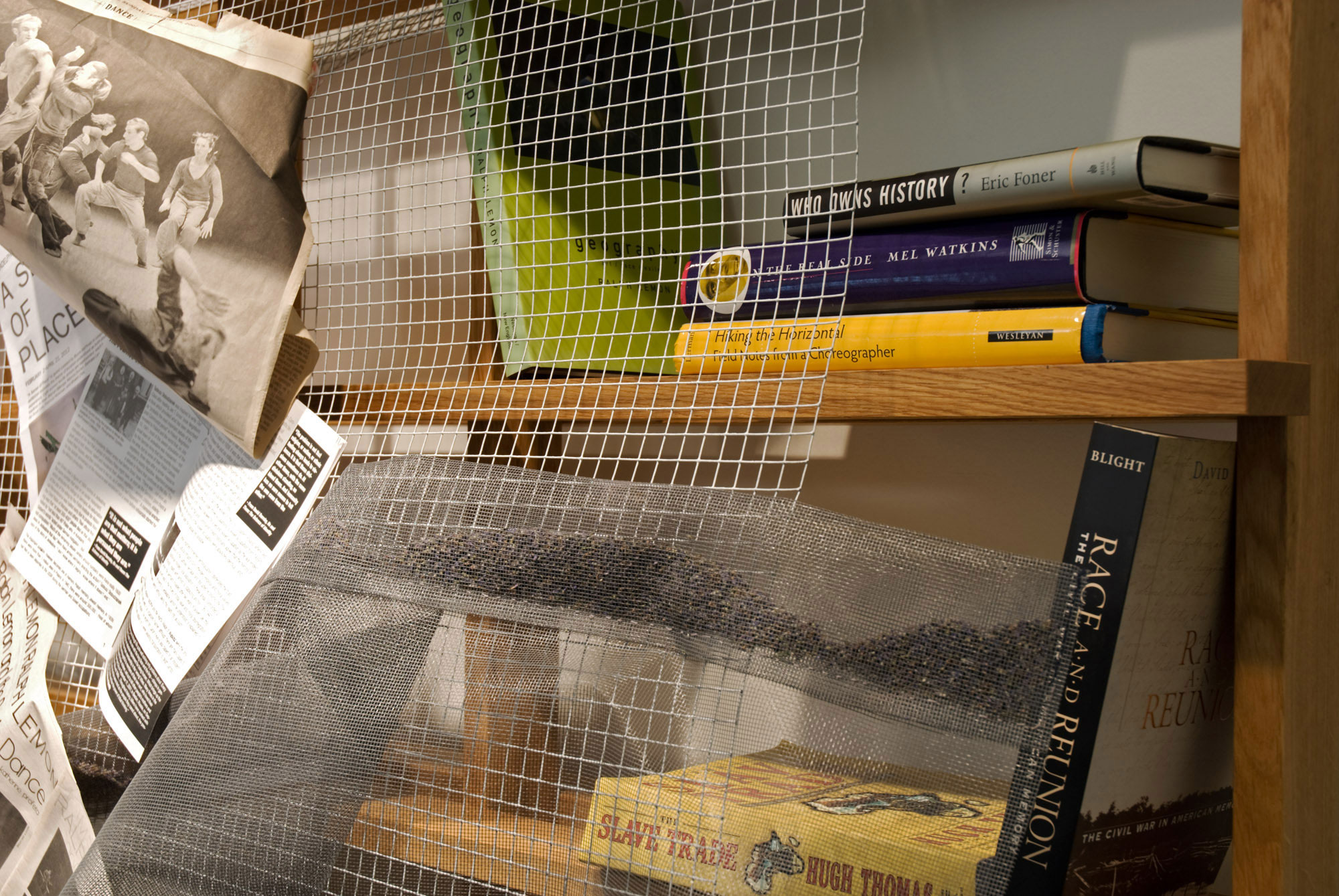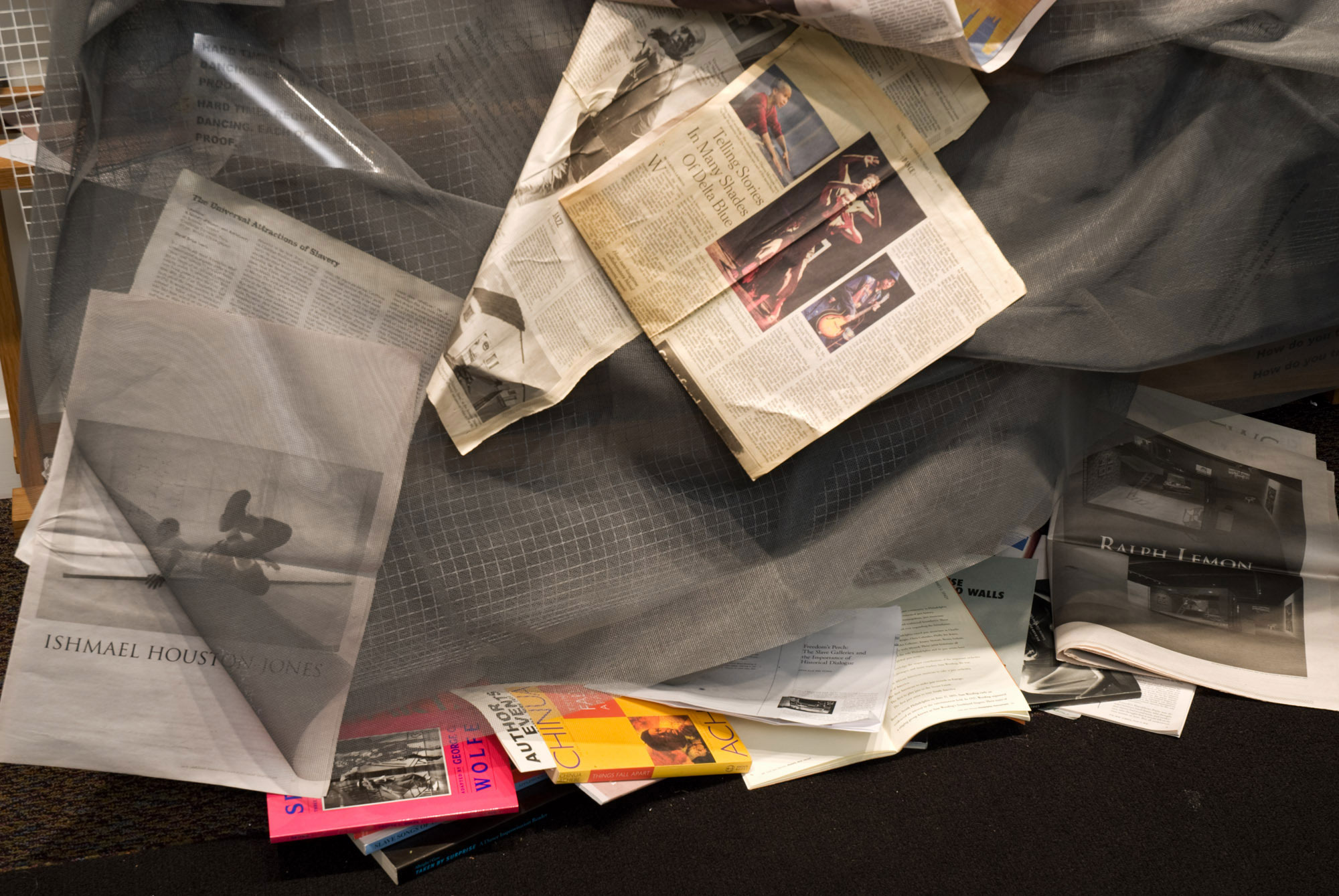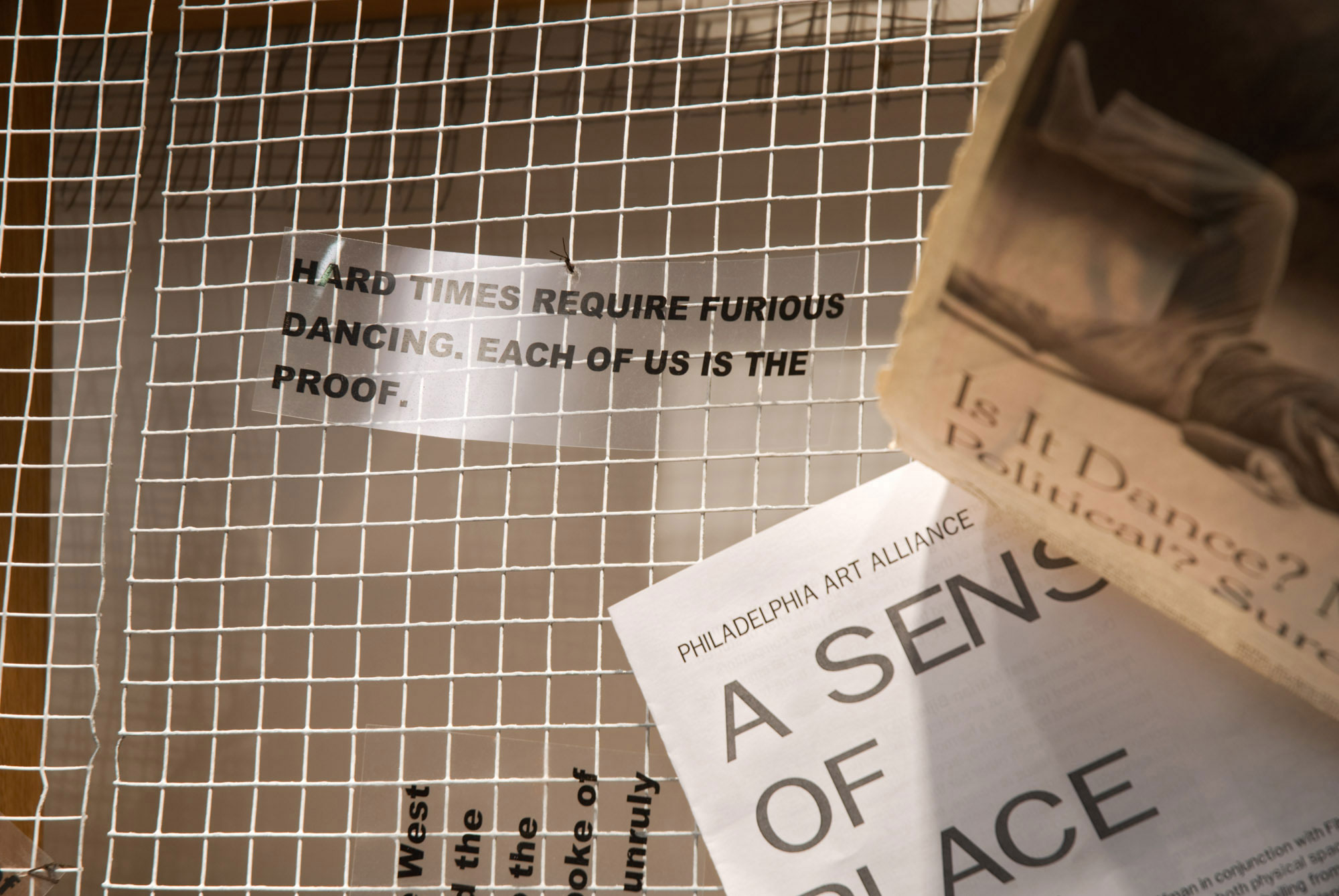 #4: Germaine Ingram
Discovery Zones/Journal #33
March 23, 2012 – April 30, 2012
This display featured a simulation of Ingram's bed, littered with research paraphernalia—journals and books in various states of use. Ingram's primary subject of inquiry was a question posited by Ralph Lemon that Ingram has re-applied to her own practice: How do you tap dance race? "How many times have I rolled over to be suddenly confronted with a line, a paragraph, a citation, a photo or drawing, or a lost or forgotten handwritten note that re-frames, reverses, catapults…my thoughts?" Ingram wrote. "It's this messy, jumbled, physical, fragmentary, somnambulistic relationship to text and research that I explore in my Shelf Life installation."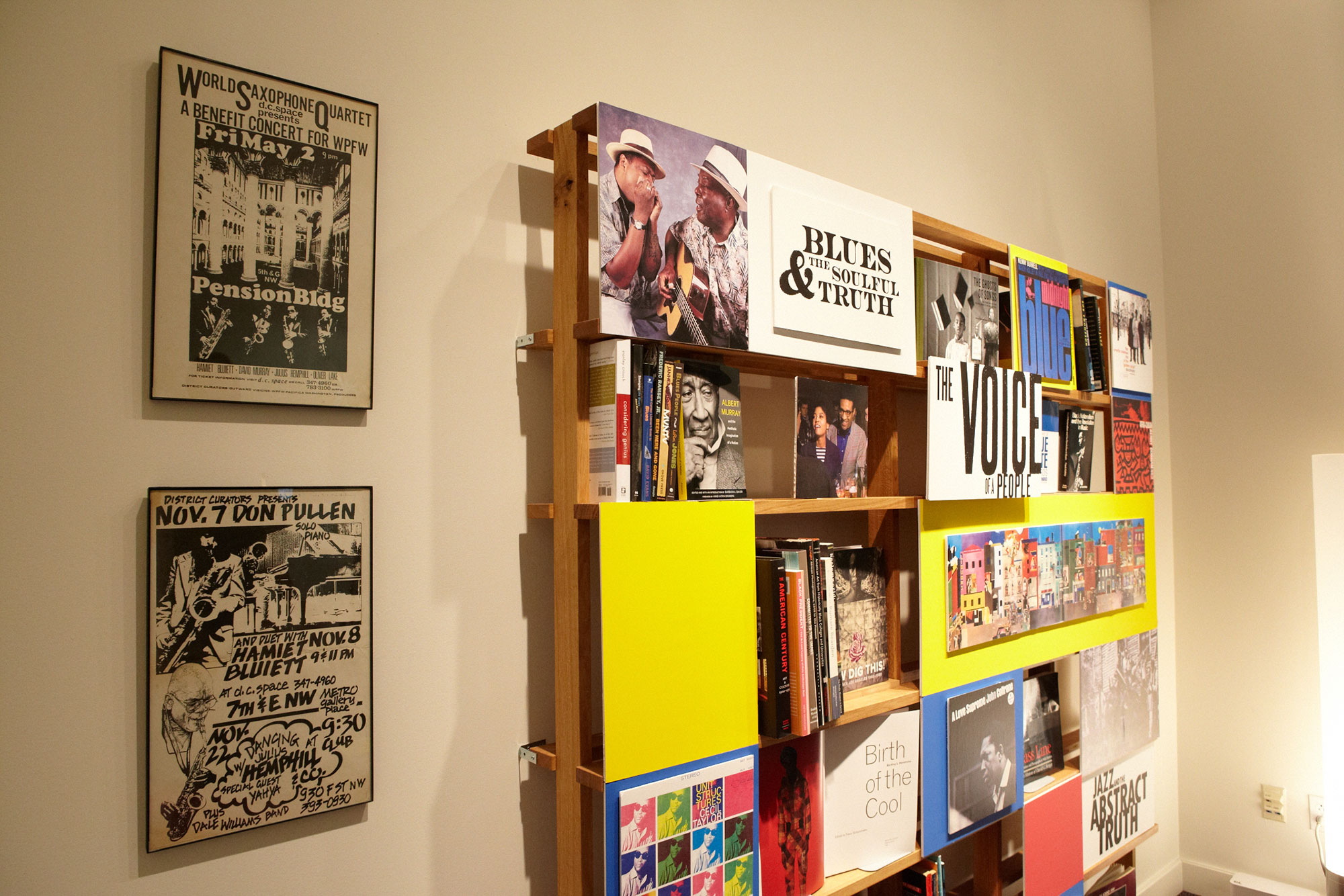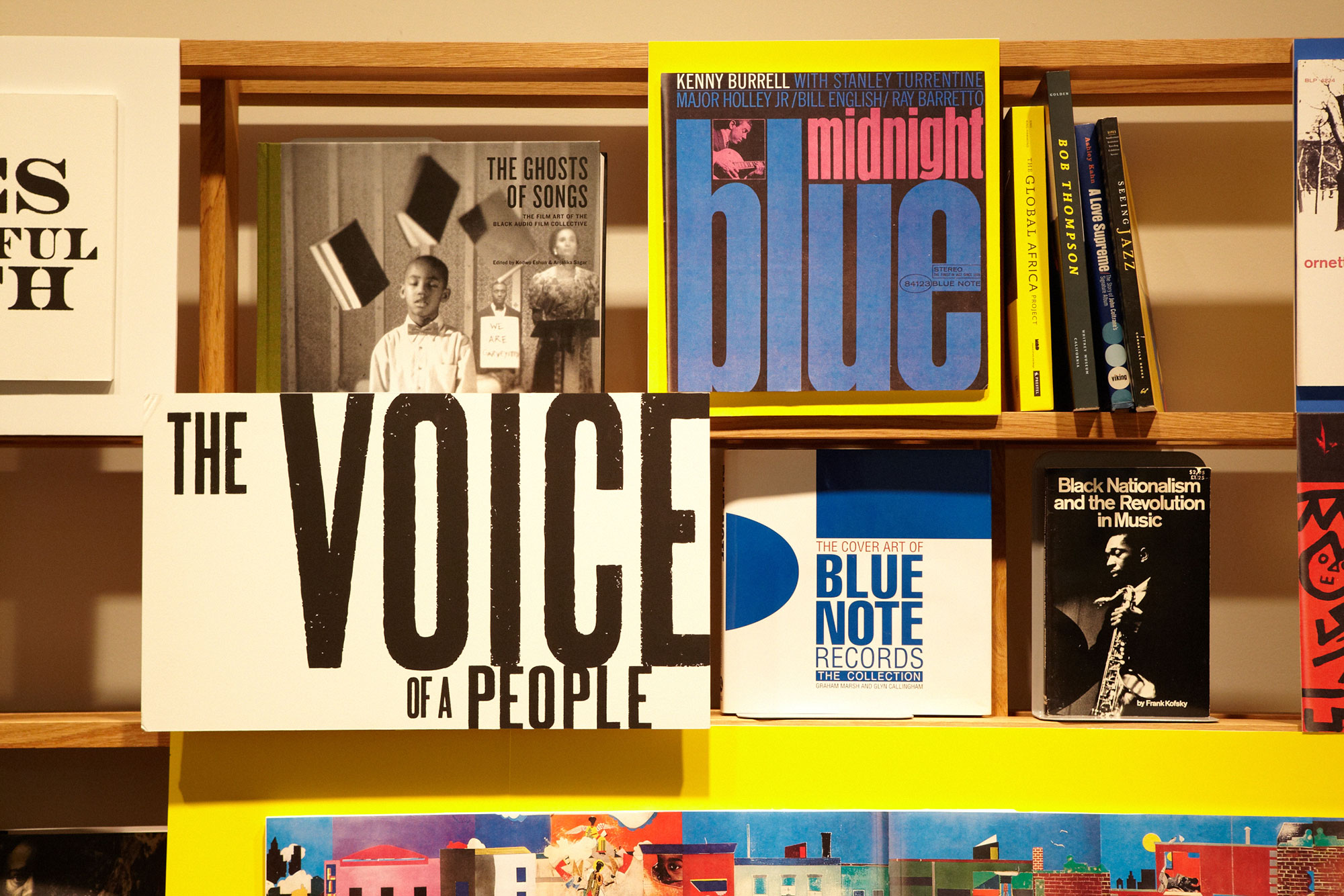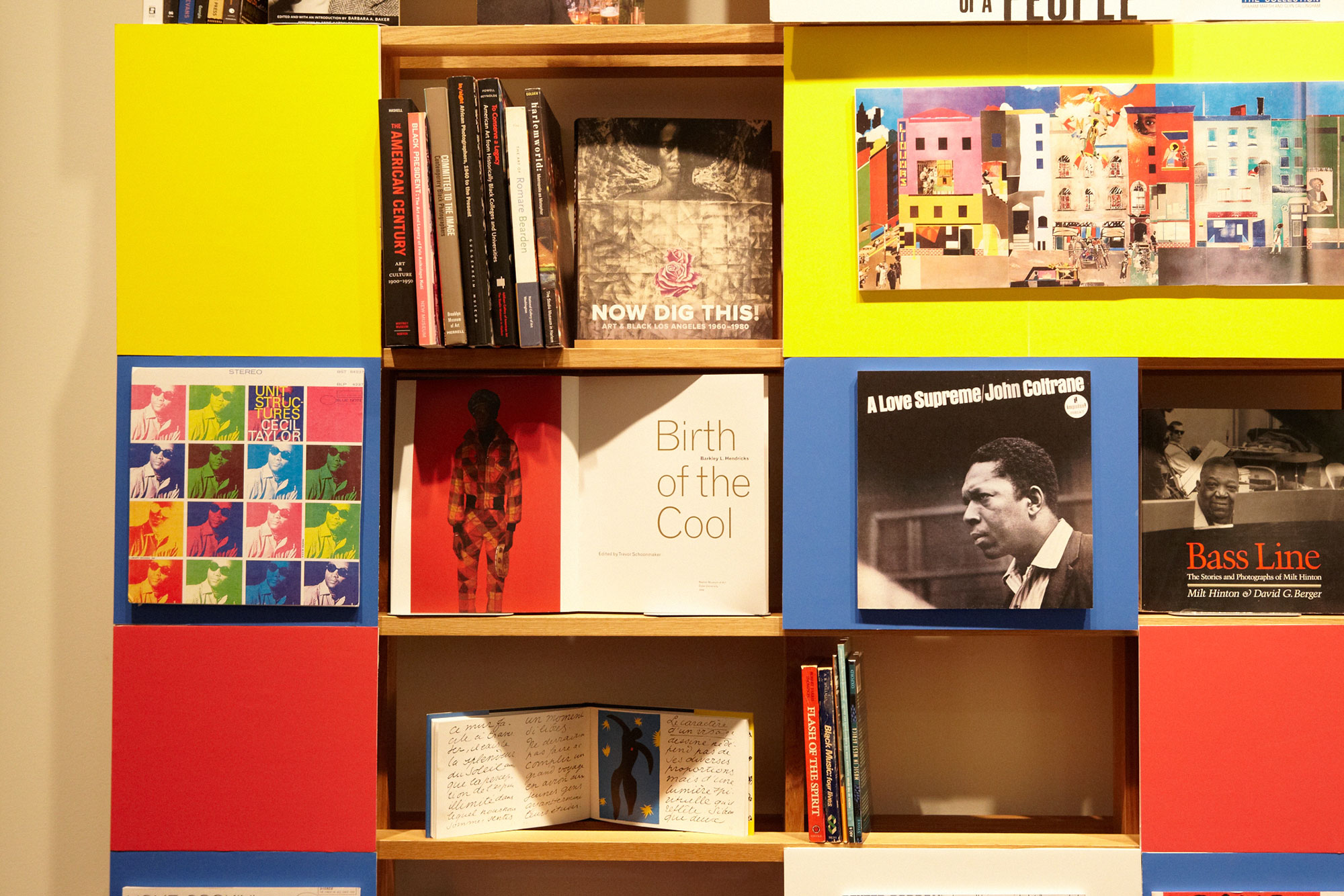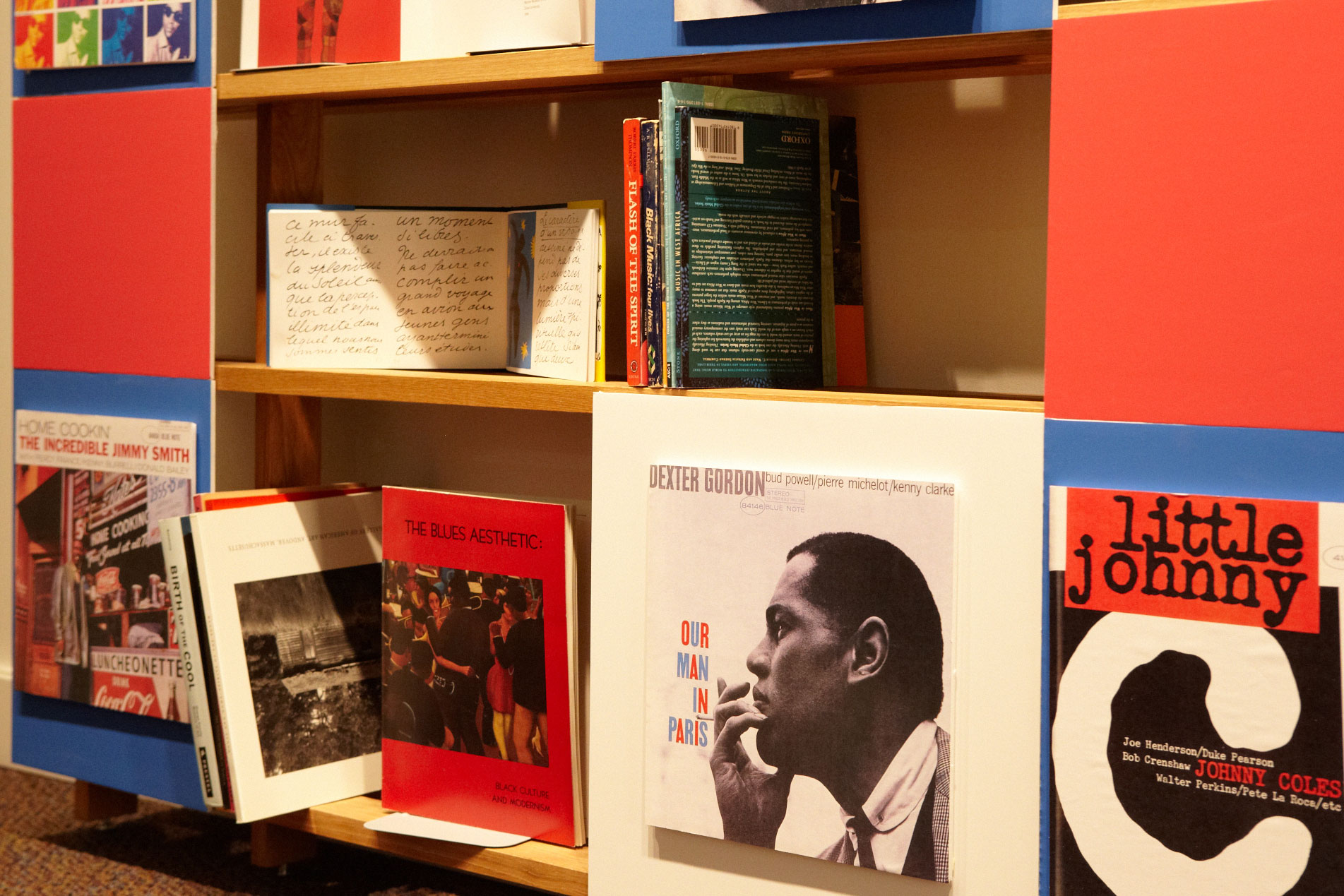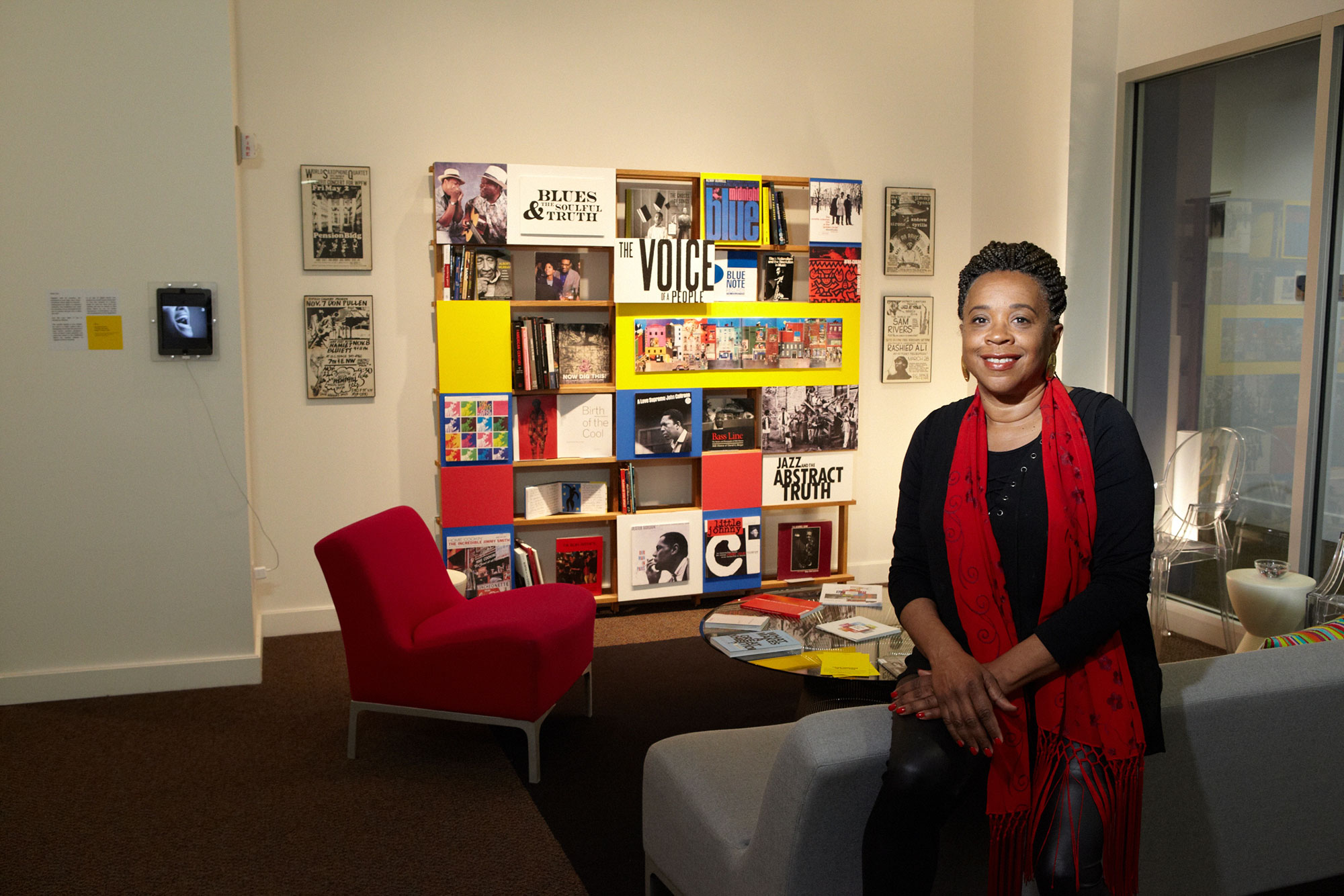 #5: Helen Haynes
The Voice of a People
May 4, 2012 – June 15, 2012
Haynes' Shelf Life project explored the visual language of American jazz culture in the 1960s and 1970s. Classic album covers of the period—by John Coltrane and others, scanned from books in Center library—were hung on a boldly colored cabinet that tipped its hat to Piet Mondrian's Broadway Boogie Woogie (1942–43). Romare Bearden's mural-size collage The Block (1971) was emblazoned like a sculptural frieze on its face, providing a gritty counter-point to Mondrian's machine-age modernism. Within this syncopated surface, Haynes teases with gems—a photograph of Abbey Lincoln and Max Roach, a copy of Matisse's Jazz series, and a range of classic texts on both music and jazz-infused visual art.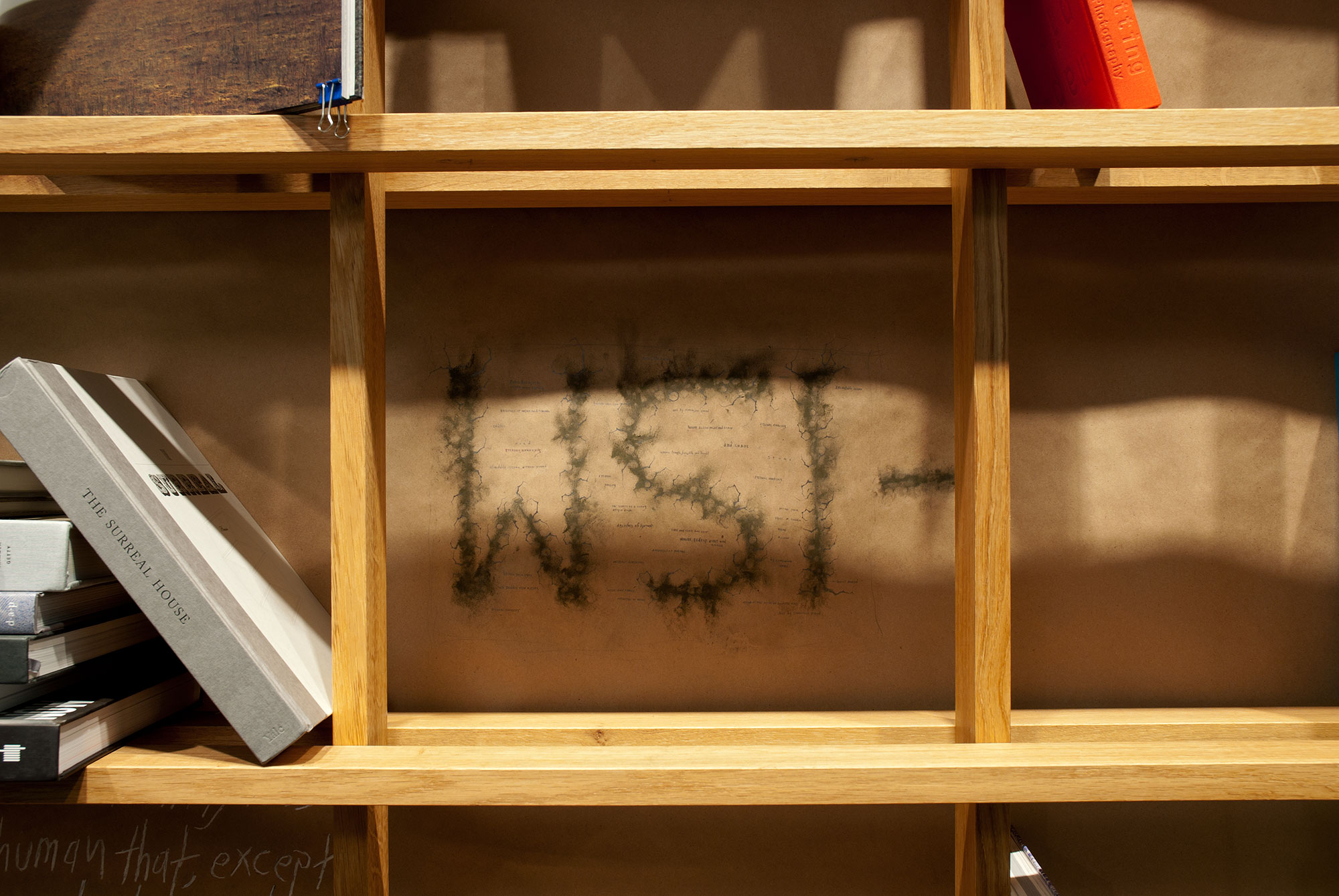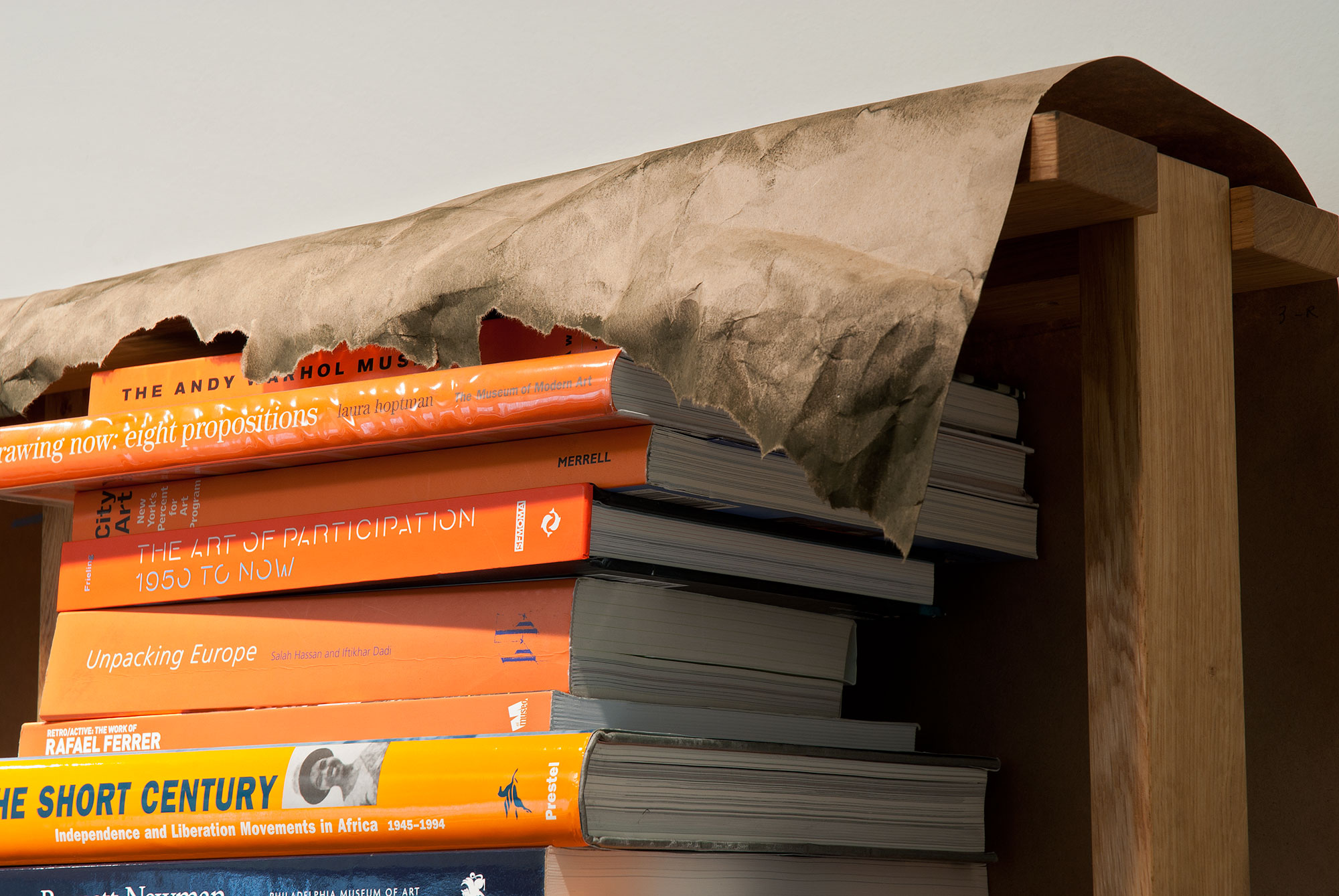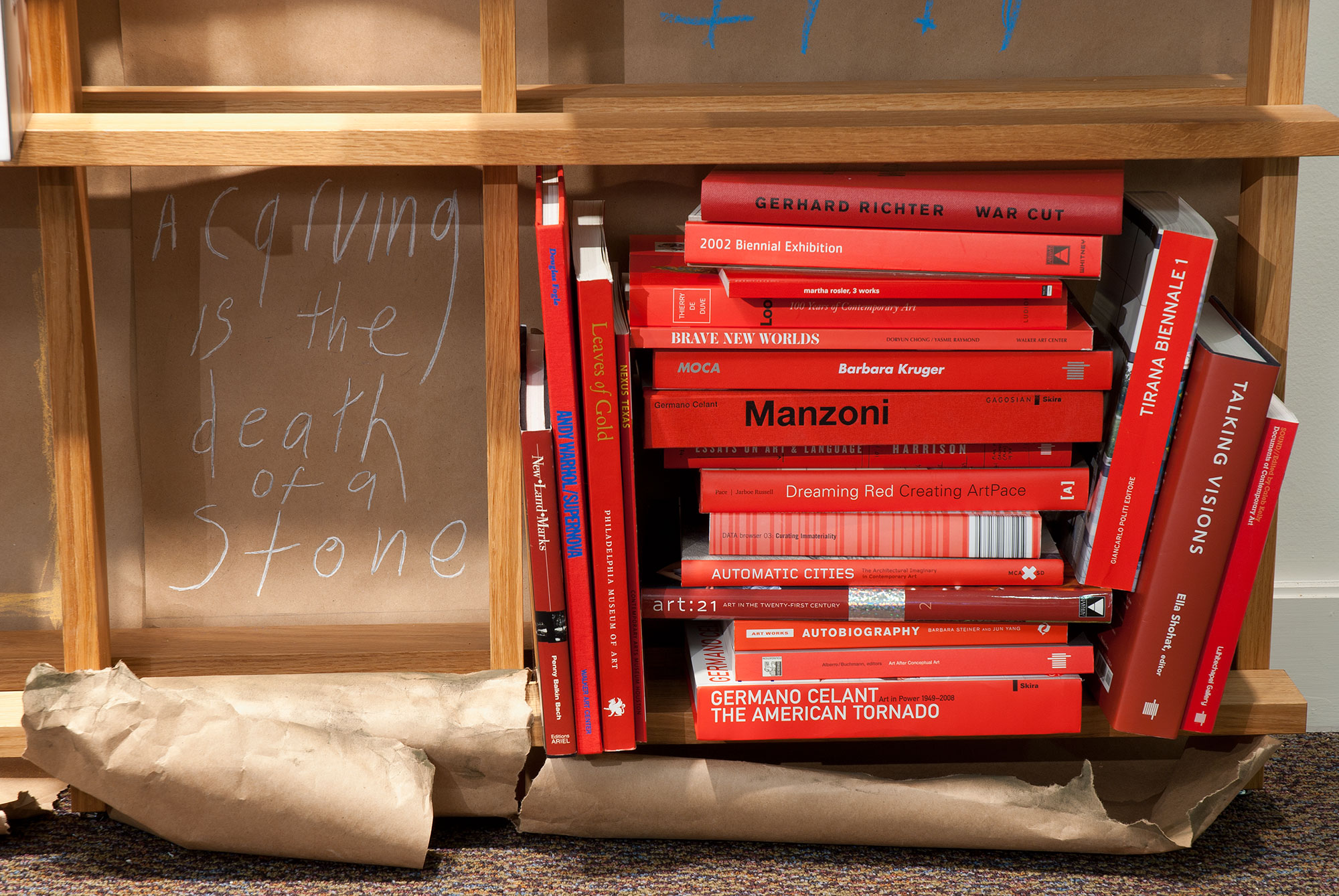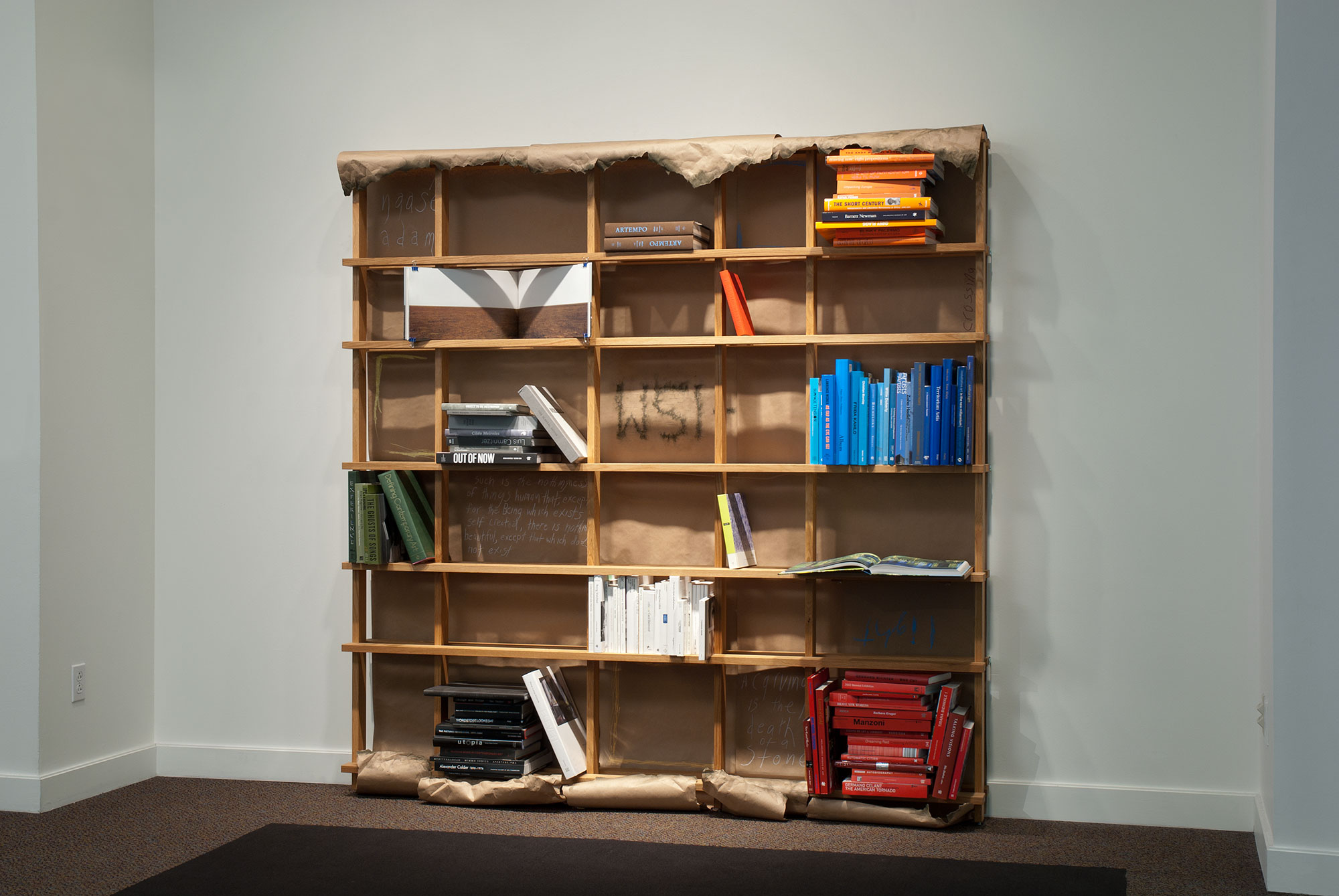 #6: Donald Nally with Steven Bradshaw
In-Formal Crossing
June 25, 2012 – August 31, 2012
A scorched minimalist sensibility pervaded Nally's iteration of Shelf Life—a tension between nature and the human desire for its order. Nally, director of the Philadelphia-based postmodern choral group The Crossing, created a visual equivalent for his musical concerns, in which nature existed in both metaphoric and visual representation. The former was represented by a brown Kraft paper backdrop, onto which quotes about the Creation and creative practices have been written. On the stark, formal grid of the bookcase, two open books displayed the work of Olafur Eliasson, known for his immersive perceptual environments.
From Thomas Devaney's essay in the Shelf Life publication:
A year ago I moved into a new apartment. Since then, I have organized and groomed my book collection, much of which had lived in storage for three years. Concurrently, I decided to write an essay that might serve as a mental bookshelf of sorts. I would follow my nose, a flâneur in my library, and reassemble the books I had on hand. I would give myself over to the hints and leads my books were giving me—where to look next, what to read, and (for the moment) what to leave behind or give away. The most speculative thought, and my gut instinct, was to remember authors I had read who had written about their libraries, to go to those books, to reread the sections I remembered, and to see what turned up.
To obtain a copy of the Center's Shelf Life publication, published in 2013, please contact Allie Vanyur, Communications Associate, at avanyur [at] pcah [dot] us.