Fellows Friday: Q&A with Visual Artist Micah Danges
The Pew Center for Arts & Heritage
Fellows Friday: Q&A with Visual Artist Micah Danges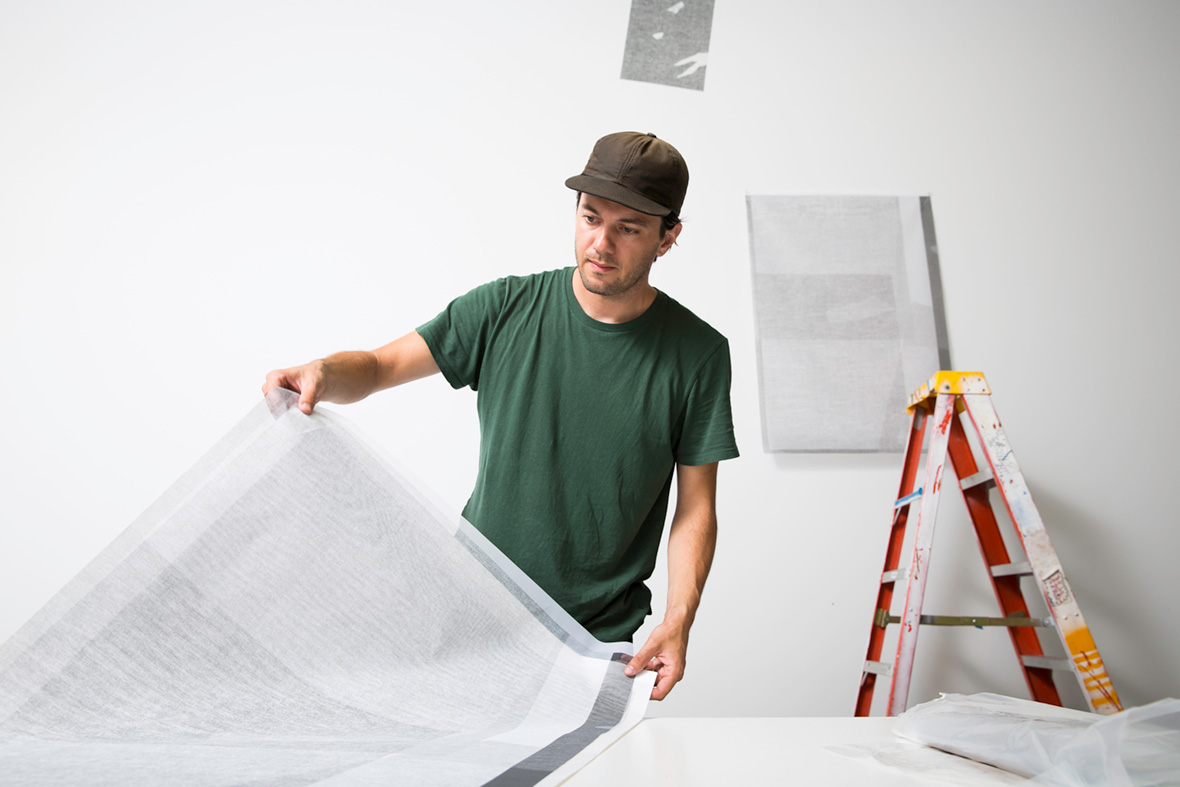 Our "Fellows Friday" series focuses on the artistic lives of our Pew Fellows: their aspirations, influences, and creative challenges.
This week, we speak to visual artist Micah Danges (2015), whose work hovers between image and object and pushes the limits of what a photograph can be. Using unconventional materials like silk and cotton, Danges creates abstract scenes from everyday items and places. His work has been presented at London's Tate Modern and Philadelphia's Institute for Contemporary Art, The Print Center, and, most recently, the Abington Art Center. From March 6-27, Danges' work will be part of a group exhibition at Crane Arts, followed by an installation at the Galleries at Moore College of Art & Design in September 2016 (dates forthcoming). When he is not in the studio, Danges manages the Silverstein Color Center within the fine arts department at the University of Pennsylvania.
How did you become an artist? Is there a particular experience that drove you to this choice?
I became interested in art through my mom, who makes paintings, works in collage, and taught elementary school art for many years. She kept a studio in the back of the house my parents built in West Virginia. I would hang out with her while she was working in the studio, digging through her art supplies and making drawings on the floor. I recognized that spending time in the studio was meaningful to her and made her happy. Spending time outdoors was also important to my family. My brother and I would explore the woods around our property, ride bikes, and help out in the garden. This instilled an appreciation for the natural world that continues to show up in my work and that remains important to me.
In your work, you frequently use everyday items and merge different materials and processes. What are you trying to convey with your work?
I want to continue to experiment with how a photograph is presented, influenced by the physical potential of images. My work tends to focus on everyday/everywhere subjects: a towel, a plant, a door. I use a methodical approach to making prints and experimenting with scale and different forms of presentation, allowing the content of my subject to determine the final form. As an example, my recent work Two Towels (Blue, Green) [pictured below] consists of an almost life-sized double-exposed photograph of two towels on the ground, printed on silk, then positioned on the floor draped over a section of shaped Styrofoam that is cut to match the edge of one of the exposures. The final work is disorienting: The image of the towel is so close to being a towel itself—the three-dimensional quality that results from the double exposure is almost more three dimensional than the small bit of foam covertly raising the edges of the print. I am interested in the tension between material and image that creates a disorienting moment and elicits the desire to physically touch the work , distinguishing where one plane ends and another begins, drawing the eye closer to that pivotal moment.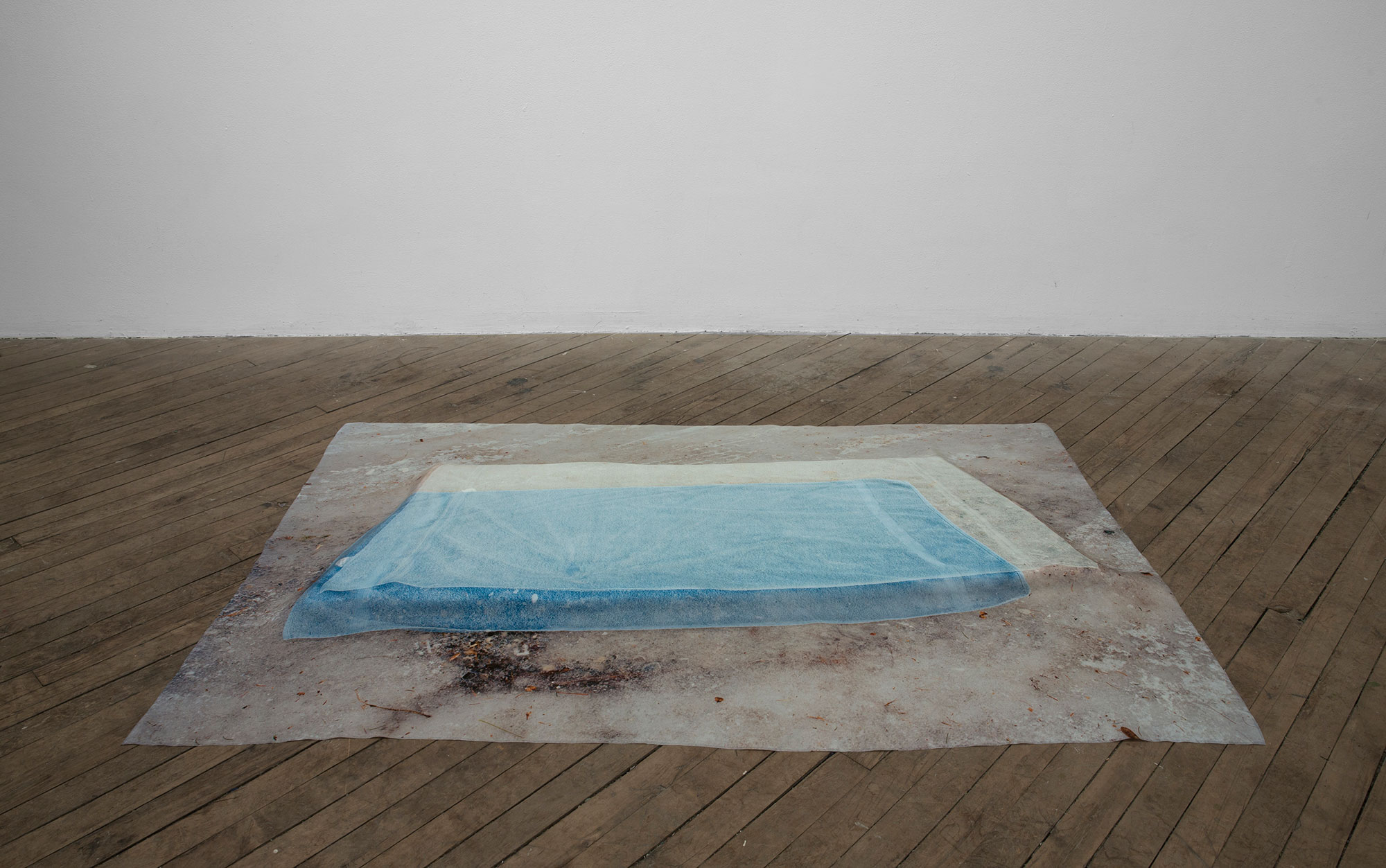 What was the first work of art that really mattered to you? Did it influence your approach to your own work?
In my earliest body of photographic work, I began taking pictures of abandoned party spots in the woods near my parent's home, and printed the photographs in the darkroom. My focus was on the items people left behind—crushed cans with bits of bold text that had been trampled into the dirt, a golden chip bag reflecting sunlight behind a large leaf, or a rogue sneaker hanging off the branch of a tree. In retrospect, I can see that the content was not what drove me to take these images, but rather the content's displacement and interaction with the environment that shifted the meaning of the "presentation." Repeated encounters with these sorts of observations led me to recognize that I have a strong interest in formal relationships, and that I am less concerned with the purer tradition of the photograph.
What is your daily art-making routine?
I work full time at the University of Pennsylvania, assisting students and faculty with printing needs, so art-making has always been a bit of a balance. During the day, I'm working with materials and processes that I use within my own practice, which has an impact on my studio work. Depending on the needs of a project, I work between a few different places—my studio in Fishtown, various outdoor locations, as well as the darkroom and print studios at Penn. Sometimes an idea stems from a photograph that I find or make, and other times it comes from someplace else. At one stage or another, a camera or a photograph is usually involved.
What images or things keep you company in the space where you work?
In my studio there are different material studies, fabric samples, collections, groupings of different images, records, books, a ping pong/work table, and a few houseplants. I've been making photographs from a collection of negatives of farmers pictured with their oversized tomato plants, so those have been around. Also, my dog and my studio mate and wife, artist Becky Suss.
What music are you listening to and/or which books are on your bedside table?
Craig Leon, Nommos and Visiting (RVNG Intl., 2014)
Townes Van Zandt, Flyin' Shoes (Tomato Records, 1978)
Spacin', Total Freedom (Richie Records, 2016)
The Feelies at CBGB's, December 14, 1977
Boiler Room, YouTube channel
Lives of Angels, Elevator to Eden (Fire Records, 1986)
Kaja Silverman, The Miracle of Analogy (Stanford University Press, 2015)
W.G. Sebald, The Rings of Saturn (New Directions, 1999)
Charles Bernstein, With Strings (University of Chicago Press, 2001)
Barry Hannah, High Lonesome (Groove Press, 1997)
Theodore Roszak, Photograms (Zabriskie Editions, 1984)
Ray Johnson, Pop Heart School (Karma Books, 2015)
Megawords Magazine, Public Wall Writing in Philadelphia (2008)