Fellows Friday: Q&A with Mary Lattimore
The Pew Center for Arts & Heritage
Fellows Friday: Q&A with Mary Lattimore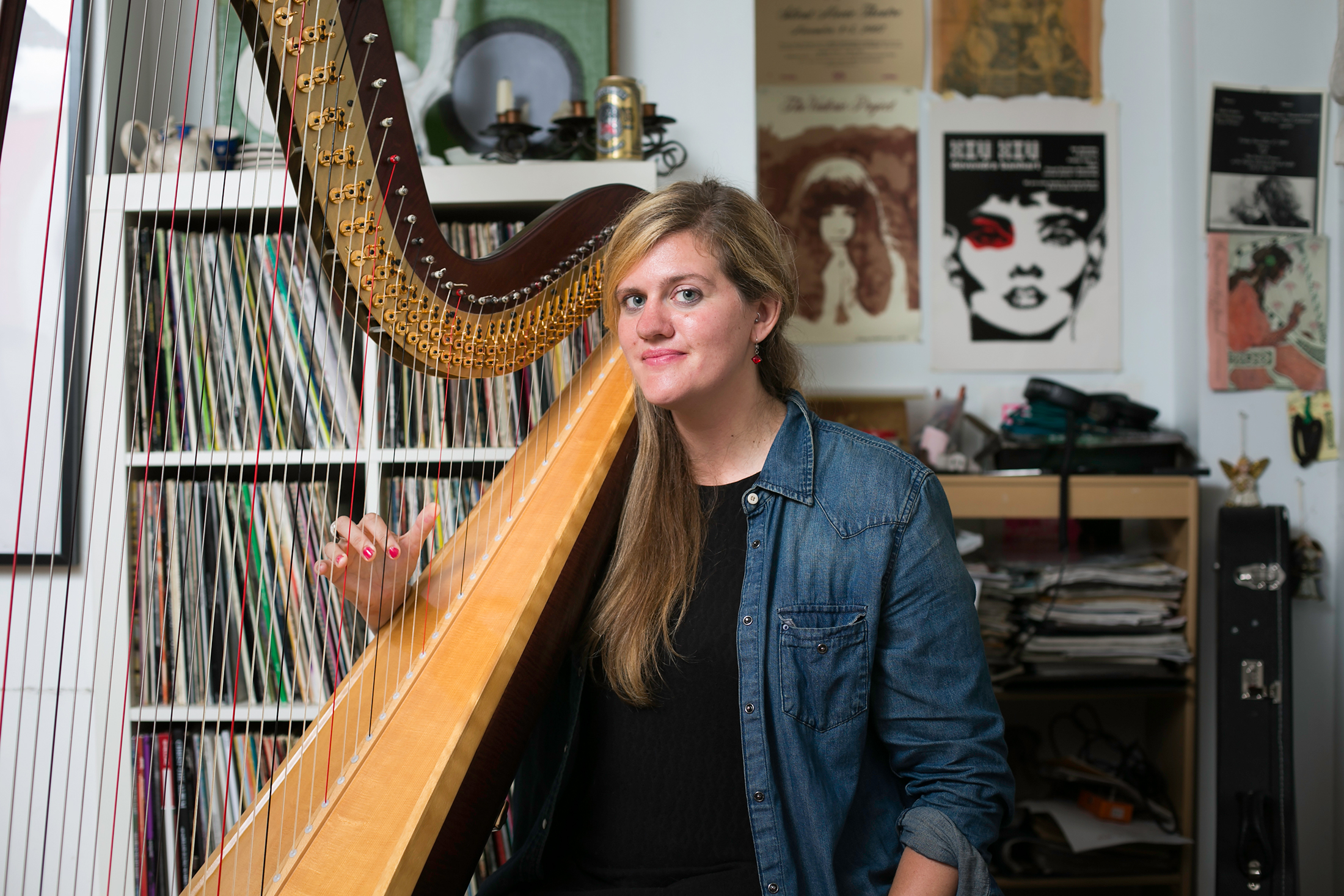 As part of our "Fellows Friday" feature, we focus on the artistic lives of our Pew Fellows: their aspirations, influences, and creative challenges. Throughout this fall, we're pleased to introduce the 2014 Pew Fellows, and to unveil their official portraits. Visit us each Friday to meet a new Pew Fellow and to learn more about his or her artistic practice.
This week, we speak to Mary Lattimore, a classically trained harpist who incorporates experimental techniques and technologies into her music, thereby extending the conventions of her instrument. Her new collaborative album with multi-instrumentalist Jeff Zeigler, Slant of Light, will be released by Thrill Jockey on September 23. Preview a track from Slant of Light and purchase the album at the Thrill Jockey website.
What do you most daydream about when you are working?
A lot of what I think about while improvising is pretty nostalgic, reflecting on places where I've spent time and people who I've met that I'm not in touch with anymore, who live far away. I'm most inspired by instrumental music that gives you a kind of melancholy or autumnal feeling that you can't quite reach with your brain but connect with instinctively, which feels really personal when you listen to it. So, I'm usually thinking about good, heavy, or weird memories and hoping it translates.
If you could live with only one piece of art, what would it be?
For Christmas a few years ago, my mom and grandmother gave me a small drawing done in crayon by this southern visionary folk artist, Minnie Evans. She was the gatekeeper of this place Airlie Gardens in Wilmington, NC in the 1950s and '60s, and she sold her vibrant, striking drawings to the visitors. My grandmother bought one for five dollars while on vacation. It's a really spiritual and far-out, brilliantly colored drawing, inspired by strange dreams. My grandmother saved it for me, framed it, and put articles about Minnie Evans' future successes in a pocket in the back of the frame. It means so much to me on lots of levels.
If you could collaborate with anyone alive today (someone you don't know personally), who would it be?
My first thought, when I dream about it, is always Brian Eno, because I love his music so much. I think that working with James Turrell on some kind of spacey harp and light installation would be otherworldly and interesting. There is this lady, Grouper, whose music I think is beautiful, and so it'd be fun to do something together. And there's this great harpist, Rhodri Davies, in the UK, with whom I'd love to make a duo harp record. Tons of people!
Which artist would you most like to have dinner with, from any time in history?
Kim Gordon, John Waters, the actor Michael Shannon, Mike Kelley, Nick Cave (the visual artist), and the writer Mary Gaitskill, hosted by Daniel Spoerri at the Eames House. That seems like it'd be a good time.