Fellows Friday: Q&A with Ceramist Lauren Mabry
The Pew Center for Arts & Heritage
Fellows Friday: Q&A with Ceramist Lauren Mabry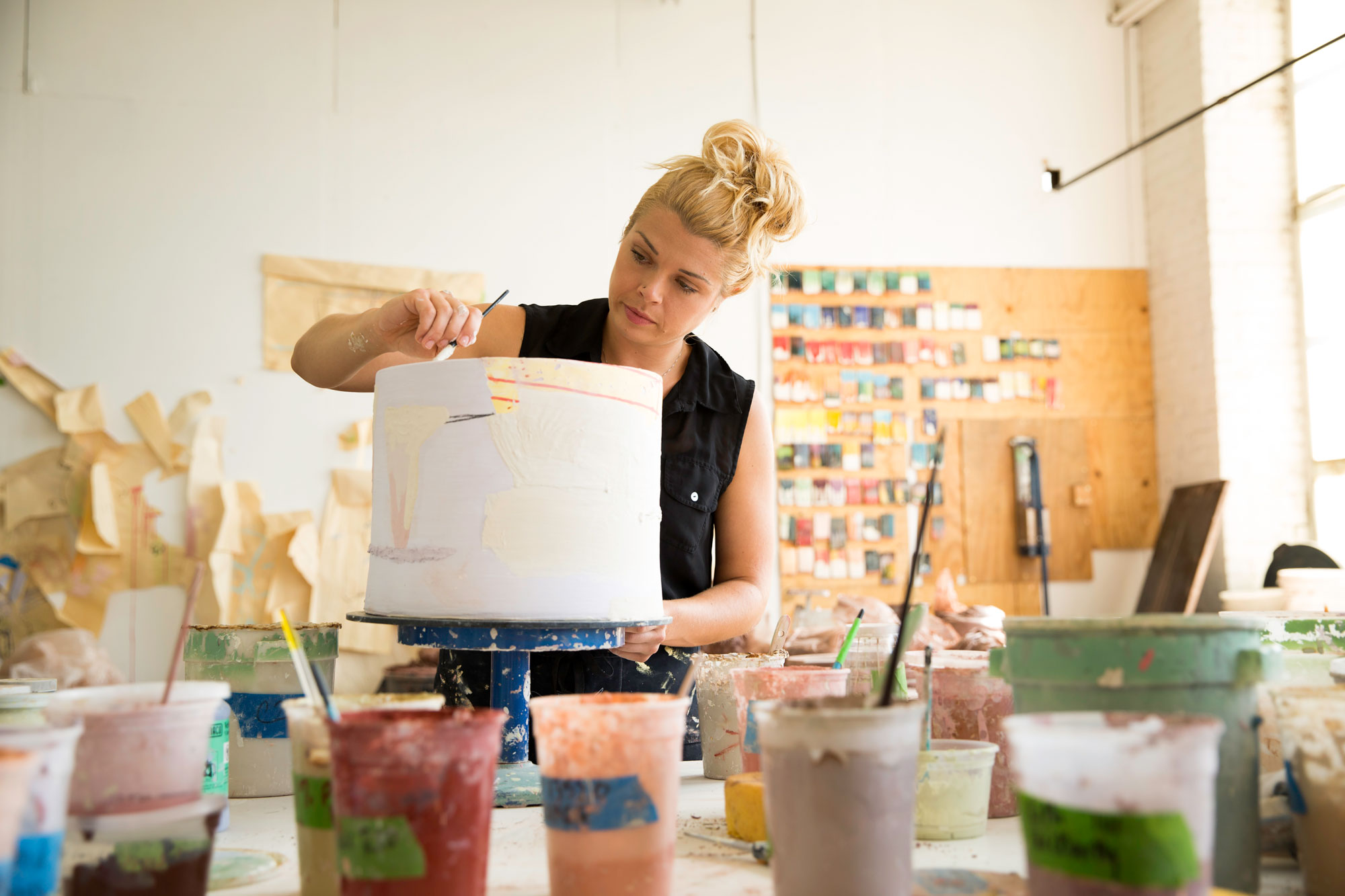 Our "Fellows Friday" series focuses on the artistic lives of our Pew Fellows: their aspirations, influences, and creative challenges.
This week, we speak to visual artist Lauren Mabry (2015), whose work blurs the boundaries between ceramics, abstract painting, and sculpture. Mabry recently completed a two-month residency at the Jingdezhen International Studio in Jiangxi Province, China, where she utilized local resources to create a body of work reflective of her experience with the city's historic porcelain industry. The majority of these works will be exhibited at The Clay Studio in Philadelphia this fall (dates forthcoming). From March 26 to May 7, 2016, Mabry's work will be on view at Mindy Solomon Gallery in Miami, FL.
What is your daily art-making routine?
I work very consistently in my studio: about eight hours per day, five to six days a week. On a daily basis, email correspondence and business tasks come first, then I release myself into creative work. The studio can be an overwhelmingly distracting place, so I make a lot of lists to help stay organized. Ceramics is a very process-based medium, and the making cycle demands a certain cadence: build, trim, paint, dry, fire, glaze, fire again, repeat. Often while I make a group of smaller pieces in a series, I also build a large piece at the same time. Being able to multi-task and stay on a schedule is critical because timing is key in ceramics. After a cycle of new work is finished, I spend time just looking at it. Sometimes it is easy to jump right back into my routine from the beginning, but other times I go on a tangent to formulate new glaze colors or revisit unfinished work.
What is perfection to you, in the context of your work?
Perfection is a moving target. When I unload a kiln, I'm always hoping for the next best work of my life, yet I am totally aware that it's a never-ending chase. I've learned to loosen my expectations and just be uncomfortable ; it usually means I took a risk! No matter how many problems I solve in order to make something right, perfection emerges through the creation of new questions. My intuition definitely guides me to create a particular kind of object composed of sumptuous, flowing glazes and frenetic marks, but how I define what is good or exciting comes out through the process of making; it is when the unexpected becomes integral, or when a mistake becomes my new reason.
Your recent residency at Mission Clay Products in Arizona allowed you to explore large-scale painted ceramics, opening your practice to the challenges of creating industrially-sized ceramic sculptures. What inspires you to work on this scale?
Working on large-scale sculptures gives me the freedom of painting on a really large canvas. Averaging six feet tall and three feet wide, the work I produce in the factory has a different kind of presence. It changes the scale and dynamic of how we are accustomed to encountering a single piece of ceramic. Although their colors are more subdued, these sculptures, weighing nearly one ton, dominate space in a different way than smaller pieces. The extra-large surface area compels me to spend more time with each smaller area within the painting. I look forward to returning to the factory studio in the future to address these challenges and make more large sculptures; this is an ongoing body of work.
What are the primary vehicles you use to support your practice—what makes it possible?
Everything that is making my career possible is connected to something else, but really it seems to come back around to people and motivation. Besides the work itself, the most critical things are my relationships with other artists, curators, collectors, and highly-motivated people working in other fields. A good network with active connections is vital. Everything I am doing now is the result of exposure that generated interest in my work, and that has developed into shows and sales. I've found a balance between my creative vision and the disciplined hustle it takes to keep up with the business of my artistic practice. If one thing or the other is neglected, the work will suffer, or I won't make enough money to move forward. One thing is a function of the other.
What was the first work of art that really mattered to you? Did it influence your approach to your work?
Mark Rothko's Untitled No. 11 (1963) at the Nelson-Atkins Museum of Art in Kansas City, MO. I was a freshman in college when I first sat in front of this painting for a long time, and was truly able to understand it as an experience; it was utterly profound, and felt overwhelmingly terrifying in that moment. For so long as a young person, I understood art in terms of representation, narrative, and craftsmanship, but this painting changed my perspective. It didn't directly influence my work, but it influenced my soul. When I think back to this experience, I am reminded of the way I respond emotionally to color, and what I'm seeking in my own painting.
Why do you choose to work and live in Philadelphia?
I came to Philadelphia in 2012 for a residency at The Clay Studio. In large part, it is because of my involvement with The Clay Studio community that I quickly developed a sense of belonging here. After a couple of years I decided to exit the residency program, but I chose to stay local to expand my independent practice, and continue to build my relationships in the city. There is a genuine sense of pride and camaraderie among the artists who live and work here. Philadelphia is not only a place artists can exist, it is a place in which we can thrive.