American Impresario: George Wein
The Pew Center for Arts & Heritage
American Impresario: George Wein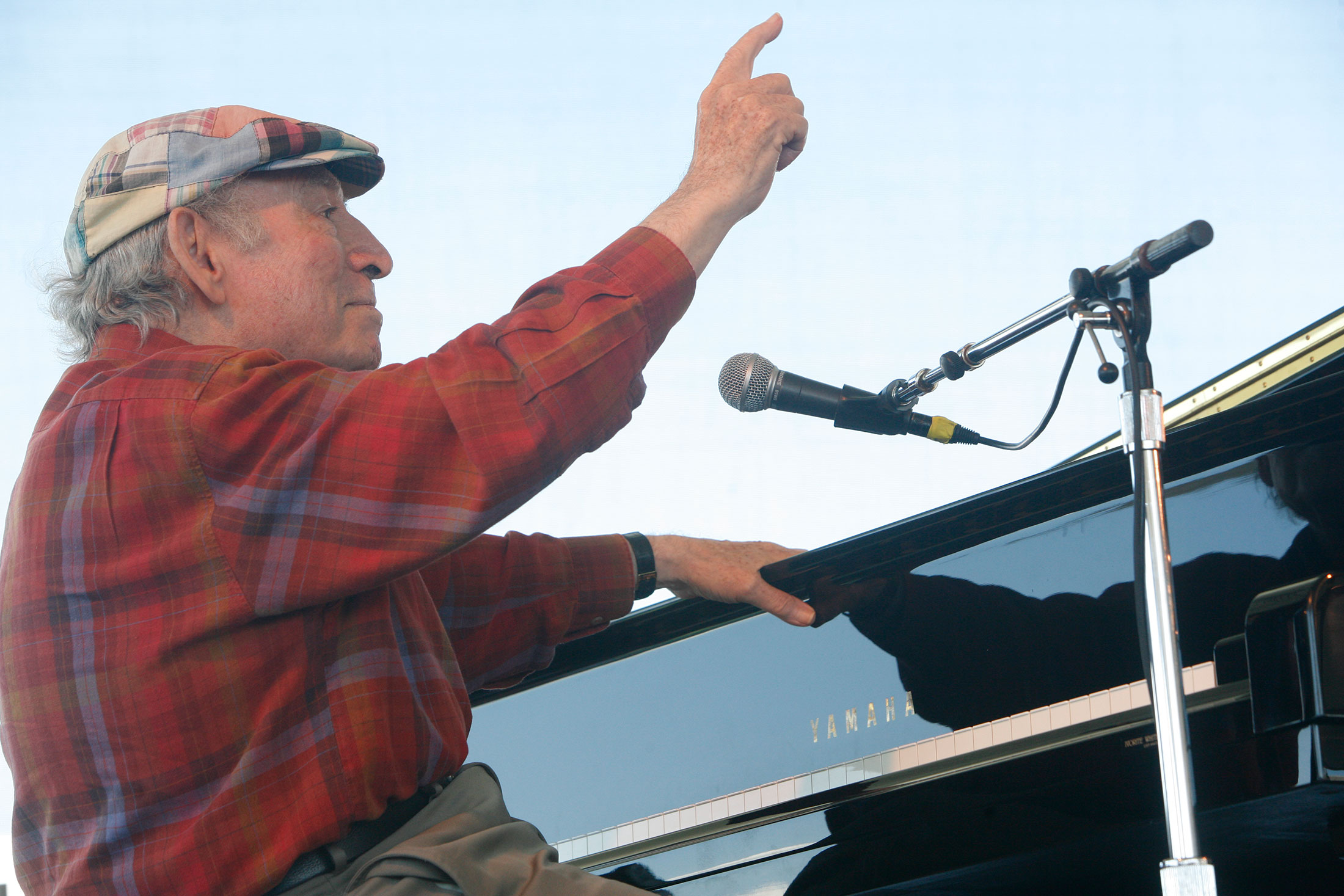 The Pew Center for Arts & Heritage's American Impresario series explores the careers and contributions of leading United States music curators whose creative work has profoundly influenced the field by giving listeners new ways to experience and understand music.
The third article in the American Impresario series features George Wein, pianist, founder of the Newport Jazz and Folk Festivals, the New Orleans Jazz and Heritage Festival, and many others. Outstanding music journalist Peter Keepnews interviewed Wein and surveys his long career and his influence on the field of jazz presenting.
"'I Did Not Set Out to Make History': George Wein's Career in Presenting Jazz"
by Peter Keepnews
The world had never seen anything quite like the two days of jazz in the open air that George Wein presented in a seaside Rhode Island town on Independence Day weekend in 1954.
In its setting, its scope and its stylistic range, the Newport Jazz Festival established the template for a fundamentally new way of presenting the music that soon became as important as the nightclub bandstand and the concert stage. It's hard to imagine how different the course of jazz history in the second half of the 20th century might have been if Newport had not happened.
Wein turned jazz from a music mostly associated with smoky rooms where liquor was sold to something that could be part of a family's summer vacation plans. He created a new atmosphere for listening to jazz—almost, as both his admirers and detractors have sometimes put it, a carnival atmosphere—and, in the process, laid the groundwork for an empire that would spread the message of jazz all over the world.
Equally important, Wein took a big-tent approach at a time when the jazz audience was growing increasingly fragmented: In the wake of the bebop revolution of the 1940s, the modernists were at odds with the traditionalists, and even the modernists were divided into camps (broadly speaking, advocates of the new "cool" West Coast sounds versus advocates of the more impassioned East Coast style). Wein chose to disregard the divisions, presenting exponents of various schools to a single audience.
"I called it 'jazz from J to Z,' and that variety was important to me. It still is," Wein said during a recent interview at his spacious apartment on the Upper East Side of Manhattan. In his mid-eighties, Wein is much thinner than he was in the days when he was both literally and figuratively a fat cat in the jazz world. He has trouble walking and now is driven around the Newport Festival grounds in a cart dubbed the Wein Machine. But his enthusiasm remains as powerful as ever for the music he has been presenting for almost 60 years—and playing for even longer. (A better than average jazz pianist in the elegant, melodic mode of Teddy Wilson, the great Swing Era pianist with whom he once studied, and Earl Hines, he has led several small groups of top-flight musicians, all of them called the Newport All-Stars.)
"I knew getting Eddie Condon and Lennie Tristano on the same bill was different," Wein said, referring to the staunchly traditional guitarist who was one of the public faces of Dixieland and the aggressively experimental pianist known for his cerebral approach. But, he insisted, he knew jazz fans "would come to Newport if I put the right show together."
They did indeed come, roughly 10,000 of them, to that first festival, held at the tennis stadium of the tony Newport Casino. (It has moved several times since then and is currently held at Fort Adams State Park.) And they continued to come, to Newport and, over the years, to cities all over the world, to sample jazz alfresco under Wein's sometimes brusque, rarely quiet direction.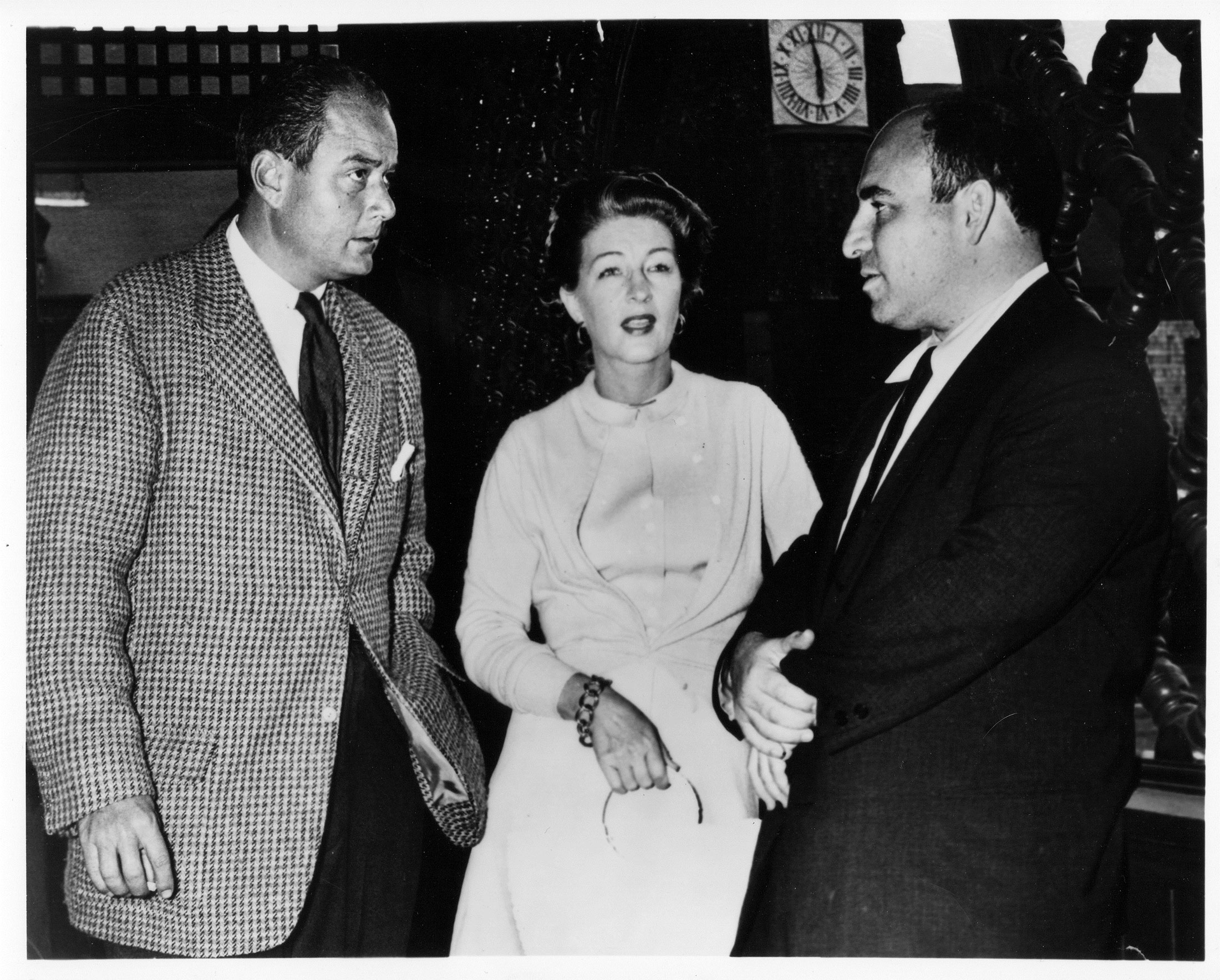 Underwritten by Louis and Elaine Lorillard, a wealthy local couple, and put together by Wein, a Boston nightclub owner, not quite 30 years old, who also worked around town as a pianist, the first Newport Jazz Festival was a watershed event. But looking back on it now, Wein says that while he knew he was trying something new, he never thought he was creating something out of whole cloth.
"Festivals go back to medieval days," he said. "And people had been playing music for years at state fairs before I came along. I did not set out to make history."
There also was (and is) the Tanglewood Music Festival in the Berkshires, a premiere summer venue for classical music since the 1930s and, Wein acknowledges, one of his inspirations. And the concept of a jazz festival was not itself entirely new: there had been a handful of events billed as jazz festivals in Europe as early as the late 1940s.
But that first Newport Jazz Festival was clearly something special—even if, beyond the somewhat insular jazz community, many people saw it more as a charming curiosity than as a historic event.
Many press reports said less about the marquee value of the lineup, which also included Dizzy Gillespie, Billie Holiday, and many others, than about how strange it was that jazz was being presented in a quiet seaside town best known for its mansions and largely regarded as a playground of the rich. It was by no means clear that the Newport Jazz Festival would be anything other than a one-time novelty.
In addition, the festival was complicated and expensive to stage, and plagued by bad weather. When the music ended and the dust cleared, it had barely broken even.
The Lorillards remained committed to the idea, however, and by the next summer the buzz about the festival had grown. The crowds kept coming, Wein and his associates kept getting better at their jobs, and Newport began acquiring a reputation as a place where jazz history was routinely made.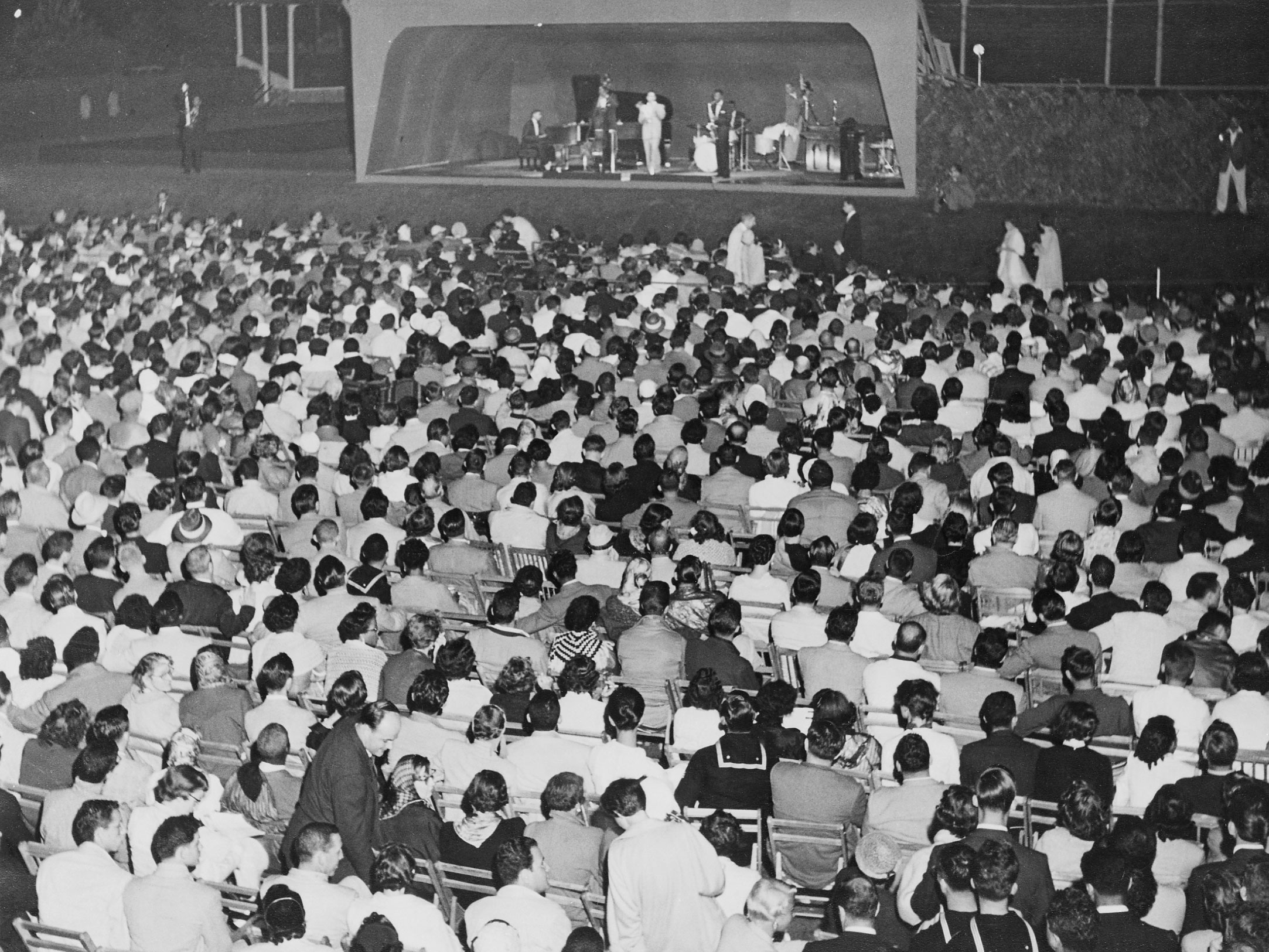 Miles Davis, at the time a once-promising trumpeter trying to make a comeback from a debilitating drug problem, was added to the 1955 festival bill at the last minute and played so brilliantly that he left Newport with a lucrative Columbia Records contract. ("Miles always gave me trouble," Wein now says of the famously outspoken trumpet player, who in later years would be one of his harshest critics. "But I put up with him because I loved his music." A year later, Duke Ellington, whose career was then at a low ebb, delivered a masterly, roof-raising performance at Newport and found himself a star all over again. ("I was born," he would soon take to saying, "at the Newport Jazz Festival on July 7, 1956.")
Even Hollywood took notice. The festival figured prominently in the plot of High Society, the 1956 musical remake of The Philadelphia Story, with songs by Cole Porter and a cast that included Bing Crosby, Grace Kelly, Frank Sinatra, and Louis Armstrong as himself. The 1958 festival was the subject of Bert Stern's acclaimed documentary Jazz on a Summer's Day. Featuring memorable performances by Armstrong, Thelonious Monk, Anita O'Day and Mahalia Jackson, it shows up on virtually every list ever compiled of the greatest jazz films.
By the time Jazz on a Summer's Day was released in 1960, Newport had become a coveted spot on jazz artists' summer itineraries. Equally important, its success had inspired the creation of similar galas like the Monterey Jazz Festival, established by the San Francisco disc jockey Jimmy Lyons in 1958, which quickly became as big a force on the West Coast as Newport was on the East. (The two festivals have often been characterized as rivals, but their rivalry is a benign one. In 2010, the Monterey festival presented Wein with a lifetime achievement award.) Wein, however, was the undisputed leader of a field that he had, after all, pretty much invented.
With Newport as his foundation, he built an international empire. Over the course of the 1960s, under the Festival Productions banner, he organized worldwide concert tours and created more and more festivals. At the height of his success he was presenting jazz in some 50 cities, from New Orleans to Warsaw.
With success came criticism, lots of it, some of it vitriolic. In 1959 the respected critic and journalist Nat Hentoff (who was, as it happens, an old friend of Wein's) called the Newport Jazz Festival a "sideshow" that had "nothing to do with the future of jazz." Other critics followed suit, focusing less on the diversity of the festival bills than on the way the music was presented.
Many musicians had complaints of their own. The more festivals Wein presented, the more loudly he was accused of getting rich off their creative labor. "All of a sudden we were the establishment," he said with a sigh and a shrug, as if still not quite able to understand. "I don't know how it happened, but it happened pretty fast. And at the time I was barely breaking even."
Race played a role. In the early days of the civil rights movement, many practitioners of jazz, an art form with roots deep in African-American culture, began to see Wein less as a powerful enthusiast offering them work than as an oppressive white exploiter paying them less than they were worth. Wein's protests that he paid what he could afford and was at the mercy of the marketplace were met with skepticism.
Among the most outspoken critics was the bassist and composer Charles Mingus. In 1960, to protest what he saw as Wein's low pay and restrictive booking policies, Mingus organized a so-called rebel festival in Newport, concurrent with Wein's event and not far from the festival grounds. As it happened, the Newport Jazz Festival was shut down that year by the city government when the town was overrun by an influx of hard-drinking college students, but the rebel festival was allowed to continue. As it also happened, Mingus would later work for Wein on numerous occasions.
In his ongoing battle with the Newport city fathers, Wein in a sense found himself on the other side of the racial divide: their initial antipathy (or at least ambivalence) toward having a jazz festival in their blue-blooded town, he believes, had a racial subtext. But when, in 1971, he was eventually un-invited from Newport for good (or at least until the city had a change of heart a decade later), the issue was not race but rock.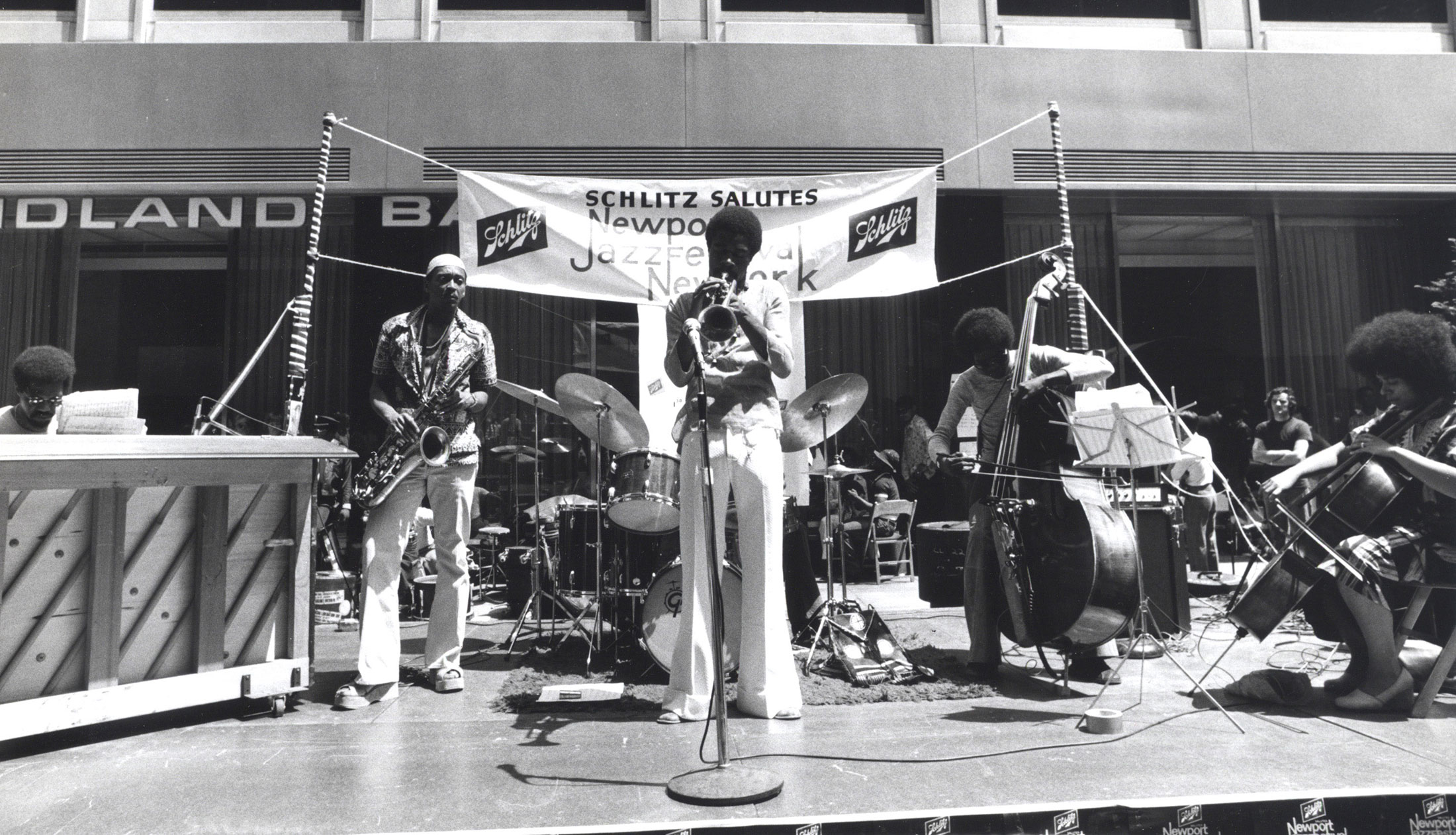 Although Wein's success presenting festivals at Newport and elsewhere was clearly the precursor to events like Woodstock and the Monterey Pop Festival, he has never liked rock music and has never been shy about saying so. But he has long been willing to have his musical horizons expanded, especially if it means serving an audience (or, as the more cynical might put it, making money).
That was the thinking behind his decision, in 1959, to enlist the help of Pete Seeger, Theodore Bikel, and other leading lights of the folk-music scene and stage the first Newport Folk Festival, with a roster ranging from backwoods traditionalists to the 18-year-old Joan Baez to the pop-folk stars the Kingston Trio. (The folk revival of the 1960s, and the rediscovery of traditional artists like Skip James and Doc Watson, was largely begun at Newport.) And it was the thinking behind his decision to book rock acts at the 1969 Newport Jazz Festival—a decision Wein now says was "one of the worst mistakes I've ever made."
Wein and rock music were not complete strangers. He had presented Chuck Berry, whose music he saw as connected to the jazz tradition, at the 1958 Newport Jazz Festival. And famously, Bob Dylan had shown up at the 1965 Newport Folk Festival with an electric guitar and a very loud backing band—generating, depending on whose story you believe, very loud boos, very loud cheers, or some combination of the two.
But never before had he presented as much rock music in one place as he did at the 1969 Newport Jazz Festival, held just a month before Woodstock. The motivation was partly economic and partly artistic; in the late '60s the jazz audience was shrinking dramatically, with young listeners gravitating to an increasingly sophisticated kind of rock 'n' roll, much of it incorporating ideas from jazz and blues. Wein's idea was to include some of the more musically advanced of these rock acts—as recommended by people on his staff who knew the territory—on the festival bill. And the inclusion of groups like Led Zeppelin and Sly and the Family Stone did indeed draw young people to the festival. The trouble is, they didn't want to pay, and the ensuing gate-crashing melee destroyed whatever interest Wein might have had in ever presenting rock again.
He nonetheless allowed himself to be talked into booking the Allman Brothers at the 1971 jazz festival: he was told that they were a promising blues band with a small following, but shortly after he booked them they became the hottest rock group in the world. The gate-crashers showed up again, and this time the city of Newport lost patience and Wein lost his festival permit. The Newport Jazz Festival was banished from Newport.
The stage was thus inadvertently set for Wein's next breakthrough. Without a home for his flagship event, he moved the Newport Jazz Festival to New York City, and ended up creating an entirely new model for what a jazz festival could be.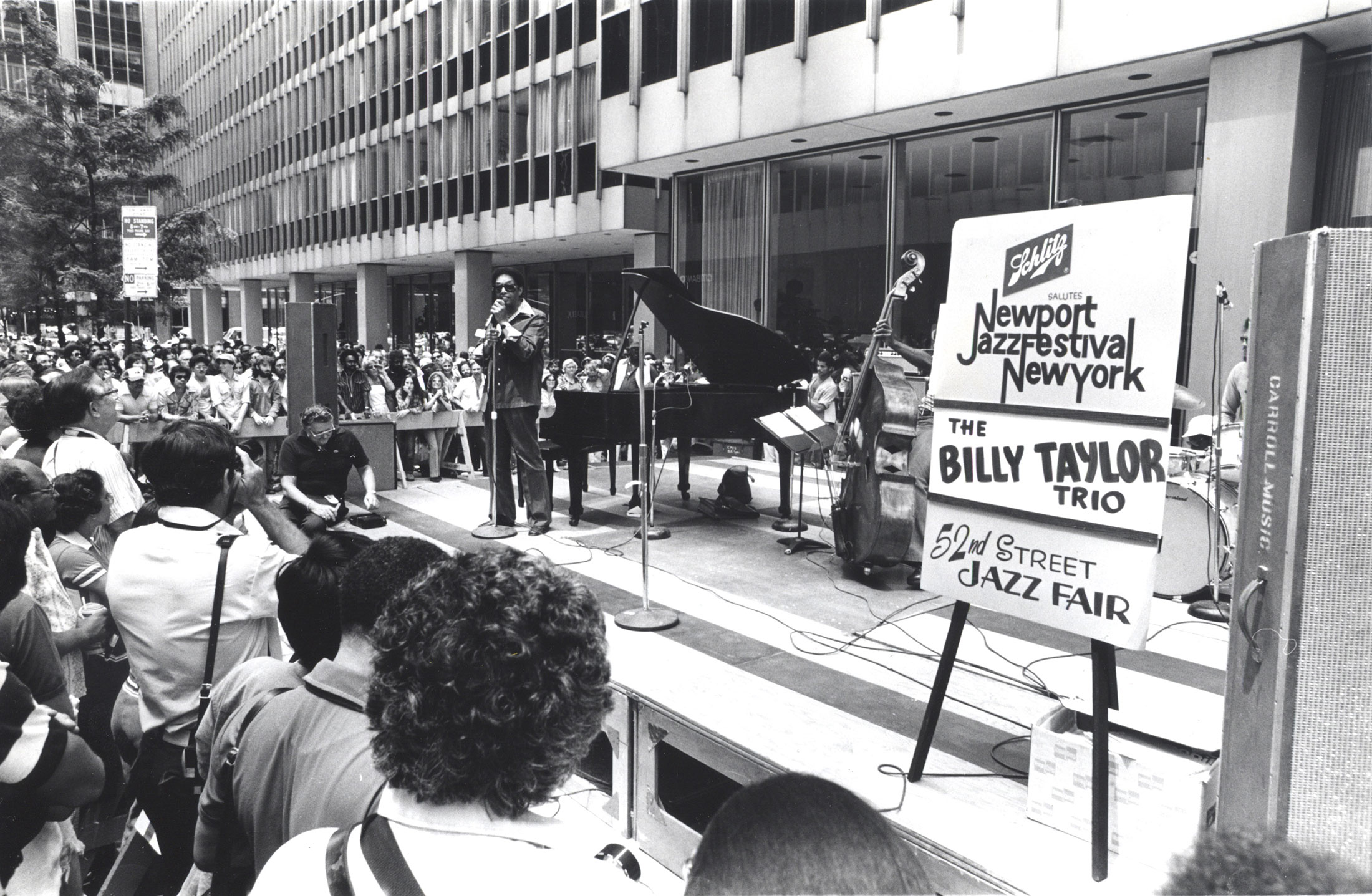 He expanded the schedule from one weekend to 10 days, and from one outdoor venue to, in effect, the entire city. In the early years, before economic restraints compelled him to scale back its scope, the New York festival featured concerts at Carnegie and Avery Fisher Hall as well as midnight jam sessions at Radio City Music Hall, New Orleans-style traditional jazz on the Staten Island Ferry, and even an all-star show at Yankee Stadium.
The Newport name was pretty much all that stayed the same: in place of the bucolic isolation of Rhode Island, the Newport Jazz Festival New York, as it was initially known, offered a geographically wide-ranging, distinctively urban experience. "It wasn't a festival the way I was used to thinking of a festival," Wein said. "But I knew that New York was historically a jazz town. I ended up turning the whole city into a festival."
By relocating Newport to New York, Wein helped restore a local jazz scene that had been stagnating. Other cities followed suit, most notably New Orleans, where, enlisting a staff of local residents, Wein built the New Orleans Jazz and Heritage Festival into a celebration not just of the city's music but also of its culture and even cuisine.
The name of the New York jazz festival would change a few times, and the name changes were indicative of another area in which Wein was a pioneer: corporate sponsorship.
After years of, by his account, constantly struggling to make a profit, he persuaded the Schlitz brewery to underwrite a massive "Salute to Jazz" tour in 1966 in exchange for naming rights. A few years later he enlisted the support of Kool cigarettes for his New York festival. Thus it briefly became the Kool Newport Jazz Festival New York; then, after someone at Kool realized that Newport was also the name of a rival brand of cigarettes, just the Kool Jazz Festival New York; then, when a leading Japanese electronics manufacturer became the sponsor, beginning what would prove to be a long and fruitful relationship with Wein's Festival Productions, the JVC Jazz Festival New York.
"The truth is," Wein says, "I never made any money until I found corporate sponsors."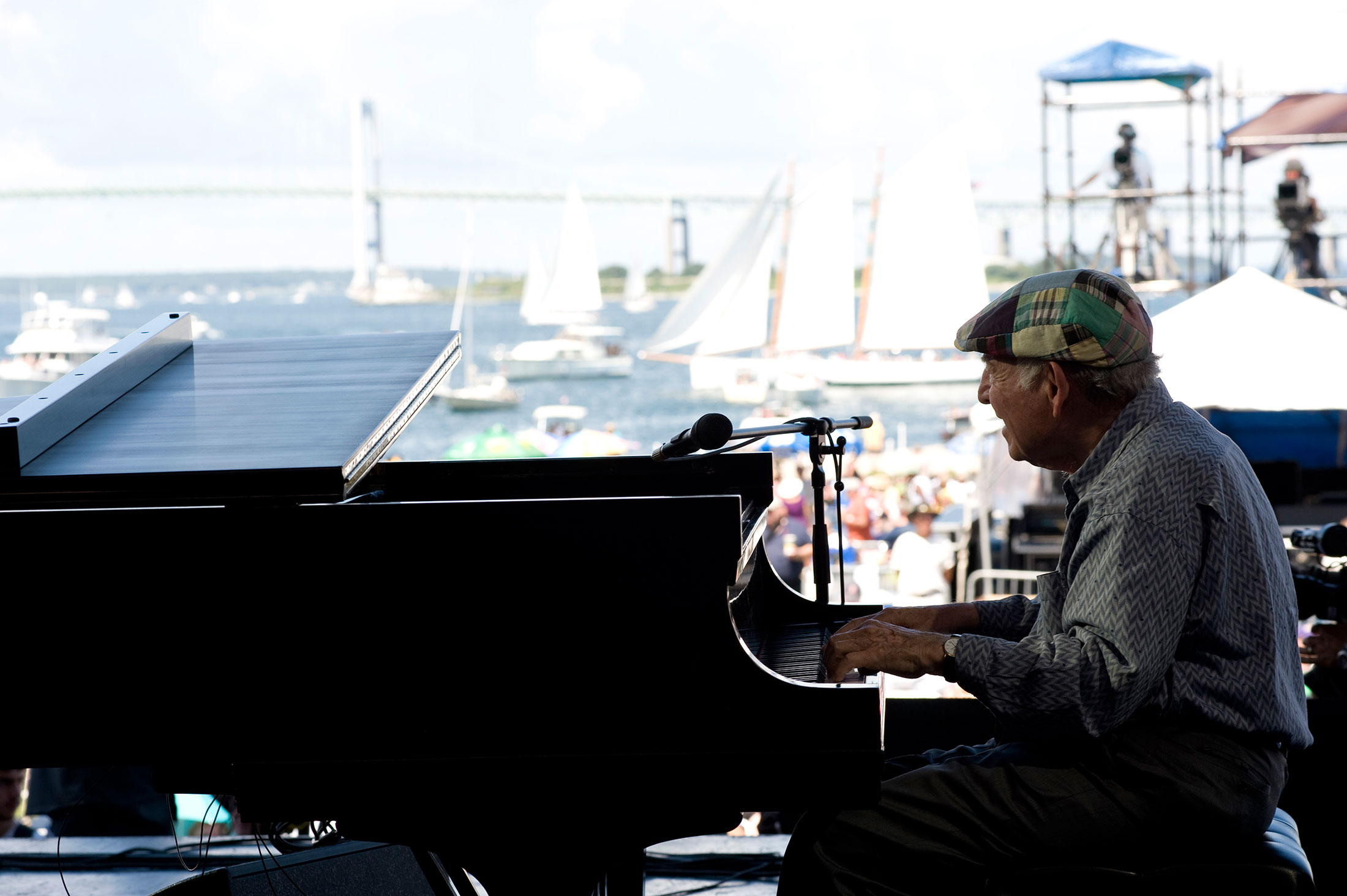 Whether he was making money or not, controversy continued to dog Wein in New York. The big-tent model he had pioneered in Newport became harder to sustain when he was presenting 10 days of concerts in various venues rather than two days of music in one place, and Wein shied away from presenting avant-garde performers because he doubted their ability to sell tickets on their own. Feeling ignored and disrespected, many avant-gardists staged what they called the New York Jazz Musicians' Festival in 1972, with mixed success; the following year Wein, in a gesture of generosity or opportunism or both, incorporated their festival into his—not selling many tickets, as he had feared would be the case, but muting the criticism.
Wein also failed to sell many tickets with the most ambitious endeavor of his career: the New York Jazz Repertory Company, which was launched in 1974 and was gone by 1976. Based at Carnegie Hall, it was an attempt to treat jazz with the same degree of seriousness associated with classical music. ("I've always thought jazz should have a company and a home," he said at the time, "like the ballet, the opera, and the symphony.")
With a rotating corps that initially comprised more than 100 musicians, the NYJRC presented new interpretations of classic works from all periods of jazz history—including imaginative re-creations of the music of Louis Armstrong, Charlie Parker, John Coltrane and Thelonious Monk (with Monk himself making one of his last public appearances)—as well as newly commissioned pieces.
But none of the pieces the NYJRC commissioned entered the jazz repertoire; indeed, some never got written. Audiences were put off by the vast range of styles presented in a single concert—once again the big-tent ideal of Newport was difficult to transpose from a multi-act outdoor festival to Carnegie Hall. And the concept of a jazz repertory company, though it would catch on decades later on a smaller scale at Lincoln Center, under the direction of Wynton Marsalis, proved tough for audiences to grasp.
"I knew what I wanted to do with the New York Jazz Repertory Company, and I'm proud of the effort," Wein says now. "I just didn't know how to do it."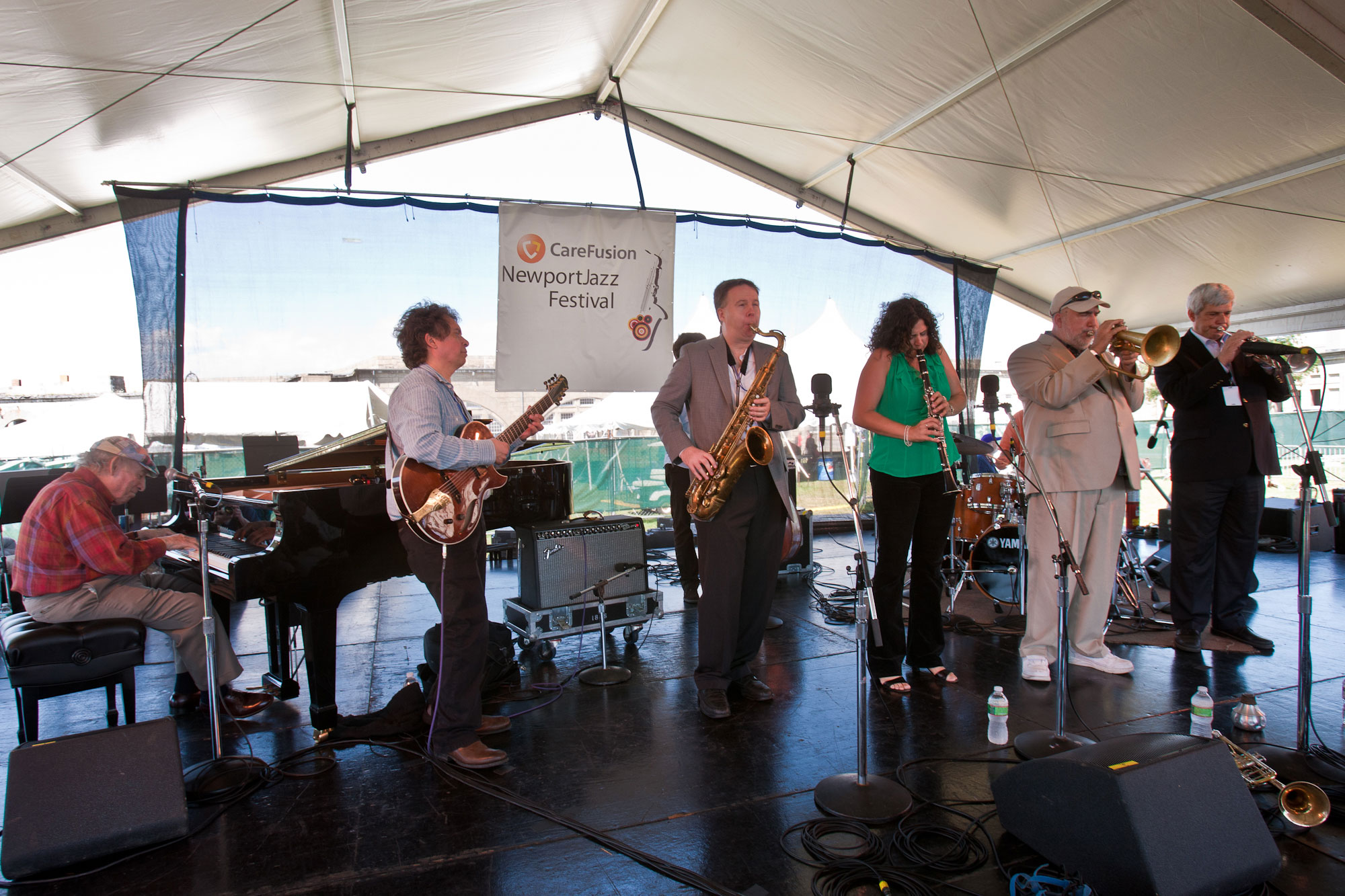 Wein's successes continued to outweigh his failures, and things came full circle for him in the early 1980s when, the troubles of the past forgotten, the jazz festival was welcomed back to Newport—as was the folk festival, which had been discontinued in the wake of dwindling audience interest in the late 1960s. Both festivals remain in Newport to this day.
The Newport festivals are in fact all that remains of Wein's once vast empire. In 2007 he sold Festival Productions to another company, Festival Network, remaining on as a so-called producer emeritus and continuing to be actively involved in the Newport festivals. In 2009 Festival Network ran into financial trouble and lost its license to produce those festivals, and JVC dropped out as a corporate sponsor of the jazz festivals in Newport, New York and elsewhere after 25 years. Wein stepped in, secured new financing, and reassumed full control of the two Newport events. But he no longer has a stake in the New Orleans Jazz and Heritage festival, and the New York festival, unable to attract sponsorship, has been discontinued.
"I'm as busy as I want to be," Wein insists. "And I'm still doing what I love." That includes running, without compensation, his Newport Festivals Foundation, a non-profit corporation he started in 2010 to assure that the Jazz and Folk Festivals live on long after he is gone, and playing the piano—the thing that got him hooked on jazz in the first place.
Wein abandoned his dream of being a full-time musician when he found his calling as an entrepreneur, but he never stopped being a musician, and he continues to lead small groups, with ever-shifting personnel. Originally his colleagues in the Newport All-Stars tended to be roughly his age (or older), their playing rooted in the relaxed and tuneful approach of the days before the harmonic sophistication and jagged edges of bebop came to dominate the jazz world. More recent editions of the band have been more diverse in terms of style and have featured musicians a fraction of his age, most notably the clarinetist and saxophonist Anat Cohen and the award-winning bassist Esperanza Spalding.
In the view of the veteran jazz historian Dan Morgenstern, Wein's identity as a musician "remains the one closest to his heart, as the multiple editions of his Newport All-Stars bear out—as does his blissful expression when, from the keyboard, he savors a special solo from one of his much younger current sidemen or women."
Wein, Morgenstern observes, "remains connected, in his ninth decade, with the music he still loves and for which he has done so much. If, as those who always must pick on the music's enablers will point out, it has also done much for him, that is well deserved."