American Impresario: David Harrington
The Pew Center for Arts & Heritage
American Impresario: David Harrington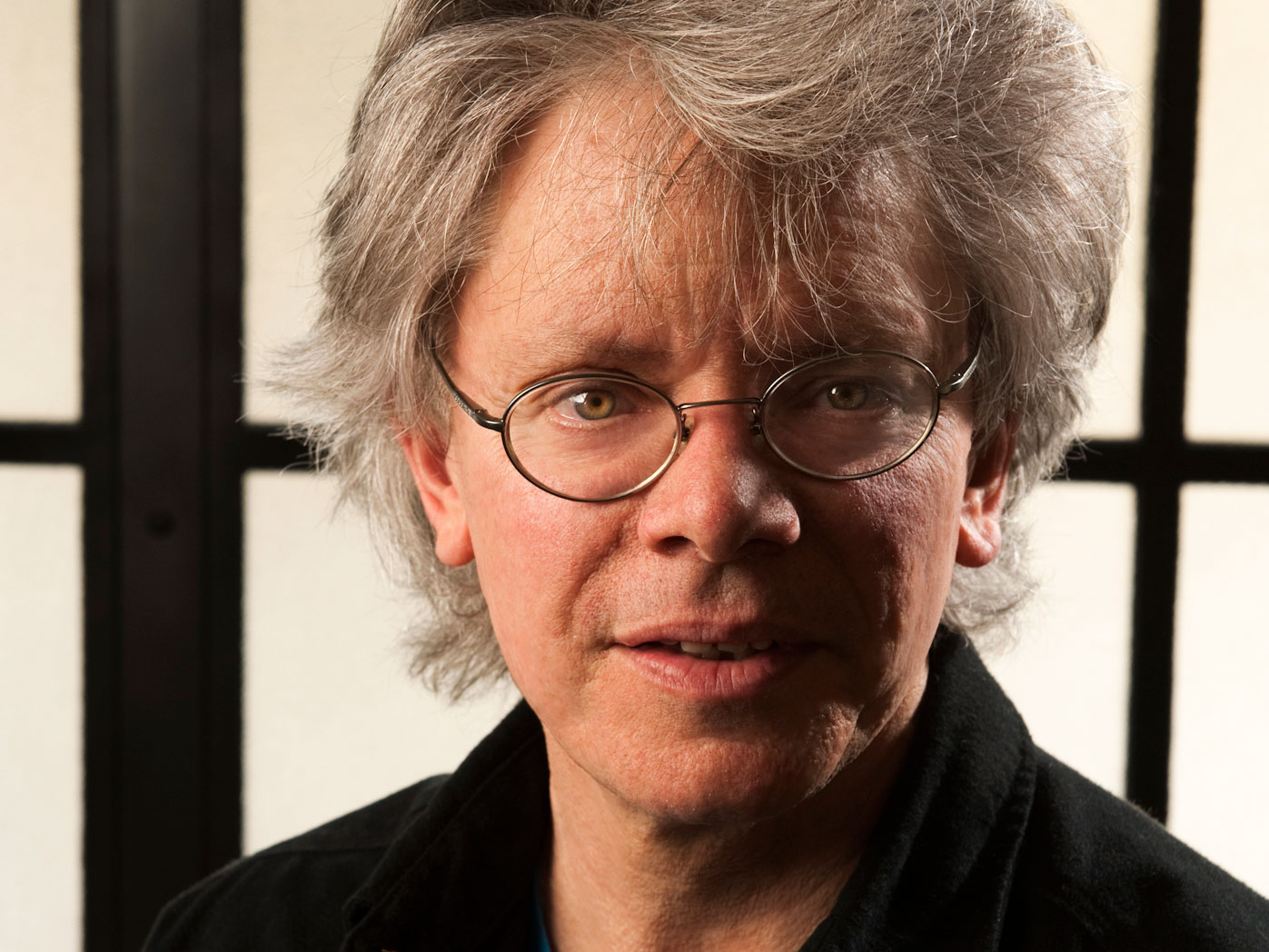 The Pew Center for Arts & Heritage's American Impresario series explores the careers and contributions of leading United States music curators whose creative work has profoundly influenced the field by giving listeners new ways to experience and understand music.
The second article in the American Impresario series features David Harrington, founder and artistic director of the Kronos Quartet. Through almost four decades of work, "David Harrington has had a major impact on contemporary music. He has imported a wide array of musical and sonic influences into the string quartet repertoire of Western classical music. Kronos commissions works from composers who re-envision what a string quartet is able to do, develops concert experiences that expand the definition of what a string quartet performance can be, and assembles recording projects that challenge established ideas of how a string quartet can sound" (UC Berkeley's Center for New Media, 2009). Ethnomusicologist and author Theodore Levin explores Harrington's work and guiding ideas.
The Music of Possibility: David Harrington and Kronos Quartet
by Theodore Levin
Anyone who has spent much time around David Harrington, founder, artistic director, and first violinist of the Kronos Quartet, has a vignette similar to this one, from my own recent encounter. In early June, I caught up with Harrington and Kronos in Toronto, where they were offering six performances at the city's kaleidoscopic Luminato Festival. Incurably generous, Harrington had offered to sandwich an interview into Kronos's fastidiously planned schedule, and he'd come to my hotel room ready to talk. But before addressing the questions I'd prepared, Harrington wanted to share his latest brainstorm. "Have I told you about this?" he beamed. "Since I saw you last, I went back and listened to the piece we did at MIT with Noam Chomsky, and I realized that if you combine that with what we did with [the late historian] Howard Zinn—where basically Howard was reporting the news as if on Alternative Radio while we provided the songs—and if you get Terry Riley to write a modular piece, and on the spot we can make decisions about which module to do next, we could show up in any city in the world and have local activists speak about whatever they want to speak about, and Kronos could create a musical environment that would work! I was in a shower somewhere, and I said to myself, 'Damn, this is the best idea for a piece I've had in my life.' I'm always looking for ideas that bring things together. You have them in the most unexpected places."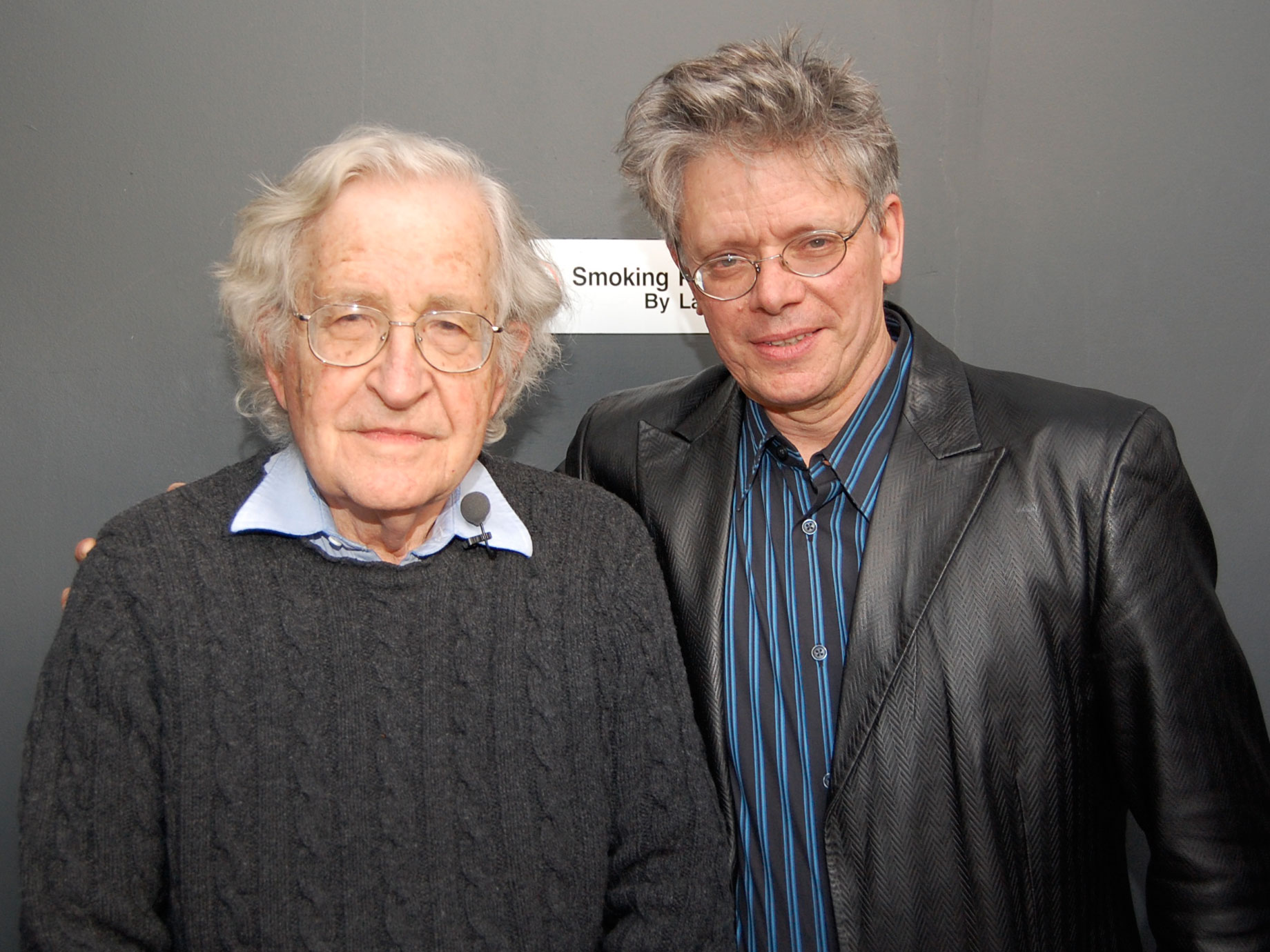 This was Harrington's second brainstorm of the day. The first was inspired by a meeting with the daughter of legendary Indian sarangi player Ram Narayan, who told Harrington about a trove of raga transcriptions her father planned to perform with violinist Yehudi Menuhin, in the same spirit as Menuhin's pioneering collaborations with Ravi Shankar. But Menuhin had died, and the project was abandoned. Harrington's idea was to arrange the transcriptions for string quartet and sarangi, and complete the unfinished project. This idea led Harrington to muse on other musical troves that Kronos could bring to life. "There was a woman named Clara Rockmore who was the foremost performer on the theremin in the 1930s and 1940s, and her nephew told me that there are piles of unreleased acetate recordings of her playing. I had the idea that since there's no way we can play live with Clara (she died in 1998) we can play with her recordings. It could be an incredible gem. And then there's Don Walser, the Texas yodeler. He does this unbelievable version of 'Danny Boy.' We did a concert with him once and recorded it—it's one of his last performances. It's got to be released. Late in his life, Charles Mingus sent us a string quartet but for untraditional instrumentation: two cellos and two violas. We have to find a way to play it. And [Mexican bandleader and composer] Juan García Esquivel is on my list. I met Esquivel, and I know there's some great stuff. He wanted to write something for us but he didn't have the health. There's a certain responsibility you have to musicians who started something and couldn't finish it. If it's a great thing and it speaks to you, you have to figure out a way to decode it."
For Harrington, voracious curiosity and artistic ingenuity are symbiotically linked. Each drives the other, with the result that Harrington seems perpetually poised both on the verge of epiphany and at the edge of musical terra incognita, ready to set out on yet another expedition of discovery. Harrington was 24 years old when, in 1973, he founded the Kronos Quartet, but the particular epiphany that launched his career as one of America's most audacious musical innovators came a decade earlier. "I'd started playing string quartets when I was 12," Harrington recalled, "and one day when I was 14, I was gazing at a map of the world and suddenly realized that all the quartet music I'd ever heard—Haydn, Mozart, Beethoven, Schubert—came from a single city: Vienna. A simple question came to me: What did music from other cities and countries sound like? A door of curiosity opened to the world's music, and over the years, this door has opened wider and wider."
Harrington's relentless musical wanderlust has been anything but a personal affair. Through his 38-year leadership of Kronos, he has welcomed countless listeners to accompany him through the same door of curiosity. Moreover, Harrington has not only discovered worlds of music, he has created them—or been instrumental in their creation—through the more than 750 commissions that Kronos has awarded to composers to develop new works for the quartet. "Kronos has commissioned more string quartet music than any entity since the Habsburg Empire," Harrington told me with pride. "I'm not interested in commissioning someone once," he added. "I view collaboration as a long-term investment in the composer as well as in Kronos. We all can develop over time. Creating a body of work with each of the people who writes for Kronos is important to me. It allows each composer to express himself or herself more fully over a period of time, and it allows us to refine the way we work with each person and deepen the relationship." Indeed collaboration, whether resulting in a new musical work, an arrangement of preexisting music, an improvisation, or a staged production, has been the principal mechanism by which the quartet has created its repertoire.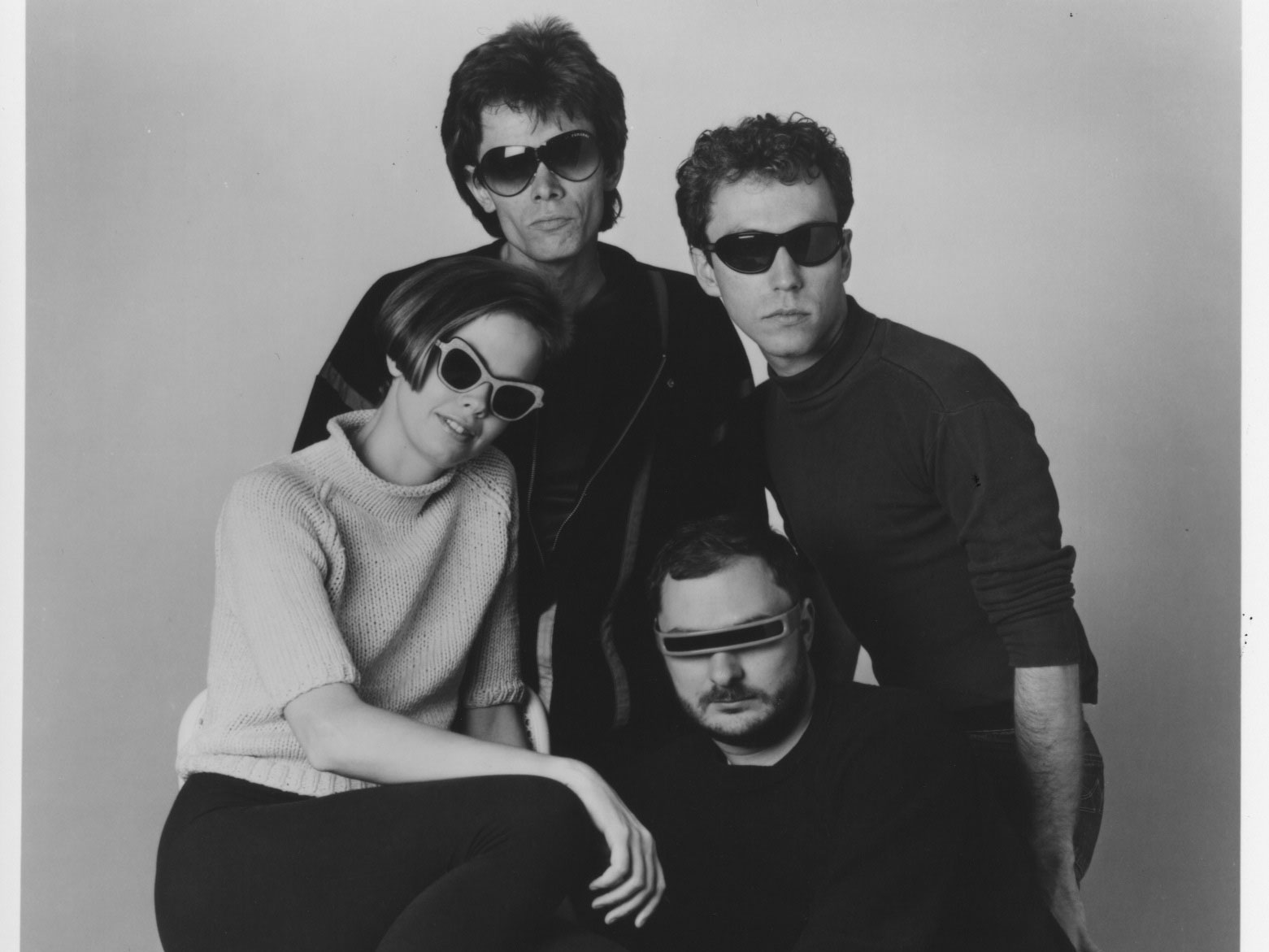 From the very beginning, Kronos focused on contemporary music, with composers from the past making occasional cameo appearances on its programs and recordings. But in 1978 the group made a deliberate decision to perform only music by living composers. In addition to Harrington, two other members of Kronos who were in on that decision—violist Hank Dutt and second violinist John Sherba—are still with the group. Kronos' longtime cellist Joan Jeanrenaud left in 1999, and the current cellist, Jeffrey Zeigler, has been with Kronos since 2005. "It's a well-oiled machine," Zeigler said of the group. "David [Harrington] drives the bus, but artistically, we all contribute equally as far as planning programs and discussing the music. If there's a collaboration that's not working as well as we hoped, we discuss it openly."
Some of Kronos' collaborations have extended over decades, and composers who have worked with the quartet speak passionately of its formative influence on their own careers. Kronos' most extended and prolific collaboration has been with Terry Riley, the doyen of early minimalism, who began working with the quartet in the late 1970s and has written more than 25 pieces for Kronos. In those years, the string quartet, one of classical music's most hallowed genres, seemed an unlikely candidate to play a leading role in contemporary music. "The first time Kronos ever played in New York City was with me," Riley recounted in a recent conversation. "I was performing with them in several pieces—'G-Song,' 'Sunrise of the Planetary Dream Collector,' and 'Remember This Oh Mine,'—and I wanted to perform those works in New York because they were new and fresh. I had a concert at Town Hall, and when I told the organizers that I wanted to bring a string quartet, they said, 'No one is going to listen to a string quartet.' I had a hard time convincing them that it was going to be an exciting group." More than three decades later, Riley's advocacy for Kronos remains strong. "Kronos has produced incredible music over the years," he said. "One of the reasons for their success is that they're always pursuing new challenges, always pursuing something unique. Every time we've gotten together to work, we've come up with something we hadn't done before. They're willing to really listen to what musicians and composers are trying to say, and they try to draw that out and understand their viewpoint."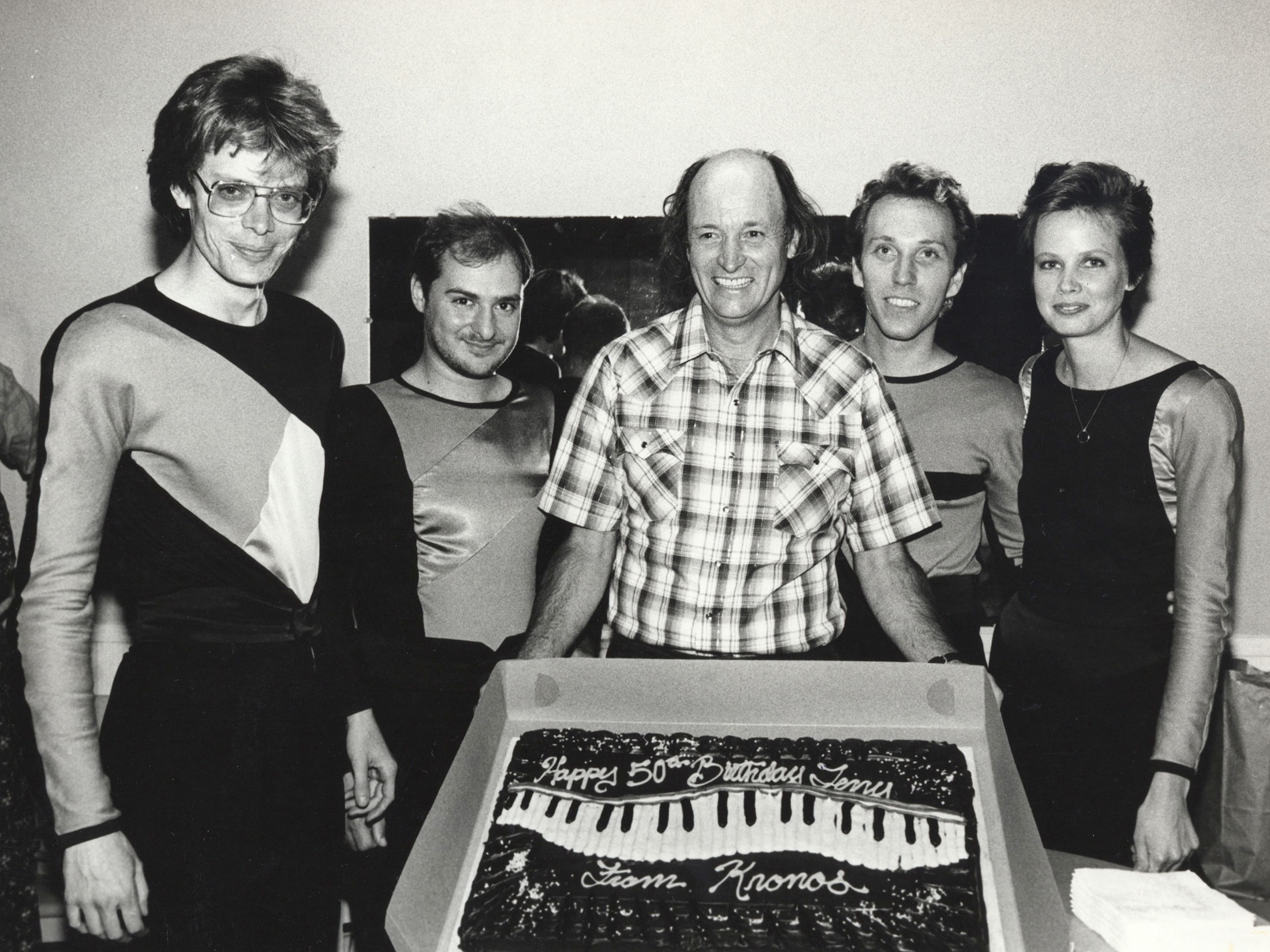 David Harrington offered equally effusive praise for the collaboration with Riley. "It's been a really warm and beautiful relationship," said Harrington. "He's the only composer I've ever met who, every time we speak, brings up issues about the state of the world, politics, the way that music fits into the fabric of life. On a musical level, we've learned so much from him about bringing individual attention to each detail in each note, about the need to be personally involved in all aspects of a piece." For his part, Riley has brought a highly personalized sensibility to composing for Kronos, from the player-specific cadenzas in "Cadenza on the Night Plane" to the "Three Requiem Quartets" that he wrote as memorials to people close to the members of Kronos—the last of them, "Requiem for Adam," to commemorate the death of Harrington's own son, who died in 1995 of natural causes while hiking with his family. "I felt it was important to make portraits of the people who were close to them who had died," Riley said. "Especially Adam, whom I knew very well. His death hit me hard."
Another of Kronos' serial collaborators, Aleksandra Vrebalov, is a generation younger than Riley. Vrebalov first met Kronos in 1996, when she left her native Serbia to study at the San Francisco Conservatory of Music. Since then Kronos has performed four of her compositions as well as excerpts from a recently completed opera, Mileva, about the first wife of Albert Einstein. Vrebalov recently completed "Babylon, Our Own," a quintet for Kronos and clarinetist David Krakauer. Kronos has recorded and performed widely Vrebalov's "…hold me, neighbor, in this storm…" composed in 2007, in the aftermath of the harrowing two decades that saw former Yugoslavia torn apart by nationalism, irredentism, and war. "My idea was to compose a piece that brought together ethnic groups that couldn't coexist in real life," Vrebalov explained. "It was almost like a utopian experiment to see what would happen if you had them all together. In the piece the Kronos musicians play not only their own instruments but also the gusle—a one-stringed Serbian fiddle, and the tapan, a drum that's found all over the Southern Balkans. There's Serbian Orthodox chant—I use Kronos' stringed instruments as voices—and I use elements of pre-recorded sounds: a Serbian monastery in Kosovo, a Turkish spiritual song, a recording of my grandmother singing. All of these came from the question that David Harrington asked when Kronos commissioned the piece: can you do something that deals with your identity? '…hold me, neighbor…' was a way for me to examine the traumatic events connected to the disintegration of my country, which means the disintegration of your identity, and the question of where you find it again. Kronos is not only willing, but asking to get involved in the deepest, most meaningful moments in the lives of the people they work with. I can't imagine writing that piece for any other group. It's so personal that you can only write it for someone you've known for 15 years, for someone who called you during the bombing [of Serbia by United States military forces], for someone who knows the names of your family members."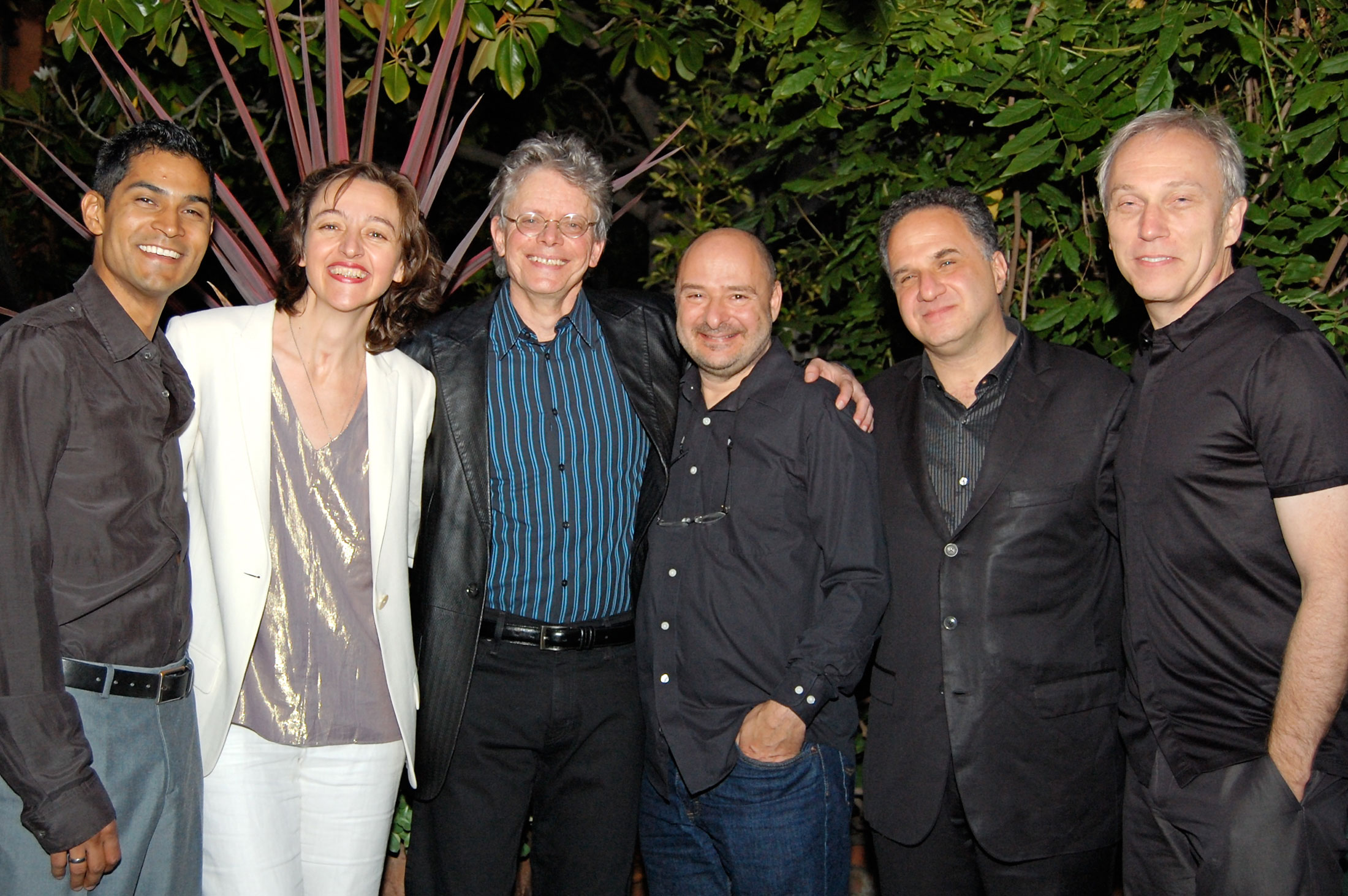 Vrebalov's encomium to Kronos and its unflinching commitment to its collaborators jibed with accounts offered by others who have worked with the quartet. One of them is Wu Man, the protean pipa virtuoso most responsible for introducing the ancient Chinese lute into contemporary musical languages. "My work with Kronos was the turning point in my career," said Wu Man, who immigrated to the United States from China in 1990. "Our friendship started almost 20 years ago. The first piece I played with Kronos was 'Soul,' composed by Zhou Long for the Pittsburgh New Music Festival. It was the first piece ever written for pipa and string quartet—a revolutionary piece that totally changed the history of the pipa, and also the history of the string quartet. I'd never played a composed piece where you were looking at a score; in the Chinese tradition—even with an ensemble—there's a lot of improvisation. Basically you listen a lot. I remember the first rehearsal—we rehearsed three hours nonstop. I barely spoke English. But I felt that Kronos respected me. They listened to me; they wanted to learn; they wanted to know. These days I feel like I'm a fifth member of the quartet."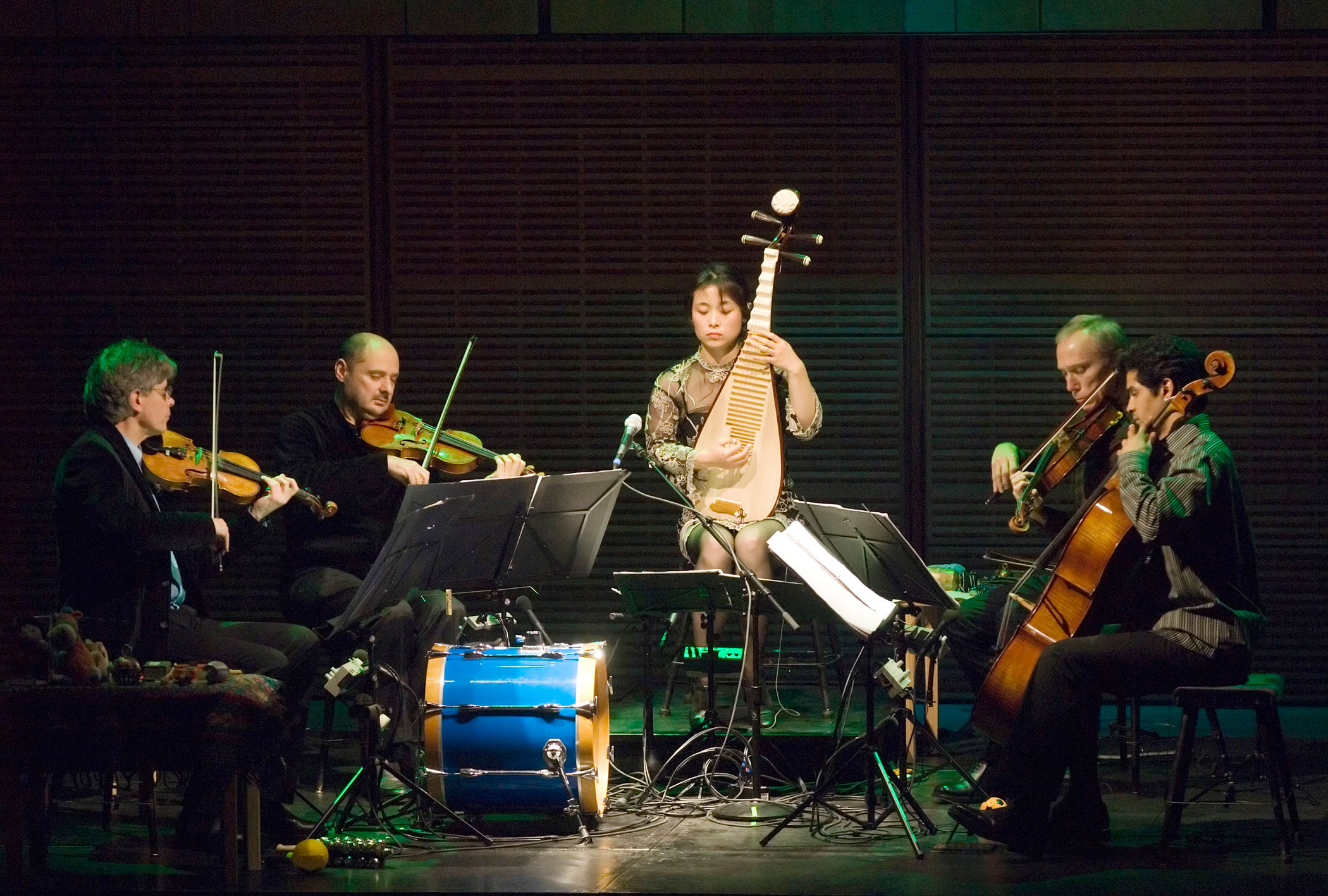 Wu Man's collaborations with Kronos include Tan Dun's "Ghost Opera," Terry Riley's "The Cusp of Magic," and, most recently, the multimedia extravaganza "A Chinese Home." Kronos had programmed "A Chinese Home" and excerpts from "Ghost Opera" and "The Cusp of Magic" as well as Aleksandra Vrebalov's "…hold me, neighbor…" in their concerts at Toronto's 2011 Luminato Festival. "….hold me, neighbor…" was in a program with Iranian composer Sahba Aminikia's String Quartet no. 3: "A Threnody for Those Who Remain"; an arrangement of Syrian composer Omar Souleyman's "La Sidounak Sayyada" (I'll Prevent the Hunters from Hunting You); "Wa Habibi" (Oh, My Love), a Maronite Christian hymn for Good Friday made popular by the legendary Lebanese singer Fairuz and arranged for Kronos by longtime collaborator Stephen Prutsman; and "Boyiwa" (Song of Mourning over a Corpse), arranged by the New York composer-arranger Jacob Garchik from a recording of music of the Aka Pygmies. The second half of the concert featured a recent Kronos commission, "Rangin Kaman" (Rainbow) for string quartet, Afghan rubab, and percussion, composed by Bay Area Afghan rubab master, Homayun Sakhi. I asked Harrington to talk about how he'd selected the diverse pieces for the Luminato concert.
"I want to be sure that if people come to one of our concerts or listen to one of our recordings, they'll feel something they've never felt before from any other experience," Harrington replied. "Take the Pygmy song 'Boyiwa'—it represents a society that seems to really work in a musical way. It's perfect: everybody in the village is participating; everybody is learning from one another and combining their voices. I had to play that piece. It's so beautiful. There's nothing more complex than that. It's not that it relates to what Homayun Sakhi is doing in 'Rangin Kaman,' although maybe it does. Playing something that seems unrelated can actually create new thoughts. What we're trying to do is explore, and allow ourselves to be affected by things that we didn't know about before."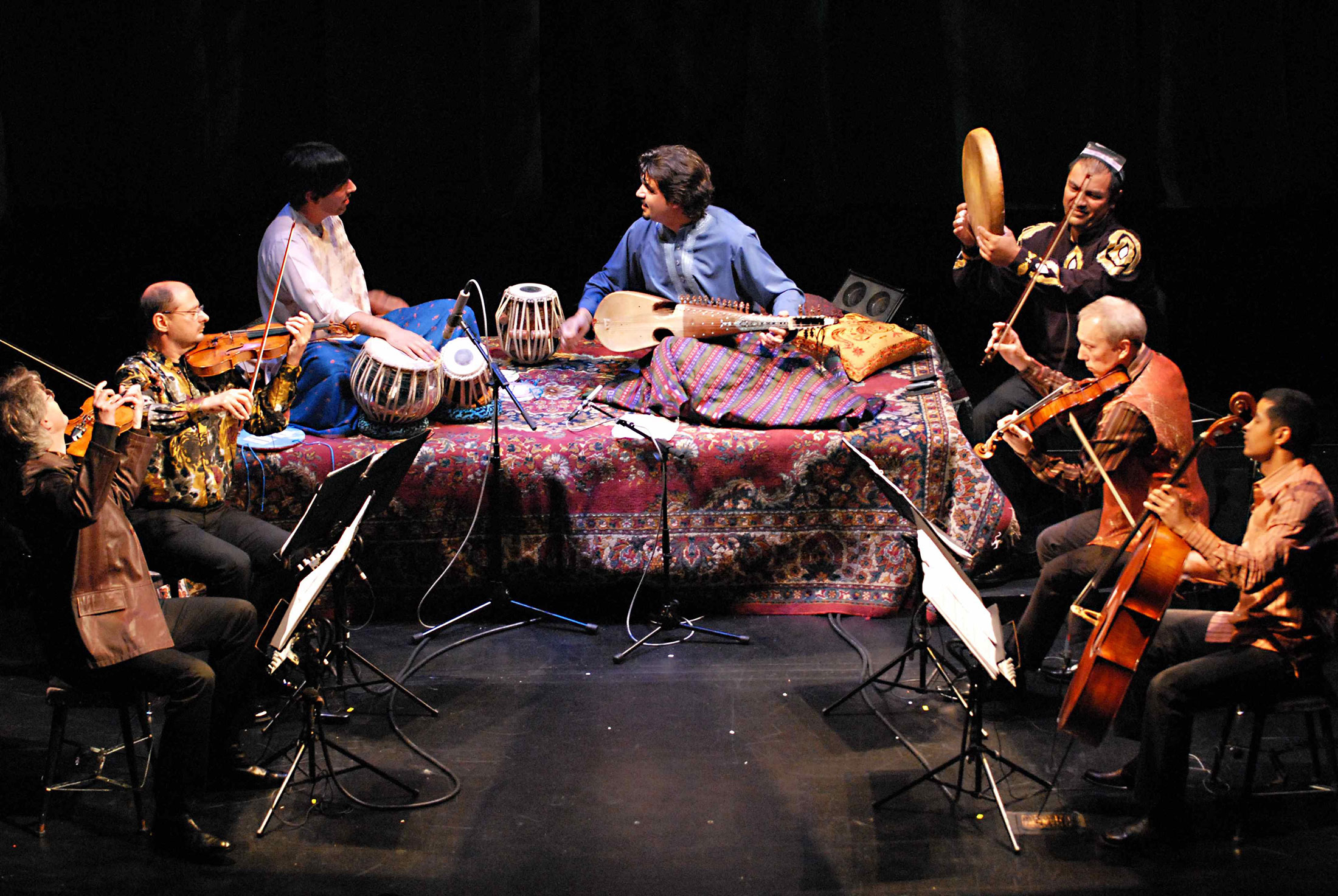 Perhaps it was only an American quartet—and, at that, a quartet from the West Coast—that could explore the world's music so ingenuously and, in the process, reinvent the string quartet in a contemporary globalized and democratic form. The power of the Kronos model, now widely imitated by contemporary music groups worldwide, rests on the quartet's populist embrace of global musical diversity and the creative possibilities opened by musical collaboration across geographies, genres, and styles. As outsiders both to the tradition-encrusted legacy of the string quartet in Europe and to the factious New York new music scene and its partition into "uptown" and "downtown" cliques (these days considerably less polarized than in the 1970s, when Kronos first came to the City), Kronos gleefully flouts the social conventions of classical music, ignores ideologies, and roams insouciantly across the boundaries of myriad taste communities.
In the course of its intrepid explorations, Kronos has served as a redoubt for the musically quirky, far-out, and eccentric. Yet David Harrington rails at the suggestion that Kronos' democratic values have neutralized its ability to discriminate between mere quirkiness and music that has something important to say. "Nothing could be farther from the truth," he said sternly. "We won't do just anything. I'm very choosy. What I love is that the world is a big place, with lots of possibilities. I want the canvas to be as big as it can be; and then I want the way we fill that canvas to be very particularly expressed and chosen. I feel a sense of responsibility to find work that can bring the world a little more into focus—that can reach beyond where we are now and point to directions for the future."
Harrington is at root a kind of musical meliorist who believes that music can not only mirror the world but improve it. "I don't have any illusions about the size of our audience relative to the world's population," he said. "Yet I would be thrilled if every person in the world listened to Kronos and loved our music. Do I think the world would be a better place? I'm confident it would."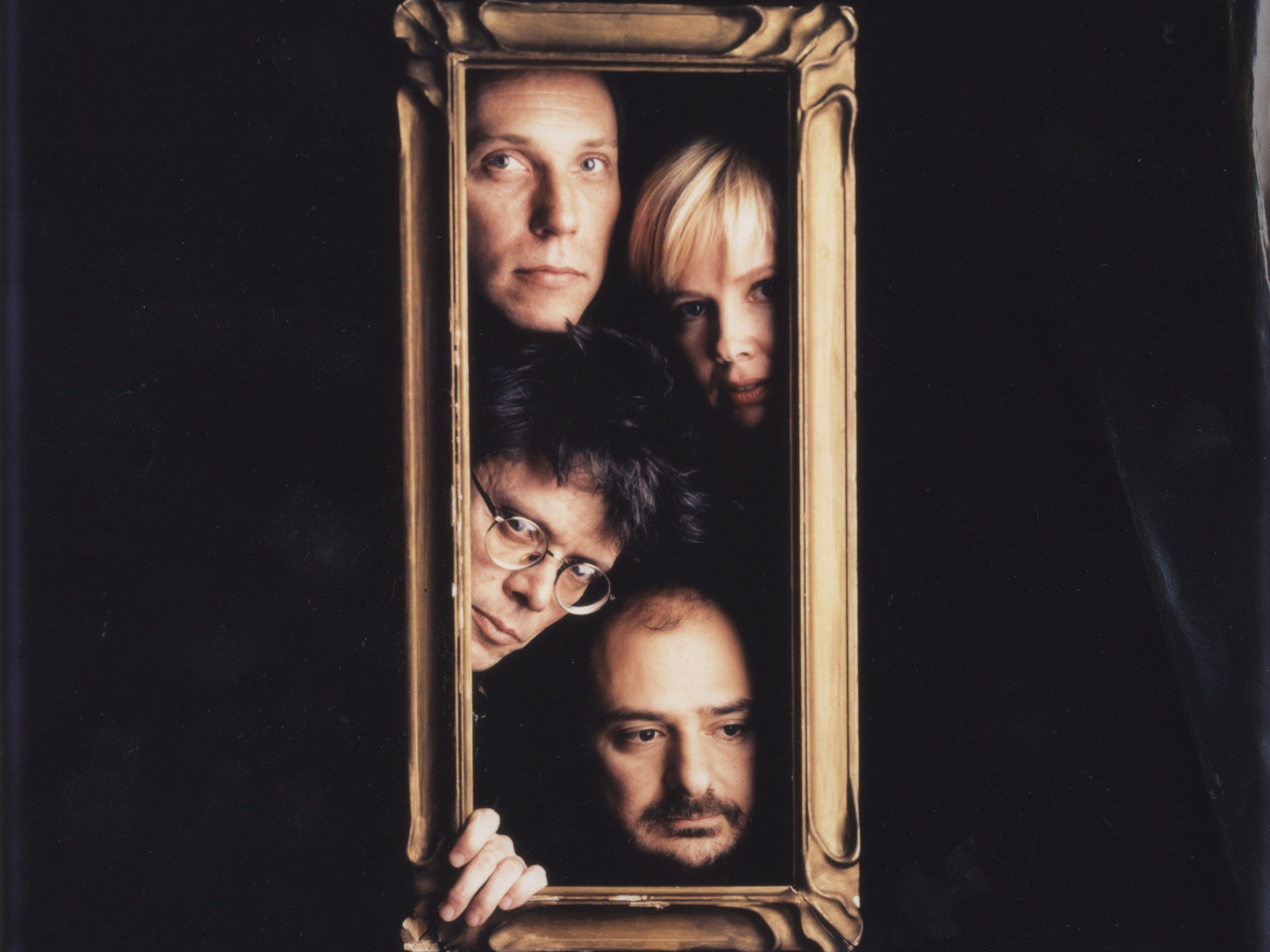 Imagining the world differently is the purview both of art and politics, and for Harrington, the two are inextricably linked. Harrington's politics are the politics of possibility. Many of Kronos' collaborations have had a political edge, beginning with one of the first pieces in its repertoire, George Crumb's "Black Angels"" which Harrington noted, "is probably the only string quartet to have been inspired by the Vietnam War." In the mid-1990s, Kronos recorded Lee Hyla's "Howl," a setting of Alan Ginsberg's surreal, apocalyptic vision of America, with the poet reading his own work, and Scott Johnson's "Cold War Suite from How it Happens (The Voice of I.F. Stone)." More recently Kronos has collaborated in live performances with lions of the left such as Noam Chomsky and the late Howard Zinn. Harrington spoke about performing at the National Gallery shortly after the American invasion of Iraq. "I wanted to play something that could express some of my anger at what was happening. We played our own version of Jimi Hendrix's Woodstock performance of 'The Star Spangled Banner.' The National Gallery isn't very far from the White House, and I told our sound man that I wanted it loud enough for Bush to hear in the oval office." For Harrington, giving musical voice to the tension between reality and possibility is not a matter of political correctness or public relations. Rather, it is intrinsic to the very essence of being a musician. "The sound of two violins, a viola, and a cello—the friction of the bow on the string—to me it's almost an image of our world and how we relate to it," Harrington said. "Music is the result of the friction between us and the world."
Creating on their own, artistic visionaries like Harrington can be successful and influential within their own media. But transforming vision into social impact requires teamwork. Harrington readily acknowledges the crucial role of his fellow quartet members, of Kronos' longtime lighting designer, Larry Neff, and sound designer, Scott Fraser, and of the Kronos Performing Arts Association (KPAA), the non-profit entity he created to develop financial resources for, and later, to manage the quartet's activities. KPAA's affable managing director, Janet Cowperthwaite, has worked with Kronos for 30 years—she began as a college student working part-time—and now manages a staff of nine. Cowperthwaite and her staff act both as a filter and an implementer of David Harrington's fast-flowing torrent of ideas. "The list of things David wants to do is very long," Cowperthwaite said matter-of-factly. "He doesn't like to hear about limitations and constraints, but at a certain point, someone has to be practical and decide what can be achieved. My job is to keep informed about the projects that are rising to the top of the list and figure out how to realize them. I'm like a matchmaker, constantly trying to match the vision of Kronos with what presenters are doing in their own seasons or festivals, or with individuals who might relate to a composer David wants to commission."
Cowperthwaite's approach to building Kronos' audience and community of collaborators in musical presentation mirrors Harrington's approach to working with collaborators in musical creation. "We've done the opposite of what's normally thought of as marketing by avoiding a particular demographic expectation of our audience," said Cowperthwaite. "The key has been not to limit the idea of what the audience should be. Some people might come to Kronos because they like Steve Reich, or Alim Qasimov, or because they heard Kronos in a movie soundtrack. We've tried to make sure that there are lots of different points of entry. But what all these audiences have in common is a desire to engage through music in the world that we're in today."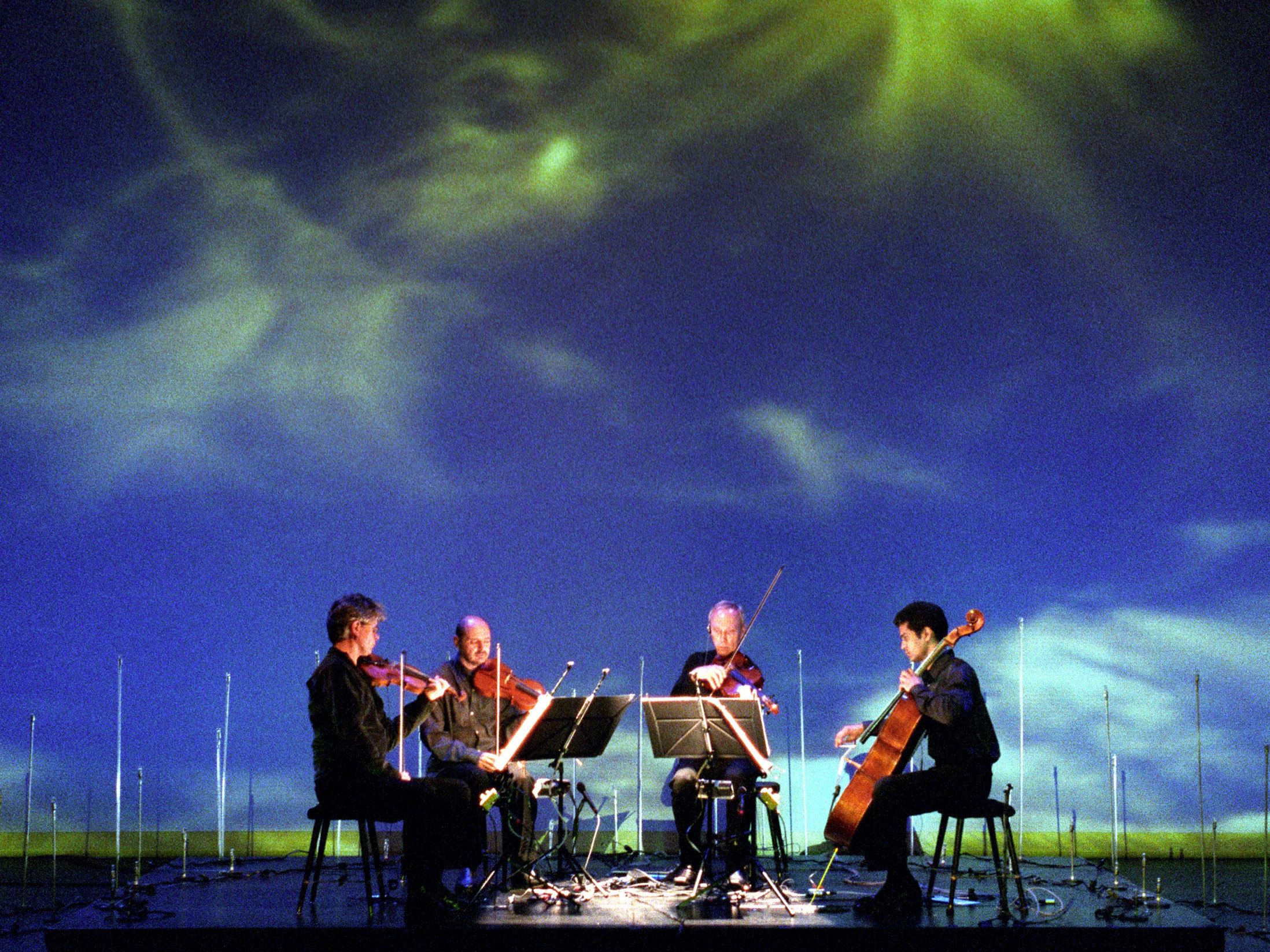 Against the backdrop of the mainstream classical music scene, with its principal focus steadfastly on the past, Kronos' sustained commitment to the "world that we're in today" launched a revolution. And as is often the case with revolutions, ideas that at first appear to be subversive or futuristic turn out to have roots in older models. In the case of the Kronos revolution, that model is none other than classical music itself in the decades of its initial efflorescence as a secular art form. What could have been more exciting to listeners of the 18th and early 19th century than hearing a just-completed work by Haydn, Mozart, or even Salieri? Kronos' seminal achievement has been to revitalize that intimate model of collaborative creativity, in which patrons, composers, and performers are co-eval and co-active.
At age 61, David Harrington has lost none of his energy, sparkle, or visionary zeal. What has changed is that, Kronos' renegade persona notwithstanding, the quartet has been increasingly embraced by the very classical music establishment it set out to change. A major milestone was the selection of Kronos to receive two prestigious prizes in 2011: the Polar Music Prize, awarded in Sweden, and the Avery Fisher Prize, which honors solo instrumentalists or chamber ensembles "who have demonstrated outstanding achievement and excellence in music," according to a note in the program booklet for the award ceremony at Lincoln Center this last June. The list of previous Avery Fisher Prize awardees includes mandarins of classical music such as Yo-Yo Ma, André Watts, Richard Goode, and the Emerson String Quartet. At the award ceremony, David Harrington made brief but stirring remarks. "I don't think the greatest piece has yet been written, nor has the greatest note been played. I want Kronos to challenge composers to create new experiences beyond whatever they thought possible, to reawaken listeners to the joys of the unknown, and to try to make the best notes we can," he said slowly, savoring the moment. "We'll use the money from the Avery Fisher Prize to continue our work: to explore, expand, and energize—you know, the three E's." Adding a personal note, Harrington's face broadened into a wry grin. "As my favorite investigative journalist, I.F. Stone once said, 'If I were having any more fun, they'd have to arrest me.'"