Recipient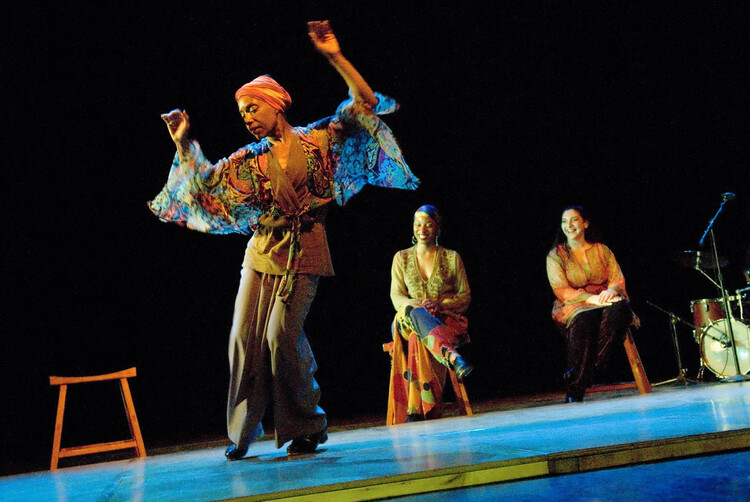 "My chief motivation as a tap dancer is to use the jazz tap form to pique people's imagination, curiosity, emotions, and intellect through exploration of themes that are literary, historical, and social."
At age 33, Germaine Ingram (b. 1947) took up dance under the tutelage and mentorship of the late LaVaughn Robinson (a 1992 Pew Fellow in the Arts), a Philadelphia tap legend. Since then, she has become a major figure in contemporary jazz tap, following in the tradition of her forbearers while breaking new ground in the art form through oral history, filmmaking, and stage production, in addition to performance and choreography. Ingram's work addresses social justice and historical narratives, as well as various aspects of the African-American experience, through projects such as Parallel Destinies. This work in progress ruminates on the recent discovery of George Washington's slave quarters near the site of the Liberty Bell, where nine enslaved African Americans were held. "I aim to exploit tap's capacity to tell stories and illuminate cultural roots and connections," Ingram says. "I aspire to stimulate meaningful discussion about the work itself." An internationally known solo performer, Ingram has received fellowships and awards from the Pennsylvania Council on the Arts, the Independence Foundation, and the Leeway Foundation. Ingram's project grants in dance awarded support her work bridging movement practice with social issues. Her artistic practice strives to situate dance as part of a larger public discourse, serving as another method to uncover stories effaced in official historical records concerning race, politics, and social relationships dealing with class.
Parallel Destinies, 2010. Dancer/choreographer Germaine Ingram, composer/musician Bobby Zankel and visual artist John Dowell worked with the Philadelphia Folklore Project to create a multimedia performance piece commemorating the nine African-Americans enslaved by President George Washington in the President's House at 6th and Market Street in Philadelphia in the 1790s.