Who Gets to Be Contemporary? Brooklyn Museum's Catherine Morris and Arcadia Gallery's Richard Torchia on Pati Hill
The Pew Center for Arts & Heritage
Who Gets to Be Contemporary? Brooklyn Museum's Catherine Morris and Arcadia Gallery's Richard Torchia on Pati Hill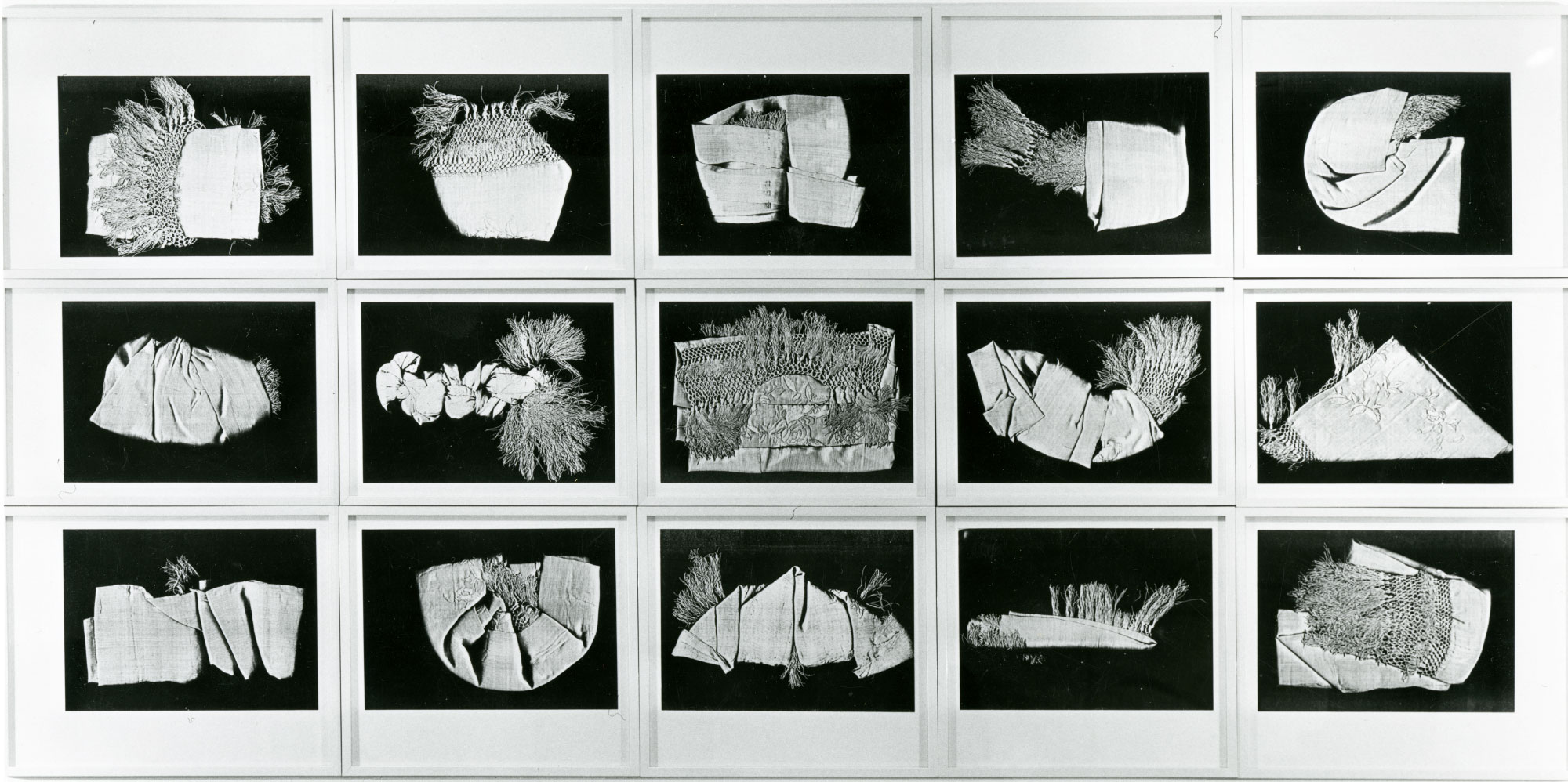 The Center-funded exhibition Pati Hill: Photocopier, presented by Arcadia University Art Gallery, prompted us to reconsider a complex question that we previously asked artists Barkley L. Hendricks and Peter Saul, and choreographer Anna Halprin: "Who gets to be a contemporary artist?"
The Arcadia exhibition surveyed the early artwork of Pati Hill (1921-2014), an American writer who pioneered the use of the photocopier as an artistic tool in the 1970s. Using the machine to scan objects as quotidian as a gum wrapper or as unexpected as a dead swan, Hill published many of the resulting images alongside her own texts. The exhibition will travel to the Lyman Allyn Art Museum in New London, Connecticut in November 2017.
With Hill's work in mind, we invited Arcadia gallery director and exhibition curator, Richard Torchia, and Catherine Morris, curator at the Elizabeth A. Sackler Center for Feminist Art at the Brooklyn Museum, to consider the artist's contemporaneity, the creative influence of emerging technologies, and Hill's place in contemporary and conceptual art. Their conversation follows.
Richard Torchia: In thinking about the question, "Who gets to be a contemporary artist?," it occurred to me that one of the things that makes the contemporary 'contemporary' is the simple fact that it—an artist or an object—is previously unknown to us. And so, even though Pati Hill made her work in the 1970s and exhibited it in New York at the time, to encounter it in 2016 without any previous knowledge of it helps it feel contemporary, in part, simply by the way in which the "new" defines itself. Of course, knowing even just a little about Hill's biography—that she had been a published writer whose encounter with the photocopier in her 50s had a catalytic impact on her creative life, which continued to include publishing as well as exhibitions, public readings, and running gallery spaces—suggests the kinds of cross-disciplinary practices with which we're more familiar today.
Catherine Morris: Another thing I find fascinating about Hill's relationship to the current contemporary art world is that she was so embedded in such an intellectually interesting contemporary art world of an earlier generation, but that history is largely unknown. The fact that she's lost from that history is kind of phenomenal to me. She's contemporary now, as you're saying, because her work is new to us, but her history is firmly embedded in a significant avant-garde community of the post-World War II United States.
RT: Absolutely. At the time that Hill was making this work she was married to Paul Bianchini, who was among the first New York gallery dealers to sell Pop art. The intersections of her career with leaders in the literary world, such as George Plimpton, Truman Capote, Galway Kinnell, and James Merrill among others, is well documented. Prior to that, she had the experience of being a sought-after model, so she was familiar with the fashion industry and photographers. She became a close friend of Diane Arbus shortly after she moved to New York City in 1941 and circulated within that milieu as well. Despite all this, I believe she actually enjoyed, and perhaps preferred, being at the margins to some extent. I don't think she wanted fame or attention as much as she wanted just to "show what she had made," as she wrote, and to carve out an identity for herself that was singular and original.
She went to great lengths to distinguish herself from what else was being done at the time. One good example of this is Impossible Dreams, the illustrated novel she published in 1976 that remains remarkable for its innovative use of appropriated photographs. Comprised of 125 chapters, some only a single sentence long, this manuscript had been in the works for many years. In 1974, she published the first half without images in a literary journal called The Carolina Quarterly. It was around the same time, however, that Hill first started to experiment with the photocopier, whose graphic transformations of photographs she appreciated as much as the machine's interpretations of objects. After the full manuscript had been accepted by Alice James Books—a nonprofit poetry press in Cambridge, MA whose mission was to give women access to publishing—Hill proposed illustrating the novel with 48 photographs, which she acquired with permission from about 20 different sources. She then photocopied these prints to give them a greater sense of visual continuity within the finished book. The editors at Alice James objected, insisting that if Hill wanted to include these images in the book, she would have to cover the costs of doing so herself. Thanks to the help of a fellowship from The National Endowment for the Arts, Hill found the $1,500 necessary, which in 1976 was a lot of money.
For Hill, I think, the risk of doing something that hadn't been done before, even though it might not be financially or critically successful, was valuable as a way of sustaining her creative drive and identity. I also believe that her aspirations didn't really match those that have become stereotypical now in the art world.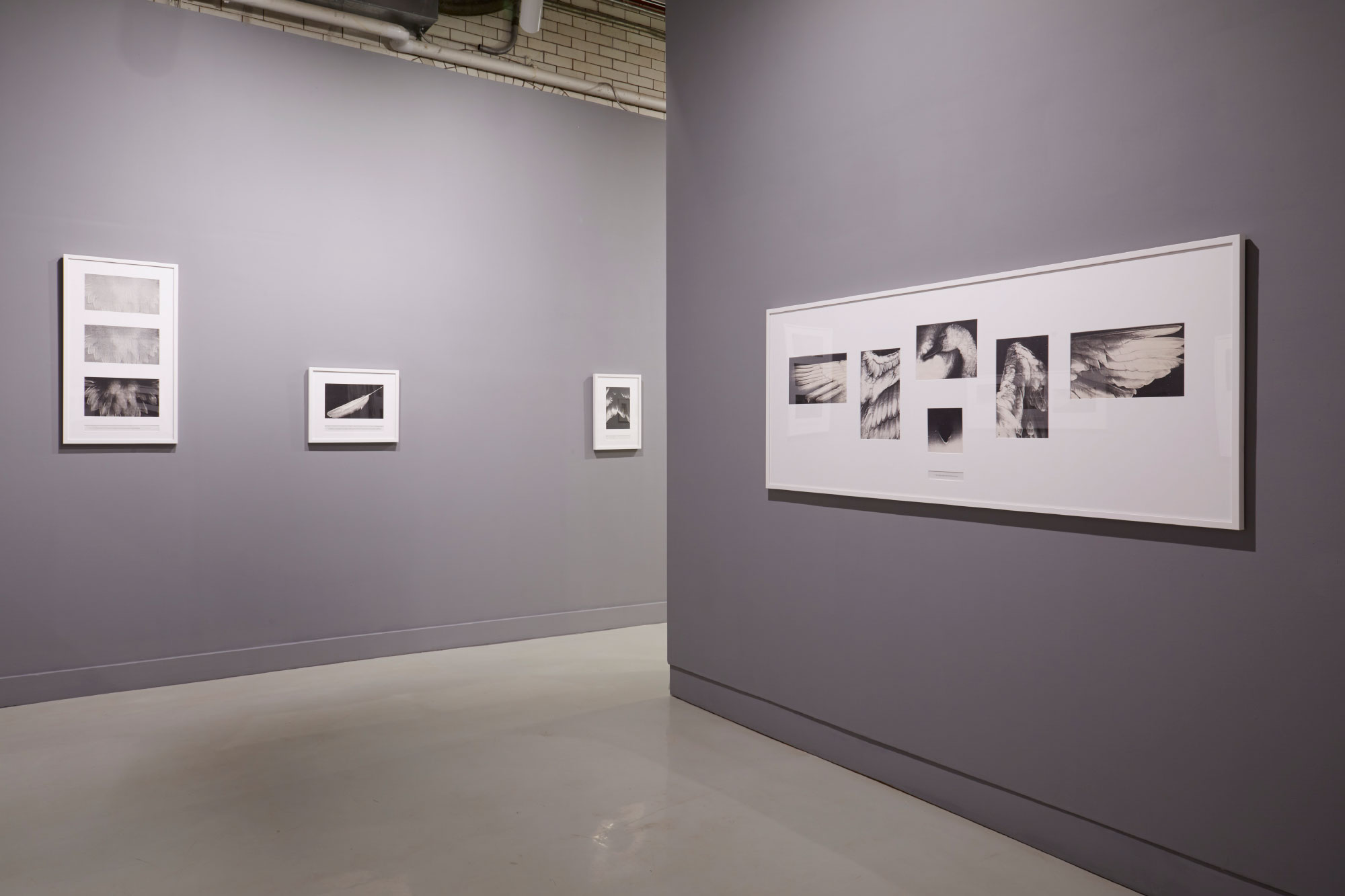 CM: But her aspirations do sound to me to be representative of a firmly mythologized modernism; the classic late 19th- and early to mid-20th- century modernism which prioritized the exploratory, the intellectual, and the value of conversation and interaction within a relatively small community of people with similar interests and critical curiosities. Seeing success in these terms is very different than the post-Warholian terms of success, which developed in the art world during the years Hill was really finding her creative voice, and which are still priorities. So while in some ways it may not be surprising, Hill's priorities and self-positioning are interesting in relationship to the sweep of her biography over the course of the 20th century, and the fact that she lived a life that was classically avant-garde in some sense.
Then she ends up in that moment in the 70s, engaged in a technology that is very much of the moment, reflecting a newly emerging avant-garde, which is distinct and reacting against the one in which she came of age. An overlapping set of interests seems to develop between the draw towards conceptual art and the new implications of what we would now call self-publishing and image sharing which were not based in the market, and were intended to be about the process, and the conceptual underpinnings of the reproductive implications of the photocopier as distinct from the magazine publishing model of an earlier era. At the same time, she was obviously such a formalist, too, reflecting her roots in that earlier set of priorities. And maybe that also gets folded into the complexity of describing her practice, making it harder for us to gauge her, because the work is so conceptual on the one hand, but then equally committed to the formal on the other. By the time you hit the mid-70s those are two hard fields to mesh.
RT: Exactly. I think you've introduced something really important about her practice. I've recently started to wonder if we can consider Hill a conceptual artist. Despite the fact that some of the work—such as the typed, deadpan descriptions that comprise her exhibition Dreams Objects Moments—suggests classic examples of conceptualism, Hill was also invested in the making and presentation of affecting and often sumptuous images. She was also concerned with the way that such pictures, when combined with her texts, could create, in her words, "something other than either."
For instance, "A Swan: An Opera in Nine Chapters" is a highly formal project propelled by physical process and a preoccupation with her medium. Over a period of several weeks, with the help of a refrigerator and her neighbor, Ann Moore, she scanned the 30-pound carcass of a dead swan from every conceivable vantage point. With assistance from her local butcher, she was able to scan the swan's heart and skeleton as well. To the resulting images she then attached captions. I found these, at first, somewhat off-putting, perhaps because I encountered them prior to seeing the actual prints, whose details and presence are very striking. When we finally installed the work at Arcadia, with its mats and multiple windows for prints and text, I realized how these captions and their layered allusions fused with the images to create the feeling of an epic that neither might have achieved independently.
Hill made a book-like maquette of the project to demonstrate how it should be installed and sent it to Charles Eames, who had facilitated the loan of the IBM copier on which the prints were made. Her covering note to Eames describes how, although she thought of the project as an exhibition, it could also be produced as a set of affordable posters, allowing people to "cover their walls in swan for a few weeks, then move off or throw the swan away and put up something else." So we have this elaborate installation of 32 framed and matted prints that she also envisioned as disposable "wallpaper," which is the word she used. Hill celebrated the democratic conditions that made copying so accessible while clinging to the formal characteristics of the medium at the same time.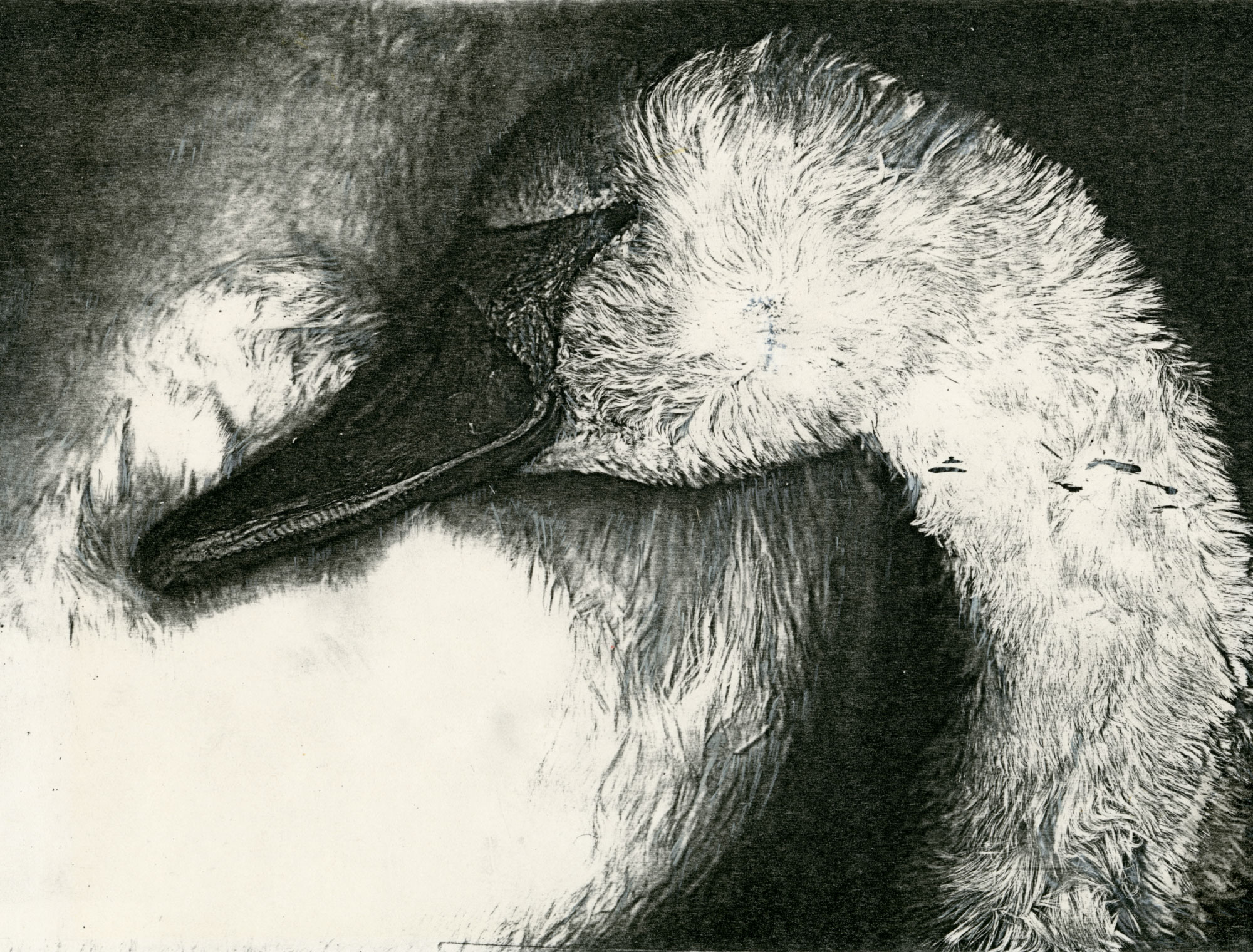 CM: Clinging is so perfect a word for it, because I'm sitting here thinking about Seth Siegelaub and the Xerox Book, along with Hill's earlier works, and her very literary roots, these little magazines—again, conceptual practices seem to meet a literary, modern, formalist sensibility. Those examples are a very interesting link between modernist impulses from earlier in the century, and what we now consider the roots of post-modernism. Hill carries her modernity forward in a very personal way while also positioning herself as contemporary in her own moment, and her idea of the ephemeral as expressed in your poster anecdote really reinforces this position. In Hill's case, the personal is another complicating factor that is interesting to me, too, because I think the canon of modernism has always had a hard time figuring out what to do with women artists. The conceptual moment, which also corresponds with the emergence of feminism, which laid the groundwork for identity politics, found better ways for accommodating them. And now, when we live in a world of intersectionality, with a real desire to find, describe, and talk about multivalent histories, and push to acknowledge difference, it's easier to see and allow for the complexity of this work, and to parse it in an historical frame that didn't feel so available 50 years ago.
RT: Hill talks about how automated copiers could do so much more than the basic replicating functions for which they were produced. She devoted a great deal of her practice to exploring and exploiting these unforeseen attributes. The optics of the copier, for example, were specifically designed to duplicate two-dimensional originals at a fixed distance from the lens. The shallow depth of field, which facilitates the remarkable capacity for recording details at the focal plane, is also responsible for the uncanny way in which it renders objects, which of course these machines were never designed to "copy," if we can use that word. Hill appreciated what she referred to as the "distancing" effects of the copier, how when she scanned an object with the lid up the resulting, life-size print made the original appear as if it were very present, but also suspended in space. The process emphasizes active, tactile contact between the object and the machine, not to mention the interactions between the copier and the person using it. Imagine the physical commitment of hefting a dead swan; dealing directly with the material weight and actuality of such a subject, which is so different from taking a photograph of it.
Consequently, for a while at least, using a copier in this way was subversive. Not only because it demonstrated unexpected and alternative uses for this technology, but also because most of these machines—whether in copy shops, libraries, or office spaces—did not belong to the artists that were using them. (While Hill eventually enjoyed a two-and-a-half year loan of an IBM copier in her Stongington, Connecticut home, the challenge of securing access to her preferred machine nearly shut down her practice. Most of her second exhibition, for example, was made on the sly at IBM's corporate offices in New York thanks to help from a friend who worked there and lent Hill his key). We can ascribe this notion of misuse not only to artists, but to writers, activists, and anyone who used copiers surreptitiously, which accounts for a greater percentage of their application than most owners of this equipment might like to admit. This culture of subversion and the allure of the clandestine access associated with the copier began to disappear with the emergence of the digital, the personal computer, and portable, affordable scanners.
Today we are surrounded by devices derived from analog copiers, yet artists don't think very much about the possibilities they once represented. It's also noteworthy to recall that in the '70s and early '80s each brand of copier was associated with a slightly different set of graphic effects. The differences between the IBM, 3M, Xerox, and Canon machines, along with their various flaws, meant something to people. With the advent of the digital, these distinctions and quirks have been bred out of the technology.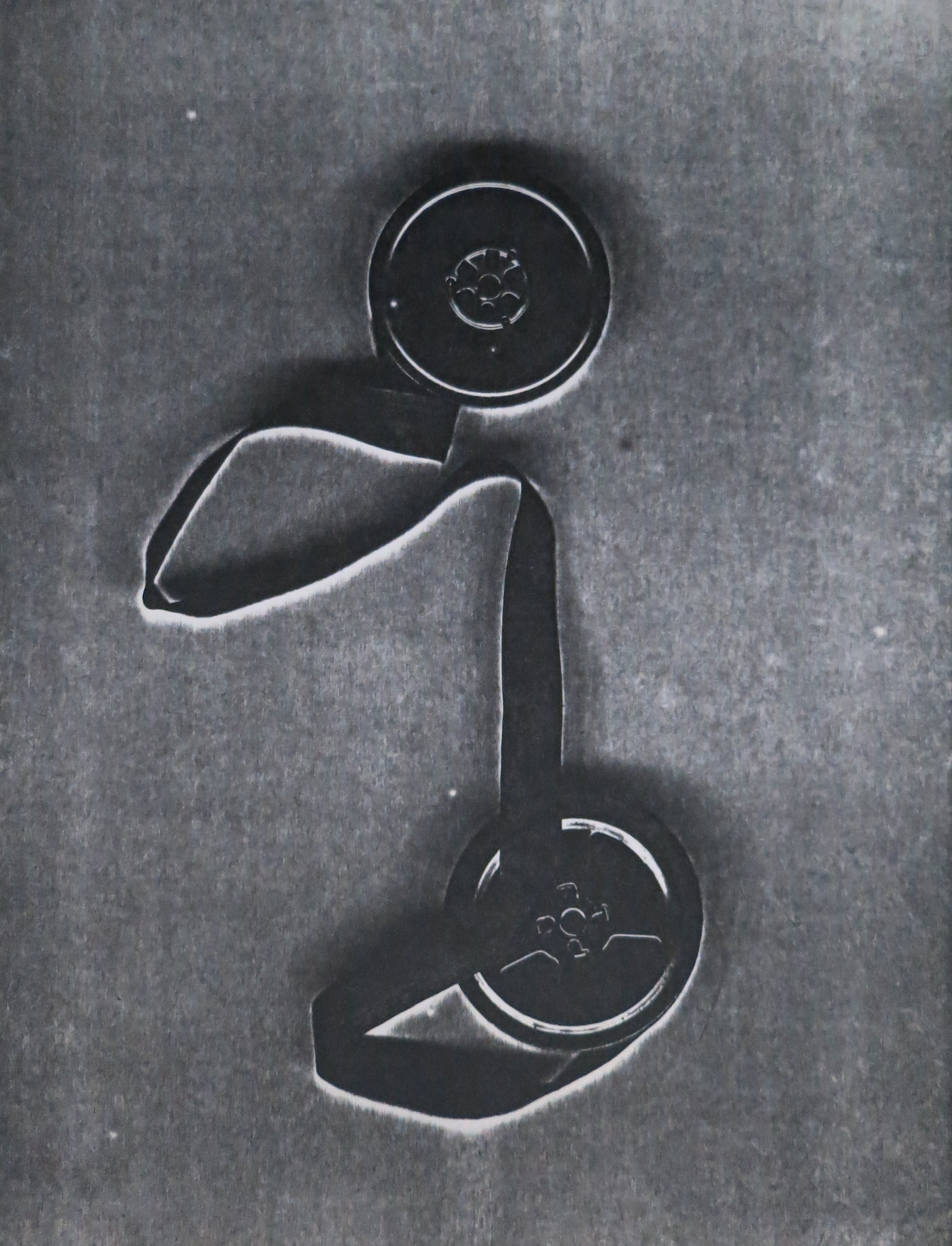 CM: This brings up questions surrounding modern communication and accessibility. Questions about how today's technologies, 3-D printers and mobile devices, for example, are utilized. What is interesting to me about that question is my immediate response—that there isn't a lot of connection. My biggest fear in terms of Hill's work would be that it would be attendant to some sort of nostalgia that would cloud the ability to engage in the kind of dialogue you just offered.
On the other hand, 3-D printers, for instance, are, despite their technical newness, still part of an ongoing conversation about repetition and multiples that has been in play for artists for decades. The ideas and conceptual possibilities in self-publishing, and image sharing, are more closely aligned to what I see as Hill's impulse.
It's also very much a part of the ethos of that particular moment in relationship to the way artists were thinking not only about the idea of copies, but also the idea of production, and the function of the artist in relationship to that production, as well as the relevance of multiplicity, repetition, originality, and perhaps even performance. These practices are all certainly part of a much larger conversation about Hill's work. The performative illustration you offer of her physical work with that swan reinforces the possibility of this avenue of thinking, so that Hill's approach adds significantly to multiple conversations. Her chosen medium and the methods by which she employed it speaks to, among other things, multiple historical shifts in artists' relationships to emergent technologies as well as the politics inherent in the lived experience she, in particular, brought to her chosen technological tool of production. Maybe this brings us back to an additional reason Hill feels so contemporary.
Catherine Morris has curated a number of exhibitions for the Sackler Center since 2009, including the award-winning Materializing "Six Years": Lucy R. Lippard and the Emergence of Conceptual Art (co-curated with Vincent Bonin), Twice Militant: Lorraine Hansberry's Letters to "The Ladder," and Kiki Smith: Sojourn, and served as in-house curator for the Center-funded Seductive Subversion: Women Pop Artists, 1958–68. Prior to her work at the Sackler Center, Morris was an independent curator, as well as adjunct curator of contemporary art for the Philbrook Museum of Art. In 2004, she received a Penny McCall Foundation Award for Independent Curating and Writing.
Richard Torchia has been the director of Arcadia University Art Gallery since 1997, where he has organized solo exhibitions for Ai Weiwei, Francis Cape, Olafur Eliasson, Donald Moffett, Pati Hill, and others; the exhibitions for Ai Weiwei and Eliasson were also funded by the Center. In addition to ongoing publishing and writing projects, Torchia has maintained an artistic practice employing the camera obscura as a means to develop site-specific installations. His works are included in the permanent collections of the Philadelphia Museum of Art and the library of the Museum of Modern Art, New York.
>>Further reading: "Making Copies is Very Near to Speaking:" An Excerpt from Pati Hill: Photocopier