Visual artist Trenton Doyle Hancock has been collecting white dolls for two decades. In 2018, he presented his collection alongside black dolls from the Philadelphia Doll Museum and a new set of his own creation, in the show Moundverse Infants at Temple Contemporary. Hancock says that, as a medium, dolls can provoke surprising feelings of nostalgia and humanity, and the juxtaposition of white and black dolls can be revealing.
In these interview clips, Hancock discusses his interest in dolls as representations of identity and culture, and we hear from Barbara Whiteman, founder and executive director of the Doll Museum, as well as Aida Villanueva, a member of Temple Contemporary's Young Curators Council.
Hancock discusses the objects he collects and creates, the meanings they carry, and the expectations they can create and subvert.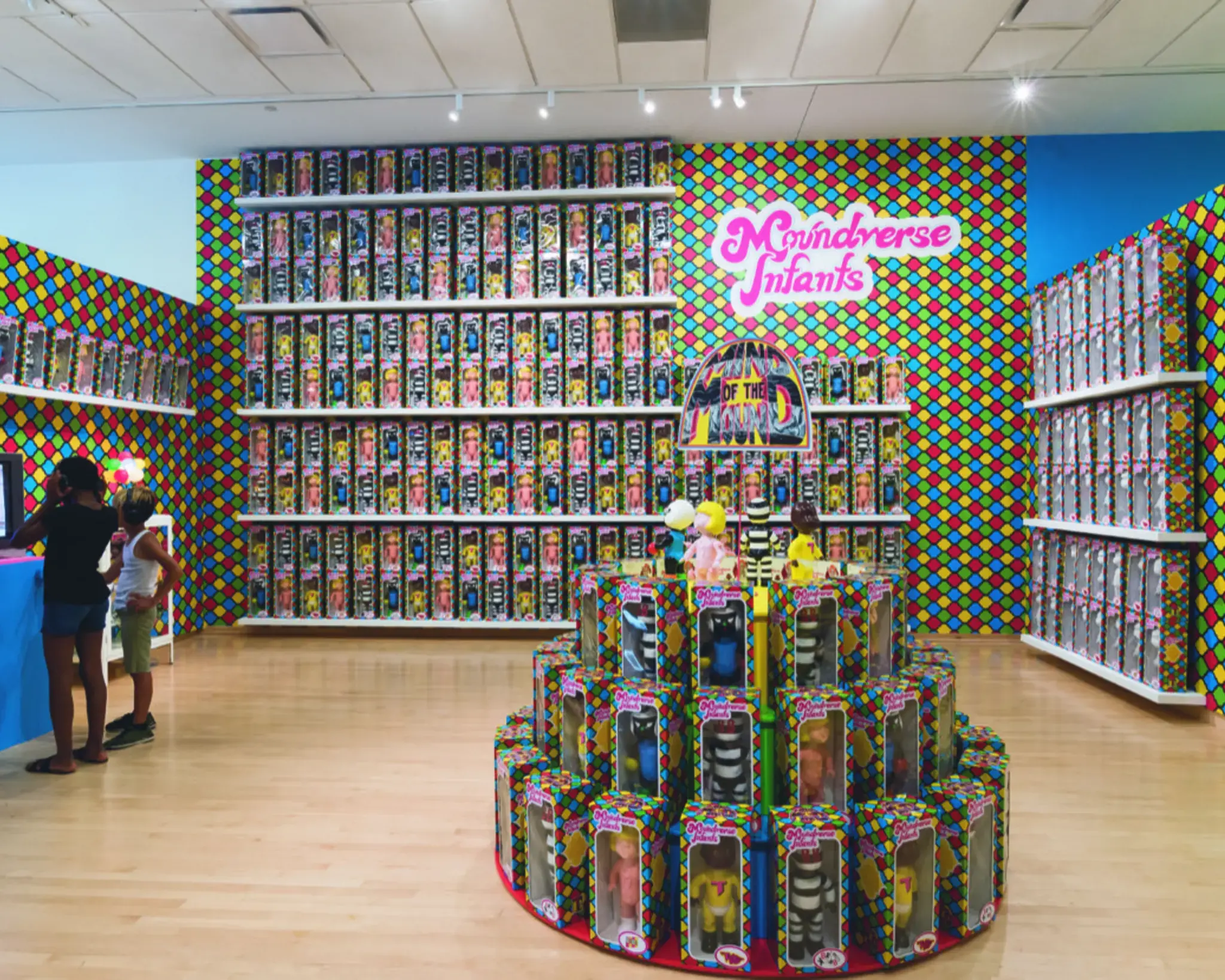 Close

Transcript

Transcript permalink

Well, in terms of how race comes into my studio, it doesn't come in. It's always been in. It's not something that—even if I don't talk about it, I'm talking about it by the sheer nature of me being a black artist. So this project kind of takes on a little bit more head on in terms of acknowledgment and ownership of the conversation based around race and representation, but isn't setup so much to guide anyone in one specific direction. 

It's like museologically set up where people can come in and come to some of their own conclusions, or create a new narrative based around the fact that there is a giant wall of white dolls next to a giant wall of black dolls. And I think first people are just confronted with the immense sense of nostalgia that they just seeing a lot of dolls brings. And then when people look closer, they're like, oh. There's really—they're not mixing together here. So it becomes this kind of itemization of color. 

I think there definitely is something provocative and because of pop media and horror film culture, there is a sort of a fear sometimes that dolls can carry. Especially when you see more than three or four of them like staring back at you, it becomes sort of—it can be a little strange. And you can sense the sentience of the doll. And I think in terms of who's collecting them and who has the doll, I think if people look at it through that lens then it could change. And it's like well, why is this guy collecting dolls? Then it becomes a little bit more charged. 

So I know I find the whole culture of collecting and why people collect the dolls very interesting. Ultimately, what I came to was that it's as much excavation into culture as it is into my own psyche. The idea of breaking expectation, breaking taboo, or even, yeah, creating new expectations or creating new taboos. And so just by the sheer nature of me handling or having these things. 

Permalink
Hancock and Villanueva explain how dolls can shift perceptions about identity and power.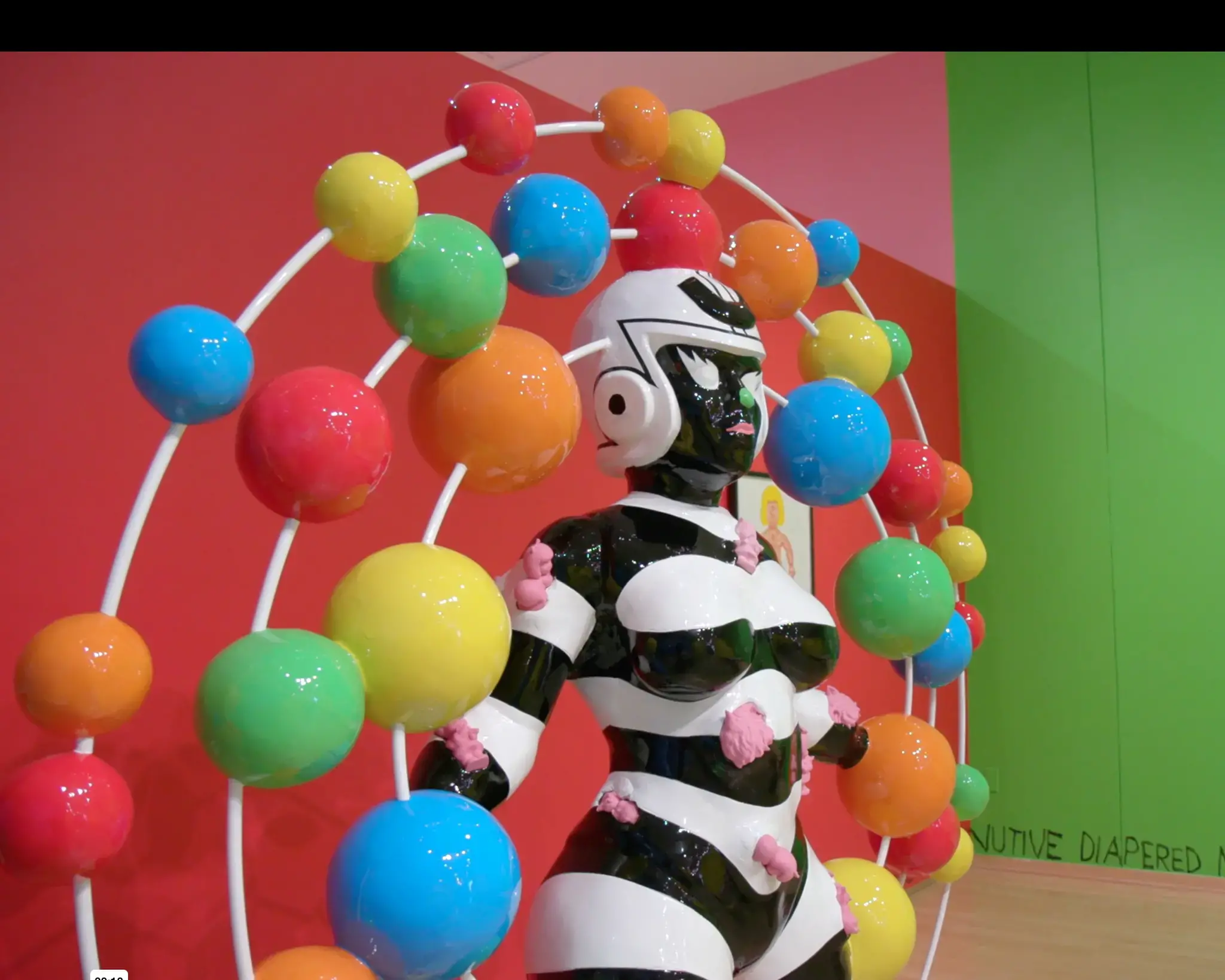 Hancock and Whiteman talk about the role dolls play in our shared cultural history.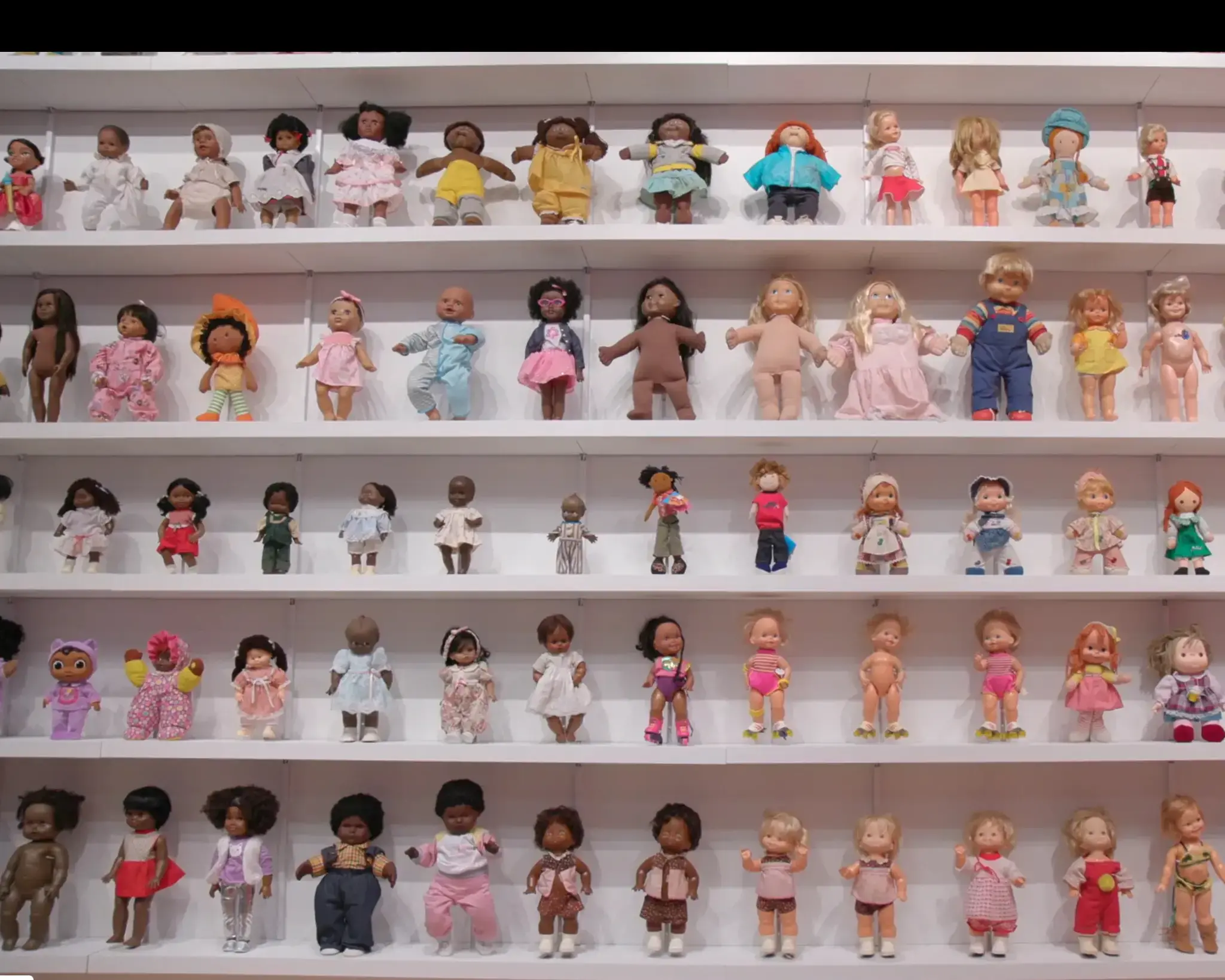 Close

Transcript

Transcript permalink

Well, in terms of how race comes into my studio, it doesn't come in. It's always been in. It's not something that– even if I don't talk about it, I'm talking about it by the sheer nature of me being a black artist. So this project kind of takes on a little bit more head on in terms of acknowledgment and ownership of the conversation based around race and representation, but isn't setup so much to guide anyone in one specific direction.

It's like museologically set up where people can come in and come to some of their own conclusions, or create a new narrative based around the fact that there is a giant wall of white dolls next to a giant wall of black dolls. And I think first people are just confronted with the immense sense of nostalgia that they just seeing a lot of dolls brings. And then when people look closer, they're like, oh. There's really– they're not mixing together here. So it becomes this kind of itemization of color.

I think there definitely is something provocative and because of pop media and horror film culture, there is a sort of a fear sometimes that dolls can carry. Especially when you see more than three or four of them like staring back at you, it becomes sort of-- it can be a little strange. And you can sense the sentience of the doll. And I think in terms of who's collecting them and who has the doll, I think if people look at it through that lens then it could change. And it's like well, why is this guy collecting dolls? Then it becomes a little bit more charged.

So I know I find the whole culture of collecting and why people collect the dolls very interesting. Ultimately, what I came to was that it's as much excavation into culture as it is into my own psyche. The idea of breaking expectation, breaking taboo, or even, yeah, creating new expectations or creating new taboos. And so just by the sheer nature of me handling or having these things.

Permalink