Putting Jason Back Together Again
The Pew Center for Arts & Heritage
Putting Jason Back Together Again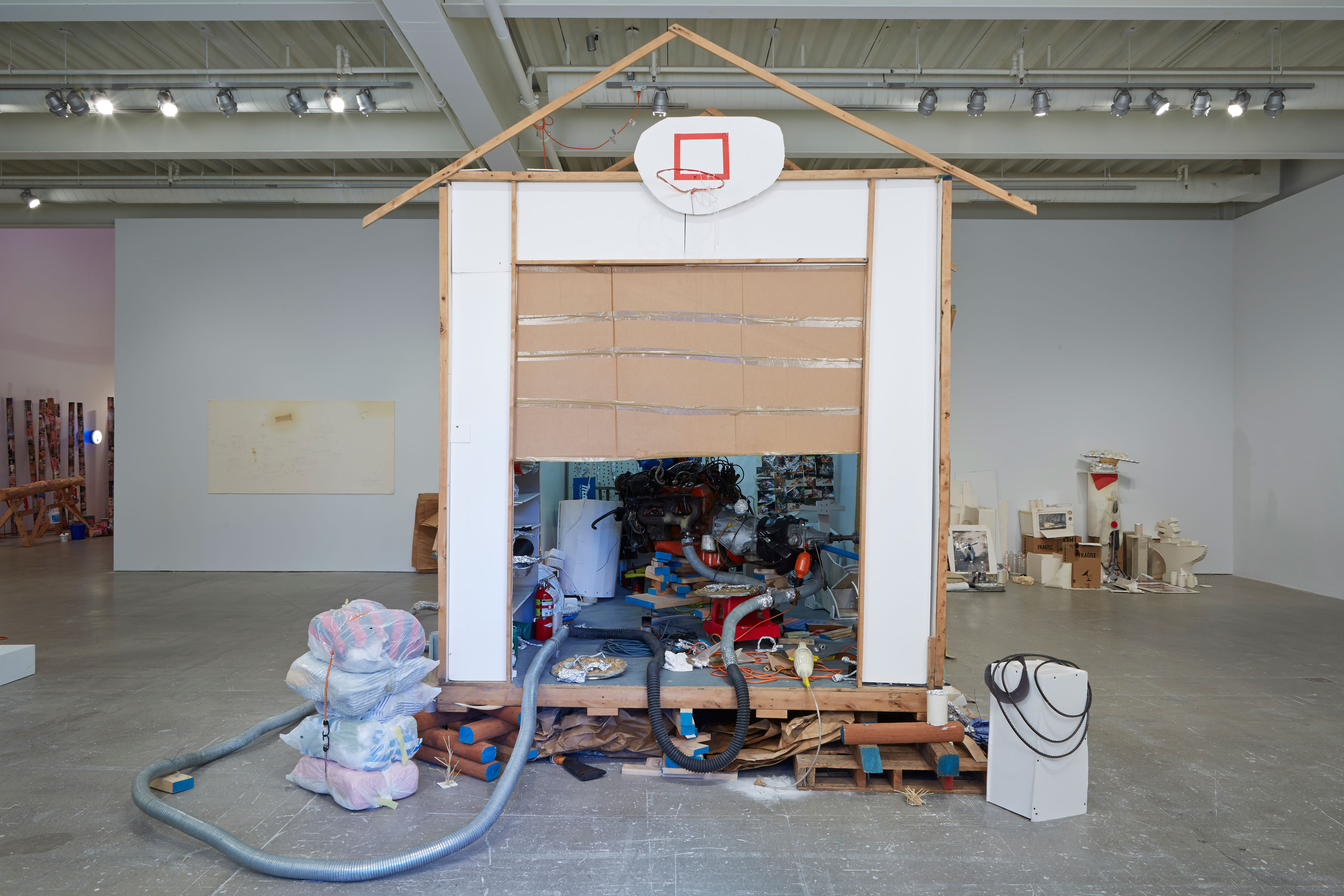 A conversation with Rick Baker on reconstructing Jason Rhoades' installations
One of the most ambitious artists of his generation, Los Angeles-based Jason Rhoades burst onto the scene almost fully formed just after receiving a graduate degree in 1993. He died only 13 years later, leaving behind a number of massive installations. Four of these works are included in the Center-funded exhibition Jason Rhoades, Four Roads, on view at the Institute for Contemporary Art, University of Pennsylvania (ICA) through December 29, 2013. In October, Peter Nesbett, The Pew Center for Arts & Heritage's Associate Director for Programs, sat down with the manager of Rhoades' studio, Rick Baker, to talk about the complications of reconstructing the artist's work after his death.
Peter Nesbett: Rhoades died unexpectedly in mid-career. You worked in his studio; were you at all preparing for the day when these things would have to be put together in his absence? I imagine Rhoades was too young to have developed the archival impulse that comes later in most artists' lives.
Rick Baker: The nature of our work when he was alive was always fast and forward moving. I likened it to racing dragsters—incredibly intense preparation and planning, moving one direction, pushing every possible limit and "burning dirty." That is not to say that Jason didn't make manuals for his complex installations; he did, but our priority and energy was always on what was coming next.
But even then, he was reinstalling older installations in exhibitions…
No major work was reinstalled exactly the same in his lifetime.
When reconstructing the installations today, what "guides" do you have to work from? Obviously you have photos. Do you have videotape walk-throughs? Diagrams or maps? Measurements? Templates? Notes? Instructions from the artist?
Most commonly, we have still photos, floor plans of each exhibition venue, and the memories of those who originally worked on it with Jason.
Do these "guides" differ from installation to installation?
The earlier works (say, those before [the year] 2000) tend to have less clear inventories, less exact measurements, and often no "map" of any kind. But what they have that the later pieces lack is a lot of video. When dealing with the complex nature of these larger works, we have found that video is often the best tool for re-installation. Even better, when Jason did a video walk-through (again, common for the early work), [he gave us] the added resource of his own explanation of the work, both technically and conceptually.
Which of the pieces in the current show was the hardest to reconstruct?
Cherry Makita. It was in Jason's first solo exhibition in New York in 1993, at the David Zwirner Gallery on Greene Street. The space was dominated by a makeshift "garage" made from thin lumber, drywall, foam core, tin foil, and one enormous car engine. Around it were arranged several discreet objects: a tool box, a drywall chair with Polaroids of Jason working on the garage in his L.A. studio, a cardboard "rabbit hutch," and a small model of the garage itself.
I remember that show. It was very exciting to see at the time. What made it so hard to re-install? It wasn't nearly as big as the later pieces.
We had very little original documentation of any kind. There were a handful of official installation shots taken by the gallery. We had the floor plan of the Zwirner space, but no "map." No video. Only several pages of handwritten notes by Jason, mostly concerning the concept and "backstory" that help one understand the work. Secondly, the space in which it is installed at the ICA is quite a bit larger than the original Zwirner gallery.
So what process did you go through?
First we had to decide where to place the various elements. We were going to build walls to recreate the original dimensions of the Zwirner gallery but this was impractical, given the layout of the ICA. So we made a decision to treat each object more like a separate sculpture. The reasoning was twofold. Though all of the objects are conceptually connected, Jason did think of each of the objects as separate works, each with its own name. And those of us who knew him know that he disliked being called an "installation artist." If he had to describe himself in any traditional way, he simply said that he was a sculptor. My point is that though we consider all of his—even minute—decisions in the re-installation of these larger works, we also honor this larger view of his work as sculpture and that allows for some flexibility in terms of presentation.
…Meaning the installers have some creative input?
Once the decision was made to create a less dense presentation of the work, the next challenge was to make sure that each object is situated in a way that makes sense in terms of its relation to all the other pieces in the work. We also had to ask ourselves, "Does the way it is laid out provide the viewer the best way to experience the 'story' of the work?"
And who would know the story?
With this piece in particular, we were able to rely heavily on the memories of those who were there when he originally showed it in 1993. His wife Rachel Khedoori—now executor of his estate—was there originally, as was David Zwirner himself. In addition, Paco Marcial, an assistant to Jason for the last five years of his life, helped Jason during the re-installation of this work in 2005 at the Hamburger Bahnhof in Berlin and was there in Philadelphia to help direct this project.
A second, very different situation is the one we encountered in the re-installation of Creation Myth. Originally installed at Hauser & Wirth in Zurich, this is a massive work with many moving parts, electronic elements—even a fog machine that blows smoke rings. Jason called it a "psychobiological" installation. It enacts, among many things, how the brain receives, processes, and digests information.
Because it had been installed three times previously (the original 1998 exhibition, the 2005 Berlin show mentioned previously, and posthumously in London in 2009), there was actually an enormous amount of reference material: photos, video, floor plans, and several kinds of maps. However, sometimes these multiple "layers" of documentation can actually cause confusion.
How so?
In Berlin in 2005, Jason was asked by the collector Christian Flick to re-install all of his works that are in Flick's collection. He "shuffled" and re-combined the pieces (Creation Myth, Cherry Makita, Deviations in Space, F—king Picabia Cars, and elements from his massive 1999 installation Perfect World) into one sprawling work. He removed some elements, added things, and totally changed how the individual "satellite" elements were arranged around the central "brain" structure. Jason made the first manual for this piece at this time. It includes hand-drawn maps detailing electrical connections, specific instructions on how to operate and maintain the electronic and mechanical elements, and various troubleshooting guides. However, since this was a unique "iteration" of the work, many of the records (particularly the layout plans) are not useful if one is trying to recreate the original Zurich configuration.
In 2009, Creation Myth was included in a group show at the Hayward Gallery called Walking in My Mind. This was the first posthumous reinstallation. The decision was made early on that we would try to follow the 1998 Zurich configuration. Our challenge this time was that although there was all that video from Zurich, there was very little information in terms of layout or real measurements. So I used screen captures from the various videos to figure the relative distances between different elements in the piece. And from that, I was able to create a fairly accurate "Zurich floor plan" that was used.
When it came time to install at the ICA, our primary reference material was the original Zurich video and stills and video from London.
But even if you had perfect documentation and could recreate the original iteration of a work like Creation Myth, it is more complicated than that, isn't it?
True. As I described, for the ICA we followed the original 1998 Zurich configuration, which was repeated in London in 2009. However, Jason both removed things and added things in the 2005 Berlin exhibition. In this case, the decision was made to not bring back something that he removed (even if we could source it). We also decided that we would also not remove something that he had added, the idea being that we always try to maintain the results of any specific decision he made with a piece.
You started out working for the artist and were intricately involved in the creation of his later work. Now you are working for the estate, and your time is dedicated to these works' reconstruction and conservation. Clearly this work is not complete.
It is an ongoing project for the estate to take each posthumous re-installation as an opportunity to record and (to whatever extent possible) codify the knowledge of those who worked with Jason when he was alive. To that end, all of the pieces in Jason Rhoades, Four Roads have now been fully inventoried and by the time this show travels to its next destination, there will be exact measurements, hard floor maps, and thousands of additional photos. Though you can never "replace" the personal knowledge—and love for the work—that these people have, our big picture goal is, of course, that this work will outlast all of us. And for that, you need to create manuals that can help someone who has never seen the work construct and present it properly.