Push Me, Pull You: Cassie Chinn
The Pew Center for Arts & Heritage
Push Me, Pull You: Cassie Chinn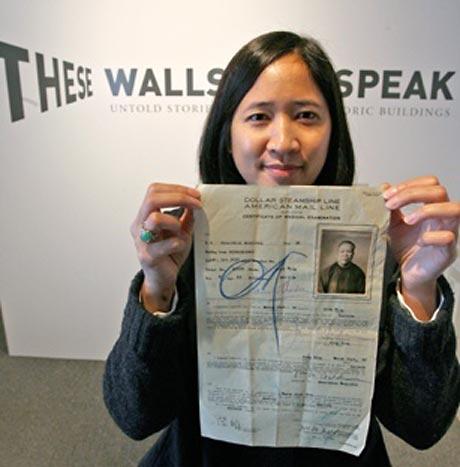 This is the fourth entry in Act I of Push Me, Pull You, the Center's series on (co-)authorship. For a full list of posts in this series, visit the main Push Me, Pull You page.
History museums have traditionally told other people's stories. These stories might include the founding of a city or town; the rise of an industry and the families it supported (or exploited); or the home life of a powerful politician, author, inventor, or robber baron. The subjects of these stories rarely speak for themselves. But practice in public history is evolving, and increasingly history organizations seek to involve input from the people and communities represented in the stories they tell. For more than two decades, the Wing Luke Museum of the Asian Pacific American Experience has been leading the way through an intensive process of co-authorship with community members in the creation of their exhibitions and programs.
We asked Cassie Chinn, the Wing Luke's deputy executive director, to talk about her experiences doing this work and to reflect on what it means to co-author someone else's story.
The Wing Luke's community process allows your museum staff to co-author exhibitions with community members. Can you elaborate on that process a bit? How do you manage the tension between authorship and ownership of the stories being represented in the shows?
I started at the Wing Luke Museum in 1992 as a college intern. It was then that I found out the museum had conducted an oral history with my grandmother Ruby Chinn. Sitting on the worn-out carpet, under the desk of a makeshift office, I read her interview and found out stories about my grandmother and my family that I had never known. I learned my great grandmother had an arranged marriage, with a rooster standing in for her husband-to-be, who was off in America. From her, I learned about strength and perseverance and that a promise made under the stars was a promise to keep.
Since that time I've had the privilege of sharing in the stories, lives, struggles, and dreams of so many others. At the museum we create exhibitions directly with community members who share their personal stories and perspectives to create moving, insightful, and inspiring exhibitions.
While no two projects unfold exactly the same, there's a rhythm to the process:
Getting to know one another. Each exhibition project begins with informal outreach, often away from the museum itself, as staff gets to know community members, their needs and passions, and the dynamics of communities as a whole.
Let's meet. Eventually, staff gather together a "community advisory committee" (CAC) for the exhibition, generally 10–12 volunteers, sometimes as many as 20. The CAC meets monthly for about a year to determine the exhibition's main messages, major themes, and storyline; look, feel, and design; and education activities and public programs.
Let's create something new together. Facilitated by staff, meetings include brainstorming, listening, reflection and deepened understanding, and prioritizing and decision-making, along with sharing stories, experiences and personal mementos, moments of artmaking with drawing and sometimes even movement exercises, and of course—what better way to connect—sharing meals together. CAC members bring in other community members to the project, contributing oral histories, photographs, artifacts, and documents. We then all get together to celebrate the exhibition opening with family and friends, museum members, and the public at large.
As with any relationship, it's helpful to have some shared expectations upfront. While you won't see your own individual vision in its entirety in the final exhibition, hopefully you will see bits and pieces of it woven together with the input of others, creating a richer outcome than any one individual could have conceived at the beginning. It will take time to get to know one another, energy to come to consensus, and effort to make room for all to have shared ownership, but in the end, it's worth it. Together, we are stronger.
What are the skills and expertise your exhibitions staff need to have in order to do this kind of work successfully? What differentiates a co-author of exhibitions from a more traditional curator?
Staff members must be community organizers and resource-getters to make this community vision happen. We are others-centered—perhaps sometimes to a fault. Standing at the intersection of many perspectives, staff are highly skilled in communication—not just in presenting information but in receiving it, reflecting it back out, and connecting it with others. Importantly, staff have heightened awareness of the subtlety involved in understanding individual personalities and group dynamics. Sometimes it's when someone doesn't say anything at all that speaks the most. We have an incredible willingness to learn, courage to invite new ideas, and flexibility to respond in creative and dynamic ways.
Ultimately, our desire is to know communities intimately. What breaks their hearts breaks ours, what fuels their passion fuels ours. As I reflect on nearly 20 years of doing this work, the stories and lessons of so many still resound inside me. During our exhibition on Asian Pacific American veterans, I recall sitting at my desk in the silence of one early morning, reading the story of a community member, who shared his account as a soldier on night patrol during the US-Vietnam War, and learning about courage, bravery, and pain. While we worked with community members on our PI: Made in America art exhibition, I learned the value and worth of working towards consensus building rather than settling for majority rules. And during our exhibition on immigration after 1965, working with many first-generation immigrants and refugees, I learned about the fears, struggles, uncertainties, hopes, and dreams of many, and came to know the experience of my grandfather the most, even though he had immigrated some 60 years earlier.
Do you think (or perhaps you know) most of the visitors to your museum understand the process behind your exhibitions? Based on your evaluation and visitor feedback, how does that knowledge influence their perception of the shows? Is there, for example, any expressed longing for a more authoritative, single "author"?
In 2008, we moved into a new facility, growing from a 10,000-square-foot renovated garage with an average annual attendance of 12,000 (50% of that in school tours) to a 60,000-square-foot historic 1910 Chinatown hotel with an updated average annual attendance of 45,000 (with just 10% in school tours). In the process, we've continued to engage community members directly in the creation of exhibitions and continue to rely on their support. (We affectionately refer to them as our Community Loyalists.) But at the same time, we have also widened our impact to newcomers, who are less familiar with us and how we go about our work (also affectionately referred to as our Hometown Strangers).
As we have transitioned to new realities in our new home, we have found that the majority of our visitors don't understand the process behind our exhibitions. We try to share with them about it as best we can—through signage, our tour guides, and photographs of our CAC members alongside exhibition credit panels. We also provide avenues for visitors themselves to share their stories and experiences and join with us in the creation of an exhibition after its formal opening reception. And perhaps that's been the best way to bring out our approach to exhibitions. As visitors share a part of themselves, they come to recognize and have a deepened appreciation for the multiplicity of voices, experiences, and perspectives in our exhibitions. It's as if time spent in our exhibitions is time spent with someone else, person to person. And well, perhaps through the text panels, photographs, artifacts, documents, and multimedia installations—all of the stuff of exhibitions—in the end, that might be the best way to describe it: getting to know someone, meeting together, and creating something new.