Inside Philadelphia Photo Arts Center: Q&A with Sarah Stolfa
The Pew Center for Arts & Heritage
Inside Philadelphia Photo Arts Center: Q&A with Sarah Stolfa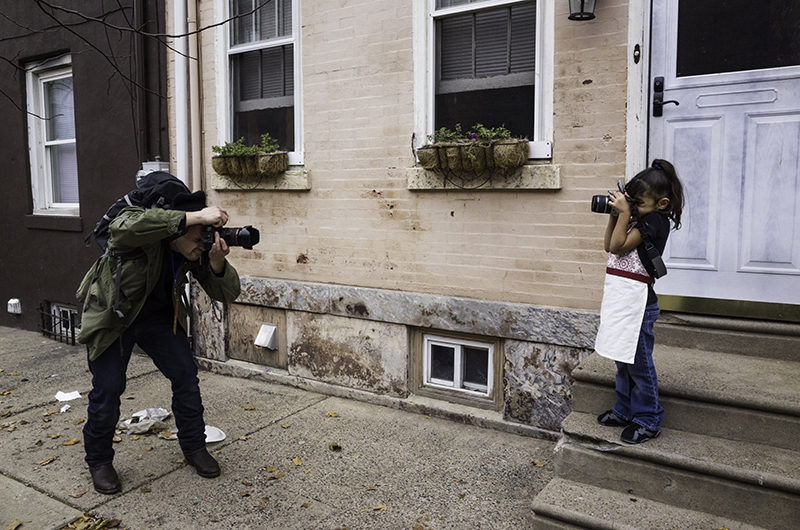 How are cultural leaders and practitioners addressing artistic and organizational challenges today? And how do they make room for creative and institutional growth, while facing shifting audience expectations and consumer behaviors? In this series of interviews with Center grantees, we offer a look inside the organizational and artistic practices of many of Philadelphia's leading cultural institutions and practicing artists, their distinct characters, aspirations, and more.
Here, we speak to Sarah Stolfa, founder and executive director of Philadelphia Photo Arts Center (PPAC), whose Center-funded project, Hank Willis Thomas: Philly Block Project, culminates September 8–November 26 with an immersive installation and gathering space, created by Thomas in collaboration with a team of photographers. The 15-month, multi-phase engagement and exhibition invites audiences to consider issues related to gentrification. Stolfa talks with us about the process of creating a community-sourced exhibition, the ability of art to serve as an avenue for dialogue, her vision for the future, and more. Learn more about Philly Block Project here.>>
How would you describe your organization's practice, and how does it reflect your mission?
Our mission is to foster an engagement and dialogue around the study, practice, and appreciation of contemporary photography. As an organization we are invested in risk-taking and embodying the spirit of an artistic practice.
I think of our practice as a center for photography as holistic. Because we address the entire creative process—from education and inception, to creation and exhibition—it is closely aligned with the practice of artists. I see all these aspects of the life of artists as being interconnected, almost as a cycle; our resident artists interact with visiting curators and speak with our after-school students and community members, and then relate their experiences back in their work so that a much larger dialogue is reflected. So, we are part of this process, encouraging and cultivating ways of thinking and seeing.
What are your goals for Philly Block Project, as both a community engagement effort and an exhibition with conceptual artist Hank Willis Thomas? And how will you know if you've accomplished your goals?
This is a project that breaks down barriers between the artist, the arts organization, and the audience. Our goal is to engage directly and build relationships with our community that did not exist prior to this project. It is a creative partnership built on trust. While we refer to it as "documenting" our neighborhood, we didn't choose to work with a documentary photographer. We chose Hank because we believe in his vision as a way to change the conversation about our neighborhood, and the idea of how documentation can take place, what that looks like, and who owns the story of a place.
We are already seeing the impact of this project on the audiences attending and participating in our programs and exhibitions. Not only has attendance increased, it has also vastly diversified, and it is beginning to better reflect the amazing community that we live in. Our neighbors have been extremely generous throughout this process. They have offered their family photographs and opened the doors to their homes, making a real investment in PPAC and what we are doing in the neighborhood.
The people who come to our community meetings not only give input on our programming ideas, they also offer their own creative suggestions. Some neighbors, like Iris and Julio Rodriguez for example, are delivering programming, teaching others how to make ornate cement planters. For our pop-up park and community carnival on September 10, the performers and other talent are all locally sourced. It is a really beautiful and fulfilling exchange where the community truly has an active voice in our programming.
Can you share a particularly notable contribution to the community-sourced archive collective? What has surprised you about the ways in which South Kensington's residents have engaged with the project?
David Livewell's archive contributions [example seen below] stand out for me because they span several generations of his family in this neighborhood, forming a narrative of one family over many decades. While there are photographs of abandonment and decline, when you see David's photographs from the 1980s, you get a very different story from the reputation that South Kensington had at the time. You see an exuberant urban community that was not homogeneous, not divided along racial lines. It is inspiring. It is a different history that I see as aspirational, and it hopefully serves as an example of what our Philadelphia neighborhoods could look like in the future.
I am excited by the openness and generosity of the residents here. While I can't say that I am surprised, I know that their willingness to get involved is a choice, and they could have chosen not to share their photographs and their pride in their personal histories. I am really thankful for each person who is choosing to be a part of this project.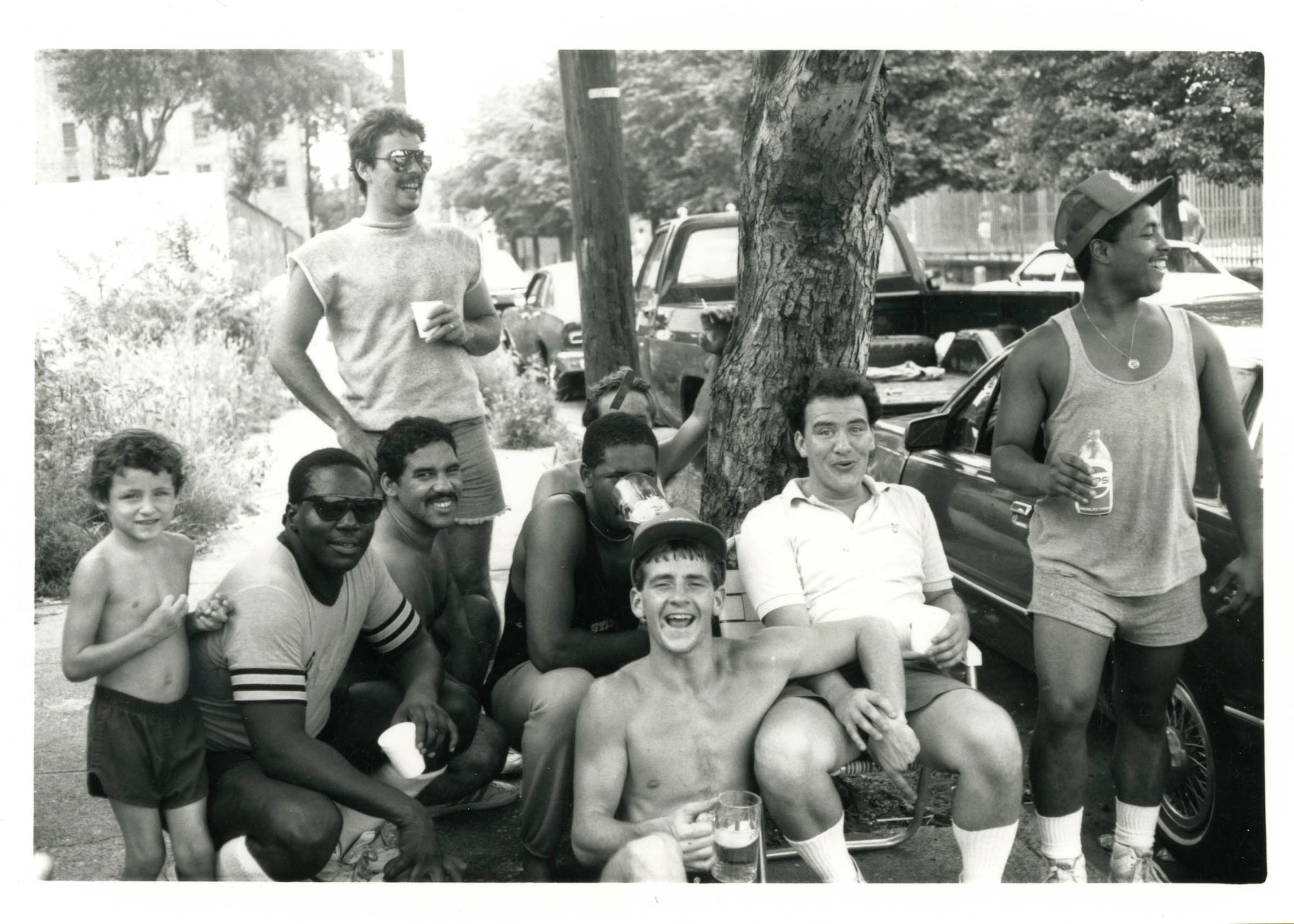 Has Philly Block Project influenced your way of thinking and working, suggesting new programmatic or organizational pathways?
It has drastically changed my way of thinking! The Philly Block Project has an energy that comes from the creative spirit and unbound enthusiasm of working with people who are new to PPAC. For all of the artists and staff who are involved in the project, its inclusiveness creates a powerful momentum. Many people from many disciplines have come to us to offer their skills and passion to the work in a way that enriches the overall outcome. It is such a fulfilling process to see poets, architects, artists, and musicians all seeking to contribute to this celebration and collective narrative of South Kensington. I cannot overemphasize the importance of working with community organizers and a project coordinator who see the work from a different perspective than a traditional art institutional approach. I feel as though we broke the mold of the type of work and engagement that can happen with exhibitions, and I think that will continue.
Prior to this project, PPAC had not blurred the lines between us as an arts organization, our audience, and the artists in a way that developed long-term relationships while generating an artist project with real collaboration among all participants. Now, I see that it is crucial for us to design programming that invites physical interactions with the artwork or through art-making to allow audiences to get involved, rather than be passive viewers. We have also learned that PPAC's regular communications channels and strategies don't reach diverse audiences, and that one-to-one relationship building and grassroots marketing are more effective in doing so. Understanding this, we will continue to create communication strategies and identify program partners in order to broaden the conversation and creative input.
How do you envision PPAC in 5 or 10 years? How do you imagine that it might be different than today?
I don't see our core values and mission changing, but I do see an increasing desire among people to convey their ideas in photographs, and to be a part of that visual conversation. PPAC excels at providing opportunities for all people to engage with contemporary art on their own terms, and I want us to be that catalyst and connector for everyone who wants to work out new ideas in photography.
PPAC strives to be the hub and heart of photographic practice, and this kind of synergy happens because the actual work of making photographs is happening here in the digital artists' lab and through experimentation in artist-driven projects. A vital dialogue occurs at PPAC, and it is cross-disciplinary in a way that includes everyone from curators to high school students. There is no hierarchy in this creative space and that allows PPAC to be a testing ground of new ideas around what photography can be. Most of all, I want more of that. I envision those future conversations including local and international artists in residence all year long, cross-pollinating ideas with curators and exhibiting artists so that PPAC is always a hive of creative thinking and making.