Inside the Institute of Contemporary Art: Q&A with Amy Sadao
The Pew Center for Arts & Heritage
Inside the Institute of Contemporary Art: Q&A with Amy Sadao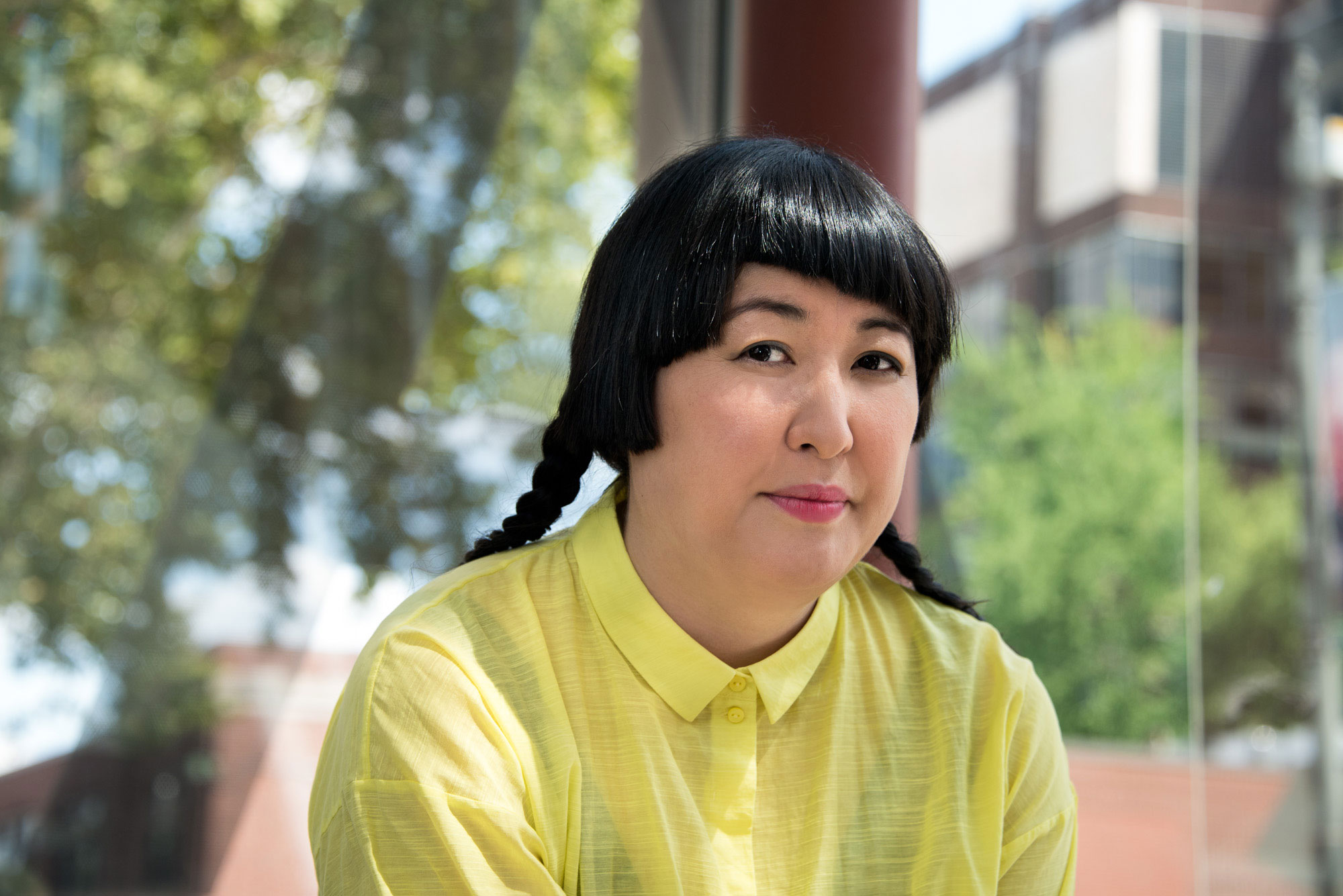 How are cultural leaders and practitioners addressing artistic and organizational challenges today? And how do they make room for creative and institutional growth, while facing shifting audience expectations and consumer behaviors? In this series of interviews with Center grantees, we offer a look inside the organizational and artistic practices of many of Philadelphia's leading cultural institutions and practicing artists, their distinct characters, aspirations, and more.
Here, we speak to Amy Sadao, the Daniel W. Dietrich, II Director of the Institute of Contemporary Art (ICA) at the University of Pennsylvania. ICA's Center-funded exhibition Barbara Kasten: Stages is now touring to the Graham Foundation (through January 9, 2016) as part of the 2015 Chicago Architecture Biennial. Sadao talks with us about the meaning of "contemporary," the impact of social and political movements on curatorial decisions, the importance of institutional collaboration, and her vision for the ICA in the years to come.
In 2016, ICA will present Endless Shout, a Center-supported multi-artist project examining the role of performance in museum spaces.
Your exhibition, Barbara Kasten: Stages, revisits an artist who has had profound influence on a younger generation of artists and examines what it means to be "contemporary." What do you think it means to be a contemporary artist, and who gets to decide who is and isn't contemporary?
Everything we see, we see with contemporary eyes—whether it's a five thousand-year-old work of architecture, 1960s clothing, or a drawing made yesterday—and if you say you are an artist or if you call yourself a contemporary artist, I believe you. The question about authority to decide who is or isn't contemporary is really the question of which work gets historicized, how, and where.
Barbara Kasten is an artist working through questions of photographic staging and abstraction, and she's been doing it for five decades. ICA looks where artists look, and Barbara's embrace by and working relationships with a group of younger artists grappling with similar issues —like Liz Deschenes and Eileen Quinlan—was a source of inspiration. Barbara considers these artists her contemporaries, and vice versa. It seems that many dialogues we consider "of the moment" or contemporary have finally caught up with Barbara.
What are the biggest changes you've seen in your field over the past decade? How have these changes influenced your work?
In the past decade, we've begun looking at the 1980s and 1990s as historic periods. I see the legacy of HIV/AIDS and its devastation of communities and culture as central to examinations of these decades. AIDS altered who was around to make, appreciate, and inspire contemporary art and culture. People are gone. People are missing. Younger curators, artists, and writers are unearthing and reconstructing these scattered communities, unwritten histories, and forgotten stories—archiving, restoring, and reclaiming them. Philadelphia-based filmmaker and artist Tiona McClodden is part of this group of practitioners who won't let the dead be forgotten. For this year's International Day Without Art on December 1, ICA has commissioned Tiona to create a work honoring [the late poet, activist, and Pew Fellow] Essex Hemphill.
Since the social movements of the 1960s, there has been a pressure for art institutions to more fully represent culture as it examines and is produced by difference. Certain groups of people have, historically, been banned from museums—only a half-century ago, African Americans could only attend many cultural institutions one day per week, on so-called "Negro Day." I'm interested in the idea that art is being defined by Queer people, Asian people, and Black women, and that work is being made for them as the ideal viewer. We're still living with a desire to see women directors, Black, Asian, and Latino curators, and Queer and Trans artists in positions of institutional leadership. We're watching our institutions, civic and cultural, commit to welcoming knowledge and participation from "the margins." Institutions will change, or they will die.
Outside of the region, who do you see as your organizational peers and why? With whom do you share affinities, and with whom have you collaborated?
At ICA, we're interested in working collaboratively from the very kernel of an idea through to its fruition with international artists, curators, and institutions. We're looking for ways to collaborate that exceed touring exhibitions across institutions. For example, we've long admired the Studio Museum in Harlem's curatorial program. Both ICA and the Studio Museum agree that Rodney McMillian's art has not received the attention it deserves—and in particular, it deserves a publication ruminating on his extensive body of work. As individual institutions, we don't have the resources—budget or physical space—to do justice to McMillian's oeuvre, but together we can produce parallel exhibitions and a stellar catalogue.
The Museum of Contemporary Art (MCA), Chicago, is a cornerstone of its community, just as ICA is. We are collaborating with MCA to bring The Freedom Principle exhibition to Philadelphia next year. Thanks to generous Center support, we are developing a program in tandem with the exhibition, Endless Shout, which will bring performance into the museum.
I consider museums like the Whitney Museum of American Art; the Walker Art Center; and the Hammer Museum to be our peers—and we're proud that they think the same of us.
How do you envision your organization in five years? In ten? How will it be different than today?
In five to ten years? I can't visualize what will be in ICA's galleries. I only know it will be a total, utter surprise—due to the ever-changing nature of exhibitions. The program will be linked by a research-intensive and scholarly, artist-centered focus on new, important work. Art is the best place to grope in the dark, seek pleasure, be alarmed—in ways that don't happen anywhere else in life.
In five years, the shape of all involved at ICA—the people who work here, show here, and visit here—is going to better reflect the great diversity of the Philadelphia region. We see our space as a public space, which brings together intergenerational groups from around the city. In the past three years, we've created hundreds of free events ranging from intimate conversation to raucous parties; we've partnered with dozens of organizations from the Blackstar Film Festival to Tyler School of Art; we've created gender-free facilities; and created internships for Philadelphia public high school students.
In ten years, things will be very different. ICA will be welcoming a new generation of thoughtful, serious people who are looking hard and deeply, and bringing their own knowledge and history to the conversations; people who understand that museums are a rare place where people of all different backgrounds can converse, observe, form, and change their opinions—see the world from different perspectives, from artists' perspectives.