Inside Historic Germantown: Q&A with Trapeta B. Mayson
The Pew Center for Arts & Heritage
Inside Historic Germantown: Q&A with Trapeta B. Mayson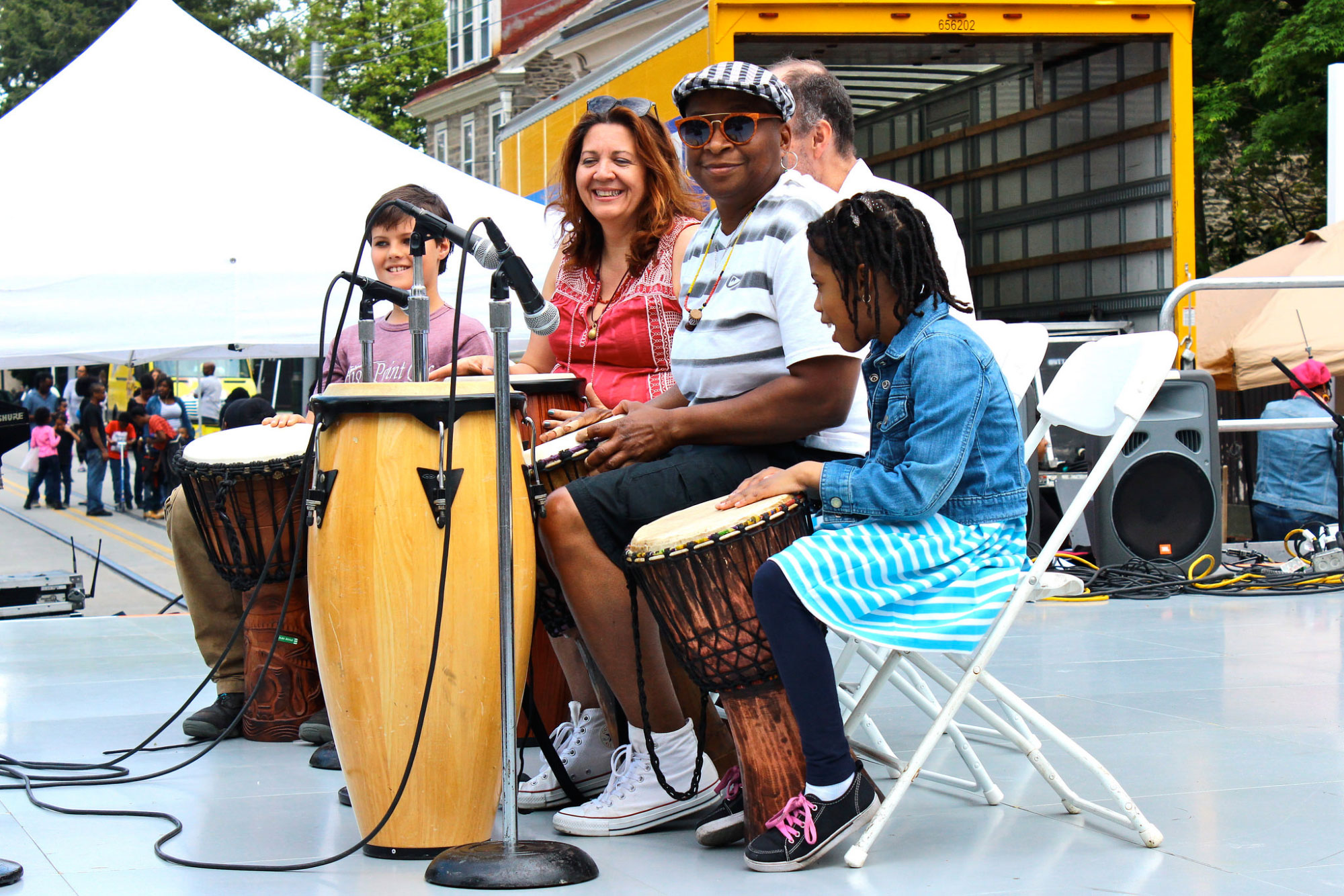 How are cultural leaders and practitioners addressing artistic and organizational challenges today? And how do they make room for creative and institutional growth, while facing shifting audience expectations and consumer behaviors? In this series of interviews with Center grantees, we offer a look inside the organizational and artistic practices of many of Philadelphia's leading cultural institutions and practicing artists, their distinct characters, aspirations, and more.
Here, we speak to Trapeta B. Mayson, Executive Director of Historic Germantown and a 2002 Pew Fellow in literature, about the organization's ongoing Center-funded project Elephants on the Avenue: Race, Class and Community in Historic Germantown. The multi-part project uses the arts as a catalyst for community dialogue and engagement around race and class in Philadelphia's diverse Germantown neighborhood.
Mayson talks with us about the importance of community input into programmatic decision-making, how historic sites can remain relevant for contemporary audiences, and the opportunities and challenges of operating as a smaller organization.
How would you describe your organization's public practice, and how does it reflect your mission?
Historic Germantown's mission was revised in 2014, to reflect our work as a partnership organization "that works collaboratively to preserve [Germantown's] extraordinary historic assets, increase access, interpret them to the public, and raise their visibility." A great deal of emphasis is placed on building and sustaining partnerships and ensuring accessibility. At the core of our public practice are inclusion and relevance. We've had to evolve our practice, programs and communication/marketing efforts to match the needs of our immediate community and our expanding constituent base beyond Germantown. In order to do this, we've had to stretch outside of our comfort zone, which is the same thing we're asking our public to do.
As a consortium, we are committed to reimagining and expanding the role of historic sites. While the collections and historical narratives are important, we aim for them to be useful today. We try to think about new ways to talk about history, freedom, and community through art and educational programs. We offer programs and events at partner sites to help bring new audiences through the doors, instead of only focusing on marketing the sites to tourists. We also welcome partnerships that are outside of the norm for us, like a recent collaboration with BalletX that brought world class dancers to perform on Germantown Avenue as part of the Second Saturday Festival this past May. This stretch has been both challenging and rewarding. The community's feedback has been overwhelmingly positive, and we are reaching new people. We can't survive if we aren't relevant. Historic Germantown is dynamic enough to have an expanded narrative where different people can find something important and useful. We are interested in moving beyond "one and done" activities and hope that by being consistent, transparent, and creative, we will continue to build a community of supporters who understand that institutions like ours can contribute to community vibrancy while interpreting important history.
Historic Germantown serves 16 historic houses, destinations, and museums in Northwest Philadelphia that have joined together to protect, preserve, and share some of Philadelphia's historical assets. What are the benefits of this type of collaboration?
We are in a unique and enviable position of being part of a densely historical community. What makes us really successful is the partnership with our member sites which allows us to collectively tell rich stories and develop programs that have wider appeal. As a member organization, we are committed to the idea that the whole is greater than the sum of its parts. Our partnership allows us to plan and execute major programs. It helps us to take advantage of economies of scale and brand our historical sites in a way that is visible and has greater impact. We couldn't have a successful consortium without trust and cooperation. Meetings are held on a consistent basis to offer opportunities to share ideas, feedback, and concerns. We are exploring ways to deepen our partnership within the consortium as well as discussing ways to mitigate risks and foster sustainability. Partnerships aren't perfect, but all of our member sites believe that the idea of Historic Germantown as a consortium is important and have invested time and resources to ensure its success.
You are currently presenting Elephants on the Avenue: Race, Class and Community in Historic Germantown. What are your goals for the project, and how will you know if you've accomplished them?
The Elephants on the Avenue project has been a major boost to our efforts to reach both the community and new audiences. Our goals included using arts informed by history to provide a safe platform for people to talk about race and class. We also hoped to raise the visibility of our member sites by offering art-making workshops in these spaces. We desired to have artists and historians work together to create experiences that would be creative, fun, educational, and engaging. We are meeting and exceeding our goals and intended outcomes. The response to the project has been remarkable. We are hearing statements like, "this is what Germantown needed," and "I didn't know this (historical site) was even here." People are talking to each other through art and poetry, and they are also listening to each other. One of the biggest successes has been the revelation that our community is interested in talking about race and class and is open to doing it in ways that are safe and inclusive.
Why do you think you should interpret history and address contemporary civic issues through artistic programming? What does it offer that other types of programming do not?
Artistic programming is a door through which many people can enter. There is something for everyone, so to speak. One can validate, inform, instruct, provoke, heal, and empower through the arts. One critique I've heard about some of the history being interpreted at historical institutions is that they lack a "full and inclusive narrative." The arts allow us to expand or reimagine that narrative, and may even offer a program attendee an opportunity to add his or her own story to that history. The arts can translate and transform history. It starts with planning a quality experience with artists and stakeholders who are committed to community or public practice. A quality experience in this context involves collaborating with professional artists who have years of experience in participatory art-making, and who are willing to have an exchange with attendees. It includes ensuring that that are no barriers to access, and that stakeholders feel welcome. These experiences are fluid and will allow for tweaks and adjustments along the way with input from all parties involved.
What are some of the challenges you face in offering a high level of programming to the Germantown community, while working with limited resources? What are the advantages of being a smaller, and potentially more nimble, organization?
The advantage of being a smaller and more nimble organization is our "can do" spirit. We are a hardworking small group that shares an essential belief—that our community deserves the best of what we have to offer. We have the freedom to think as creatively as we can, and the motivation to execute programs that will contribute to the vibrancy of this community. We consider ourselves to be small but mighty. The Elephants on the Avenue grant has offered us resources to execute a number of highly creative experiences for our constituents. The greatest challenge, on the other hand, is the constant clamoring for operating resources. Resources are limited, and we have to prioritize programs and activities and make decisions based on our limited capacity. In an ideal world, we would have enough resources to cover operating costs, including preserving buildings, while continuing to offer great programming that speaks to the expressed needs of our stakeholders.