Inside Al-Bustan Seeds of Culture: Q&A with Hazami Sayed
The Pew Center for Arts & Heritage
Inside Al-Bustan Seeds of Culture: Q&A with Hazami Sayed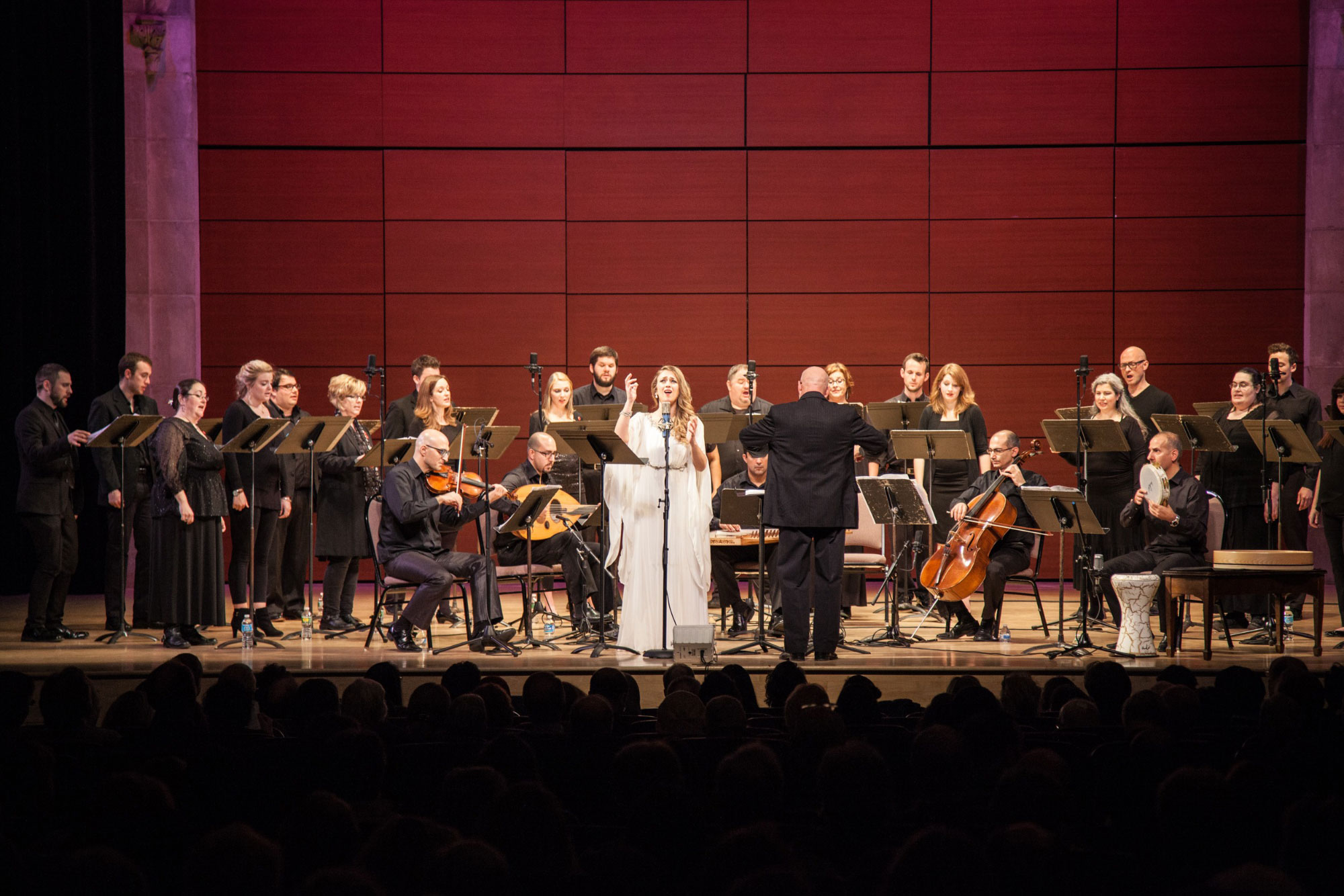 How are cultural leaders and practitioners addressing artistic and organizational challenges today? And how do they make room for creative and institutional growth, while facing shifting audience expectations and consumer behaviors? In this series of interviews with Center grantees, we offer a look inside the organizational and artistic practices of many of Philadelphia's leading cultural institutions and practicing artists, their distinct characters, aspirations, and more.
Here, we speak to Hazami Sayed, the executive director of Al-Bustan Seeds of Culture in advance of the organization's culminating concert for the Center-funded Words Adorned: Andalusian Poetry and Music on December 5. The concert will bring together the Al-Bustan Takht Ensemble, The Crossing chamber choir, and renowned vocalist Dalal Abu Amneh to premiere two compositions by Arab-American composers Kareem Roustom and 2013 Pew Fellow Kinan Abou-afach, inspired by Andalusian poetry. Hazami talks with us about re-interpreting Arab musical traditions for contemporary Western audiences, the role of the arts in raising awareness about Arab culture and strengthening cross-cultural understanding, and more.
How would you describe your organization's character or personality?
I asked two of my Al-Bustan colleagues to answer this question. Max Dugan, program coordinator, said: "Al-Bustan balances a familial atmosphere with cultural production of the highest quality. Interpersonal communication is a fundamental part of our programming, because as a cultural organization that educates audiences about Arab culture, we teach a great deal with our handshakes, smiles, and gifts of mana'eesh (flatbread with thyme, sumac, and olive oil mix) or ma'mul (pastries filled with dates or nuts). At the same time, we maintain the professionalism necessary for our artists and teaching-artists to produce the highest quality work in our various programs."
Lindsey Snyder, marketing director, remarked: "When I think of Al-Bustan I immediately think of the warm red rug that greets me as I walk through the door and the homey pot of tea that is never empty. Al-Bustan is warm, approachable, and selfless. It is consistently giving to a community of schools, arts-appreciators, and all who want to learn more about themselves by way of Arab culture. I find myself captivated by the charismatic personality of the Al-Bustan Takht Ensemble—producing rhythms that are capable of persuading a Jewish girl from New York City to listen intently."
One of your organizational goals is "to make the Arab cultural arts, in all their diversity, accessible to a wide audience in an effort to promote cross-cultural awareness and exchange." Tell us about a project or initiative you have undertaken that was particularly effective in engaging audiences in this way.
Last month, Al-Bustan held a special event, different than anything else we have hosted in the past. Ahlan: Embracing Community with Arab Arts welcomed over 250 guests to experience Arab arts and culture first-hand through music, art-making, tasty food, and friendship at Trinity Center for Urban Life. It featured performances by Al-Bustan Takht Ensemble led by music director [and Pew Fellow] Hanna Khoury, as well as students who participate in our educational programs at John Moffet Elementary School and the University of Pennsylvania, joined by community members. With the support of our board members and team of volunteers, the event was successful in creating a forum for people to meet and friendships to develop among ethnically and socio-economically diverse groups who typically would not meet in other settings.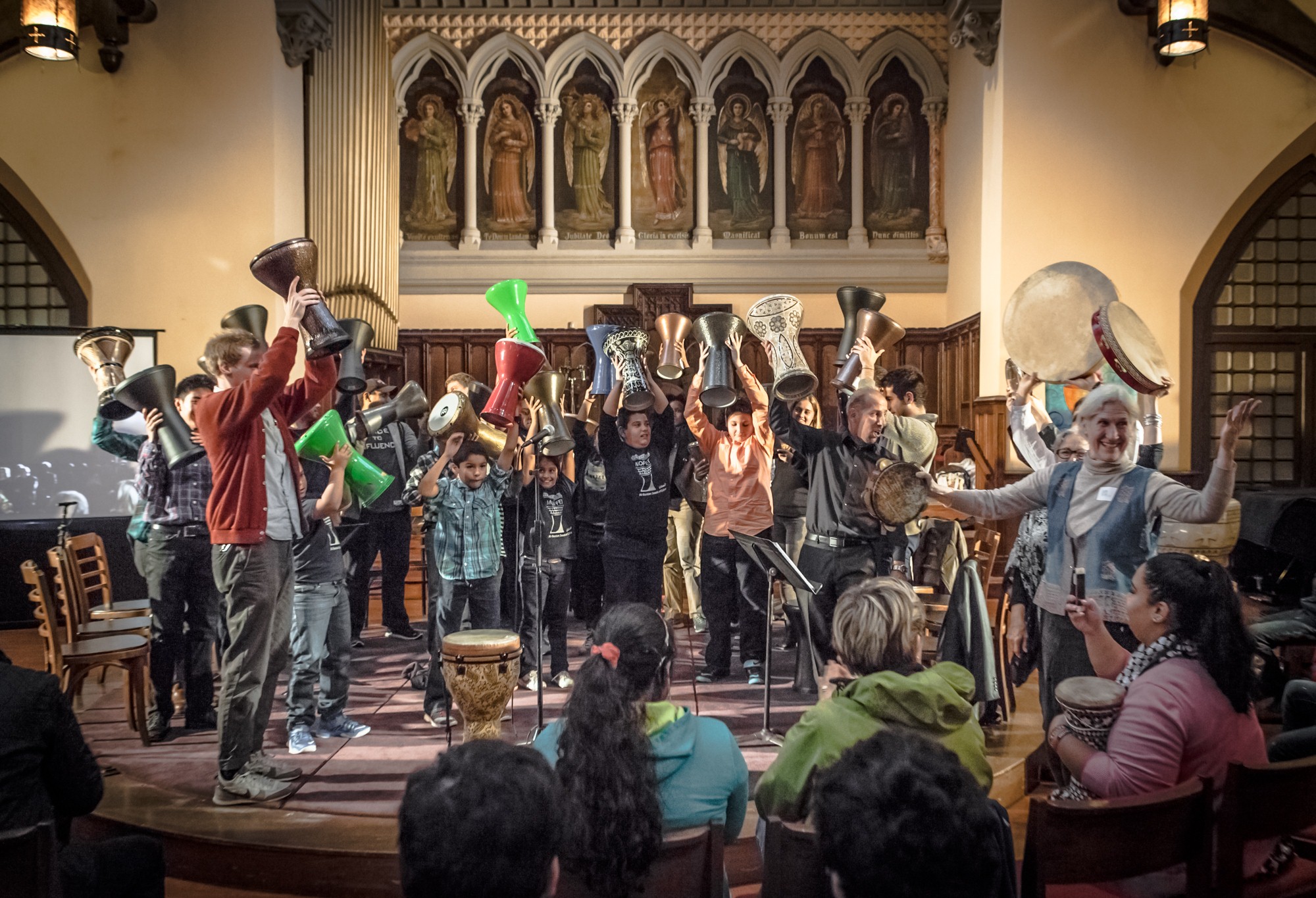 On December 5, you'll present the culminating concert for the multimedia project Words Adorned: Andalusian Poetry and Music. How important is collaboration to your organization, and what type of impact does it have?
Words Adorned—our largest and most multi-faceted initiative to date—is gratifying on many fronts, especially with regards to our collaboration with The Crossing. Conductor Donald Nally has delved into learning Kareem Roustom's and Kinan Abou-afach's compositions with eagerness and great interest, noting how rewarding it would be to have these pieces performed at college campuses around the country. The comments we received early on in August from members of The Crossing choir indicate the impact of this collaboration:
"I feel incredibly lucky to be a part of this very important project. The music is gorgeous, and the words…when I listened to the recording of the poetry being spoken, I had to put it on repeat because I fell quickly in love with the way the words sounded. I had no idea how beautiful the Arabic language was! I didn't even need a literal translation to understand the deeper meaning of the poetry because the words themselves are so expressive."
"I am excited to learn more about this culture beyond that which we hear daily on the news. I think about my own parents who have such negative opinions of the Arab world. Exploring a culture's art helps to remind us all of our common humanity. I hope that my parents can come to this performance and that it might change their perceptions."
How do you think about tradition? What is its role in your artistic and organizational choices?
Our work is grounded in tradition, though not limited by it. We view cultural production as a dynamic process, continually produced in relation to myriad influences, rather than a static set of traditions and values handed down from generation to generation. Through our various programs, we create forums that invite both youth and adults of all backgrounds to actively produce new cultural forms that incorporate and transform the world around them.
For example, with the Words Adorned project, we are reviving the poetic tradition of Andalusian muwashshahat, by not simply recreating history, but rather re-interpreting it in the present day, showcasing the development of Arab musical tradition (into the modern-day takht) and Western musical tradition (into orchestra and choir). The project brings together these two manifestations of Arab and Western music in a dynamic and contemporary way.
As an ethnically specific organization, what are you doing to meet and address the challenges facing all cultural organizations today, when demographics and cultural consumption patterns are changing so significantly?
The issues we face as an organization immersed in Arab arts and its intersection with various genres and art forms are certainly informed by the prevalent misunderstanding, lack of knowledge, and monolithic views of Arabs and Arab culture and history. To counter heightened fears and prejudices, there is a need for efforts like Al-Bustan's, to further positive awareness and appreciation for Arab arts and culture in America without the associated political-religious hype, while also providing a way for Arab Americans to connect with their culture and heritage. We have found that our steady growth over the past 13 years has enabled us to consistently offer programming that features Arab artists and educators, while creating forums for people of diverse backgrounds to come together, learn from each other, make art, and experience exemplary artsistic works first-hand.
What benefits does the Philadelphia region provide you that another region might not? How does it contribute to and influence your organizational and artistic practices?
This "City of Brotherly Love" provides Al-Bustan with a rich basis for cross-cultural exchanges given the cultural diversity in and around the city. On any given day there are numerous cultural events to partake in, either as an attendee or a student. Philadelphia's scale and lifestyle make the arts very accessible; there is a lively array of diverse cultural offerings within easy reach. Philadelphia's accessible resources, with overlapping professional and social circles, no doubt made it possible to have a vision and run with it. We are pleased that Al-Bustan can contribute to the arts and cultural community here and to have invited a number of artists over the past few years for their first time to present in Philadelphia.
How do you think about the life cycle of your organization? How do you imagine it evolving over the next five, or ten years?
I see the organization on a growth path. We have the potential to scale up our work to have more breadth and depth in our engagement with the community. We aspire to establish a physical space in West Philadelphia that can foster and incubate multi-disciplinary ideas that will develop into year-round programming in which people from all walks of life can participate.