Grantee Spotlight: Q&A with Carnatic Musician Kiranavali Vidyasankar
The Pew Center for Arts & Heritage
Grantee Spotlight: Q&A with Carnatic Musician Kiranavali Vidyasankar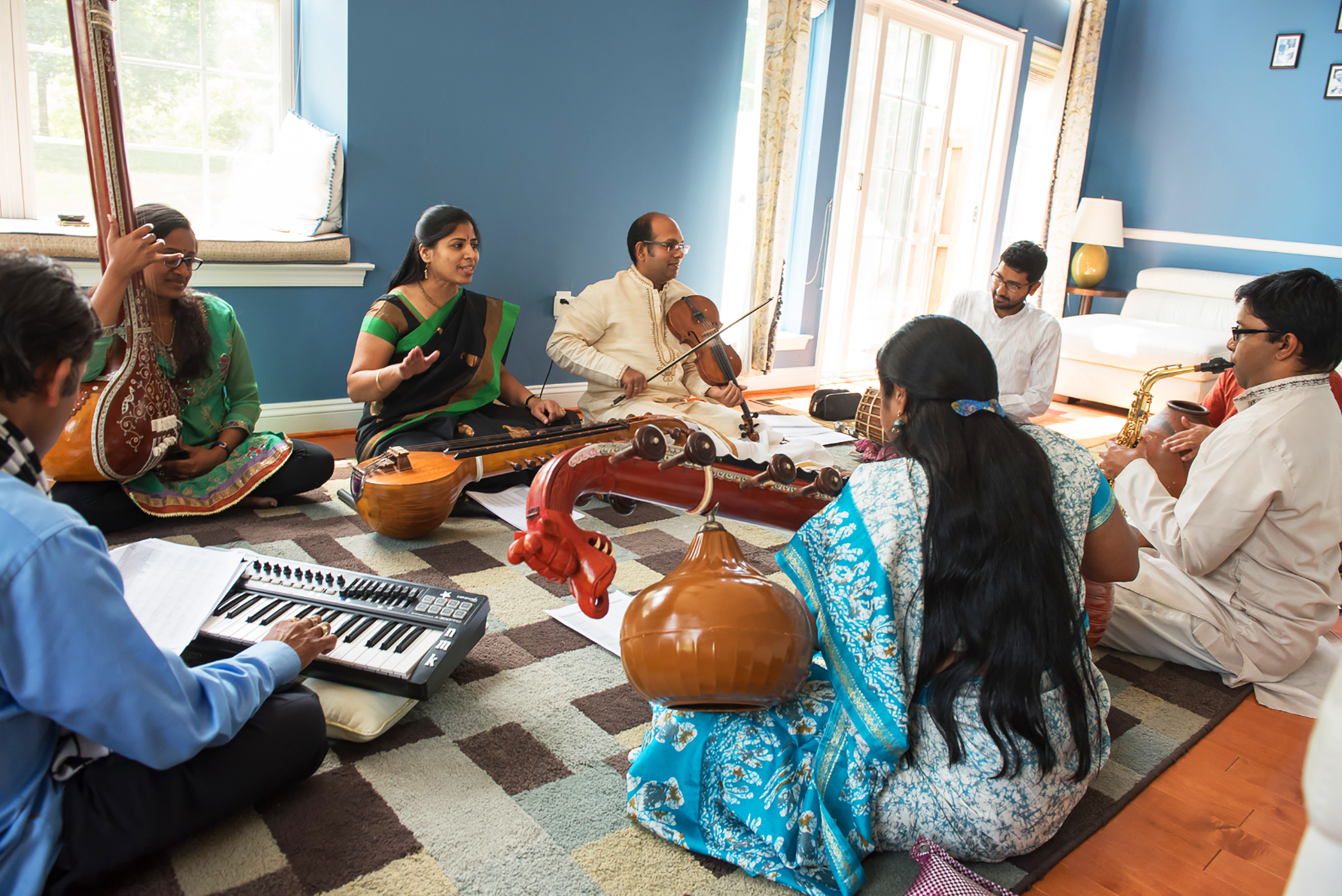 In this series of interviews with Center grantees, we offer a look inside the organizational and artistic practices of many of Philadelphia's leading cultural institutions and practicing artists, their distinct characters, influences, aspirations, and more.
Here, we speak to Kiranavali Vidyasankar, an accomplished vocalist, music teacher, and writer. Born into a lineage of Carnatic (South Indian) musicians, she has been in the public eye since the age of five, initially in tandem with her brother K.N. Sashikiran and later as a soloist. On November 7, Vidyasankar's Center-funded project Tradition – An Evolving Continuum culminates with a one-night-only concert combining the rich traditions of Carnatic Music with a contemporary vocal-instrumental ensemble of leading Carnatic musicians from across the country. Here, Vidyasankar talks with us about continuing her family's musical legacy, the role of tradition in her artistic practice, and the idea of perfection.
How did you become an artist? Is there a particular experience that drove you to this choice?
I come from a family of some very remarkable musicians, starting from my grandfather, Narayana Iyengar, who adorned the courts of well-known South Indian kingdoms in Tiruvanantapuram and Mysore. My grandfather resurrected the fading slide instrument, Gotuvadyam (presently known as Chitravina) to the concert platform. He worked endlessly to improve its design and devised many new playing techniques. My father, Narasimhan, is one of the leading thinkers among Carnatic musicians today, and he has the very elusive combination of intellect and instinct in his music. Under his watchful but fun-filled grooming, my siblings and I became sure-footed musicians. Today, we have all branched out in our own ways and are seeing success at many different levels. I think that my biggest aspirations in life have always been centered around music, and continue to be so.
Do you think about your legacy and, if so, how does your thinking about it affect your practice?
I do take my musical lineage seriously and adhere to its core principles, but rather than shackle me, I find that it has helped me appreciate and value my heritage more. As a performer and teacher, I am passionate about sharing this beautiful legacy, and the broad base it provides allows me endless freedom to create upon it.
On November 7, your Center-funded Tradition – An Evolving Continuum project will premiere at the Painted Bride Art Center. As a musician, how do you think about tradition, and how does it influence your approach to new projects?
As a practitioner of a classical Indian music system that has a long history and is inseparably intertwined with many different aspects of my culture (religious, artistic, folk, theater, social), the connection I feel to all these aspects is only natural. The core values and traditional aspects of my art form resonate with me very deeply. Hailing from the musical family that I do, and having learned from T. Brinda—a remarkable seventh generation musician of another illustrious artistic lineage—I have imbibed strong core values. Therefore, thinking along those lines is part of my nature now. From very early on, I had a deep-rooted desire to preserve the best of my music in as authentic a manner as possible. However, I also see that tradition is not static, and is influenced by many factors, such as individual artistry and taste, disciple lineage, patronage, and so on. My traditional moorings, basic sensibilities, and preferences help keep me anchored to the core of the music in whatever I do, without hampering my artistic freedom. Creativity comes with rules, but the rules stop being forbidding when you understand them very well.
What is your daily art-making routine?
I think an artist's routine changes at different points in time. Throughout my childhood, my practice was overseen by my father. Perhaps because of that, I must have put in a few thousand hours of music time along with my siblings, but with increasing awareness in my perception. I remember that from my early-teens to my early 20s, I practiced with an obsessive quality. Today, my art is no longer confined to singing or playing an instrument. Some of my most rewarding musical time is spent working with students, listening to and interacting with different artists (including my daughter), or even reading about music, because all these aspects help refine my sensibilities, thinking power, perception, and creativity. Constant enrichment and inspiration prevent jadedness and stagnation.
What is perfection to you, in the context of your work?
Perfection in an art form can be a very nebulous goal, as there are no clear measures. One can be pitch perfect without delivering the notes in a way that is true to the idiom. One can be perfect lyrically or rhythmically without conveying the desired expression of the art form. One's conception can be flawless while the delivery is flawed. I think that perfection in conception and delivery are highly attainable goals, as can be seen from the music of some great masters, even though these can be deemed to be subjective assessments. I have always looked at perfection as a necessary ideal for any endeavor without which one tends to lose inspiration and the desire to excel. Having said that, I think the journey towards one's idea of perfection itself is the most joyous and rewarding one, and when one starts enjoying this journey, work ceases to be mere work.