Fellows Friday: Q&A with Visual Artist Caroline Lathan-Stiefel
The Pew Center for Arts & Heritage
Fellows Friday: Q&A with Visual Artist Caroline Lathan-Stiefel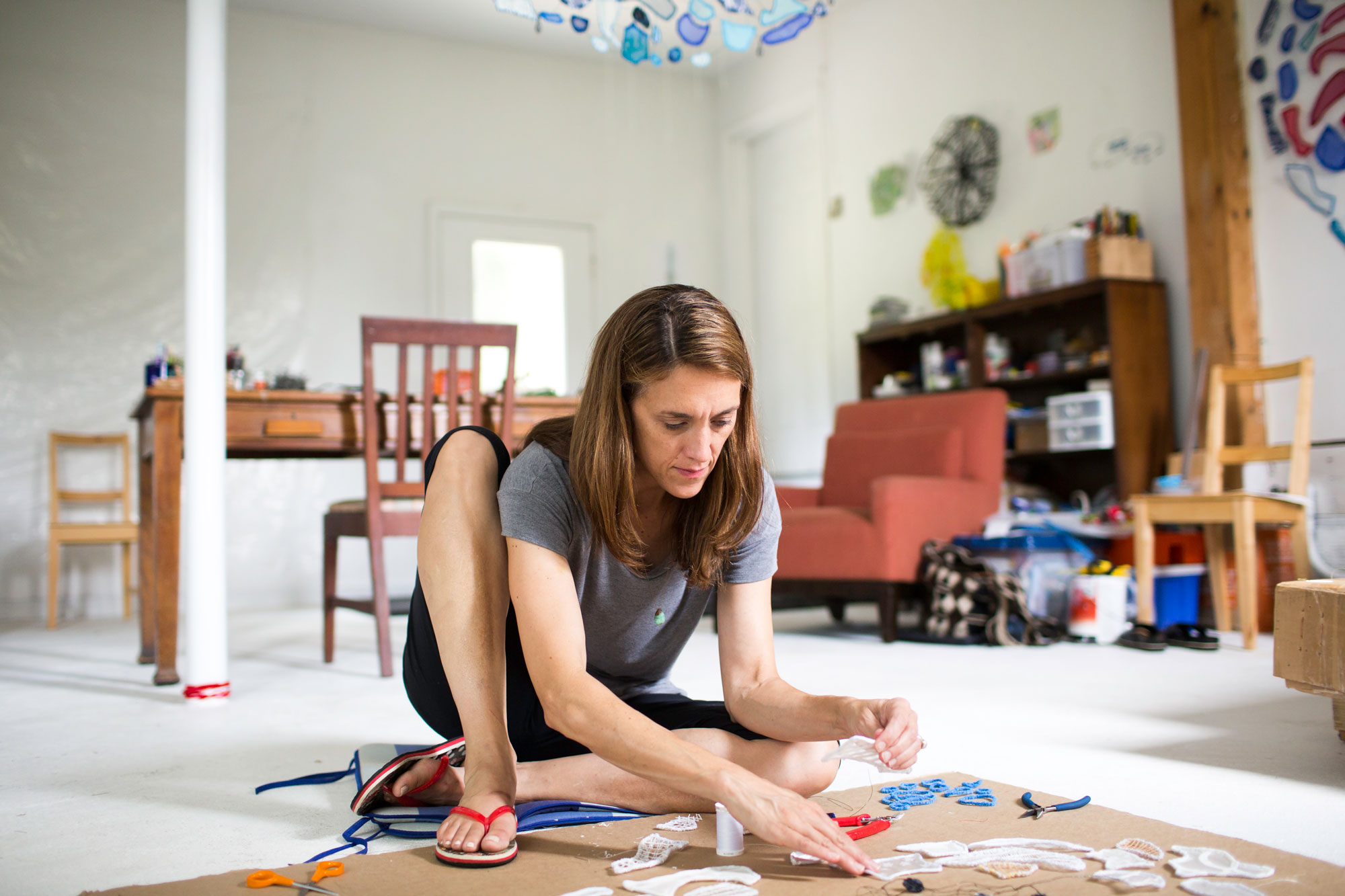 Our "Fellows Friday" series focuses on the artistic lives of our Pew Fellows: their aspirations, influences, and creative challenges.
This week, we speak to visual artist Caroline Lathan-Stiefel (2015), whose large-scale, immersive sculptural installations play with weight and mass, creating pattern, color, and light from everyday materials. She has held solo exhibitions across the US and Canada and is the recipient of a 2011 West Prize from the West Collection, where her work is part of the permanent collection. Beginning February 1, 2016, Lathan-Stiefel's latest site-specific installation, Ennead, will be on view at the Philadelphia International Airport.
What was the first work of art that really mattered to you? Did it influence your approach to your work?
When I was about six or seven years old, I saw a Calder show at the High Museum of Art in Atlanta, where I grew up. I remember there was a big vitrine containing his circus, which included thick and thin wires and miniature flags raised above the circus ring. I was fascinated by the small figures made of felt, wire, bits of cork and yarn. It was unlike any art I had seen before—delightful (funny even), bold and sincere. This circus and Calder's other mobiles, stabiles, paintings and drawings have influenced my work in many ways. The way he combined disparate materials, his playfulness, his focus on line and shape, and the lightness of his aerial sculptures are things I strive for in my studio today.
How did you become an artist? Is there a particular experience that drove you to this choice?
I had a tough middle school experience; all of a sudden feeling awkward and alone, after a series of fun, friend-filled elementary school years. I had always enjoyed making art as a kid, but kind of forgot about it for a while until I started keeping a sketchbook with drawings of figures from magazine pages in 8th grade. Somehow I began to slowly regain some of my confidence when I was making drawings, and one day I had an interesting thought: maybe if no one wanted to be friends with me (what I perceived), then I could just be friends with myself. And I could make art. I decided I wanted to be an artist and I wrote a declaration on a piece of notebook paper and put the piece of paper in a box in the attic.
In reflecting back to the beginning of your career, what is the most useful advice you ever received?
One of my undergraduate professors told my art class to be strategic in terms of how your daily life and studio practice overlap, i.e., make sure you get enough time to work in the studio. I don't remember the particulars of her advice, but to me it meant to take every moment you have and make it count. I have a fairly busy daily life with a part-time teaching job, and family that includes a husband, a 10-year old daughter, 13-year old son, one-year old dog, and recently, a 14 year old boy from Beijing, China, as well as my art practice. I remember after my son was born, when he was about a month old, I took him to my studio and thought he would just sleep peacefully for a few hours while I worked. Instead he slept about 10 minutes, and I quickly learned that I had to snatch any time I could to work. Luckily, I was already working with rather flexible materials. I do different kinds of work during different times of the day. Sometimes I have to be in the studio connecting pieces with wire or suspending sections from the ceiling. Other times when I have to take my kids places, I take the work with me. I have sewn fabric pieces or twisted pipe cleaners and wire at soccer and hockey games, dentist offices, and dance recitals. My art practice definitely spills into my daily life all the time.
What inspires you to create large-scale, immersive sculptural installations? What are you trying to convey with them?
I actually make small works as well as large installations, and I like going back and forth between microcosm and macrocosm. Sometimes I make small drawings with pen and ink or collages, and I am beginning to make some small weavings as well. My large works are made up of smaller shapes and pieces that have been connected with wire and are often suspended from the ceiling in layers. I like making big work that is immersive and has a physical, as well as a visual impact on the viewer. My desire to make work like this stems, in part, from fort building I did as a child, and because I want to make a new world/new system that you can enter. I like the notion that a lowly pipe cleaner or a piece of plastic can be part of something monumental.
I recently completed a new installation that is inspired by microscopic brain cells and "language" (asemic writing), which will be on display in one of the large vitrines at the Philadelphia International Airport, beginning in February 2016. I see this new piece as an extension of a project I showed at the Museum of Contemporary Art in Jacksonville, FL in 2014, which was a response to my father's encephalitis that caused temporary loss of his language.