Fellows Friday: Q&A with Sound Designer & Composer Christopher Colucci
The Pew Center for Arts & Heritage
Fellows Friday: Q&A with Sound Designer & Composer Christopher Colucci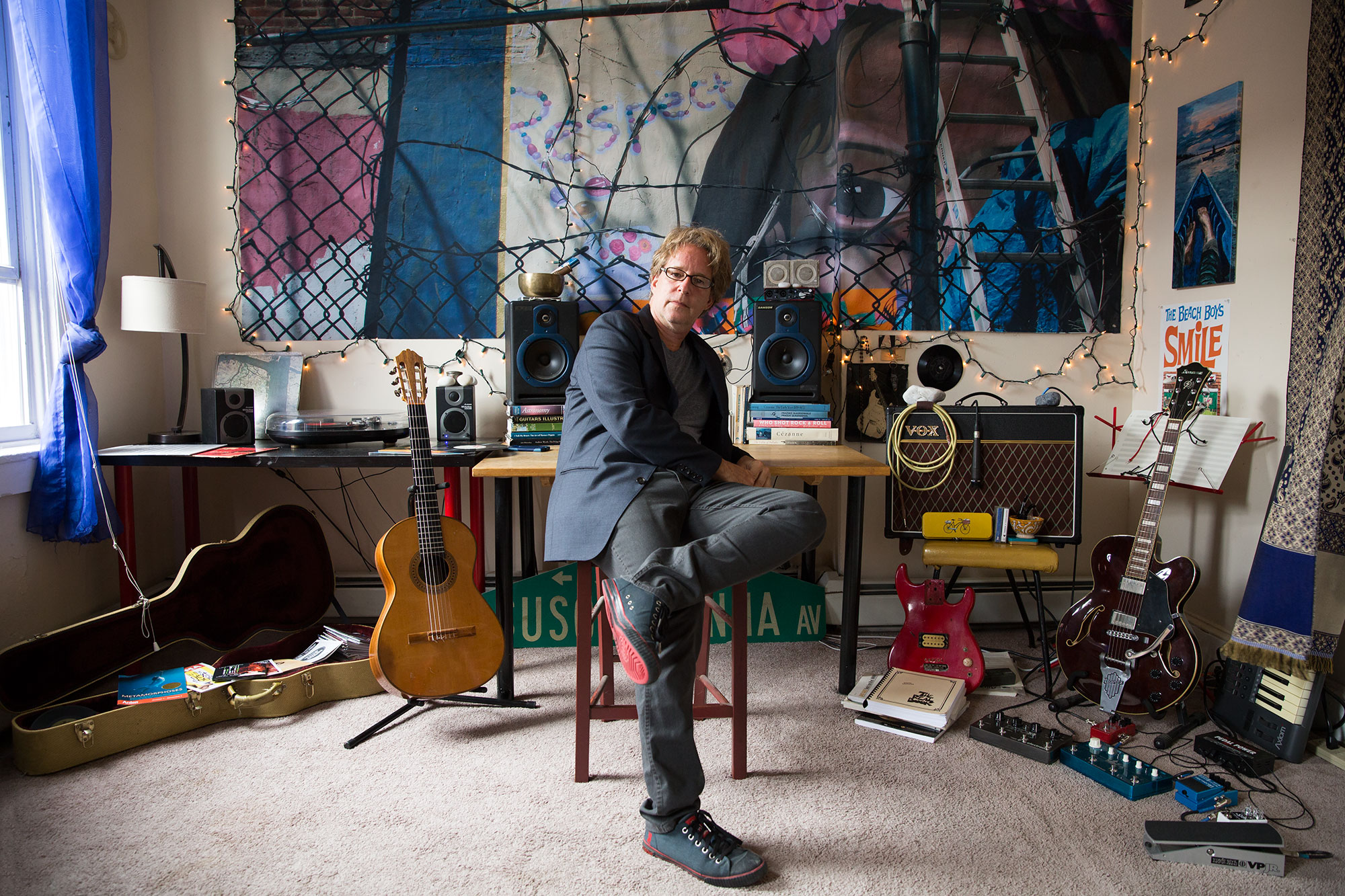 Our "Fellows Friday" series focuses on the artistic lives of our Pew Fellows: their aspirations, influences, and creative challenges.
This week, we speak to Christopher Colucci (2016), whose sound designs for theater are distinguished by their sense of musicality and, in the artist's words, a "sensitivity to the power of sound to evoke the ineffable." The recipient of numerous Barrymore Awards for Outstanding Original Music and Sound Design, Colucci has created original scores and soundscapes for a wide range of stage productions, including Arden Theatre Company's Metamorphoses, Theatre Exile's The Whale, and Walnut Street Theatre's A Streetcar Named Desire, among many others. Most recently, he worked on The Wilma Theater's staging of Andrew Bovell's acclaimed drama, When The Rain Stops Falling.
How did you become an artist? Is there a particular experience that drove you to this choice?
I've loved music and have played guitar for most of my life, but I don't think I considered myself an artist until I began working in theater, first as a musician and then as a sound designer. My first experience in theater was in 2000 as an on-stage guitar player and "actor" in a People's Light production of The Icarus Box by Kathryn Petersen. I instantly fell in love with the collaborative nature of theater making, and for the next five years did anything I could to be around it. I exchanged guitar lessons for dramaturgical conversations. For a production of The Diary of Anne Frank, I ran the follow spot from the grid and then in the final act put on a Nazi costume and had two minutes of terrifying stage time. I worked in the People's Light Summerstage program for 10 years playing improv games along with the kids, as well as occasionally having the opportunity to play guitar in a show. I was able to learn and experience theater making from many different angles before I finally discovered that there was such a thing as sound design.
In 2005, I designed a production of Sarah Kane's 4.48 Psychosis, and I really haven't stopped since. The combination of music making and sound design was extremely compelling and powerful, and it led me not only to make art, which in various ways I had done all my life, but to also consider myself an artist. With that self-definition came a new sense of focus and devotion to the work. In the 10 years since, I've designed close to 180 shows, which has been both prolific and crazy, but I was crazy in love. The collaborative process in the theater continues to excite and inspire me and my work.
Your inventive methods have included creating sound collages by "playing" elements of a set—tire rims, rocks, and metal fencing, for example—as musical instruments, as well as combining vocal recordings with real whale sounds to reflect a character's intense loneliness. How did you prepare for your most recent project, When The Rain Stops Falling, at The Wilma Theater?
After some inspiring conversations with director Blanka Zizka, I began gathering the recordings that would become the foundation of my sound design. I recorded the distinctive oscillations of the eight 48-inch-high velocity industrial fans that are a significant feature of the set (designed by 2014 Pew Fellow, Matt Saunders), and with a resonator turned them into the tones which became the underscore for a dramatic scene on the windswept and bleak terrain of Uluru, Australia. I gathered recordings of discrete drops of rain and turned them into percussive, piano-like notes, and I made recordings of members of the cast improvising with breath and sound to create the voices of the ancestors, which are woven throughout the piece. When tech began, we had a unique set of sounds that were generated organically from both the set and the cast. I'm interested in sound design that is collaborative in ways that are unique to the group that's making the work .
What music are you listening to, and which books are on your bedside table?
Every summer I seem to go off on a musical tangent that's sometimes inspired by an upcoming theater project and sometimes by sheer caprice. Last summer, for example, I was deep into both ancient Greek and Roman music, in preparation for composing the score for Metamorphoses at the Arden Theatre, as well as Sly Stone (just because…hot fun in the summertime). This year, I've been immersed in pre-fusion jazz, and Miles Davis in particular. I spent long summer bike rides with a Bluetooth speaker on my belt, getting familiar with Charlie Parker and the history of jazz, and adding Miles Davis' Nefertiti, E.S.P., and In A Silent Way recordings to my ever-evolving list of desert island discs.
The books that I'm reading support the listening—something called The Studio Recordings of the Miles Davis Quintet, 1965–68, The Real Book (lead sheets for jazz standards), both alongside a Thoreau anthology and a collection of Jack Gilbert poems, which always seem to be bedside. The listening and the reading inspire my sound design work directly and indirectly. It's certainly steered me back to the electric guitar after a decade of focus on a classical repertoire. The music I listen to, think about, and play—it all seems to contribute to my sound design work, even when the substance of that work seems to have nothing to do with my current studio work. I've learned to trust the changeable directions of my artistic intrigue.
If you could collaborate with anyone alive today, who would it be?
Most days, I am astonished that I get to collaborate with the many gifted, generous, and singular artists, actors, and technicians here in Philadelphia. Every project, every play seems to bring new opportunities to work with someone whose work I've admired. Last season, I got to write an album's worth of Liz Phair-influenced rock and roll songs with Jennifer Childs for her new play I Will Not Go Gently. My work with Blanka Zizka, the actors, and the rest of the creative team at The Wilma Theater on When The Rain Stops Falling has been a thoroughly collaborative process, and it's my hope that this is embodied in the sound design itself.