Fellows Friday: Q&A with Poet Brian Teare
The Pew Center for Arts & Heritage
Fellows Friday: Q&A with Poet Brian Teare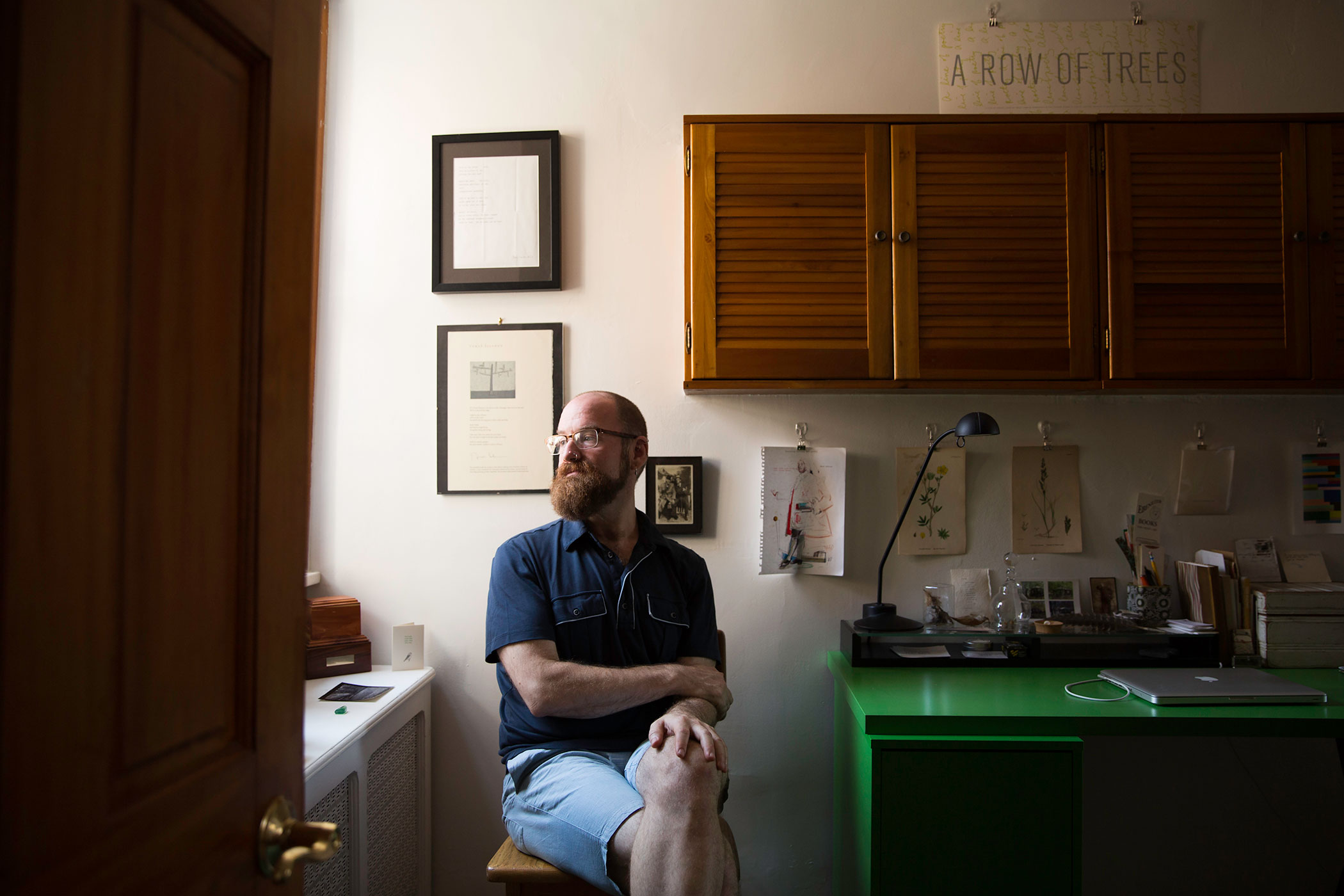 Our "Fellows Friday" series focuses on the artistic lives of our Pew Fellows: their aspirations, influences, and creative challenges.
This week, we speak to poet Brian Teare (2015) whose latest publication, The Empty Form Goes All the Way to Heaven, was recently released by Ahsahta Press. The author of five full-length books, Teare's poetry is concerned with embodiment—both our human bodies and the natural environment around us. A former NEA Fellow in Literature, he has been a resident at Headlands Center for the Arts and the MacDowell Colony, and a recipient of the Ruth Lilly Fellowship and the Wallace E. Stegner Fellowship.
How did you become an artist? Is there a particular experience that drove you to this choice?
I can't really remember consciously choosing art any more than I can pinpoint any one experience that drove me to such a choice. It occurs to me now that I may have always assumed I would be some kind of artist, and it's not unlikely this had something to do with growing up queer in the Deep South—everyone knew gay men were, you know, "artistic."
And it helped that I'd studied music from an early age, and that I had enough talent to keep at it. It wasn't until halfway through college that I entertained the idea of doing something else. I took a summer creative writing class and found my mind engaged in a way it never had been. Words unlocked access to experiences (sexuality primary among them) I hadn't really wanted to think much about.
I can pinpoint the moment I chose to stop being a musician. It was summer, 1995. I saw that I could stay in a practice room for the rest of my life and never fully explore what poetry offered, or I could take up this new challenge of language. At summer's end, I packed up my flute and threw my lot in with poetry, aware that I had shut one door and walked through another, and that my life would never be the same.
Why do you choose to create art that responds to the natural world and environmental disasters? What are you trying to convey with your work?
Around 2003, after writing my first two books, I began to reorient my work by writing site-specific poems. For the first couple of years I'd just draft the poems while walking, but later I'd add research into the natural history of the site. Even then I believed our bedrock truth to be our deep interdependence with watersheds, bioregions, and ecosystems, though it's taken me many more years to get anything even approaching that complex interdependence into my work. Doing so has enabled me to begin to address the ways we've poisoned the relations that help constitute our being in the world. I believe we're living through a time that will likely be remembered (if we have a future in which we will be remembered) as the beginning of environmental collapse. This now seems to me to be the important task: recording the relations and ties that help sustain us, while also recording the incredible violence we do to the very relations that ensure all lives on earth continue. Without reminding us of the former, there is no hope; without confronting us with the latter, there is no hope of change.
What images or things keep you company in the space where you work?
A date once walked into my house and exclaimed, "You have altars everywhere!" I'd no idea what he meant until he explained that he saw the clusters of objects and images I have stashed here and there as altars. I liked his insight. It seemed so obviously true, but it'd never occurred to me to think about my habit of arrangement in that way. Today my study where I work is one big altar, but it seems central to this practice that I can't name the spirits to which my altars are dedicated.
On my desk: one turkey feather (Marin Headlands); the spiky heads of star thistle (Napa Valley); a milkweed pod (Bloomington, Indiana); glassy slices of Wissahickon schist (Philadelphia); two whiskers from one of my (now dead) cats, plus a bird skull of uncertain origin; a postcard of poet Lorine Niedecker's cabin (Blackhawk Island); a letterpressed broadside of "a song" by Robin Blaser; an antique photograph of a handsome young man; and two chapbooks by the book artist Erica Van Horn.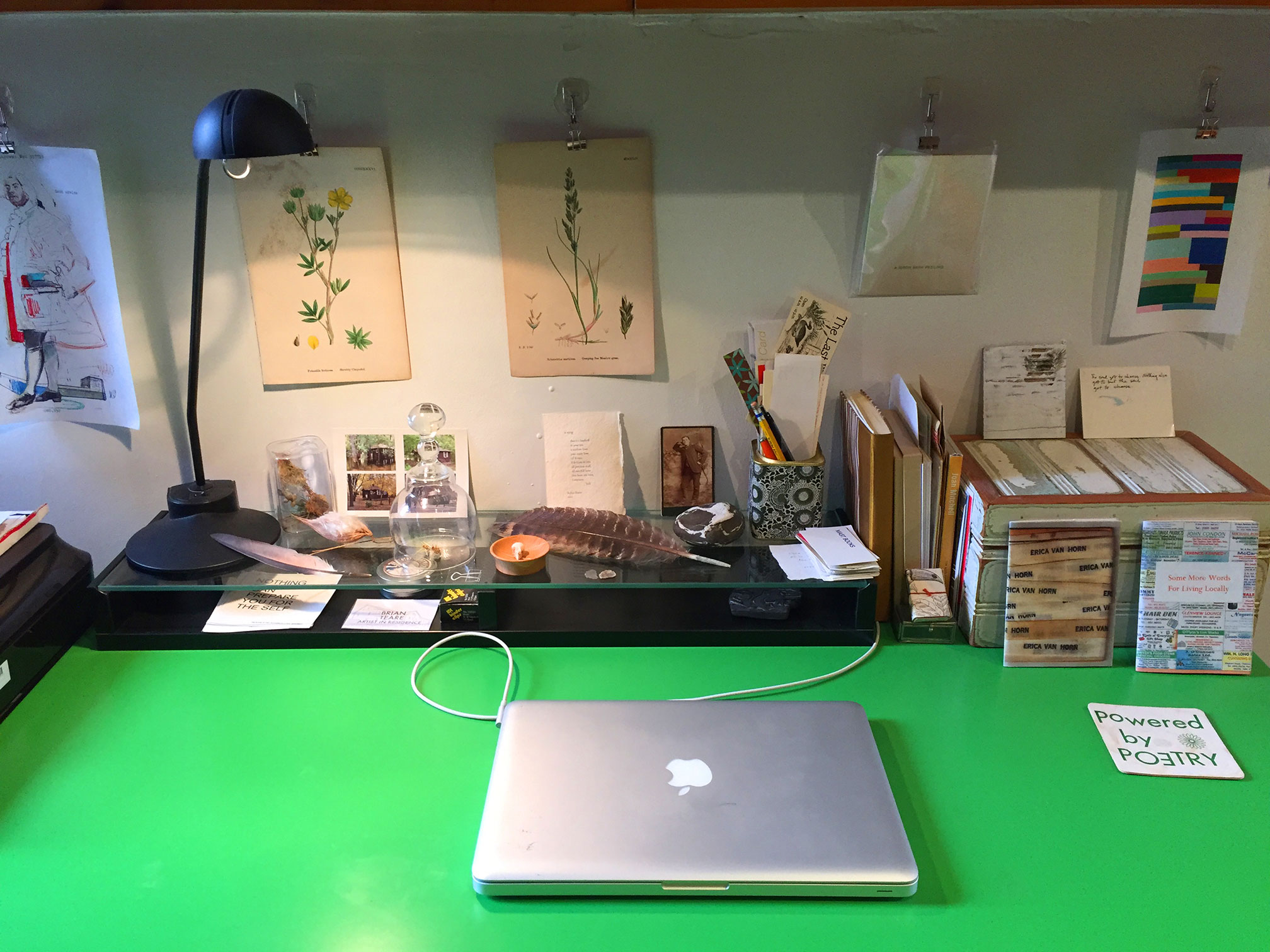 Which books are on your bedside table?
I have two modestly tall stacks of books on my bedside table. They're arranged by size, from largest to smallest, tome to chapbook. At the moment, these would be largely aspirational stacks, as I don't have time to read non-school-related material while I'm teaching. But I dip into and out of them before bed or when I'm taking a break from work, and occasionally I get an afternoon to sit down and finish one. Here's one stack, from bottom to top:
Joy Williams, The Visiting Privilege: New and Collected Stories
Kevin Young, The Grey Album: On the Blackness of Blackness
Tory Dent, Collected Poems
Joshua Poteat, The Regret Histories
West Branch, Nos. 78 and 79
LIES: A Journal of Materialist Feminism, No. 2
Barbara Claire Freeman, Every Day But Tuesday
Craig Santos Perez, from unincorporated territory [saina]
Craig Santos Perez, from unincorporated territory [gumá]
Cheena Marie Lo, Ephemera & Atmospheres
Emily Abendroth, When I Grow Up I Want to Be a Mighty Tall Order
John Wieners, Stars Seen in Person: Selected Journals
Selah Saterstrom, Slab
Marianne Fritz, The Weight of Things
Joanna Walsh, Vertigo

What is your biggest motivator as an artist? What is your biggest fear?
If my motivators are intellectual curiosity and ambition, passionate relation and emotional risk, the deep tie between ethics and aesthetics, and the complex bond between art and advocacy, I'd have to say my biggest motivator is what I can't yet see or understand due to ignorance, innocence, blindness, and/or my own complicity.
I actually enjoy all the parts of writing that don't feel very good, including the failed poems, bad drafts, and stupid ideas poorly articulated, because they're all evidence of an engagement with process, and that engagement is necessary for the work that succeeds on setting and surpassing its own terms. And I'm also pretty sure my biggest fear as an artist—not reaching readers, not being read—is minor in the face of what I really care about. Even if I feel that fear keenly at times, it's nothing compared to what I feel about Monsanto.