Fellows Friday: Q&A with Playwright James Ijames
The Pew Center for Arts & Heritage
Fellows Friday: Q&A with Playwright James Ijames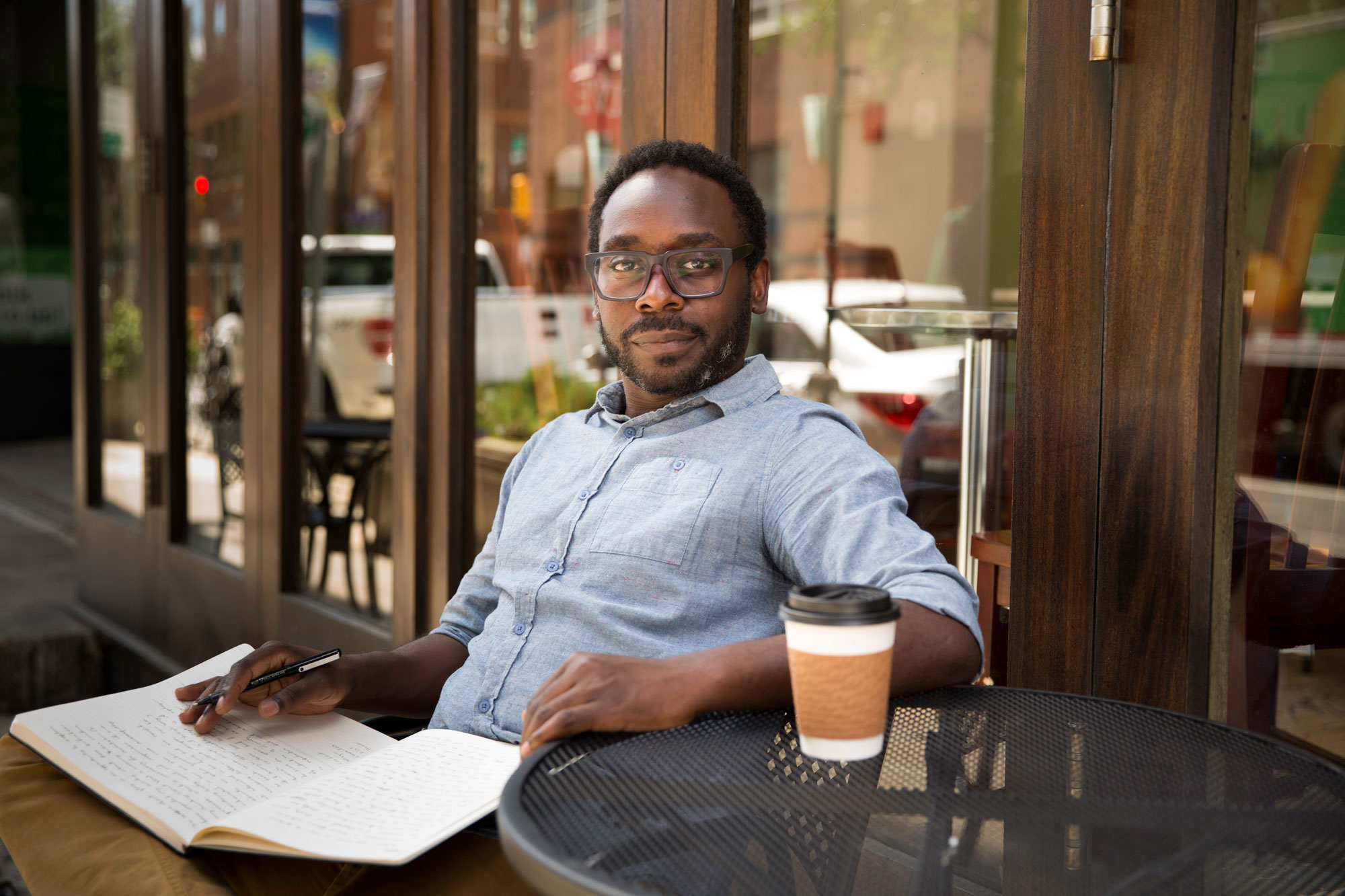 Our "Fellows Friday" series focuses on the artistic lives of our Pew Fellows: their aspirations, influences, and creative challenges.
This week, we speak to actor and playwright James Ijames (2015), who was recently awarded the Philadelphia Theatre Company's Terrence McNally New Play Award for the development of his play White. Ijames' plays and devised works examine how class and gender intersect with race, often drawing inspiration from historical texts, the media, and stories of his own family. A recipient of four Barrymore Awards for Excellence in Theater and founder of the Orbiter 3 playwright collective, Ijames' most recent play, Moon Man Walk, was on stage at the Prince Music Theater this past summer. Ijames serves as Assistant Professor of Theatre at Villanova University.
How did you become an artist? Is there a particular experience that drove you to this choice?
A lot of people in my family are talented artists. My father and sisters would draw pictures when I was young, which would look exactly like the things they were referencing. My aunt was also talented in this way, and my uncle was a musician and was in a band. They all made art as a hobby and were inherently creative. That always stuck with me as a way to live and a way to build one's life; I just decided to do it more intentionally. I started writing plays when I was about 13.
Why do you choose to work and live in Philadelphia? In your experience, what makes this art scene distinctive?
Immediately after finishing grad school I had two really influential experiences in theater that made me want to stay in Philadelphia. The first was being part of Emmanuelle Delpech's Live Arts Festival production of Oedipus at FDR in 2008; and the second was seeing Scorched at The Wilma Theater in 2009 [both projects were supported by Center grants]. These two shows sort of blew my mind about what kind of art was possible, and I could see in these pieces the beginning of something happening here that I wanted to be a part of. There is a sense of risk in the art-making in Philadelphia that asks me to push my own comfort and imagination. I feel that it makes me a better artist.
The plays you write examine how class and gender intersect with race, often drawing inspiration from historical texts. What do you hope audiences take away from experiencing your work?
I hope they see how the past is never really the past. The past is always haunting the present—especially the past that hasn't changed very much. The race problems we are seeing now look eerily like race problems of the 40s, 50s, and 60s…70s and 80s. Sometimes people ask me, "Why talk about something that happened a hundred years ago?" I always respond with, "Why not examine the road behind you to better understand the terrain ahead?" I don't believe looking back prevents the march forward. I believe it makes our march forward one of gratitude. As the old church mothers say, "My soul looks back and wonders how I got over." I was raised to look back and that is reflected in my writing.
What is perfection to you, in the context of your work?
Oh dear. I'm a messy writer. I never look for perfection. I do strive for excellence, and I think perhaps those two are cousins, but they don't really like each other. I think perfection is hard to enjoy for very long. I know I'm on the right track when someone reads my works and responds with, "I'm still processing it." That means to me that the play is alive, and fallible, and complex—and not perfect. Perfection tells you what it is. I'm more interested in generating query.
What was the first work of art that really mattered to you? Did it influence your approach to your work?
I think the first moment that I realized the kind of art I wanted to make was when I was in high school and my choir teacher, Mrs. Jacqueline Robinson, took our class to see the Elizabeth City State University Choir perform. One of the women in the choir sang two arias: one was from Porgy and Bess called "My Man's Gone Now," and the other was an aria for the Queen of the Night from The Magic Flute. I had never seen black people, in the flesh, singing this way and with such huge emotions. I think in that moment, something clicked in me that made me value art that had scale as well as intimacy. So my plays are both reaching for the operatic, but also reaching down to reference the folk traditions in me, as well as the person-to-person emotional exchanges that make up everyday life.
What music are you listening to and/or which books are on your bedside table?
On the music front I'm listening to The Internet's new album, a lot of Hiatus Kaiyote, Emily King, Lianne La Havas, Bells Atlas, Kehlani, and Kendrick Lamar's To Pimp a Butterfly is still in heavy rotation. As far as books, I like non-fiction, so I'm really into essays, self-development books, and history. I just got Henry Dumas' biography, as well as Brené Browns' book The Gift of Imperfection. Naturally, I'm always reading a play. The most recent plays that have knocked my socks off are The Christians by Lucas Hnath and Constellations by Nick Payne.
If you could collaborate with anyone alive today, who would it be?
I have to pick two: artist Kara Walker and jazz pianist Robert Glasper.
In reflecting back to the beginning of your career, what is the most useful advice you ever received?
Failure is absolutely necessary to success. The ability to fail and then try again, and again, and again is so important. Never measuring yourself against other people, and don't put your worth in someone else's hands. That's so important! Hold on to what you know is true and what you value, even when everyone around you is doing the contrary. Swim upstream, baby.