Fellows Friday: Q&A with Musician Chris Madak
The Pew Center for Arts & Heritage
Fellows Friday: Q&A with Musician Chris Madak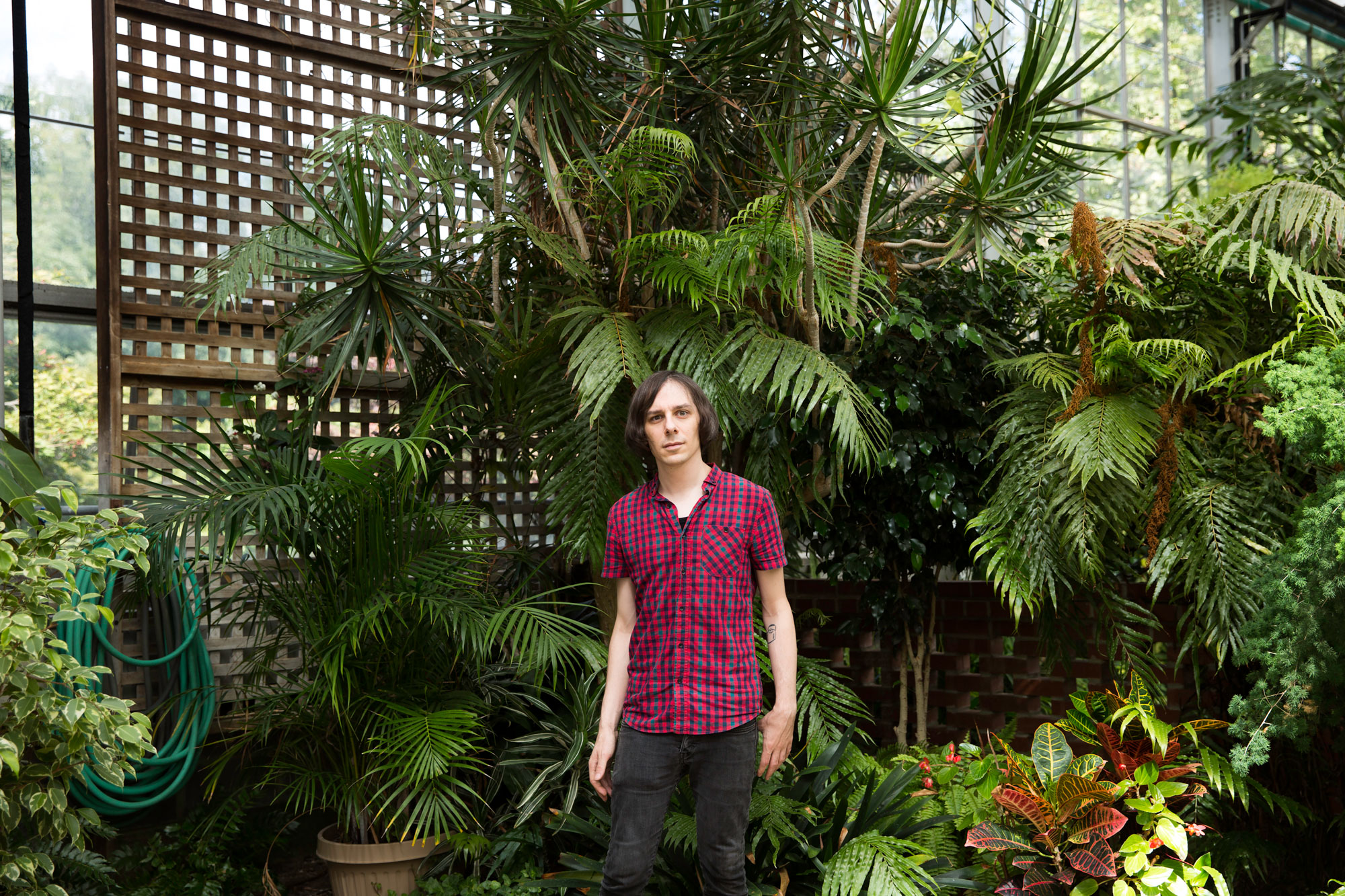 Our "Fellows Friday" series focuses on the artistic lives of our Pew Fellows: their aspirations, influences, and creative challenges.
This week, we speak to musician Chris Madak (2015), whose work bridges drone and contemporary experimental electronic music, demonstrating a refined and subtle, yet accessible, musical voice. Madak worked under the moniker Bee Mask from 2004 to 2013, releasing 36 limited-edition cassettes, LPs, and CDs through his own Deception Island small-run imprint and other small music presses. Recent releases include When We Were Eating Unripe Pears (2012), Elegy for Beach Friday (2011), and Canzoni dal Laboratorio del Silenzio Cosmico (2011), all on Spectrum Spools/eMego.
How did you become an artist? Is there a particular experience that drove you to this choice?
That depends on what you mean by "an artist." If you mean "how did I become aware of the possibility of being an artist," then I should say, first of all, that I owe to my family the sense that music is not only something that happens somewhere out in the "cultural sector," but also a vast terrain of social and private rituals undertaken by many different types of people for equally diverse reasons.
If you mean "how did I end up doing this for a living?," my situation is by definition as specific as anyone else's, but I'm certain that I could never have made it work without a skeptical and critical temperament, a clear head about what outside attention does and doesn't mean, a willingness to place the health of my practice before my own material comfort, and an inclination to notice things hiding in plain sight.
You've said that you're interested in cultivating the relationship between the studio and the stage. What are you interested in conveying to your audience when experiencing your work through both mediums?
It's not so much that my work proceeds from an a priori interest in this relationship as that I recognize it as a crux of contemporary professional practice, and believe that musicians wish away the associated problems at their peril. I like the idea of music as a hermetic system of games rather than a medium of "conveyance," but if I had to explain its value in extrinsic terms I might say that in music, formal beauty and affective beauty can occupy the same coordinates simultaneously. Emphasizing communication or some programmatic content which is to be communicated can easily obscure this aesthetic nexus and occlude what's really interesting about and particular to music. So while I'm trying to make well-formed and beautiful work, I don't think that beauty and well-formedness in music are analogous to beauty and well-formedness in rhetoric, and I'm not necessarily trying to convey anything at all in a propositional sense.
You've toured internationally and have performed at several leading experimental music festivals and concert venues. In your experience, what makes the Philadelphia music scene distinctive?
Philly is the proverbial tough room, neither large nor small and both blessed and cursed by proximity to so many other cities with their own cultural infrastructures. Whatever the underlying causes, it has a well-earned reputation among artists as dazzling on paper and often frustrating in practice. That said, there's a straight up bonkers quality to the lived experience of Philly that's perversely compelling. It's an emotionally twisted and deeply impractical place balanced on the brink of chaos, which I'll gladly take over the sanitized dreariness that passes for contemporary "destination bohemia" any day.
What is your biggest motivator as an artist?
My most significant motivator by far is how viscerally compelling I find sound and music and how fortunate I feel to have a deep and ongoing relationship with my medium. Recognition of that good fortune comes with a responsibility to do better work all the time, never to let myself get lazy or complacent in the pursuit of craft, or to chase short-term incentives at the expense of the bigger picture.
All of these commitments emanate from a larger desire to do justice to the example of those who came before me. Further to that point, my biggest fear is that I'll leave things in worse shape than I found them—that I'll be complicit in bringing about a situation whereby the next generation of musicians has fewer options than mine for pursuing self-sustaining, critical, editorially independent, and substantively experimental professional practice.
What music are you listening to and/or which books are on your bedside table?
As of this writing, a sketchy and partial bibliography might look something like:
Jon Appleton & Don Cherry, Human Music (Flying Dutchman, 1970)
Herbert Asbury, Sucker's Progress (Thunder's Mouth, 2003)
Robert Ashley, Outside of Time (MusikTexte, 2009)
Daniel Bachman, River (Three Lobed, 2015)
Ted Berrigan, The Sonnets (Penguin, 2000)
Pandit Tarun Bhattacharya, Santoor (Virgin, 2007)
Lenny Breau, When Lightn' Strikes (Tudor, 1984)
Pat Metheny & Ornette Coleman, Song X (Geffen, 1986)
Donato Dozzy and Anna Caragnano, Sintetizzatrice (Spectrum Spools, 2015)
Drainolith, Hysteria (NNA, 2015)
Max Eilbacher, Considered Music (private press, 2015)
Silvia Federici, Revolution at Point Zero (PM Press, 2012)
Beatriz Ferreyra, GRM Works (ReGRM, 2015)
Herbie Hancock, Dedication (Sony, 1974)
Horse Lords, Hidden Cities (NNA, 2014)
Paul Lansky, Homebrew (Bridge, 1992)
Joni Mitchell, Don Juan's Reckless Daughter (Asylum, 1977)
Bernard Moitessier, The Long Way (Sheridan House, 1995)
Skin Graft, Below Earth (SKSK, 2015)
Gary Snyder, The Practice of the Wild (North Point, 1990)
Steely Dan, Gaucho (MCA, 1980)
Art Tatum, Ultimate Art Tatum (Verve, 1999)
Ryley Walker, Primrose Green (Dead Oceans, 2015)

What is perfection to you, in the context of your work?
Perfection is an attribute of the possible work as opposed to the actual work. It's what's at the end of the via negativa, what's left over after you've discarded every quality which is actually realizable, what you could hold in your imagination given infinite presence of mind. It's the convergence of total heterogeneity and total particularity. It's the eschatological horizon of art practice understood in its devotional aspect, an object of shared faith which sustains us as we tilt at windmills.