danceworkbook: Braiding / Unbraiding / Rebraiding with Headlong Dance Theater and Tere O'Connor
The Pew Center for Arts & Heritage
danceworkbook: Braiding / Unbraiding / Rebraiding with Headlong Dance Theater and Tere O'Connor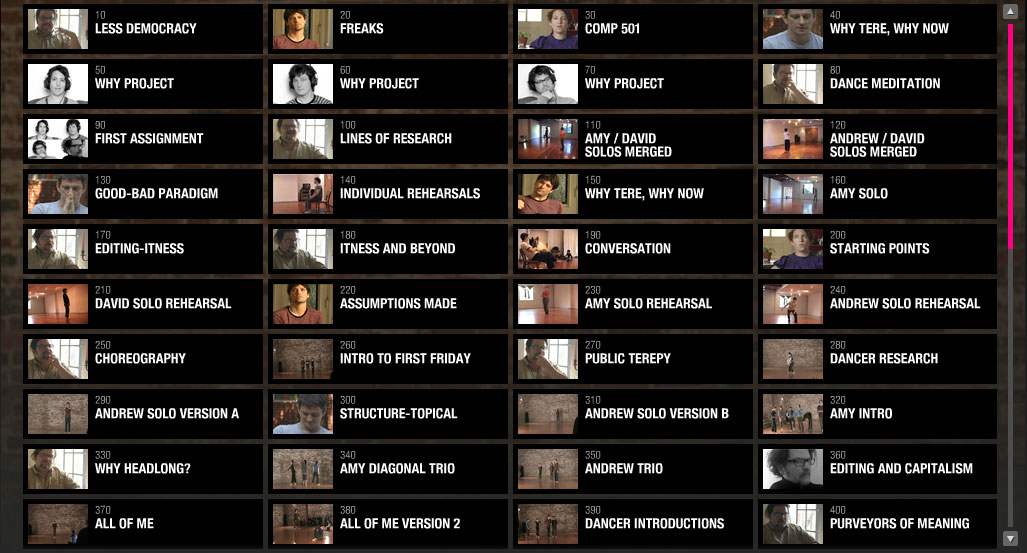 Danceworkbook, a series produced by The Pew Center for Arts & Heritage, documents the creative practice of living and working with dance.
"Dance leads a journey away from language, not against it, and the experience of watching a work parallels that of making it." —Tere O'Connor
In the first iteration of danceworkbook, Braiding / Unbraiding / Rebraiding, Philadelphia's Headlong Dance Theater examined artistic process in collaboration with Tere O'Connor, director of Tere O'Connor Dance in New York City. Headlong invited O'Connor, an innovator in the field of sustained dialogue, to join them over the course of four months in 2007, for rehearsals, workshops, and discussion. This was part of Headlong's continuing efforts to challenge its members and remain porous about the creative process.

O'Connor brought new strategies to Headlong's dance studio; he asked the three directors—Amy Smith, Andrew Simonet, and David Brick—to work independently from the start. With this radical alteration to their usual practice, and without the pressure of needing to produce a finished dance, this dedicated time became a research laboratory. The conversations that resulted extended beyond the studio to become part of the participants' woven lives.
Visit the Braiding / Unbraiding / Rebraiding danceworkbook page >