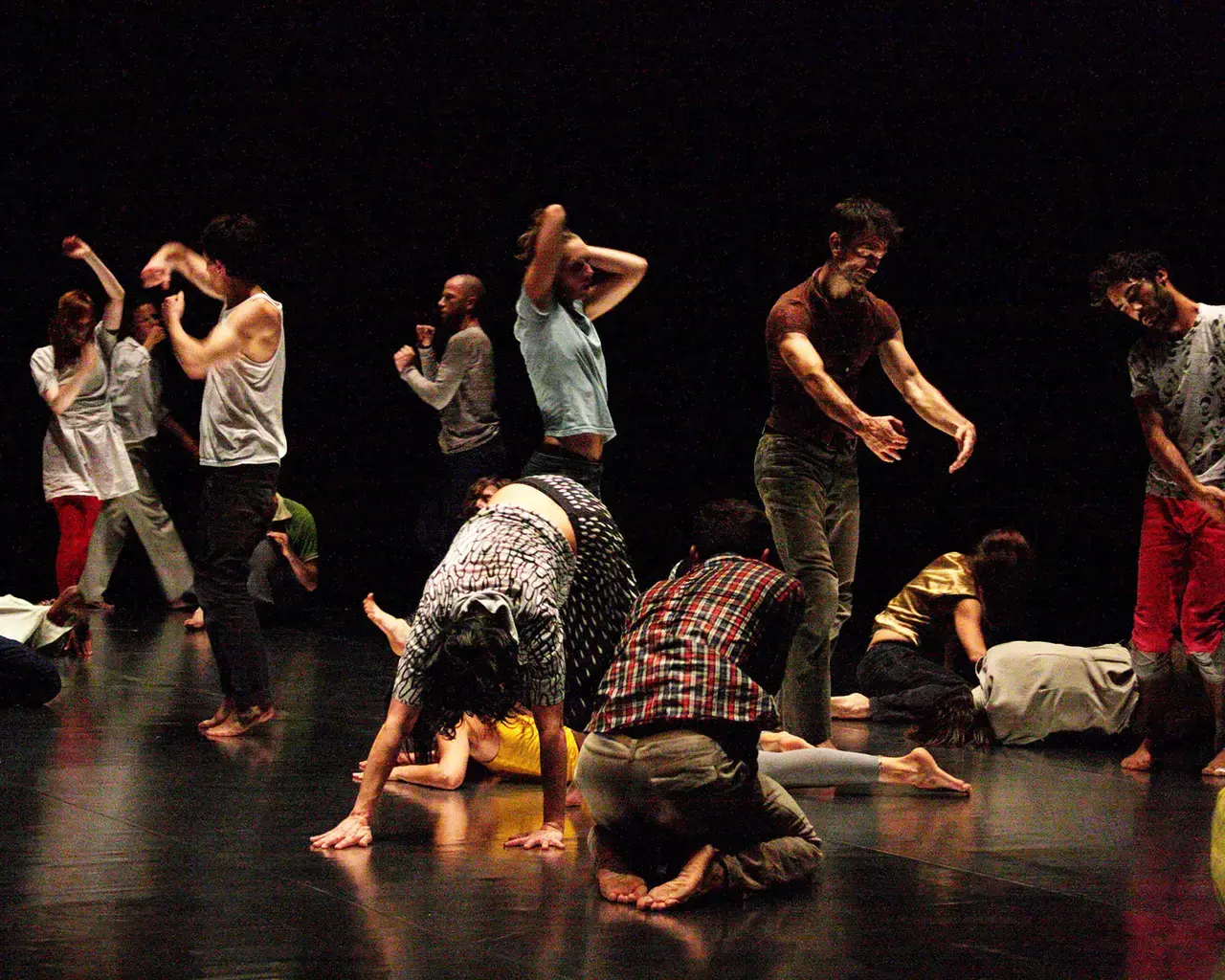 The Pew Center for Arts & Heritage is pleased to announce its 2015 grants in support of the Philadelphia region's cultural organizations and artists. Marking the Center's 10th year of grantmaking, these grants will provide funding for 12 new Pew Fellowships for individual artists working in a variety of disciplines; 34 Project grants, designed to support the presentation of exceptional cultural programs and experiences for a wide range of audiences; and 3 Advancement grants, to support bold organizational initiatives led by exemplary arts and culture organizations.
Browse the full list of grantees below and see our press release for further details.

PROJECT GRANTS
Arch Street Meeting House Preservation Trust
An Exploration of Interpretive Approaches to the Arch Street Meeting House
A series of pilot projects will evaluate which interpretive stories, themes, and methods most successfully engage today's audiences with the Arch Street Meeting House—a National Historic Landmark and Philadelphia's first burial ground—and will offer participants a unique opportunity to learn about Quaker history.
Association for Public Art
Cai Guo-Qiang: Fireflies
Internationally recognized artist Cai Guo-Qiang will energize the Benjamin Franklin Parkway with an interactive public artwork of 27 "fireflies"—luminous, kinetic sculptures inspired by Chinese pedicycles—which the many daily Parkway visitors can experience in motion as carriage passengers, pedestrians, and motorists.
Pablo Batista
El Viaje (The Journey)
Percussionist Pablo Batista will blend traditional Afro-Cuban rhythms and contemporary Western instrumentation, Afro-Caribbean choreography and evocative multi-media imagery in a performance that will tell a story of the spiritual and cultural resilience of those forced to emigrate from Africa to the Americas and re-establish themselves with dignity.
Lembit Beecher
To Hide in a Tree of Sound
This multidisciplinary chamber opera for mezzo-soprano Sasha Cooke and string quartet will focus on the experience of childhood and feature a mechanical, electronic sound-generating sculpture that will grow from a small music box into a seven-foot tall object as the performance unfolds, creating a riveting visual and musical experience.
Bowerbird
In Search of Eastman
The possibilities of presenting a contemporary artist's work posthumously will be explored in this discovery project dedicated to Julius Eastman, an African American composer who was active internationally in the 1970s and 80s, but who died at 49, leaving an incomplete but compelling collection of scores and recordings.
Mike Bullock
The Philadelphia Embassy of the Kingdoms of Elgaland-Vargaland
Composer, improviser, and media artist Mike Bullock will join forces with Swedish composers and conceptual artists Leif Elggren, Carl Michael von Hausswolff, and Kent Tankred, and Philadelphia musicians such as Ian Fraser and Bhob Rainey, for a program of electronic music, performance, and installations, expanding Philadelphia's connection to the international experimental music scene.
Cliveden of the National Trust for Historic Preservation
Cliveden's Living Kitchens
This historical interpretation project will compare domestic life in two centuries through the exploration of the 1767 and 1959 kitchens inside Cliveden's historic Germantown mansion, revealing how architecture, design, and the technology of the times defined the experiences of those enslaved and in service and their relationships with the household's family.
Drexel University Westphal College
Boris Charmatz: Levée des conflits
Acclaimed French choreographer and experimental dancer Boris Charmatz will visit Philadelphia for a 12-day residency and public presentation of his performance piece for 24 dancers, Levée des conflits (Suspension of conflicts), at Drexel's Mandell Theater, co-presented by FringeArts, in combination with a series of interpretive programs.
Fund for the Water Works
The Rivers Restoration Project: A Freshwater Mussel Hatchery
This interpretive, multi-media installation will combine science, history, and design in the creation of a site-specific, 530-square-foot living freshwater mussels enclave that will inspire visitors to discover and connect with the Schuylkill River's rich habitat, while developing an appreciation for the importance of environmental protection.
Historic Germantown
Elephants on the Avenue: Race, Class and Community in Historic Germantown
Using the arts as a catalyst for community dialogue and engagement around race and class in Philadelphia's diverse Germantown neighborhood, this multi-part project will join artists such as Benjamin Volta and poet Sonia Sanchez, and historians from across the US to create public art installations, educational programs, and community events.
Independence Visitor Center Corporation
Gay Pioneers at 50
This documentary film project, produced in collaboration with WHYY and Equality Forum, will illuminate the 50-year history and progress of the LGBTQ civil rights movement by highlighting the powerful experiences of Gay Rights movement pioneers and documenting a planned reenactment of the 1965–69 peaceful demonstrations at Independence Hall.
Institute of Contemporary Art
Endless Shout
This timely, interdisciplinary, experimental series of dance, music, poetry, mixed media installations, and interactive programs—from acclaimed artists and scholars such as choreographer taisha paggett, designer Raul de Nieves, and composer George Lewis—will invite audiences to consider African American performance aesthetics and the role of performance in museum spaces.
James A. Michener Art Museum
Charles Sheeler: Fashion, Photography, and Sculptural Form
An untapped aspect of the Philadelphia region's artistic heritage will be brought to light in an exhibition of painter and photographer Charles Sheeler's little-known fashion photography created for Condé Nast between 1926 and 1931—a body of work that significantly informed the aesthetic vision of one of American modernism's founding figures.
Jungwoong Kim
salt soul
The universality of sudden loss and trauma will be examined in this multimedia dance theater work integrating Kim's heritage in traditional Korean dance with Western dance, improvisation, music, and found sound, to be developed in collaboration with Marion Ramírez, Germaine Ingram, Merián Soto, and Korean musician Gamin Hyosung Kang.
Kimmel Center, Inc.
Holding It Down: The Veterans' Dreams Project
The experiences of Iraq and Afghanistan war veterans will be illuminated in this multimedia work created by MacArthur Fellow and jazz pianist/composer Vijay Iyer and poet/librettist Mike Ladd, in combination with a publication of local veterans' writings produced through a partnership with the veteran-focused arts organization Warrior Writers.
Mann Center for the Performing Arts
The Firebird: Spirit Rising
Russian folktales and South African music and puppetry will unite in a multidisciplinary interpretation of Igor Stravinsky's composition for the 1910 ballet The Firebird, featuring The Philadelphia Orchestra, Grammy Award-winning South African vocal ensemble Ladysmith Black Mambazo, and larger-than-life puppets by Janni Younge of South Africa's renowned Handspring Puppet Company.
New Paradise Laboratories
An Investigation of Contingency and the Uses of Data Streams in NPL's Work
New Paradise Laboratories' core ensemble will expand their devised theater techniques and lay the groundwork for a series of new pieces, through investigations of improvisational structures, games of chance, and audience interactivity, with a group of international practitioners including composer Bhob Rainey and UK game theory specialist Tassos Stevens.
Office of Arts, Culture and the Creative Economy/The Mayor's Fund for Philadelphia
Civic Practice
By convening a national task force of artists, cultural leaders, and city officials, led by Creative Time Chief Curator Nato Thompson, the OACCE will begin a yearlong discovery process to investigate how city government can engage a broad spectrum of communities in civic dialogue through large-scale temporary public art.
Opera Philadelphia
Breaking the Waves
The world premiere of a new chamber opera by composer-in-residence Missy Mazzoli and librettist Royce Vavrek, inspired by the 1996 film by Danish auteur Lars von Trier, will tell the harrowing tale of a naive newlywed who has chosen to marry outside of her strict Calvinist community in coastal Scotland.
Pennsylvania Horticultural Society
Pop Up Garden: An Exploration of the Philadelphia Rail Park
An array of imaginative public installations and creative community interventions by local artists and historians will introduce audiences to the rich architectural heritage of the three-mile Philadelphia Rail Park, culminating in a summer 2016 installment of the Pennsylvania Horticultural Society's popular Pop Up Garden.
People's Light
Nat King Cole Project
A world premiere, music-theater work by playwright Colman Domingo and directed by Patricia McGregor will offer a fresh perspective on the artistic legacy of vocalist and jazz pianist Nat "King" Cole by bringing to light both his on- and off-stage personas, as well as telling the story behind the 1957 demise of his groundbreaking national television variety show amidst America's growing civil rights movement.
Philadelphia Chamber Music Society
Departure and Discovery: New Directions at the Apex of Creativity
A trio of concerts from the world-acclaimed pianist Jonathan Biss, tenor Mark Padmore, violist Hsin-Yun Huang, and the Brentano String Quartet will provide new insights on the forms of expression found in the late stages of the lives of nine great composers, including Bach, Kurtág, Mozart, and Schubert.
Philadelphia Mural Arts Program
A Desert Home Companion
Internationally noted artist Michael Rakowitz will weave the stories of local Iraq War veterans and Iraqi refugees, cultural traditions, music, and found sound into a participatory performance at Independence Mall, combined with a ten-episode radio program for a national audience, providing an intimate, multifaceted, and sustained portrait of Iraq.
Philadelphia Photo Arts Center
Hank Willis Thomas: Philadelphia Block Project
Conceptual artist Hank Willis Thomas will recreate a city block with a series of 1:1 scale photographs of North Philadelphia's people and buildings, installed in the galleries of the PPAC, inviting audiences to consider issues related to gentrification, and setting the stage for public forums and a crowd-sourced neighborhood image archive and exhibition.
Piffaro, The Renaissance Band
The Musical World of Don Quixote
This music and movement performance will offer audiences a distinctive interpretation of Miguel de Cervantes' four-century-old classic, Don Quixote, combining narrative elements and ballads drawn from the novel, recited in both Spanish and English, and accompanied by monophonic melodies, organ and vihuela works that are reminiscent of the sounds of Golden Age Spain.
RAIR
RAIR: Live at the Dump
This interactive, site-specific program will invite audiences to explore a Northeast Philadelphia recycling facility from the artist's perspective, with a series of films, performances, and discussions focused on increasing public awareness of the waste stream and the role of art in shaping social and environmental consciousness.
The Rosenbach of the Free Library of Philadelphia
Frankenstein, Dracula, and the Monster Within
In commemoration of the 200th anniversary of Frankenstein, this exhibition will highlight two seminal Gothic works—Mary Shelley's 1818 novel and Bram Stoker's Dracula—through a selection of rare books, manuscripts, and artifacts to illustrate how these horror stories reflect ethical and scientific questions that continue to challenge us today.
Sruti, The India Music & Dance Society
Saayujya (The Merging)
Two of India's preeminent artists, Carnatic vocalist T.M. Krishna and bharata natyam dancer Priyadarsini Govind, will fuse classical South Indian music and dance in a world premiere that is the culmination of a two-year artistic collaboration, and is inspired by themes of liberty and freedom drawn from Philadelphia's history.
Swarthmore College
Chopin Without Piano
This large-scale performance piece will reveal unique insights into Fryderyk Chopin as both a historical figure and a masterful composer, as the piano parts for two concerti are replaced with powerful spoken monologues constructed from fragments of Chopin's letters and biographies, performed in Polish by actress Barbara Wysocka and accompanied by the Chamber Orchestra of Philadelphia.
Daniel Tucker
Organize Your Own: The Politics and Culture of Self-Determination Movements
This exhibition and event series will invite contemporary artists to respond to archival materials and poetry relating to the history of white southerners who migrated to northern cities in the 1960s and 70s and organized cross-racial social movements, while addressing historical and contemporary questions of equity, justice, and race relations.
Lee Tusman
Couldn't Hear Nobody Pray
A performance and newly commissioned album-length musical composition by Jace Clayton will take its inspiration from the artwork and record collection of Albert Barnes—including a recording which is credited with introducing African American spirituals to the wider world—offering audiences a way to reconnect with and to reimagine the Barnes Foundation collection through sound.
The Village of Arts and Humanities
SPACES: International Artist Residency Initiative at The Village of Arts and Humanities
The Village will host two accomplished West African social practice artists, Kwasi Ohene-Ayeh and Olanre Tejuoso, during residencies in which they will collaborate with north central Philadelphia's families to design and execute a public art project, nurturing a space for community members to creatively transform their physical landscape.
The Woodlands Trust for Historic Preservation
Not Your Typical 18th Century Gentleman
This research project will examine the unknown biography of aristocrat and eminent botanist William Hamilton and his role as a "bachelor gentleman" in 18th-century Philadelphia, with the goal of creating new interpretive programs that will enable visitors to connect to contemporary discourse on family, class, gender, and race.
Raphael Xavier
Raphstravaganza: An Urban Kinetic Experience
Leading hip-hop artist Raphael Xavier will bring together masterful street performers, extreme BMX riders, acrobatic contortionists, and live music by saxophonist and composer Bobby Zankel for a contemporary circus-style performance in City Hall's courtyard that will pay tribute to the soul of the urban street.

ADVANCEMENT GRANTS
Curtis Institute of Music
Curtis will design and implement a new curriculum that provides graduates with the entrepreneurial and business skills necessary to forge effective careers within the rapidly changing classical music field, including coaching in how to produce, promote, and present their own music in innovative ways.
Philadelphia Chamber Music Society
A multi-year project will enable PCMS to research and develop new business models, acquire state-of-the-art ticketing technology, and develop new customer service, sales, and marketing strategies designed to respond to shifting trends in audience behaviors, connect with new audiences, and deepen engagement.
Philadelphia Museum of Art
The PMA will present an extensive project centered on historic and contemporary African art that will commission new works by acclaimed living African artists who will also be in residence at the museum; expand the museum's programmatic offerings through a collaboration with the University of Pennsylvania Museum of Archaeology and Anthropology; and promote greater understanding and appreciation of African culture while building and engaging new audiences.

PEW FELLOWSHIPS
Micah Danges
Visual artist
Danges' work hovers between image and object, pushing the limit of what a photograph can be and using optical distortions that create abstract scenes from everyday items and places, in a distinctive merging of materials and process.
James Ijames
Playwright
Ijames' plays and devised works examine how class and gender intersect with race, drawing inspiration from historical texts, the media, and stories of his own family to deconstruct history and its established figures, while challenging the conventions of realism and received collective truth.
David Scott Kessler
Filmmaker
Kessler's work combines film, installation, writing, performance, and drawing in a constantly-shifting exploration of place; recent experimental documentaries consider natural landscapes in the context of environmental degradation, extending his interest in issues of social justice.
Susan Lankin-Watts
Musician and composer
A fourth-generation klezmer musician, Lankin-Watts is a singer, trumpet player, composer, and arranger whose complex arrangements draw from tradition, the poetry of her great-grandfather, and a desire to give new voice to the art form and create klezmer culture for a younger generation.
Caroline Lathan-Stiefel
Visual artist
Lathan-Stiefel creates large-scale, immersive sculptural installations from textile and found objects to form what she calls "drawings in space" that examine the push and pull between the corporeal and the optical while playing with pattern, color, and light.
Lauren Mabry
Visual artist
Mabry is a ceramist whose expressive and colorful "dimensional paintings," as she describes them, play with form, texture, color, and scale and blur the boundaries between ceramics, abstract painting, and sculpture.
Chris Madak
Electronic musician and composer
Best known by the moniker Bee Mask—under which he has released 36 editioned cassettes, LPs, and CDs—Madak bridges post-industrial drone and contemporary experimental electronic music, and finds fertile ground in cultivating the relationship between studio and stage.
Merián Soto
Choreographer
Over her 40-year career in performance, Soto has focused on investigating the living body and its relationship to consciousness. Her conceptual and process-based pieces work towards, in the artist's words, "a dance of the future, a dance of healing, transformation, and transcendence."
Rea Tajiri
Filmmaker
Tajiri's films straddle documentary and art film genres with an innovative approach to storytelling, which she characterizes as "personal essay documentary," exploring the effects of political, social, and emotional histories within families and across generations.
Brian Teare
Poet
Teare's poetry is concerned with embodiment—both our human bodies and the natural environment around us. Through verbal abstraction and formal experimentation, he expresses, as he calls them, "wordless and interior" states, responds to encounters with the natural world, and writes about oil, water, and environmental disaster.
Benjamin Volta
Visual artist
Creating intricate public murals and sculptures, Volta works within the fields of education, restorative justice, and urban planning. His practice stands on the belief that art can be a catalyst for change, within individuals as well as the institutional structures that surround them.
Yolanda Wisher
Poet
Merging the personal and the political, Wisher's writing addresses both artistic and community-oriented pursuits. The founder and director of the Germantown Poetry Festival, she is dedicated to poetry as a performative, public act, capable of producing environmental and social change.