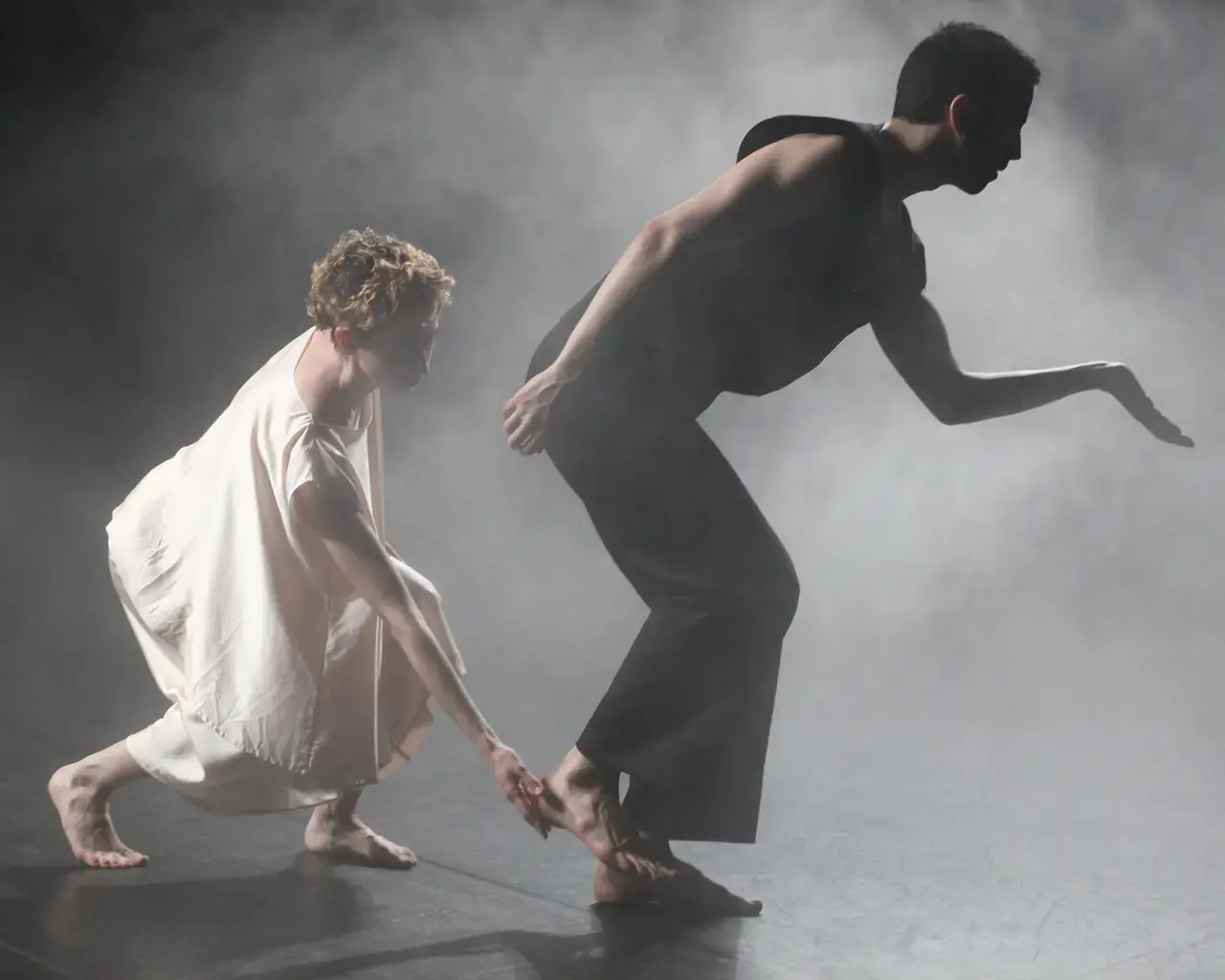 The Center-funded Trisha Brown: In the New Body, a retrospective of an internationally-known post-modern dance artist presented by Bryn Mawr College, offers a series of classes and performances this month—and through spring of 2016. The series will provide audiences with multiple opportunities to connect with Brown's body of work as it evolved over time, and will feature some of the Trisha Brown Dance Company's final touring performances of Brown's proscenium works. Visit the project website for a full list of programs. >
In an online essay accompanying the project, Lisa Kraus, Trisha Brown: In the New Body project director, writer, and former member of the Trisha Brown Dance Company, offers an inside view into Brown's dance rehearsals, the choreographer's artistic development over the past several decades, and her unrelenting commitment to her practice. An excerpt of Kraus' essay follows.
When I joined the company [in 1977] Brown had just developed ways of mapping—and teaching—her rapidly developing personal movement language, and soon began choreographing for the proscenium stage. The first dance I learned, Line Up, pioneered a working method that would be a cornerstone of Brown's dances for years. Improvising with the instruction "line up," the dancers responded to each other's choices in real time. The second dance was Locus, a series of four solos, each from the same score and danced within a cube placed within a grid of multiple cubes. The dance is precise—with each movement referring to a specific point on the cube—and open, with sections when the dancer chooses her spatial placement or splices sections of the solos together.
Rehearsals were full of revelations. Brown would cheerlead us, creating forms that led us to dance as we never had before. At times rehearsal was hard to hang in for, as when myriad tiny adjustments were needed to hit interactions precisely in what might have looked to an outsider like a nebulous cloud of group movement. This was not simple unison dancing. It involved a series of interdependent reactions, which was not a common thing at that time.
In the late 70s and throughout the 80s, Brown began a series of collaborations with big name arts colleagues—Robert Rauschenberg, Fujiko Nakaya, Donald Judd—which led her to major venues on the world stage. Set and Reset (1983)— Rauschenberg supplied the design and Laurie Anderson the music—premiered right after I left the company. The surging, daring ebbs and flows and throw-and-catch partnering were the most exciting group dancing I had ever seen. It owed a lot to Steve Paxton; his development of contact improvisation is what had schooled the dancers with weight sharing and lifts arising from momentum rather than muscularity.
Brown's movement interests evolved: What is men's movement? How does counterpoint work? How might her movement sensibility incorporate emotional content? Seeing Brown in her final solo, If you couldn't see me (1994), I was struck by how can one person's back be so communicative. How can she, dancing alone and never turning to face us, evoke such an elegiac quality of beauty and loss simultaneously?
Lisa Kraus is a writer, curator, and coordinator of the Bryn Mawr College Performing Arts Series, and is currently serving as project director of the Center-funded Trisha Brown: In the New Body. Kraus is a founder of thINKingDANCE.net and a former member of the Trisha Brown Dance Company. Since 2004, Kraus has written for The Philadelphia Inquirer, Dance Magazine, Dance Research Journal, her Writing My Dancing Life blog, and more. She was a 2010 National Endowment for the Arts Fellow in Dance Criticism.