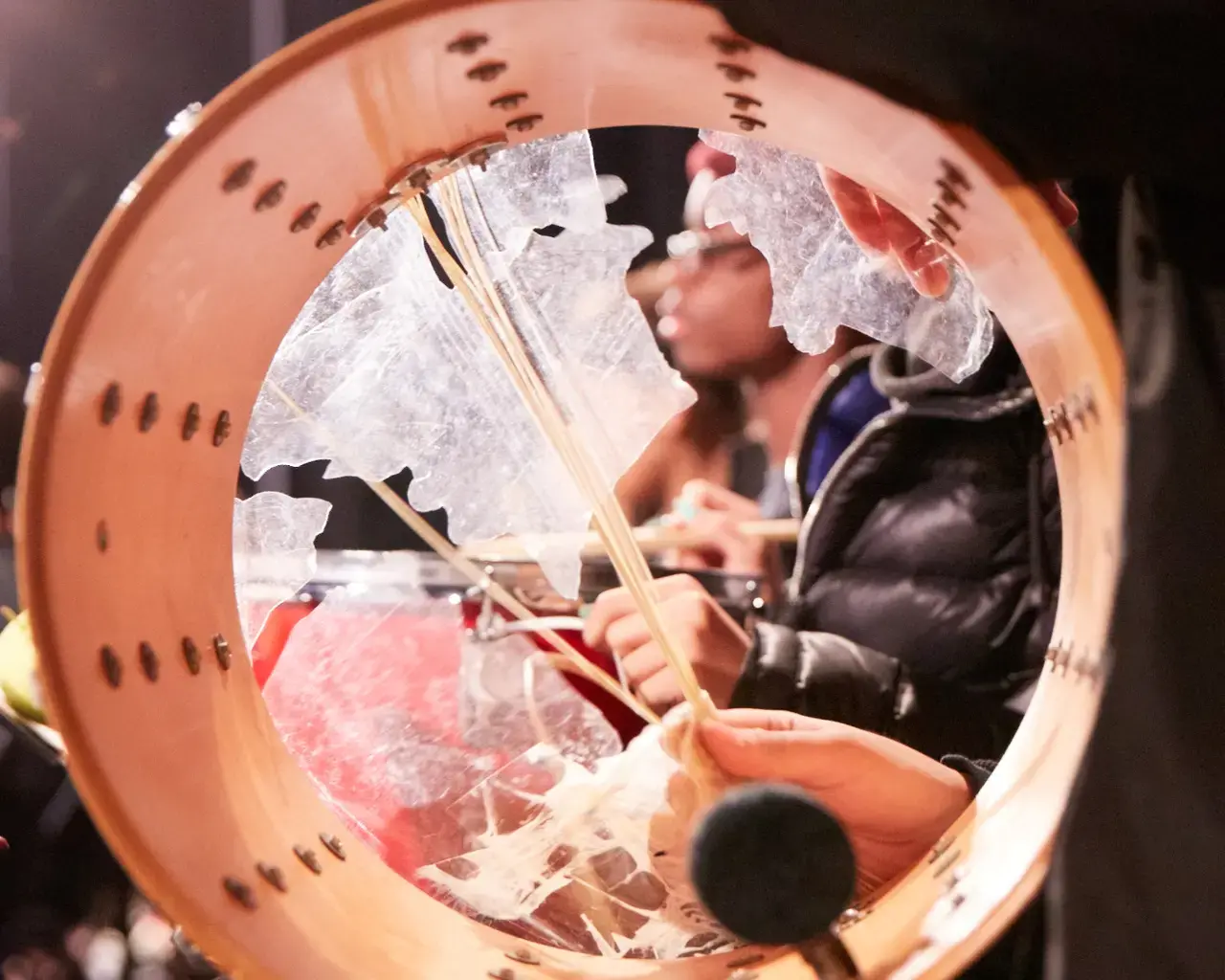 The Pew Center for Arts & Heritage is pleased to share our 2019 grant application guidelines and to announce updates to our grant making that will foster the highest levels of artistic and programmatic excellence. We are delighted to continue our annual support of the greater Philadelphia region's cultural organizations and artists, in service of our mission to enhance public life and raise Philadelphia's visibility as a major cultural destination.
On our Apply page, you will find our 2019 guidelines for Project grants, awarded in two program areas: Exhibitions & Public Interpretation and Performance.
Below, we offer details about what's new this year in Project grants, as well as Fellowships. Updates include an increase in the maximum grant amount for Project grants, changes to Project grant eligibility for individuals, and a newly created Fellows-in-Residence program.
We encourage all potential applicants to stay up to date on the 2019 application process and other Center news by joining our email list here.
New in the 2019 Grant Cycle
How has the grant awards calendar changed?
The Center's grantmaking cycle for 2019 has shifted to align with the calendar year (January 1–December 31). Project grants will be awarded for projects implemented between January 1, 2020, and June 30, 2022.
Important dates to remember:
February 15, 2019—First-time applicants are required to meet with program staff, and all applicants requesting awards over $300,000, whether for a single organization or multi-organization collaborations, are required to make an appointment with the Center's executive director and appropriate senior program staff by February 15.

March 1, 2019—Returning applicants are required to identify their intention to apply by contacting Center staff by March 1.

March 27, 2019—Letter of Intent to Apply deadline

By May 1, 2019—Notification of invitation to apply

June 3, 2019—Application deadline for artists nominated for Fellowships

June 26, 2019—Full Project grant applications deadline

Fall 2019—Project grants and Fellowships announced
How have the 2019 Project grants changed?
The Center continues to award Project grants in Exhibitions & Public Interpretation and Performance through our application and peer review process.
In 2019, we are offering an increased level of support for projects, which can take various forms and be produced by a single organization or multi-organization collaborators. The Center's total annual funding level remains the same; however, Project grants can now be awarded up to $400,000 (increased from $300,000) for a single grant or an aggregate of up to $800,000 for collaborative efforts. Projects receiving this increased support will demonstrate new levels of ambition in content, scope, and scale. (Please refer to page 7 of the Project grant guidelines for full criteria.) Additional unrestricted funds, at the same level as previously applied, will continue to be added to each grant for general operating support.
What do Project grant funds support?
Project grants are for making big ideas happen, bringing artistically and programmatically excellent, ambitious, and substantive performances, exhibitions, or interpretation projects to fruition. Discovery grants are for focused exploration that will seed future project proposals.
We encourage you to review our list of past grants and grantees. (Please see page 6 of our Project grant guidelines for full details on the types of support available.)
Can individuals still apply for Project grants?
Individuals must now apply with an organizational partner. The organizational partner will be the formal recipient of the grant and will be responsible for collaborating fully with the individual to manage the funds and the project. This includes production, programming, fiscal management, reporting, and marketing.
Why are you making this change for individual Project grant applicants?
The decision was made in direct response to feedback from our individual grantees. Many of them expressed feeling hampered by a lack of infrastructure and said they would have been better able to realize their projects with additional administrative and programmatic support. With the organizational support of a partnering institution, individual cultural practitioners can focus on what they do best: developing the artistic vision and content of their projects.
Our intention with this change is to help individual practitioners maximize the impact of their Project grants, and we see it as an opportunity for individuals and institutions to foster new, fertile collaborations across the community.
Are you still awarding Advancement grants?
The Center will no longer award Advancement grants. Instead, beginning in 2019, we are allocating those resources to our Project grants. We have seen that our Project grants have had the greatest impact on our cultural community and the overall vitality of the region, while also providing opportunities for organizational advancement in the areas of programming, audience engagement, and fundraising. The Center's total annual funding level remains the same.
Are there changes to the Pew Fellowships in the Arts awards?
Yes. Our unrestricted $75,000 fellowships for individual artists will continue to be awarded to twelve artists annually. The nominating process for those fellowships is unchanged. However, in 2019, ten of the fellowships will be awarded to local artists working in the Philadelphia region, and two will be awarded to "Pew Fellows-in-Residence," who will come from outside the region to live and work in Philadelphia, thus becoming part of our vibrant arts scene for a full year.
The two new residencies are designed to connect artists from other areas with the local cultural community in a reciprocal and collaborative exchange that will stimulate new networks and raise the profile of Philadelphia's extraordinary range of talent.
How will the Fellows-in-Residence be identified?
As with local Fellows, the Fellows-in-Residence are nominated to apply for a fellowship and will be evaluated in a two-part selection process. Nominations are collected from an accomplished group of Philadelphia-based cultural practitioners with deep knowledge of artistic practices both in and outside of the region. All twelve Pew Fellowship nominees, including those for the Fellows-in-Residence, are adjudicated through the same rigorous process. (Application guidelines for those nominated for a Fellowship are forthcoming.)
Why give awards to artists from outside the region?
Philadelphia enjoys a vibrant artistic community with a broad and dynamic range of talent. We see the introduction of the Fellows-in-Residence opportunities as a natural evolution and extension of our support for the local cultural community and aligned with the Center's dedication to enhancing Philadelphia's vitality. Our 2019 cohort of local and resident Fellows will actively engage with one another and in Philadelphia's civic life, fostering opportunities for a mutually beneficial interchange around contemporary artistic practices.
Can an organization or individual apply for multiple grants in different categories?
Organizations can only apply for a single grant per cycle, either in Performance or Exhibitions & Public Interpretation, provided they meet eligibility requirements and have completed all prior reporting requirements on previous Center-funded projects. If a proposed project has elements of both performance and exhibition/public interpretation, Center staff will be happy to work with the applicant to decide which grant category would be most appropriate.
Individuals who have been nominated for and are submitting a Fellowship application may not participate in a Project grant application as a commissioned or key featured artist within the same grant cycle.
How are grant decisions made at the Center?
Grants are made annually through rigorous peer-review panels composed of a rotating group of distinguished, internationally recognized experts. These panelists come from outside the region and are selected for their expertise in the disciplines and issues represented in the applicant pool. Three criteria are used by the panel to evaluate grant applications: Excellence, Ability to Realize the Project, and Impact. Staff from The Pew Center for Arts & Heritage and staff from The Pew Charitable Trusts do not serve on the peer review panel and do not determine grant recipients. (Please see our Project grant guidelines for full details.)
What is my first step in applying?
Talk to us: Before beginning a Letter of Intent to Apply (LOI), you are strongly encouraged to make an appointment with the Center's program staff to discuss any eligibility concerns, the amount of funds being requested, and your project concept and its fit within the Center's goals and priorities. First-time applicants are required to meet with program staff, and all applicants requesting awards over $300,000, whether for a single organization or multi-organization collaborations, are required to make an appointment with the Center's executive director and appropriate senior program staff. Keep in mind that the process of submitting an LOI includes answering a series of questions, along with submitting work samples. Please schedule a meeting with the appropriate Center staff no later than February 15, 2019.
To schedule an appointment, contact:
Exhibitions & Public Interpretation
267.350.4970, epi[at]pewcenterarts.org
Performance
Carlos Diaz, Program Assistant
267.350.4970, cdiaz[at]pewcenterarts.org
Grant requests exceeding $300K:
TJ Hunt, Executive Assistant
267.350.4953, tjhunt[at]pewcenterarts.org