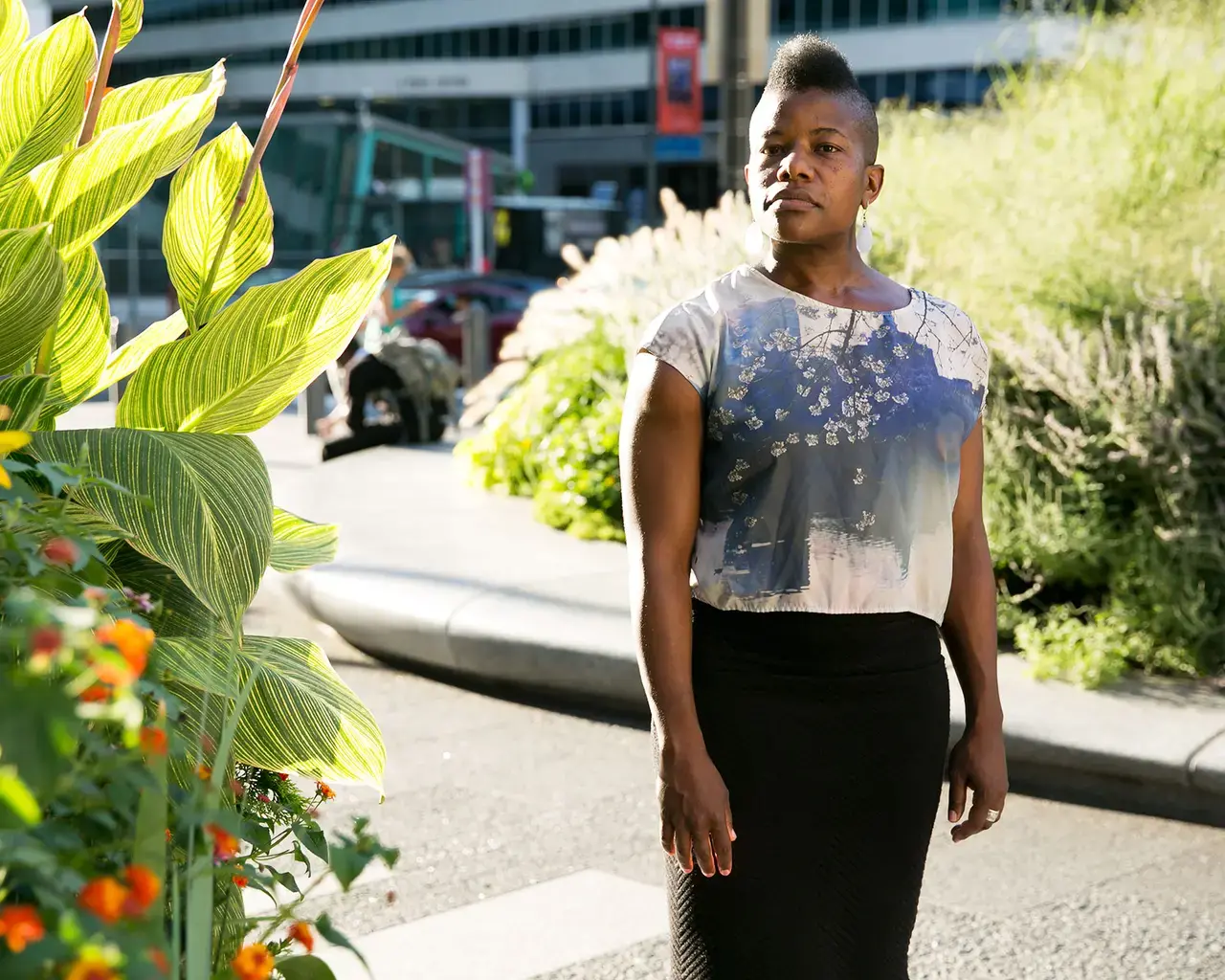 Over the past 12 months, our Pew Fellows brought an abundance of new projects to fruition, as they performed and exhibited their works across the nation and around the globe—from Australia, Morocco, and Spain, to Germany, the Netherlands, and Turkey. They also received prestigious awards and fellowships, and released numerous recordings and publications. Here, we round up our Fellow's 2016 milestones, and look to 2017, when the Center will mark the 25th anniversary of the Pew Fellowships program. Stay tuned for news about the forthcoming anniversary, and keep up with Fellows' activities on Twitter by following @PewCenterArts.
Honors and Awards
Poet Yolanda Wisher (2015) was appointed the third Philadelphia Poet Laureate by Mayor Jim Kenney, succeeding Pew Fellows Frank Sherlock (2013) and Sonia Sanchez (1993). During her two-year term, Wisher serves in both a creative and civic capacity, "publicly represent[ing] the city in the medium of poetry, and serv[ing] the art form within the city," according to the City of Philadelphia Office of Arts, Culture and the Creative Economy.
Photographer Eileen Neff (1994) and choreographer Raphael Xavier (2013) were awarded 2016 Guggenheim Fellowships by The John Simon Guggenheim Foundation. Xavier was also awarded a 2016 United States Artists Fellowship, along with visual artist Annabeth Rosen (1992).
Visual artist Pepón Osorio (2006) was nominated by President Barack Obama to the National Council on the Arts, architect and designer Jenny Sabin (2010) was named one of five winners of the third annual Women in Architecture Awards presented by Architectural Record, and theater artist Thaddeus Phillips (2002) received a 2016 Doris Duke Performing Artist Award.
Composer Jennifer Higdon's (1999) opera Cold Mountain won an International Opera Award for "Best World Premiere," and poet J.C. Todd (2014) received the Rita Dove Poetry Prize in the International Literary Awards Competition.
In Residence
Four new artist residencies were awarded to Pew Fellows, supported by the Center's ongoing partnership with the Alliance of Artists Communities. Poet Brian Teare (2015) participated in a residency at MacDowell Colony; harpist Mary Lattimore (2014) will spend time at Headlands Center for the Arts; musician Bhob Rainey (2013) will be artist-in-residence at The Banff Centre; and choreographer Merián Soto (2015) will travel to Ucross Foundation.
Mixed-media artist Rebecca Rutstein (2004), whose work is often inspired by underwater mappings and geology, was selected to participate in an "Artist-at-Sea" residency with the Schmidt Ocean Institute in Tahiti.
Visual artist and filmmaker Tiona McClodden (2016) was selected to participate in Sommerakademie's artist residency in Berne, Switzerland, led by guest curator Thomas Hirschhorn.
New Releases
Author Justin Cronin's (2001) book The City of Mirrors debuted at the top of The New York Times Best Sellers list for hardcover fiction. In its review, The Times called the novel "surprisingly powerful" and "compulsively readable."
Musician Chris Forsyth (2011) released The Rarity of Experience, his latest album with The Solar Motel Band, and garnered positive reviews from Rolling Stone, NPR, The New York Times, and others.
Harpist Mary Lattimore's (2014) album At the Dam debuted to positive reviews from NPR, WHYY, and Pitchfork, with the album's track "Jimmy V" topping BBC Radio's "6 Music Recommends."
Writer Beth Kephart (2005) released her book This Is the Story of You, a young adult mystery about a storm that strikes the New Jersey shore.
Pianist and composer Orrin Evans (2010) released a new album, #knowingishalfthebattle, on Smoke Sessions Records.
Author Judith E. Stein (1994) released Eye of the Sixties: Richard Bellamy and the Transformation of Modern Art, a biography of the fashion designer Richard Bellamy.
On View in Museums and Galleries
Columbus State University announced plans to open the Bo Bartlett Center, named after visual artist Bo Bartlett (1993), in late 2017. The mission of the Center is "to explore creativity and learning within the context of the work and studio practice of the painter and Columbus, Georgia native Bo Bartlett," according to the university.
Visual artist Alex Da Corte (2012) debuted two new exhibitions in 2016. Free Roses at Mass MOCA featured a survey of Da Corte's videos and sculptures, and a new site-specific installation. A Season in He'll was a solo exhibition organized by the Hammer Museum.
Architect and designer Jenny Sabin (2010) created a knitted textile installation for the Cooper Hewitt, Smithsonian Design Museum's Beauty—Cooper Hewitt Design Triennial.
Visual artist Ryan Trecartin (2009) presented a joint exhibition with Lizzie Fitch at Andrea Rosen Gallery, and W Magazine commissioned Trecartin to create the cover art and feature spread for its 10th anniversary art issue.
Visual artist Sharon Hayes (2016) opened In My Little Corner of the World, Anyone Would Love You, an exhibition examining queer and feminist archives, at The Common Guild in Glasgow, Scotland.
Benjamin Volta (2014) unveiled Bloom, a new 166-foot mural commissioned by Mural Arts Philadelphia and created in collaboration with members of the Youth Violence Reduction Partnership.
Common Touch, a multisensory exhibition curated by Teresa Jaynes (1999) and based on pre-Braille texts for the visually impaired, debuted at The Library Company of Philadelphia.
The Clay Studio presented Lavender Fields & Pig's Fat: Work from China, an exhibition of porcelain cylinders by ceramist Lauren Mabry (2015), created during her residency at the Jingdezhen International Studio at Taoxichuan Art Museum in China.
Performances and Premieres
Geoff Sobelle's (2006) one-man play The Object Lesson embarked on an international tour to Australia, with performances at the Sydney Festival and Perth International Arts Festival.
After completing a tour of his play 17 Border Crossings, theater artist Thaddeus Phillips' (2002)  was profiled in American Theatre Magazine, which stated that Phillips' "presence on the stage [is] protean, often funny, and somehow the audience's ally."
Theater artist Jennifer Kidwell (2016) presented the New York premiere of her play Underground Railroad Game. The performance was reviewed by several national media outlets including The New York Times and The Washington Post, which wrote: "This riveting, whip-smart performance piece…is as daringly unexpurgated as anything you'll encounter onstage today."
Saxophonist Marshall Allen (2012) led and performed with the celebrated jazz group Sun Ra Arkestra during the 2016 Vision Festival in New York. The New York Times reviewed the concert, calling Allen "a vital presence," and writing, "there was something deep and noble happening" during the performance.
Hip-hop choreographer Raphael Xavier (2013) presented his dance work Point of Interest at Boston's Institute of Contemporary Art. In a review, The Boston Globe called Xavier "a dance philosopher."
Choreographer Meg Foley (2012) presented action is primary, an exhibition and performance series documenting her improvisational practice in which she performed a dance each day at 3:15 p.m.
Percussionist Pablo Batista (2000) presented the world premiere of his new performance piece El Viaje (The Journey) at the Temple Performing Arts Center.